At a NASCAR Late Model 100 at the South Boston Speedway, when driver, Mike Jones, crashed and then followed by his car catching on fire, nothing could stop his father, Dean Jones from hopping over the wall and pulling his son out of a burning car. To some, that is deemed as heroic. But to the track officials, that was a clear safety violation.
How ironic, an act to save his son was then deemed to be a safety violation and it is in these sort of situations which give a lot of questions especially when it comes to various grey areas. For example in some parts of the world, it is illegal for a normal civilian to perform medical acts in order to save a life. You may be a doctor in another part of the world but because you don't have a practising license in that particular place, you might get thrown into jail.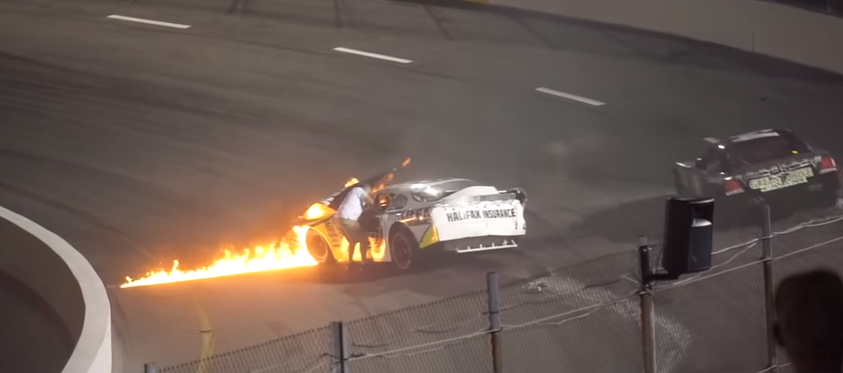 This is the case for Dean Jones as he is placed under probation till the end of the year. In a statement to ESPN, here is what South Boston has to say.
"Mr. Jones will not be fined nor suspended," South Boston Speedway said in a statement. "He has been placed on probation through the end of the year.

"We have sat down with Mr. Jones and discussed what transpired on Saturday, and he fully understands our position on non-safety personnel entering the track surface during an event. We are all grateful that there weren't any injuries, and we look forward to getting back to racing."
The South Boston Speedway released a press statement in response to the event.
Mike Jones' Wreck Goes Viral On The Web And With Media, But His 2018 Season May Be Finished

SOUTH BOSTON, Va. (June 21, 2018) – To give you some idea what Mike Jones' week has been like, he woke up Thursday morning with an email from a Chinese journalist.

The journalist had questions about Jones' fiery crash at South Boston Speedway last Saturday night, a crash that went viral on the internet and has put Jones and his dad Dean centerstage with national and international media.

"I really can't comprehend it. I never imagined getting any media interest outside of our area," said the younger Jones.

The saga all begin just past the halfway point of last Saturday's 100-lap Late Model race at South Boston Speedway. Jones and Matt Bowling banged together on the front stretch while both were running in the top five. Both hit the inside wall, but Jones' hit was vicious. His car bounced off the wall, then burst into flames.

His father immediately vaulted the wall and helped him out of the burning car.

"It was the hardest hit I've had," said Jones. "Sunday and Monday, I was pretty sore."

By Monday, the video of the crash had gone viral. News sites around the world had picked it up from YouTube. It was hard to open a social media site without seeing the wreck.

By Wednesday morning Jones had become an international media star.

"Early Wednesday somebody let me know they had seen it in The Sun in the United Kingdom. A buddy of mine found an article written in Arabic. It was on the six o'clock news in Australia. It was on the news in the Netherlands. Then this morning (Thursday) I had an email from a Chinese journalist," said Jones.

American media weren't about to be outdone.

"I was on the way to Richmond Wednesday and WSET in Lynchburg called. Then ABC called me and said I needed to be at the track at 3. It was 1 o'clock and I was still in Richmond," recalled Jones. "WDBJ (Roanoke) called after that and then Speed51 called."

At last count, the Joneses had filmed segments for NBC Nightly News, The Today Show and Good Morning America and NBC NASCAR America is scheduled to do a segment also.

Then there is the down side to Jones' wreck. His car was basically destroyed and there is a very good chance his season is finished.

"It's way worse than I originally thought. We're trying to see what is salvageable and what's not and get a price on a new car," he said.

Jones expects he will miss the Thunder Road Harley-Davidson 200, the huge Fourth of July week extravaganza that features live music and fireworks in addition to all the racing action.

"We have an offer on the table for next week, but I don't want to have to buy someone else a race car if something else big happened. I don't want to waste that money when we could be using it on a new car," Jones explained.

"Hopefully we'll get back this year if at all possible. If not comeback strong in 2019. In a perfect world we are shooting to be back July 14," said Jones, who had consistently raced in the top five during his first season in Late Models.

The June 30 Thunder Road Harley-Davidson 200 will feature a 200-lap Late Model Stock race, a 75-lap Limited Sportsman race, along with a 40-lap Budweiser Pure Stock race and a 20-lap Budweiser Hornets race.

Grandstand gates will open at 4 p.m. on June 30, with live music beginning at 4:30 p.m. There will be an autograph session on the front stretch at 5:30 and the green flag will fly at 7.

Advance tickets are $15 and can be purchased at the South Boston Speedway office or by calling the ticket office at 877.440.1540 until 5 p.m. on June 29. On race day tickets will be $20 for adults and children 12 and under will be admitted free with a paying adult.