In an effort to build a platform for local car clubs to compete and test their mettle, be it as individuals or as a uniformed team, Goodyear Malaysia Berhad is bringing back the 'Battle of the Clubs' campaign. This time around, it features new challenges that are designed to challenge a club's problem solving, teamwork and communication, physical endurance, and driving skills.
Taking place over the span of six months from June till December 2018, the event will see participating car clubs battle it out across six fun challenges, with one challenge slated each month, to claim the title of 'Best Car Club of 2018'.
Activities that will be held during the campaign include:
Treasure hunt;
Futsal tournament;
Go-kart endurance race;
Time-attack challenge;
Paint ball competition and;
Blaster Car session;
The event kicks off with a treasure hunt, where up to two cars will represent their club and go head-to-head to find the hidden treasure in the Klang Valley within the shortest possible time. Participants will be subjected to heavy supervision and strict evaluation to ensure they observe all traffic regulations throughout the challenges, all for the love of driving and hunting. Each car is entitled four members.
Following that, a futsal tournament will be organized. Six members per club can participate in this leg of the event, which will be held at the Ferro Futsal Centre in Subang Jaya.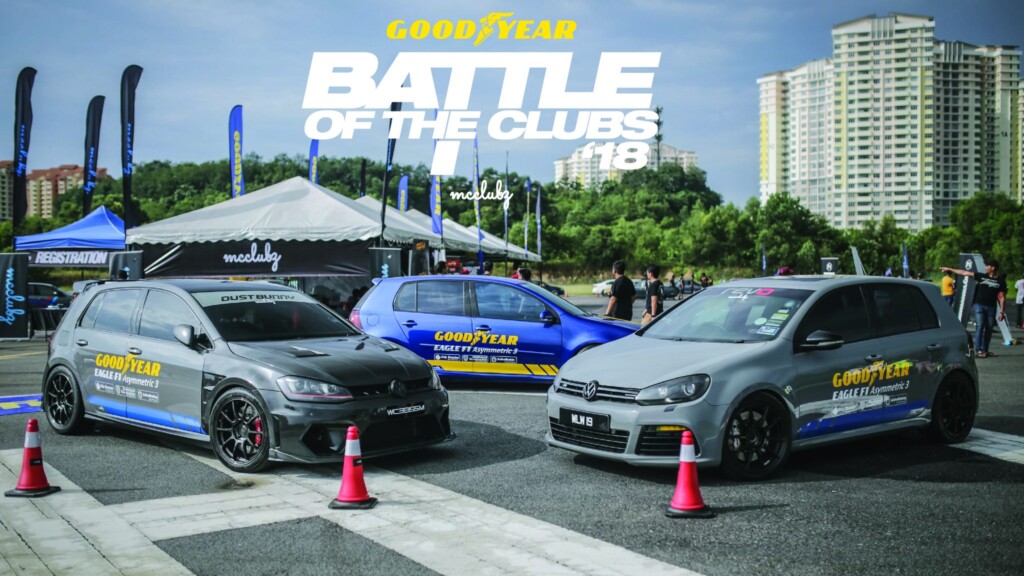 Next in the series of events is a go-kart endurance race, in which the five toughest members will be selected to represent their clubs. The objective is for the teams to complete as many laps as possible around the Shah Alam go-kart course within a two-hour period.
For those who prefer cars to go-karts, the highlight of the campaign, which comes in the form of a Time Attack, should bring about much excitement with up to three members per club getting the chance to drive with Goodyear's sports performance tires – the Eagle F1 Asymmetric 3. The Time Attack evaluates how capable participants are at taking corners, their braking skills and ultimately, their ability to control a car. The winning team is the one that clocks in the best average time from three drive attempts.
A paint ball competition follows, where five members will pit their team work skills to the test to capture a flag. This activity will take place in Canyon Paintball, Bandar Utama.
The finale comes in the form of a Blaster Car session. This activity involves tandem drifting using go-karts, where up to three members from each club will compete in one-on-one battles against other clubs. Winners are judged based on how close they can tail their opponents while drifting. The winners of this activity will be determined by a special guest judge, fondly known as Malaysia's 'Prince of Drift', Tengku Djan Ley.
While the activities aim to promote goodwill and fun among the car clubs' members, Goodyear Malaysia Berhad hopes to reinforce its commitment in educating and creating safer communities in Malaysia, as part of its 'Better Future' global social responsibility initiative. One of the core pillars of this platform is to promote safe mobility to help make the community stronger, and the 'Battle of the Clubs' campaign is one of Goodyear's involvement for this endeavor.
Specific performance challenges in this tournament included the Time Attack, demonstrating Goodyear's thirst for innovation and product reliability, as participants are given the liberty to push its Eagle F1 Asymmetric 3 tire to the limits.
The Eagle F1 Asymmetric 3 tires is a testament to Goodyear's promise in offering innovation in the premium and luxury sport tire segment. Featuring the Grip Booster Technology that ensures optimal grip; Active Braking Technology for better braking performance; and Reinforced Construction Technology to provide steering precision and durability.
Interested car clubs can submit their applications to the Malaysian Car Clubz (MCClubz) and be a part of the country's largest car club battle of the year. Applications can be submitted through e-mail to merl@mcclubz.com or contact +60 12-919 4774 for further queries.