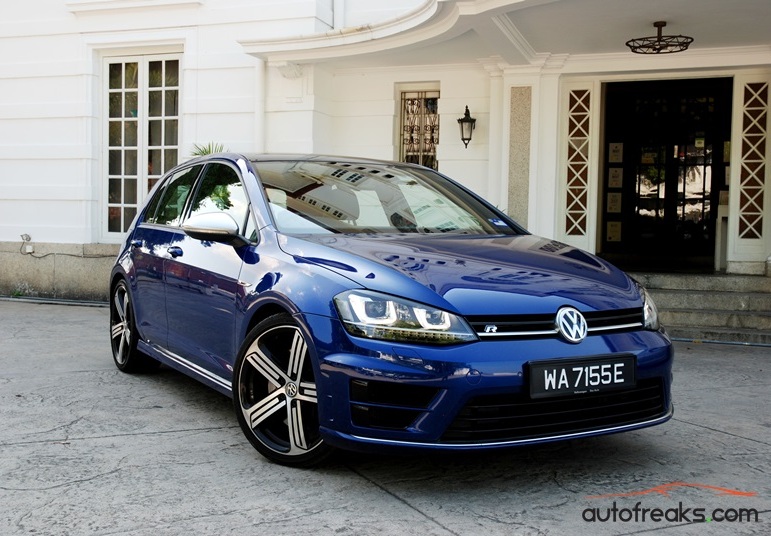 ADVERTISEMENT
Let's get this out of the way. The Golf R Mk7 is most definitely VW's attempt to offer something more hardcore for those who think that the GTi has yet to exceed their expectations. If you love a comfortable and smooth ride-feel, you can stop reading because the Golf R is probably not your cup of tea. But if you're a speed junkie in need of a fix, then buckle-up because you're in for a treat!
Unlike the infamous Golf GTi, the high-performance R is fitted with a 2.0-litre turbocharged petrol direct-injection (TSI) engine that develops an impressive 290hp and 380Nm of torque kicking in from as low as 1750rpm under its bonnet. It takes a mere 5 seconds to reach 100 km/h from standstill and all you need to do is plant your right foot on the fun-pedal and let the machine do the rest. That power output is a tad absurd for an average driver like me, but without a doubt this hot hatch can satisfy my adrenaline addiction when in need! However, speed plays only a small part of the driving experience…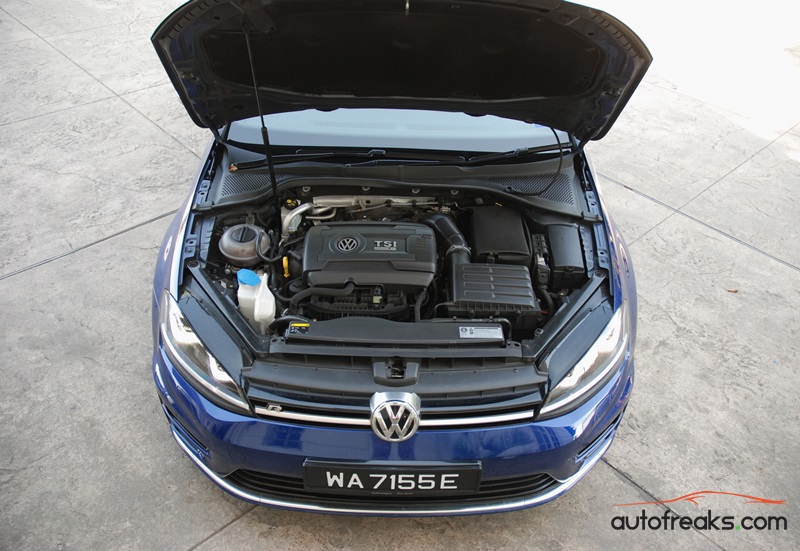 The Golf R transfers engine power to the road via a permanent all-wheel drive system; in this case, it is the latest version of the 4MOTION system with a fifth-generation Haldex coupling, which sends power to the front wheels under normal conditions, and redirects to the rear if the front suddenly loses grip. So no matter how fast I was going, there was always a sense of control even when blasting through corners or on the straights, where acceleration is needed. In fact, Golf R just felt so planted as if the road was paved with super glue! (well, at least you didn't say it 'corners like it's on rails'… – Ed.)
The Golf R' handling is aided with Dynamic Chassis Control (DCC) with 5 driving modes that changes the shift mapping, throttle response, steering weight and what not, to allow owners to suit driving profile properties to their individual needs and driving behaviour.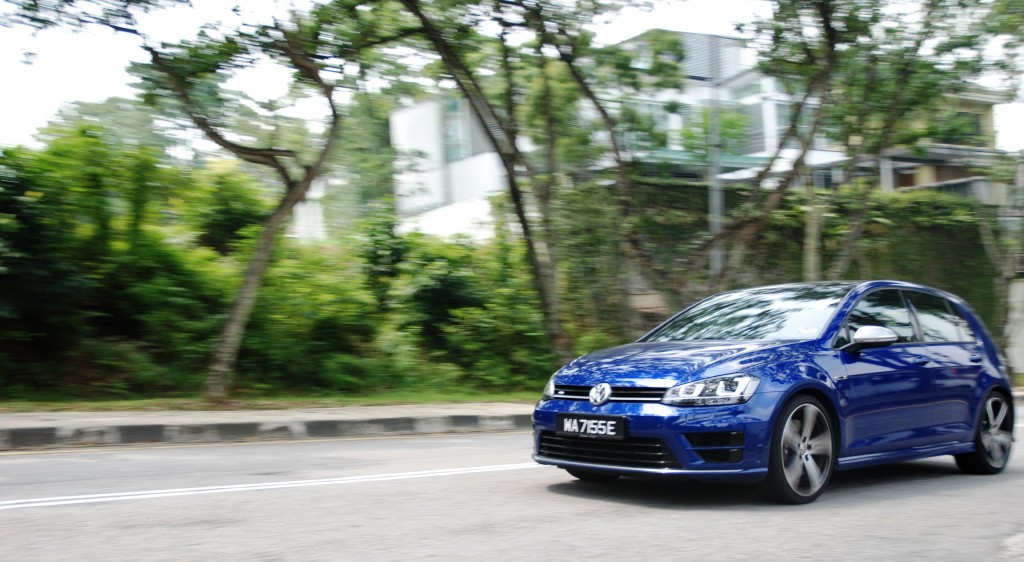 To fully exploit the R capabilities, set your driving mode to RACE and you will notice that the damping is increased as well as engine response and the shift points of the DSG transmission are configured to be even sportier. In fact, you will be able to hear a very aggressive growl coming from the exhaust note that sound aurally pleasing! I found the comfort and normal mode much more suitable to my driving behaviour as the engine sounds a bit more subtle and the ride comfort is not too stiff.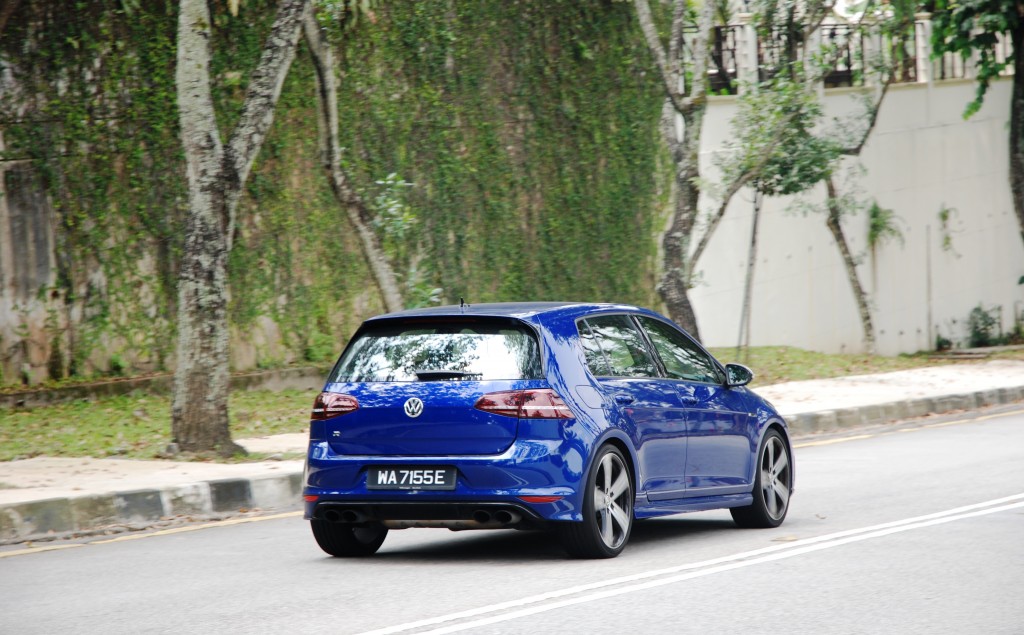 My weekend with the Golf R involved plenty of highway driving from KL to Penang to find out if it was able to adapt well as long-distance runner as well as a day-to-day commuter. As you can probably tell by now, the R is a delightful car to drive and it made me feel like I was on cloud nine as I cruised down the highway at a rapid pace, chasing away other vehicles in my way. I was also so amazed at how quick and smooth the R shifts gears where you can actually feel a continuous flow of power from one gear to the next; no lag whatsoever.  However, there was a turning point that made me wish I was driving an ordinary Golf instead…and that's when I did not anticipate a two hour traffic jam from Prai to Batu Feringgi. There was a constant battle between me and the Golf R because it keeps begging to be driven fast.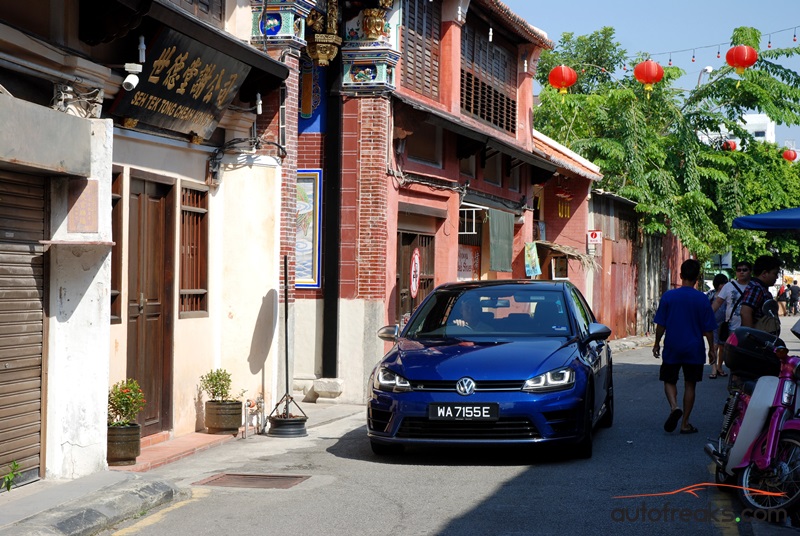 Although the R is built for performance, it's without a doubt practical and comfortable to be driven on a daily basis. For instance, the reverse camera and park-pilot are very useful, especially when maneuvering in tiny alleys or small roads. The electronic Parking Brake with Auto Hold on the other hand, keeps the Golf R stationary once it comes to a complete stop on an incline without having to press the brake pedal, allowing drivers to stretch their legs especially when stuck in traffic.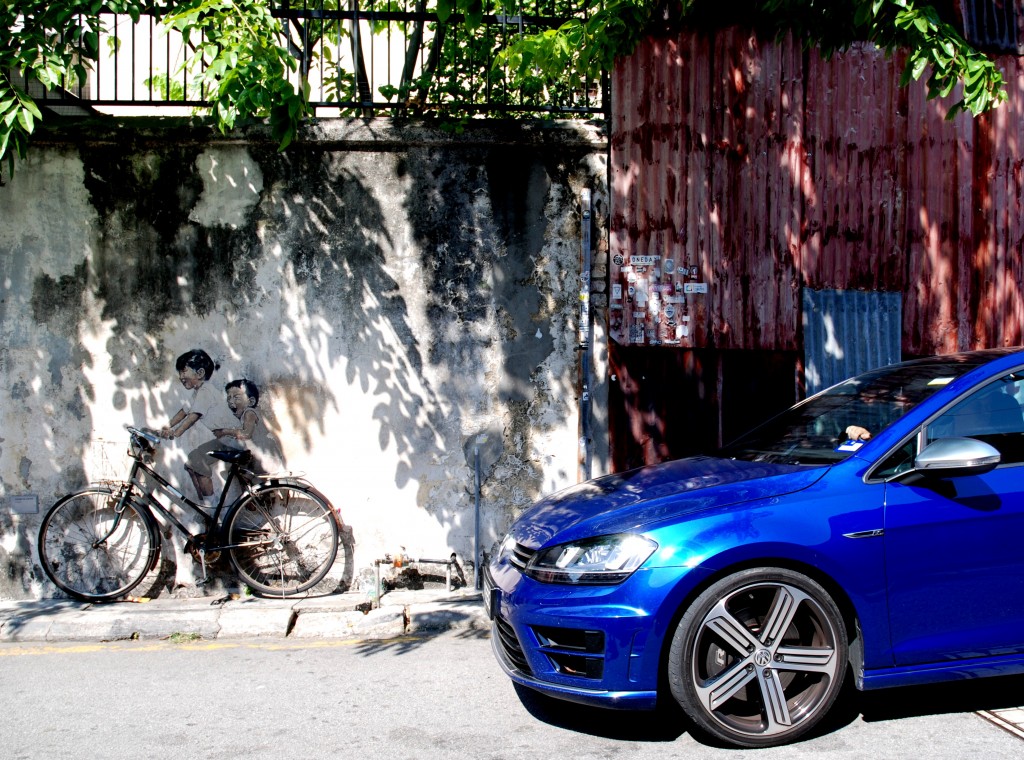 Besides that, the Golf R is very decent on petrol too. My overall journey that covered almost 900km on a combination of highway and town roads, averaged around 10.3- to 10.9 km per litre. Apart from that, the Stop-Start system and battery regeneration, where it converts kinetic energy when driving or braking to recharge the vehicle battery also helps to improve the car's fuel economy.
In terms of design, the Golf R dressed in Lapiz Blue Metallic for my test unit looked way too cool. The Golf R has a very sporty yet subtle look at the same time and wherever I drove, people would give an envious stare or even peek inside the windows to catch a glance of the interior.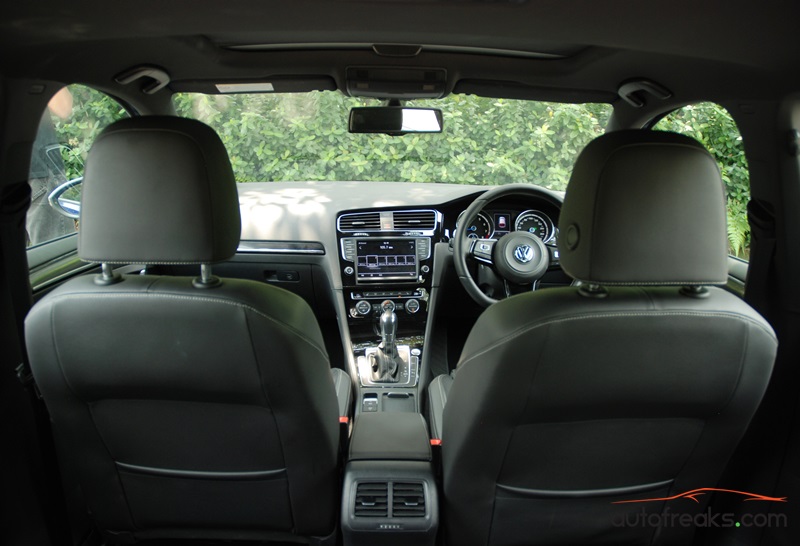 The new Golf R rides on the Modular Transverse Matrix (MQB) platform, a combination of standardised and variable dimensions allowing flexibility in vehicle dimensions. According to the folks at VW, MQB's lightweight construction has reduced the Golf R's weight by up to 46 kg so it gives you a feeling of driving a much larger car because there's plenty of space on the inside despite its compact dimensions. Given the fact that I'm 5-feet 5-inches tall, the Golf R was able to accommodate me fairly well with ample headroom and legroom to spare. Surprisingly, our English friend who is over six feet tall had only a one inch gap between his head and the hatchback's roof so we decided to retract the sunroof, just in case he gets claustrophobic.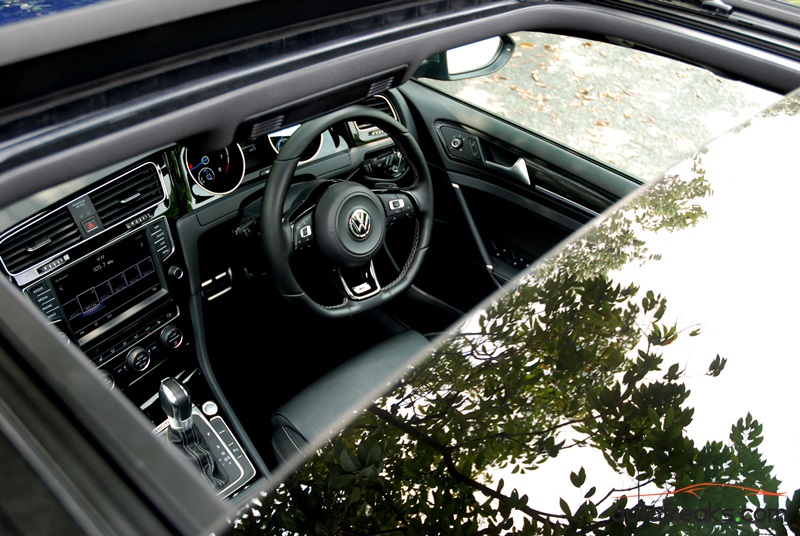 What I like about the Golf R is that it welcomes you with a sporty interior decked in blue motifs and R badges splashed everywhere. You can spot them on the steering wheel, the seats, on the dashboard and door trim panels and I also like the gauges that house bright lit blue needles, that spring into action as soon as you turn the key. Meanwhile, the Piano Black decorative inserts on the centre console, multi-function display and illuminated front door panels and scuff plates gives a very premium look and feel to the hatchback.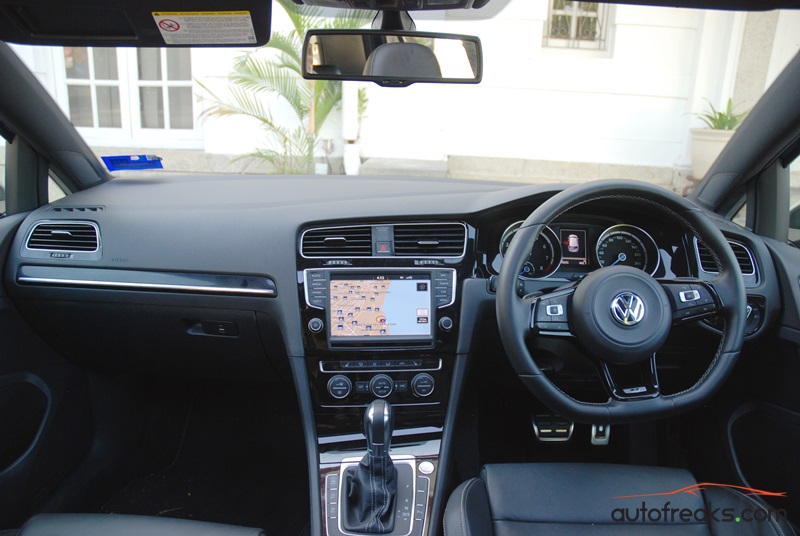 Tech junkies will be happy to know that there's a variety of functional tech equipment on board such an 8-inch TFT (Thin Film Transistor) touchscreen colour display that feeds all kinds of info to the driver such as the vehicle's status, Dynamic Chassis Control, fuel consumption, Bluetooth connectivity, radio, as well as a navigation system, just to name a few. The navigation system proved to be a very useful tool when navigating around Georgetown and it is very simple to operate just like your smartphone. There also multiple connectivity options such as a USB port, AUX IN and Bluetooth that allows for music playback from its SD slot.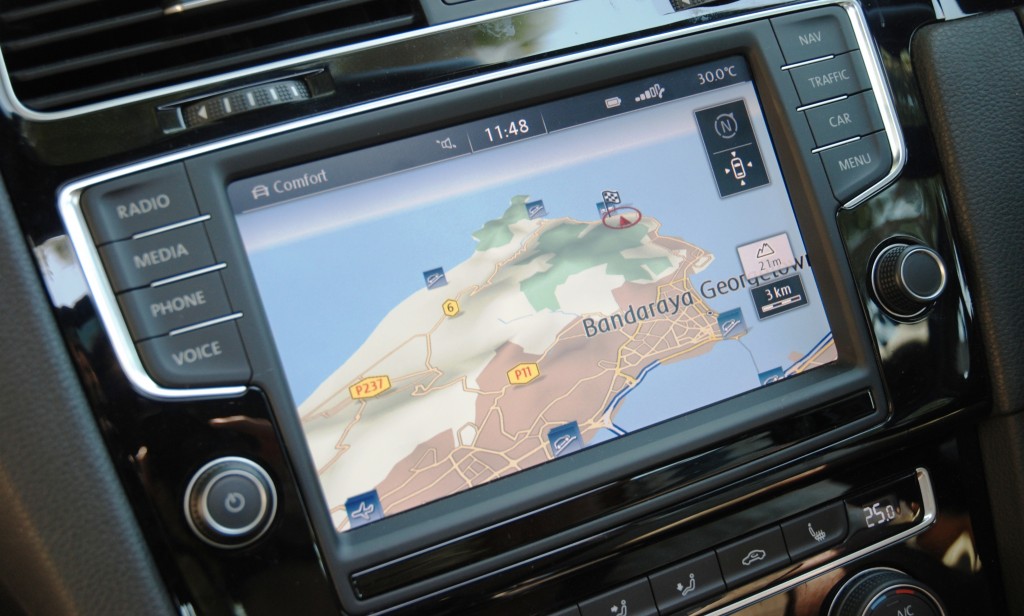 At the end of the day, I couldn't have chosen a better car for an excursion from KL to Penang and back. The Golf R is a great companion for long distance travel yet it is well equipped with useful technologies that gives me a lot of confidence from behind the wheel. Very few proper hot hatches can give you driving thrills with everyday utility at the same time and there's a good reason why the Golf R is such a charmer, it just excites you every time you drive it away. The best part is, the Golf R can take you anywhere – given if there's no traffic jam involved – in a jiffy!
On my personal take, the Golf R is the motoring equivalent to the male protagonist in the 50 Shades of Grey trilogy. Just like Christian Grey, the Golf R appears as a handsome, muscular and charming machine, but it also poses a 'dark' side of being an aggressive rebel and a control freak. I'm sure that this car is lusted for by many, but it ultimately depends on your driving style and the severity of your high speed addiction.
CW says…
As usual I managed to have a short stint with the R before Alia sped away into the sunset, leaving a dust trail of vulcanized rubber in her wake, and if first-impressions are crucial, this car makes a thoroughly proper one. First off, it 'greets' you the moment you open the door, with an array of tastefully placed blue lighting (by the way for the record if you hate the colour blue, stay far, far away from this car), and it only gets better once you 'thumb' the starter button. You can't help but smile when that glorious engine up-front booms to life. Speaking of 'booms', driven hard and in 'Race' mode, the one that emanates from the dual-clutch gearbox as the cogs swap, is pretty much going to have you nursing a 'semi' throughout your drive, if you're a petrolhead. Girls, ask your guy what I mean…
It's a pretty brilliant car the R; as Alia said, it can be driven daily – its numerous drive 'modes' ensure that – and it can be pounded into the pavement like no other car you've ever driven. I would worry about the long-term effects of such 'box abuse, but then again, what's that saying about only living once? If you're looking to buy a Golf, do yourself a huge favour, don't test drive this R, because you're going to want it, badly. – CW.
SPECIFICATIONS: VW Golf R Mk7
Displacement: 1984cc, 4-cylinder Direct injection/turbocharger
Transmission Type:  6-speed Direct Shift Gearbox (DSG)
Power: 290hp @ 5700 – 6200
Torque: 380Nm @ 1750-5600
Fuel consumption: 6.9km/l combined (claimed)
Price: From RM285,888