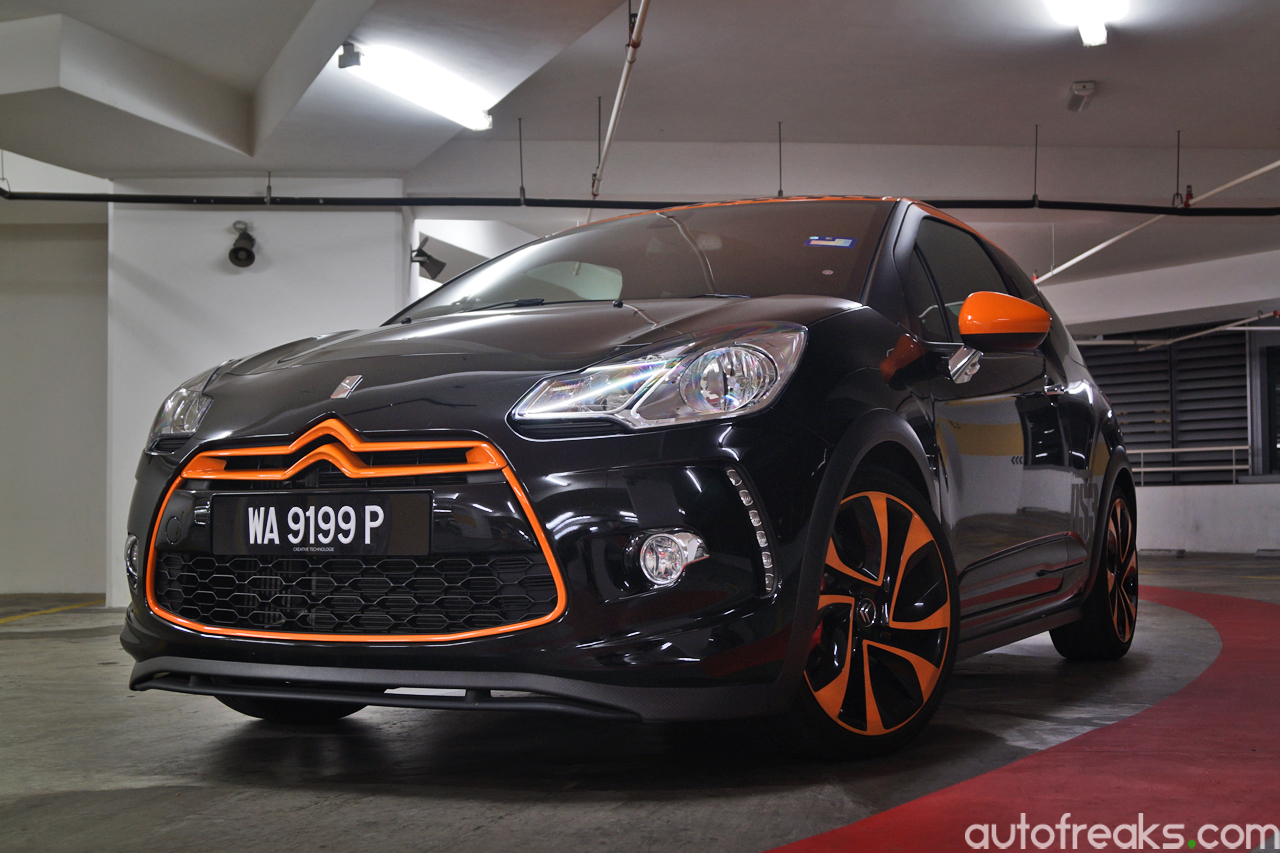 ADVERTISEMENT
"Wow bro, is that a manual gearbox? Nice bucket seats too!" Those were the words uttered by a random guy that checked out the Citroen DS3 Racing out while I had it parked for a photo shoot. That initial reaction aside, does the DS3 Racing perform as good as it looks?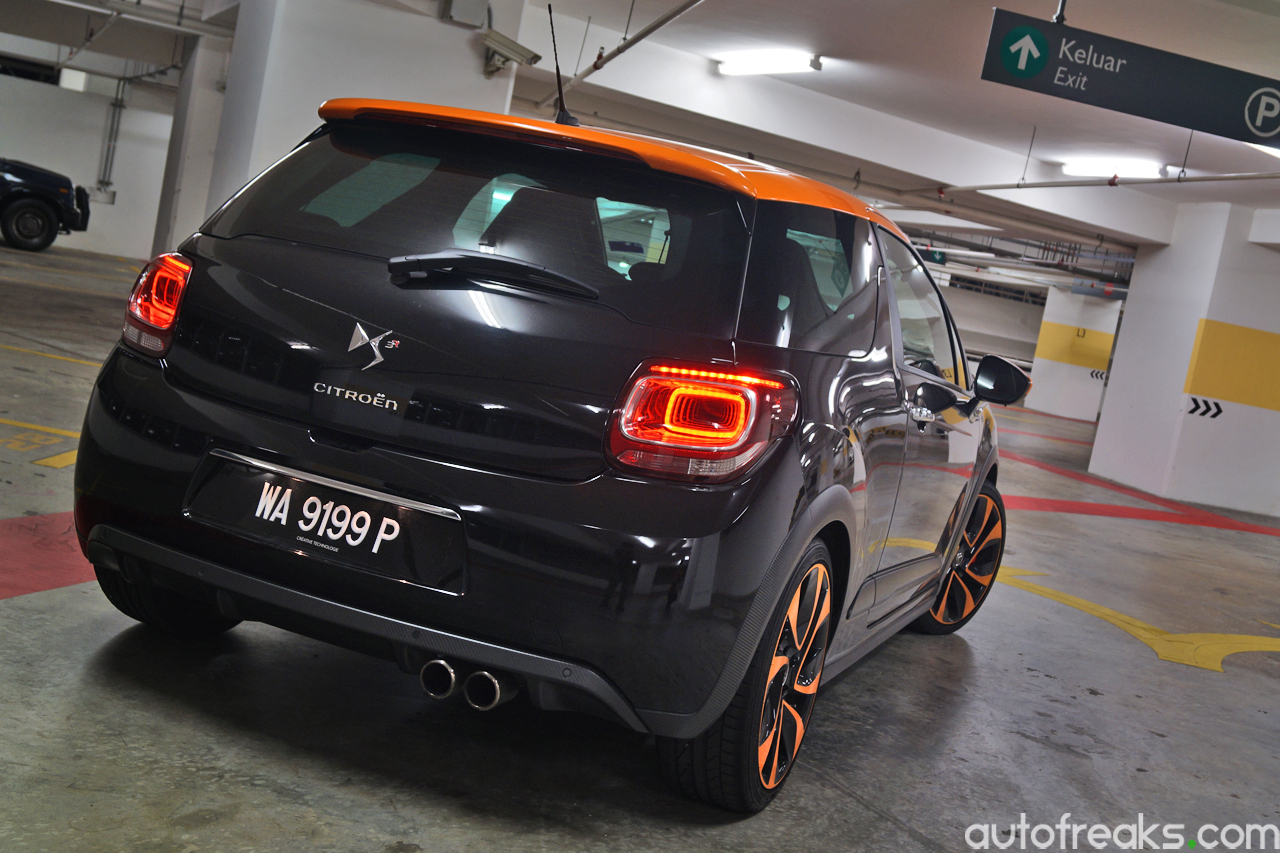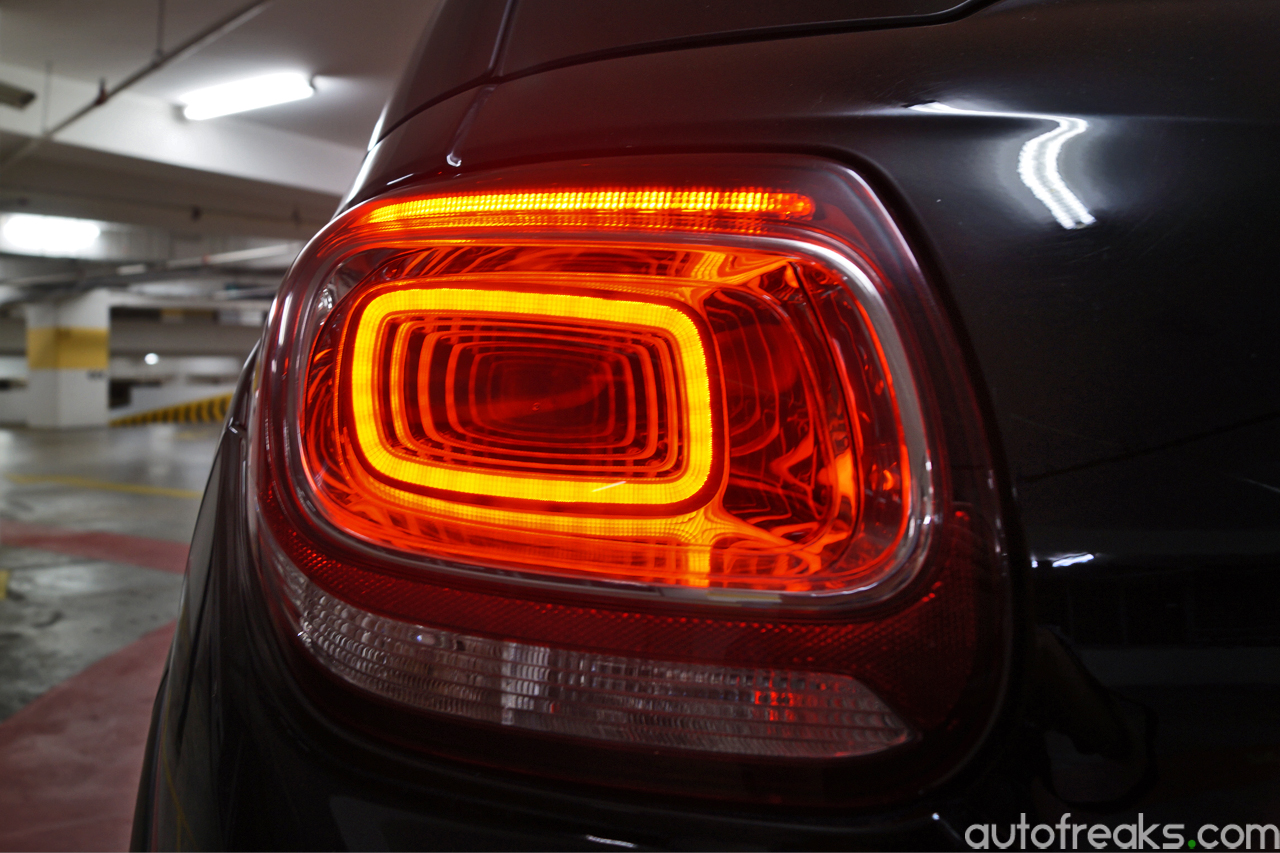 The exterior of the Citroen DS3 Racing is decked out in full Obsidian Black, but accented with bright orange colours on the roof, wing mirrors, front grille and rims. There are also various dark grey coloured decals throughout the car. Subtle? Not by a long shot. Many folks who saw the car on the road had their attention peeled to the bright orange rims and various decals. Speaking of rims, the 18-inch rims you see here are the factory standard rims, which I feel, are amongst the best looking standard rims around.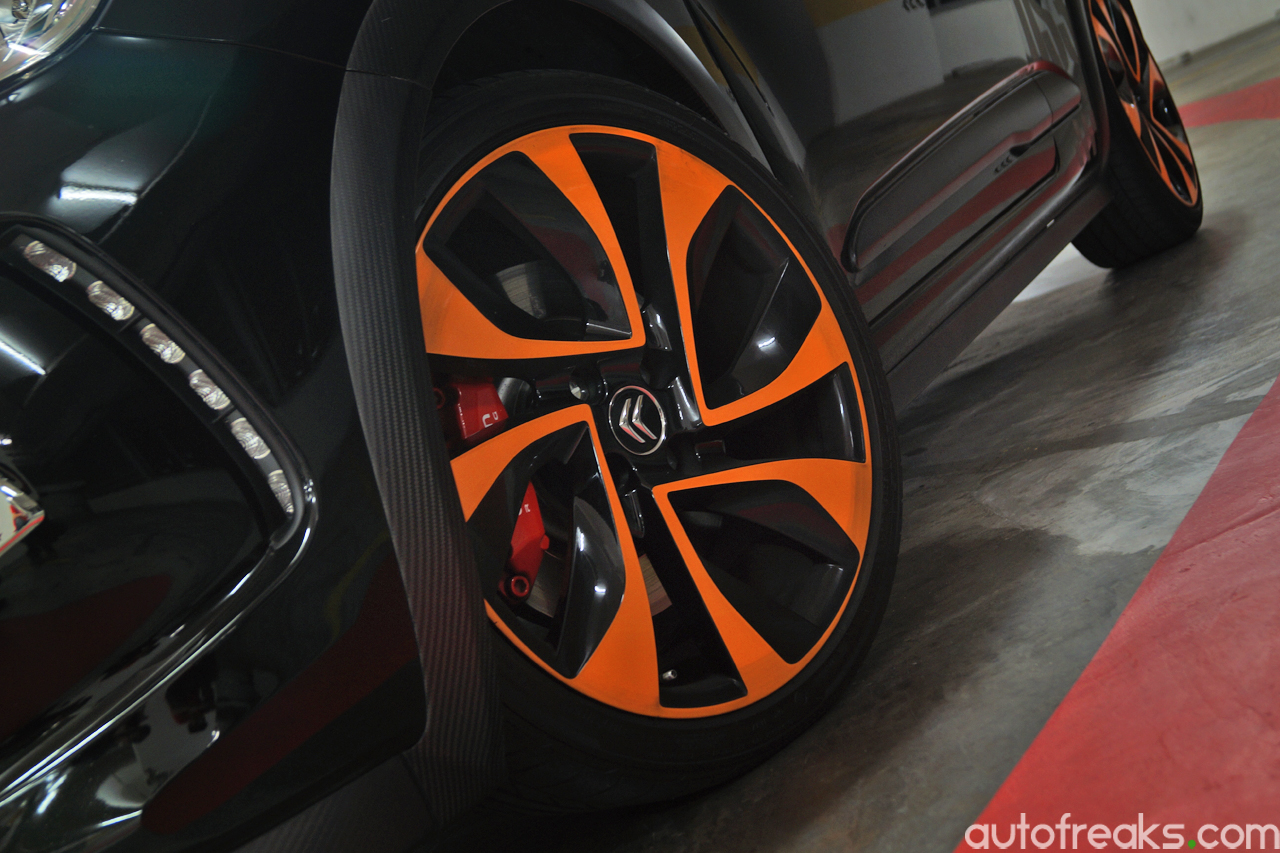 Apart from the bright orange colour, observant ones will also notice that Citroen has been rather generous with the usage of carbon fibre all over the DS3 Racing. They have taken liberty to install carbon fibre on the interior of the car, and also on the exterior. The front splitter, side skirts, arches and rear diffuser, wheel-arch trims and side garnish are all made out of carbon fibre. On the interior, carbon fibre can be found on the steering and centre console. All in the name of keeping weight low, you see.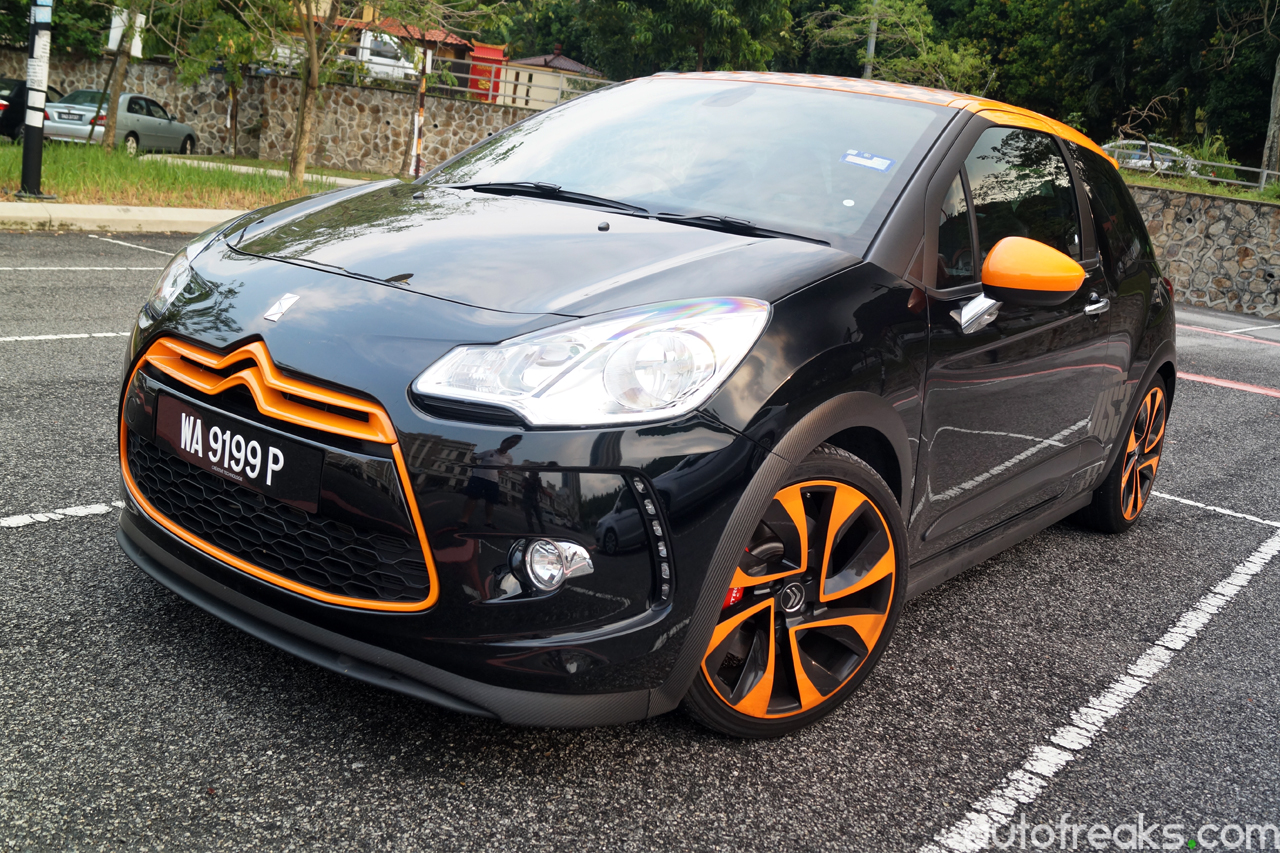 Under all the flashy stickers and orange paint job, the Citroen DS3 Racing sits on the same Peugeot S.A. PF1 platform that underpins the Peugeot 208 GTI. Power comes from a Prince THP200 engine, good for some 202 horsepower @ 6,000 rpm and 275 Nm of torque from just 2,000 rpm. The sole transmission choice offered is a 6-speed manual. No complains from my end, as the gearshifts are short and precise, with a satisfying feedback when the gears are engaged.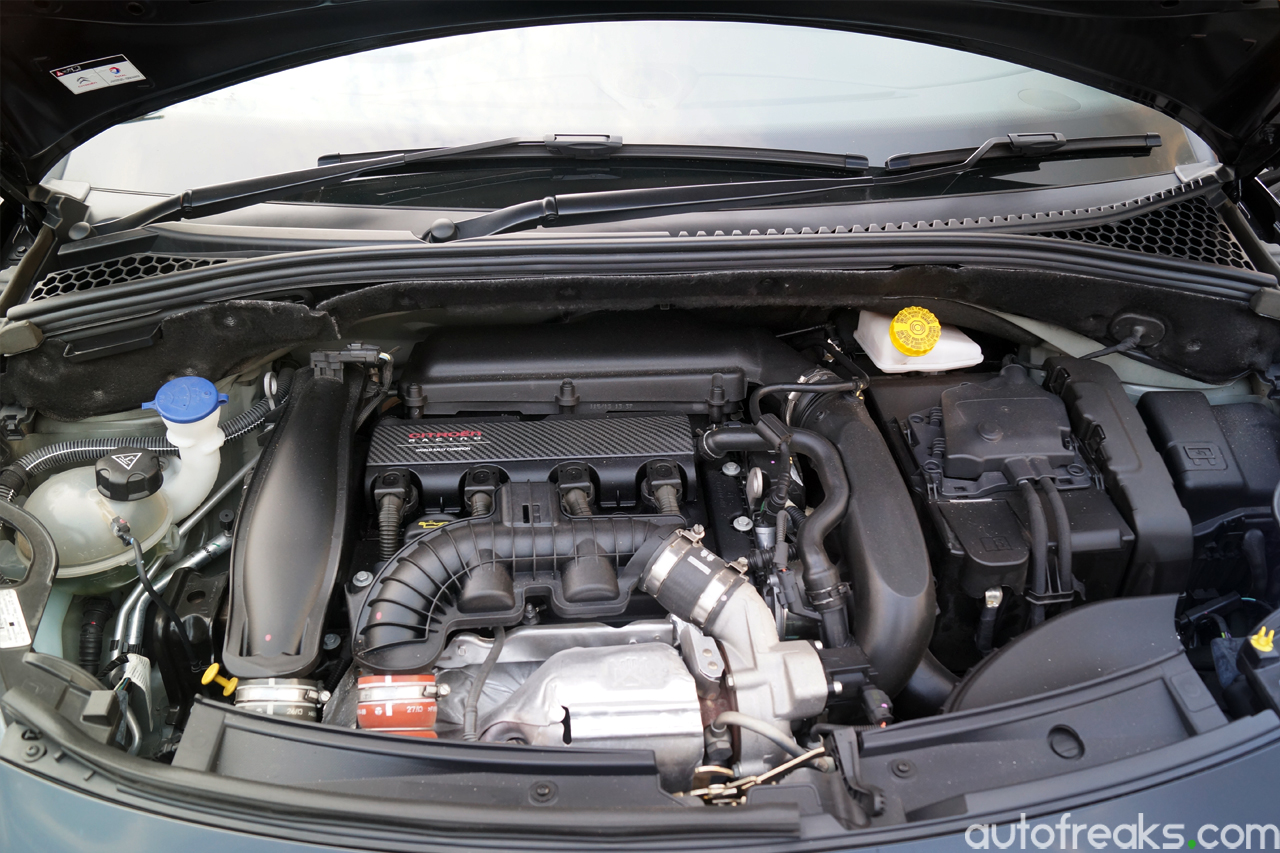 The experience behind the wheel of the Citroen DS3 Racing can be said as surreal, as it is the only unit here in Malaysia (Actually it's currently the only unit in South East Asia. – CW). Heads turned every time I was at traffic lights. The bright orange rims and decals grabbed the attention of kids and adults alike. Like our Mr Friendly who dropped by to check the car out earlier, he also mentioned that the rims was what grabbed his attention at first. The bright orange theme continues inside, as the dashboard sports the same shade of orange that screams for attention.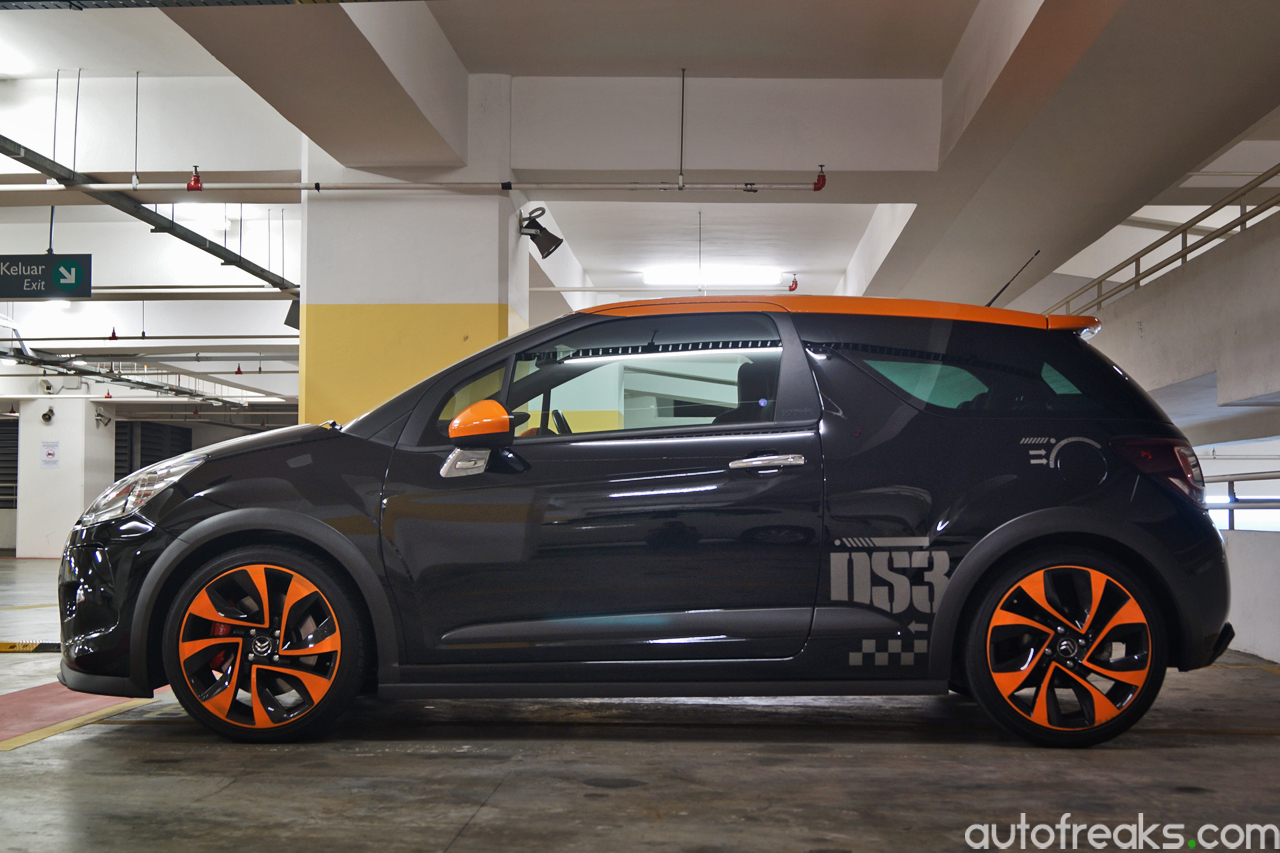 Upon cranking the THP200 to life (manual crank, no push start button here), you'll be greeted with a nice deep rumble from the exhaust. You'll need to be outside to enjoy the sound of the exhaust though, as exterior noises are well insulated from the cabin, such a shame….for this car anyway. The leather and carbon fibre adorned steering is electronically powered, and weighs just nice, without any hints of being over-assisted.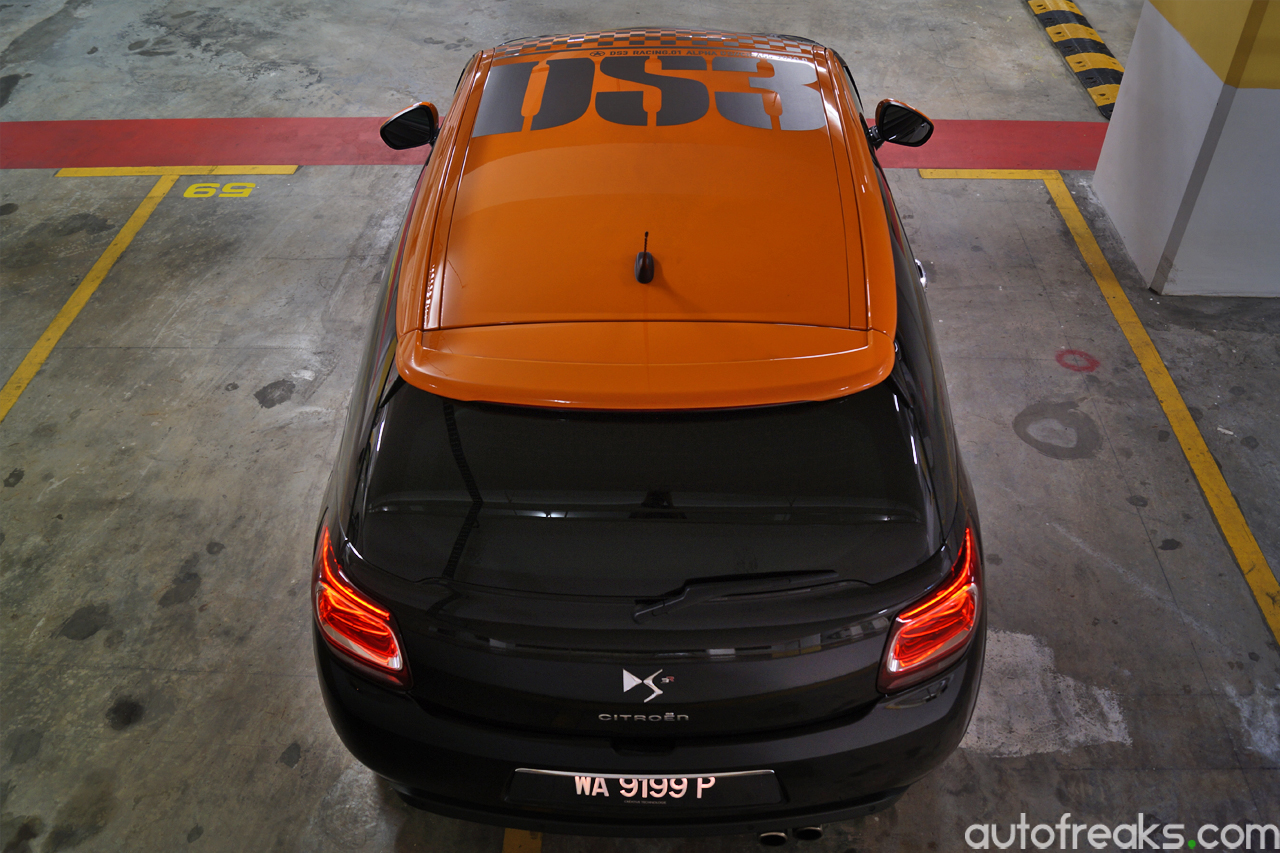 Flat out with quick gearshifts, the Citroen DS3 Racing can crack from standstill to one hundred in just 6.5 seconds. We certainly don't doubt that figure, as the DS3 Racing is nothing short of fast. Speed aside, the full 275 Nm of torque comes in from just 2,000 rpm, which makes overtaking a breeze, regardless of what gear you're in. Let loose, the Citroen DS3 Racing will max out at 235 km/h.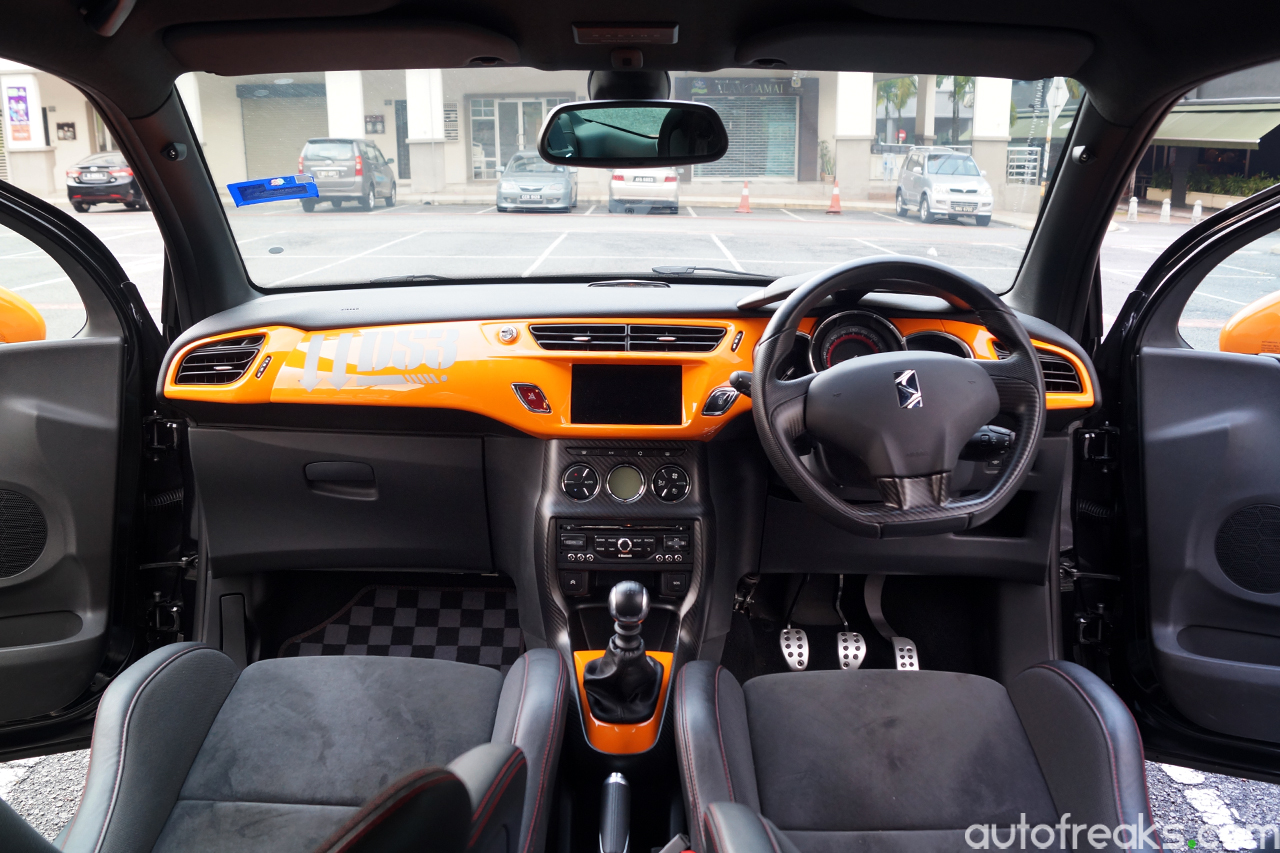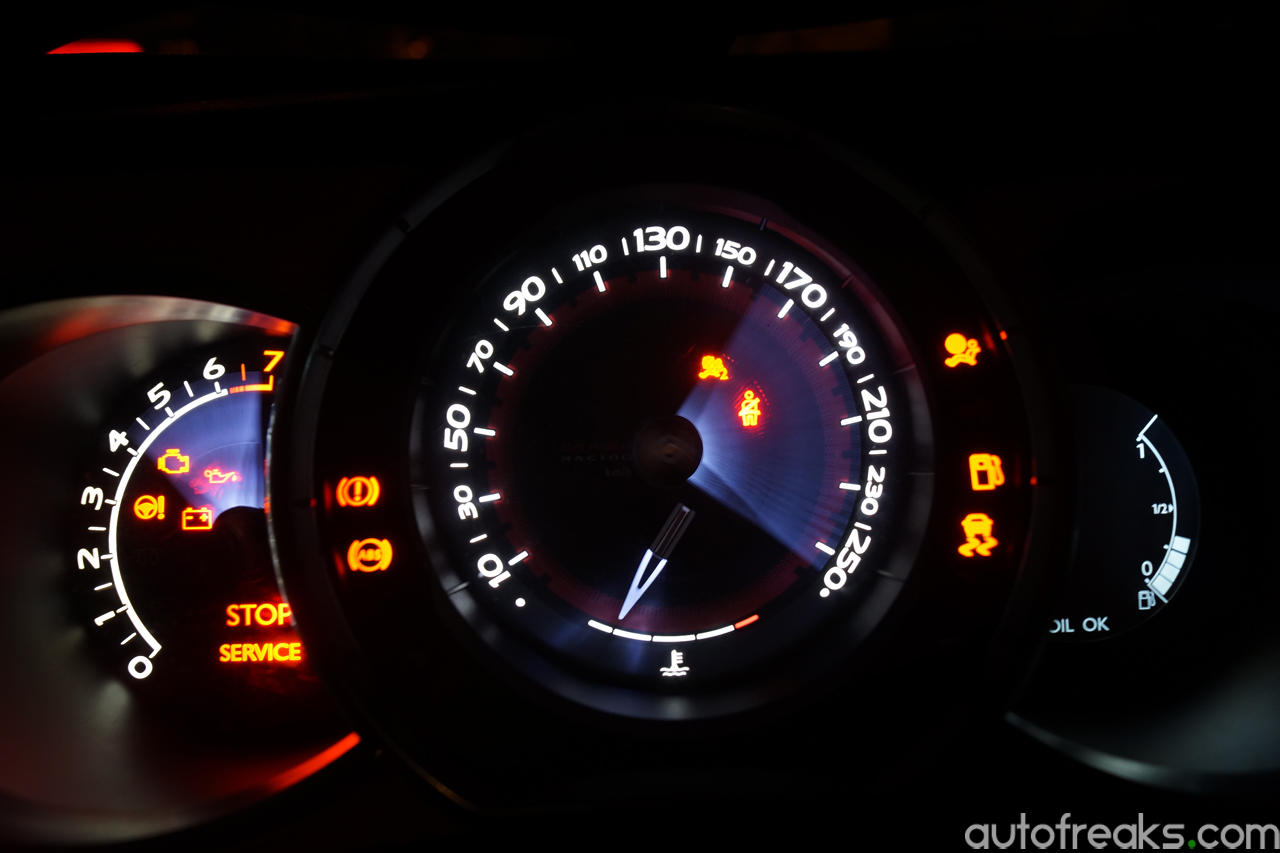 The Citroen DS3 Racing's ride feels nice and firm, and bodyroll is kept to a minimum. Compared to its core rivals, the Citroen is easier to drive on a daily basis. The occasional rough Malaysian roads does make the car feel bumpy, but not to the extend of feeling trashy. Road noise too is apparent on less-than-ideal road surfaces, but we can gladly live with that.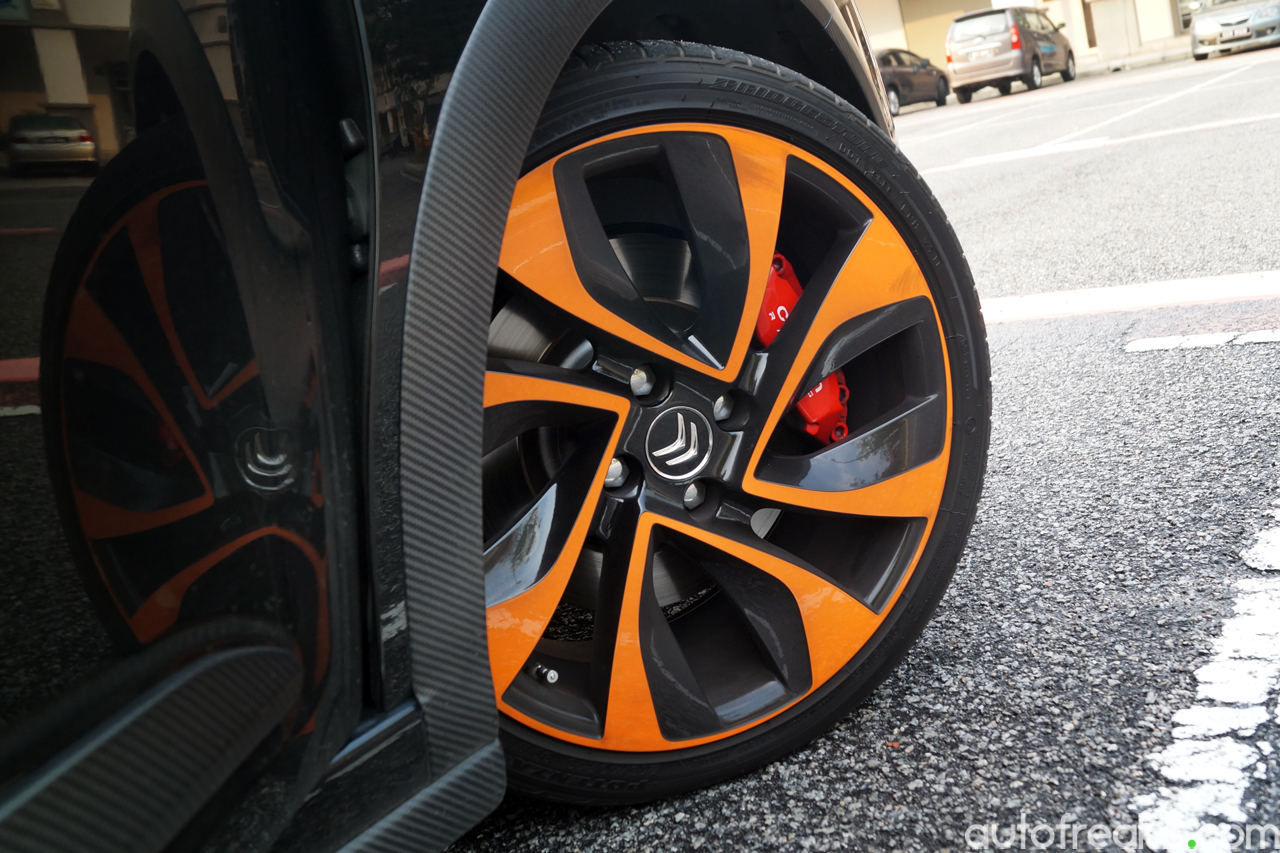 Introduce the little orange-black hatchback to some corners, it will do so with ease and pride, thanks to its bespoke shocks and absorbers (results in a 15 mm lowered ride height), 30 mm wider track and sticky Bridgestone Potenza RE050A tyres. No limited slip differential here (or torque vectoring), so when the full 275 Nm of torque kicks in, expect some torque-steer. Apart from that, a gentle tap on the brakes stops the 1,240 kg hatchback very reassuringly, thanks to its 4-pot Brembo brakes up front. The Trami Mistral cloth and Alcantara semi bucket seats are deep, but is a tad bit too large for my size. Despite that, they do hug very well.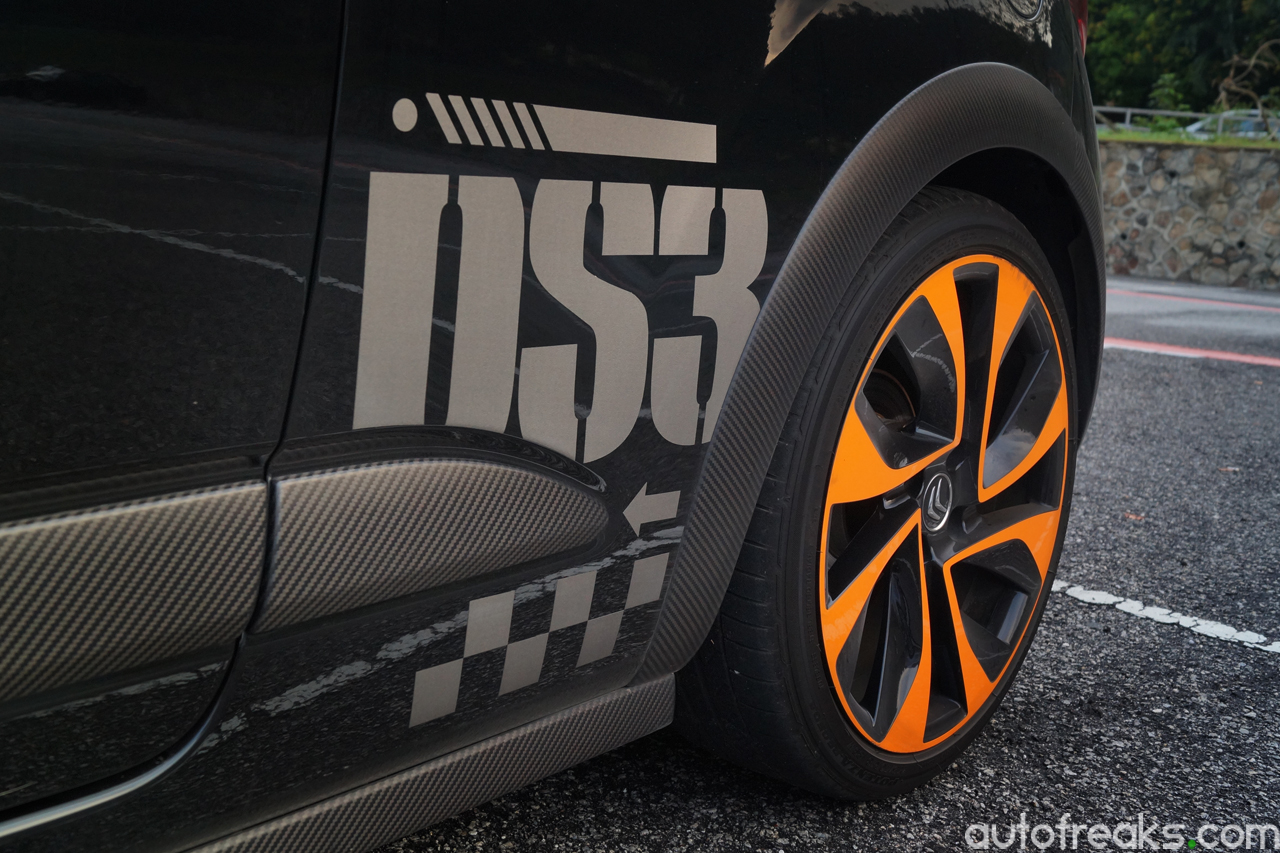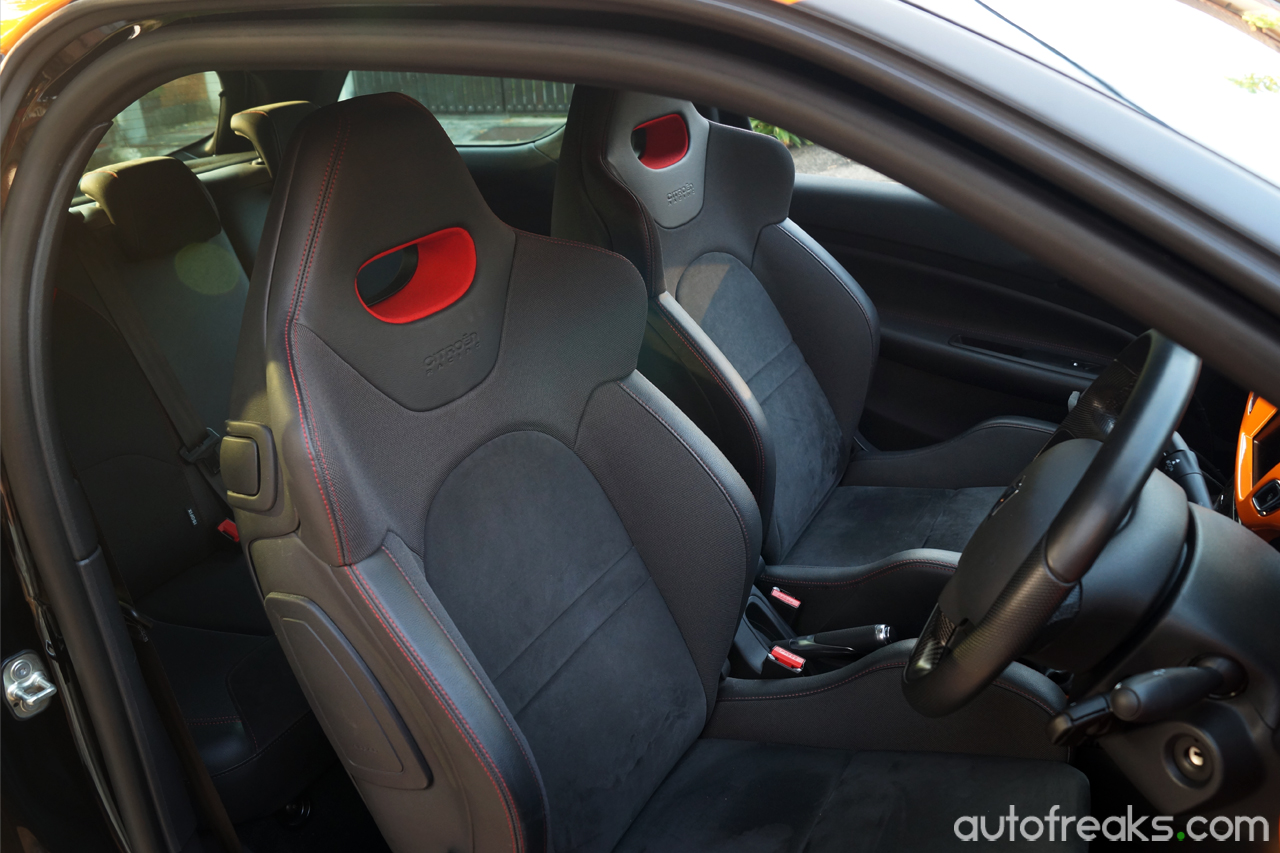 While looks are subjective, the Citroen certainly looks better than its rivals, and for me at least, it's easier to live with on a daily basis. Think of the Citroen as the Peugeot 208 GTI we reviewed here in a fancier, more attention grabbing package. Naza Euro Motors, the official importers and distributors (and saviours) of the Citroen marque in Malaysia, currently has no intentions of bringing in the Citroen DS3 Racing, which is a shame because this is a petrol-heads' dream.
CW says…
I seldom break a promise, in fact I make it a point not to, but every fibre in my being, and every drop of RON97 in my bloodstream was telling me to keep this car for myself and not pass it to Eric. The DS3 Racing is antithesis of the 'sombre sibling' DS3 VTi which Alia reviewed earlier here. And folks, let me just say that if ever a car could be considered the proverbial 'fountain of youth', this is it. First off, it's only available in a 6-speed manual, there's no auto option so don't even bother asking. Secondly, it HATES to be driven slow, so if you work in the city and getting stuck in jams is a daily norm, you do not want to buy this car. Needless to say, with the colour scheme and all the graphics / decals – yes, they are all original – keeping a low profile is impossible.
Without a shadow of a doubt, this little monster was built with one sole-purpose in mind; pedal-to-the-metal, Sunday canyon-carving. The way it sprints from corner to curve, the way it handles and tackles short, sharp turns and long sweeping chicanes, the way that engine revs eagerly and simply begs to be revved even harder, it's the kind of car that you're going to spend a lot on, just for tyres and petrol. You're gonna want to pamper this car tremendously, more than any other, because it will induce the kind of devilish automotive-fuelled ear-to-ear grins you thought were long past you. Seriously, Naza Euro Motors should bring this car in, even if in limited numbers, it'll make you feel younger, instantly. It's just brilliant. – CW.
Specifications: Citroen DS3 Racing
Price: Not for sale
Engine: Turbocharged 1.6-litre inline-4 Prince THP200
Horsepower: 202 hp @ 6,000 rpm
Torque: 275 Nm @ 2,000 rpm – 4,500 rpm
Transmission: 6 speed manual
0-100 km/h: 6.5 seconds
Top Speed: 235 km/h
Citroen DS3 Racing exterior shots
Citroen DS3 Racing interior shots