Volvo Trucks Malaysia handed over brand new Volvo trucks to Konsortium PD Sdn Bhd in an official handover ceremony held at their HQ in Lukut, Port Dickson. The handover saw 17 units delivered to Konsortium PD Sdn Bhd, with an additional 11 set for delivery in 2019. The senior leadership team of both Konsortium PD Sdn Bhd and Volvo Trucks attended the ceremony. Of the 17 trucks handed over during the ceremony, two were Volvo FH440, seven were Volvo FM370 and eight were Volvo FM440. The remaining eleven will be five Volvo FM370 and six Volvo FM440.
Konsortium PD Sdn Bhd is a road transportation logistics company established in 2001 and was a result of the merging of several companies and their fleets to form one consortium. The business primarily operates in Port Dickson, Westport, Puchong/KVDT, Kapar, Kempas/Johore and HICOM/Shah Alam with Shell Malaysia Trading Sdn Bhd as their main customer. Konsortium PD Sdn Bhd is one of the best haulage companies in the region based on their safety and operational excellence with acknowledgement coming from many industry players.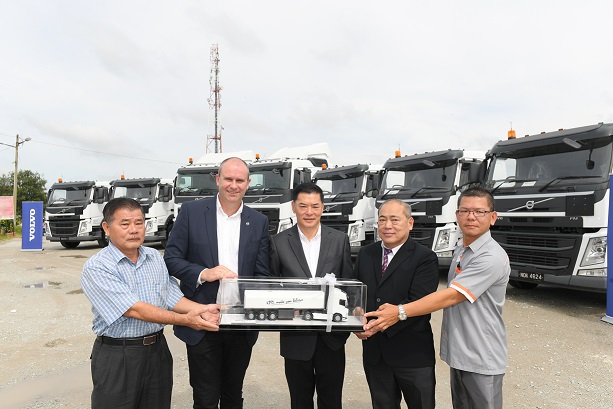 Richard Tee Chu Wong, Managing Director of Konsortium PD Sdn Bhd said, "The addition of 28 new Volvo trucks are a testament to our commitment to provide even better services to our customers and to help them achieve their business goals efficiently. Having also signed the Volvo Service Agreement, we now have the ease of mind when it comes to maintenance of our Volvo trucks. I am confident that our choice of including these additional trucks to our fleet will allow us to go further in the oil and gas transportation industry."
Konsortium PD Sdn Bhd presently owns and operates 15 Volvo Trucks. The addition of 28 new trucks from the handover will see Konsortium PD Sdn Bhd boast a total of 43 Volvo trucks in their fleet, servicing clients in several location across Malaysia.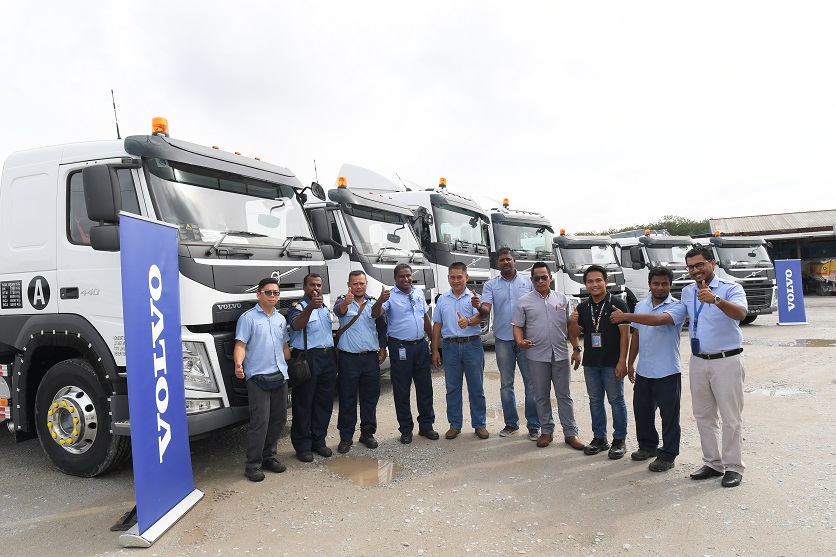 The decision to purchase the trucks by Konsortium PD Sdn Bhd was made based on the healthy relationship built between the two companies over the years as well as in acknowledgement of the quality of aftermarket services offered by Volvo Trucks. Konsortium PD Sdn Bhd also hopes to learn more about handling and maintaining their Volvo trucks through this handover.
"We at Volvo Trucks strive to provide the best offerings, both in terms of our trucks and our services, to all our customers," said Mitch Peden, Managing Director of Volvo Trucks Malaysia. "Especially with Konsortium PD Sdn Bhd's clientele in the oil and gas industry, safety and quality are the two most important aspect to look at when looking for a transportation partner. It is an honour to be the top choice with the addition of 28 brand new Volvo Trucks to their fleet. We will continue to offer our best in class services to ensure the highest performance and return on investment for our business partners."
With a good record of performance, Konsortium PD Sdn Bhd has further grown its business by diversifying to industrial gases, other oleo chemical products as well as retail petrol stations. In the future, Konsortium PD Sdn Bhd also hopes to expand into the warehousing business.