To cater to the growing automotive market, Saudagar Rim Rawang – better known as SDGR – has partnered with Goodyear Malaysia Berhad to launch its first Goodyear Autocare outlet in Batu Caves. The growing number of Goodyear Autocare Concept outlets within the Klang Valley region is also part of Goodyear's strategy to expand aggressively, making it convenient and accessible for customers to enjoy the refined Goodyear Autocare service.
Located along Jalan Sungai Dua, Batu Caves, this outlet comes equipped with state-of-the-art service bays and comprehensive automotive service kits, designed to offer customers a differentiated automotive care experience.
Managing Director of Goodyear Malaysia Berhad, Ben Hoge said "to redefine our customer's experience, we rolled out the new Goodyear Autocare outlet concept since 2016 that combines impactful visuals, comprehensive products and service offering, and modern outlet design to make the tyre purchasing journey different here in our outlets for today's discerning customers.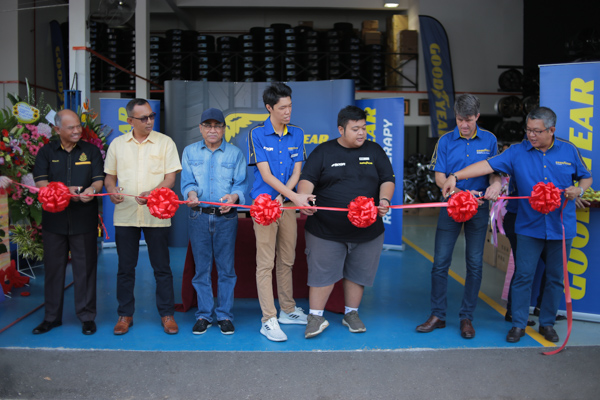 "This is an inaugural partnership between Goodyear and SDGR. It reflects Goodyear's commitment in offering a competitive advantage for its partners, from the areas of product and knowledge support, wide range of product availability, to services and after-sales support. We always seek ways to support our partners and be a part of their journey as they expand their business with the establishment of more Goodyear Autocare outlets under their belt," added Ben.
As one of the top names in the sales of rims and tires, the outlet's officiating ceremony was graced by Ben Hoge, Managing Director, Goodyear Malaysia Berhad; Chee Lip Choon, Sales Director, Goodyear Malaysia; Y.B. Tuan Mohd. Sany bin Hamzan, member of parliament for Taman Templer; Brigadier General Haji Mislan bin Anuar; Professor Dr. Ibrahim bin Hashim; as well as Iskandar bin Zabani and Loh Chee Hoe, co-owners of SDGR.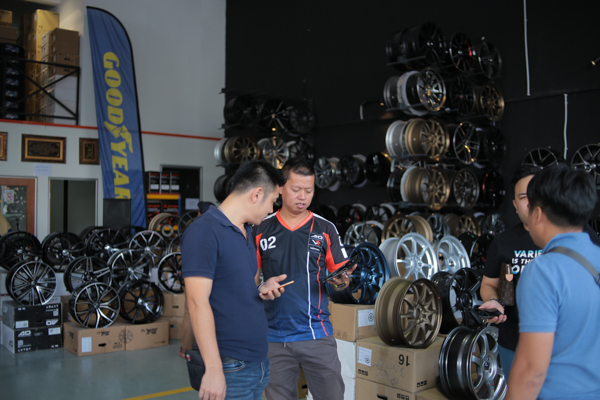 To offer a holistic shopping experience, SDGR not only offers some of the latest Goodyear tires, including the Eagle F1 Asymmetric 3 and the Goodyear Assurance Triplemax 2, which will be officially launched in November and is the successor of the legendary Goodyear NCT5, but a wide selection of performance rims as well. The outlet is also equipped to provide a variety of car servicing options and has a selection of automotive accessories for sale.
Iskandar bin Zabani and Loh Chee Hoe, founder of SDGR shared "After building SDGR as a household brand in the rims industry, we are always looking out for ways to expand our business. We are very excited to have this venture with Goodyear, tapping into their deep product knowledge and business support to expand our presence within the Klang Valley region."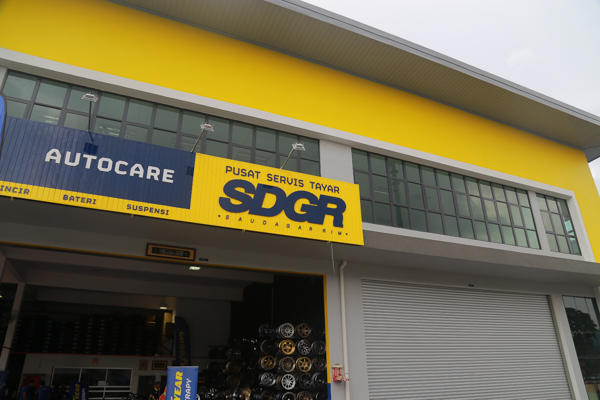 Ben shared, "The partnership with SDGR Trading is among the many first of such ventures as we seek to expand our retail network nationwide, collaborating with retailers to continue serving our customers better. In line with our 120th anniversary celebration this year, we have also in placed plans to further expand our automotive care service, on top of building our premium line of tire offerings and various consumer promotional activities to make it a good year!'
The growth of new vehicle segments and automotive technology signals the need for outlets today to be equipped with a comprehensive range solutions for today's automotive needs. In order to support that, Goodyear Malaysia will be adding 28 new stores alongside 38 refurbished stores in 2018. This brings the grand total to 66 shops that feature the new Goodyear AutoCare concept, which is designed all for the love of driving.