With just 6 weeks to go before the showcase 'F1NALE' event, Sepang International Circuit (SIC) is revving into high gear to promote what will sadly be the final F1 race at the Malaysian race track.
True to its promise of making the event accessible to all Malaysians and making it the grandest F1 Grand Prix ever staged in its history, SIC, the promoter and organiser of the 2017 Formula 1 PETRONAS Malaysia Grand Prix will be introducing a cluster of activities for all ticketholders and fans attending the race. Fans will be treated to a countdown of celebration to the 19 years of Formula 1 in Malaysia.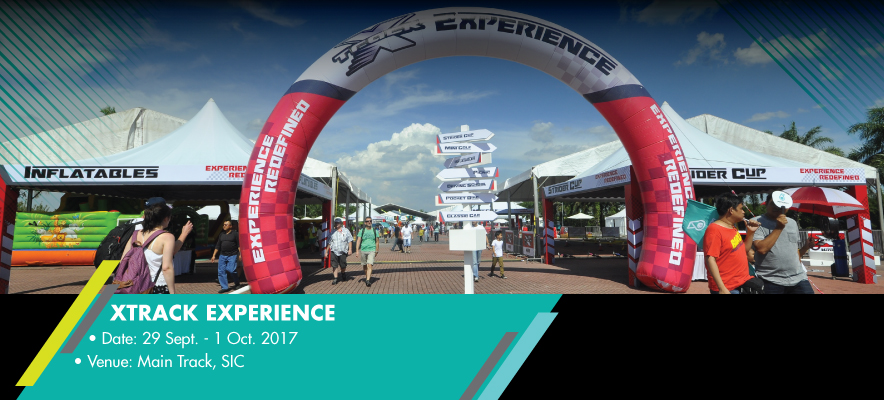 Early this year, SIC announced a revised ticket structure, offering up to 82% price reduction and a special discount for Malaysians. Tickets are now selling at a flat price of RM613.68 for the Main Grandstand with a discounted price of RM336.18 for all MyKad holders.
Two promotional 'F1NALE' booths have been opened in the the city, located at Nu Sentral andSuria KLCC Mall respectively to provide access for fans to purchase tickets at a nearby location.
To accommodate fans attending the event, from September 29 to October 1, SIC is collaborating with KLIA Ekspres rail service and Rapid KL bus service as its public transportation partners. This collaboration offers convenience of direct connectivity from KL Sentral, KLCC, KLIA and KLIA2 to the race circuit.
A free bus shuttle service will also be provided during the 3–day race weekend which loops the race circuit grounds, conveniently connecting the many parking bays with the various entry gates and seating areas.
"Fans not only get the convenience of booking their race tickets and parking online, they can also pre-order their meals at our official ticketing website at www.sepangcircuit.com where they will have a selection of menu to suit their likings. With the Mykad discounts, 2017's race tickets start from RM58.68 for local fans. We are also encouraging fans to bring their family and children along as we are offering discounted tickets for children aged between 7 and 12" SIC Chief Executive Officer, Dato' Razlan Razali said in a statement recently.
More…
The three team tribunes, Mercedes, Ferrari and RED BULL RACING with seated zone facing the team's pit garages have already sold out in May. Tribune ticket holders gets an exclusivity to the Friday Pit Lane Walk and team merchandises in the package.
Besides this, other seats within the 32,000-seating Main Grandstand are on a free seating basis for the convenience of the fans to roam. Tickets are selling fast and fans are encouraged to purchase their race tickets earlier to not miss the final race.
Beyond the world class racing action on track, F1NALE will also feature a two-day F1 Music Festival where fans can enjoy the best of South East Asia and local music performances.
The F1 Fan Zone, which has been the circuit's attraction for F1 events over the past few years, will be bigger and better with exciting new activities to enjoy.
"Previously, we had only XTRACK Experience. There will be more activities this year at the F1 Fan Zone as fans will have the opportunity to indulge in more motorsports and fun activities that suit all ages like the Podium Jump, Wave The Flag, Pit Stop Challenge, F1 Game Zone with world class simulators and many more.
"The F1 Village will be massive this year where fans can enjoy their shopping spree of F1 team merchandise, motorsports paraphilia and plenty more. Fans can access all these activities with just one race ticket, making the already reduced ticket price more valuable than any other circuit" said Dato' Razlan.
In promoting the event, SIC is organising F1 roadshows in Penang and Johor to woo the crowd as well as a special F1 school programme as part of its Corporate Responsibility programme to further promote motorsports in the country.
"The F1 School Invasion programme is a unique nationwide programme which we are working in collaboration with iM4U, PETRONAS and PETROSAINS to bring the F1 experience to schools, to create excitement and generate interest among the young. The programme focuses on primary school children aged between 8 to 10 in search of 20 lucky winners who will have an opportunity of a lifetime to introduce the F1 Drivers live on Race Day of the race track in Sepang in front of the fans. 10 other winners will also have the exclusive opportunity to meet with Lewis Hamilton and Valtteri Bottas in a special programme arranged by PETRONAS titled "Face of the Future".
"A bigger agenda of our programme to bring the F1 experience to schools, colleges and universities is to educate and convert the students to be F1 fans and expand the motorsports culture in Malaysia, which was the prime objective when Malaysia started the F1 agenda. Since F1 came to Malaysia in 1999, motorsports in Malaysia has never been the same," he added.
Over 18 years, Formula 1 has provided great memories especially in the domination of Michael Schumacher with Ferrari over the years, the victory of younger brother Ralf Schumacher for Williams-BMW in 2002, the rise of Lewis Hamilton and later the domination of the new German hero, Sebastian Vettel.
In conjunction with the F1nale act, fans can collect the limited edition miniature replica trophy set featuring 11 different trophies of the past MalaysianGP and this year's exclusive trophy produced by Royal Selangor. The level of detail on each 80mm replica trophy is a fitting testament to the original Sepang podium winner trophies. Limited to only 200 lucky collectors, F1 ticket buyers will get to enjoy 10% discount plus a free SIC umbrella for purchases made by 31 August. Other memorabilia items include a limited edition 19-Years F1nale coin collection and a reproduction of official Formula 1 Petronas Malaysia Grand Prix event posters. A 5% discount applies to pre-orders until 22 September. For more information and to purchase the memorabilia, please visit towww.shop.sepangcircuit.com.
To not miss out the final action, fans are urged to get their tickets nowat www.sepangcircuit.com or by calling the TICKET HOTLINE at 603-87782222.