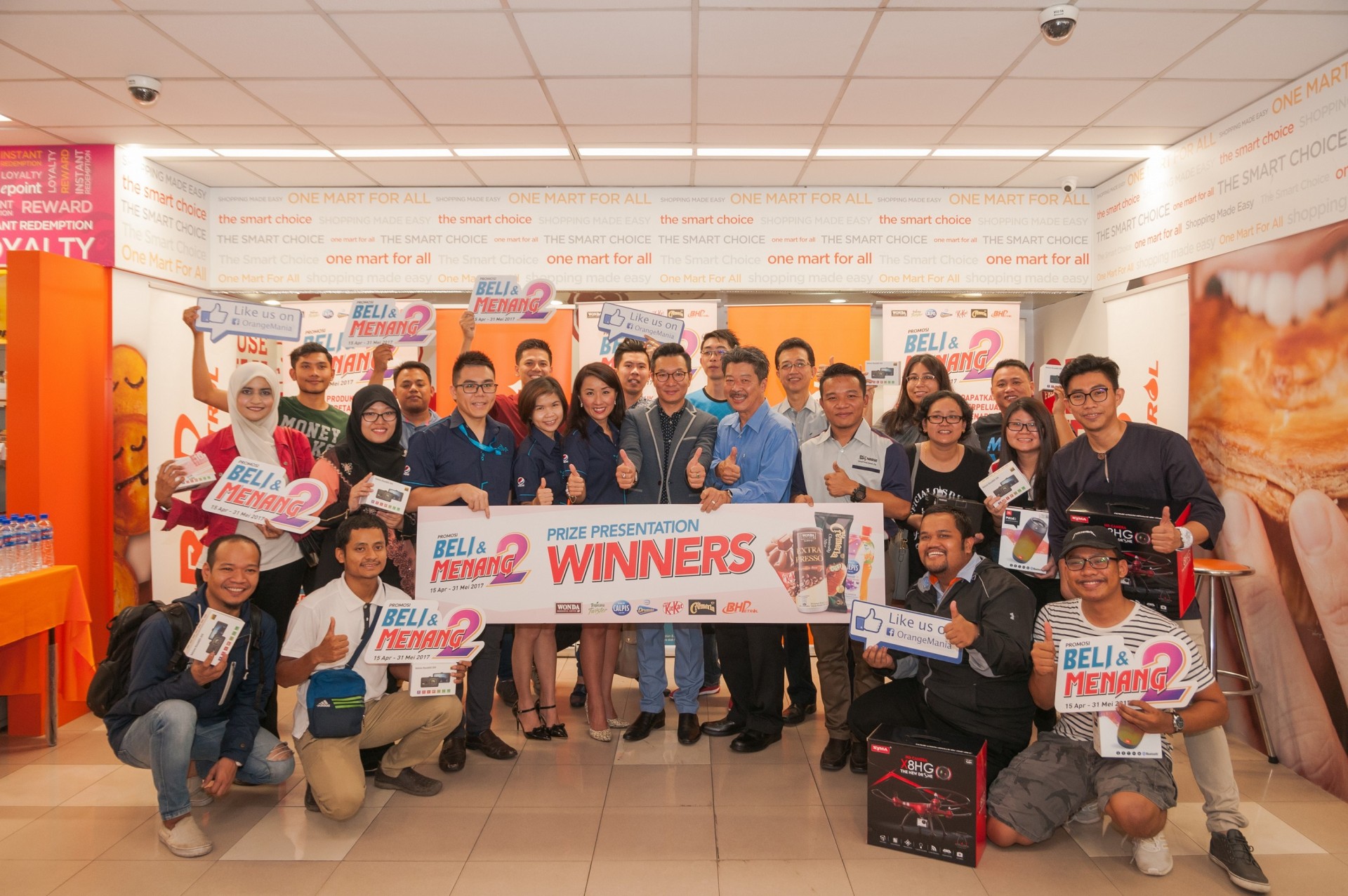 Boustead Petroleum Marketing Sdn Bhd (BHPetrol) held a prize presentation for its Beli & Menang 2 promotion at BHPetrol Kg Sungai Ara service station on 13th July 2017. The promotion which ran from 15th April to 31st May 2017 at participating BHPetrol service stations, round up 46 winners in total.
Prizes include two units of Fujifilm X-A10 cameras, four units of JBL Pulse 2 speakers, eight units of drones and 32 units of camera recorders.  During the promotion period, customers who purchased any two of the participating brands at BHPetromart were entitled for car stickers and get to enter a contest.
The lucky 1st prize receivers are Nor Faizah binti Nor Ahmad, from Taman Ibukota, Kuala Lumpur and Ms Kasturi Parameswaran from Yong Peng, Johor.   The runner ups were presented with the JBL speakers, third prize winners won the drones and 32 consolation prize winners received a camera recorder each.
Among brands which participated in this promotion are Wonda Coffee, Calpis, Tropicana Twister, KitKat Drumstick and La Cremeria Ice cream.
The prizes were presented to the winners by Mr Baba Tan, BHPetrol's Retail Marketing Manager followed by the officials from the participating brand partners.
ABOUT BHPetrol…
Boustead Petroleum Marketing Sdn Bhd, better known as BHPetrol was established on 14 February 2006. Since its inception the brand has grown stronger in its retail network with more than 360 retail service stations located throughout Peninsular Malaysia.  These stations provide top quality products and services to millions of customers every year.
BHPetrol is committed to providing the best to the customers; hence, BHPetrol has developed the revolutionary advanced fuel called Infiniti which is especially formulated with German additives to deliver maximum fuel performance with increased power and fuel economy. BHPetrol also operates more than 240 convenience shops (BHPetromart) within its retail service station network to provide further convenience to the customers.   
Other than the service station business, BHPetrol is also involved in the distribution of LPG to households and commercial premises. The blending and distribution of a wide range of lubricants, championed under the well-known brand Syngard, adds another dimension to BHPetrol's involvement in the thriving Malaysian economy.
Further details of the above activities can be accessed at www.bhpetrol.com.my.