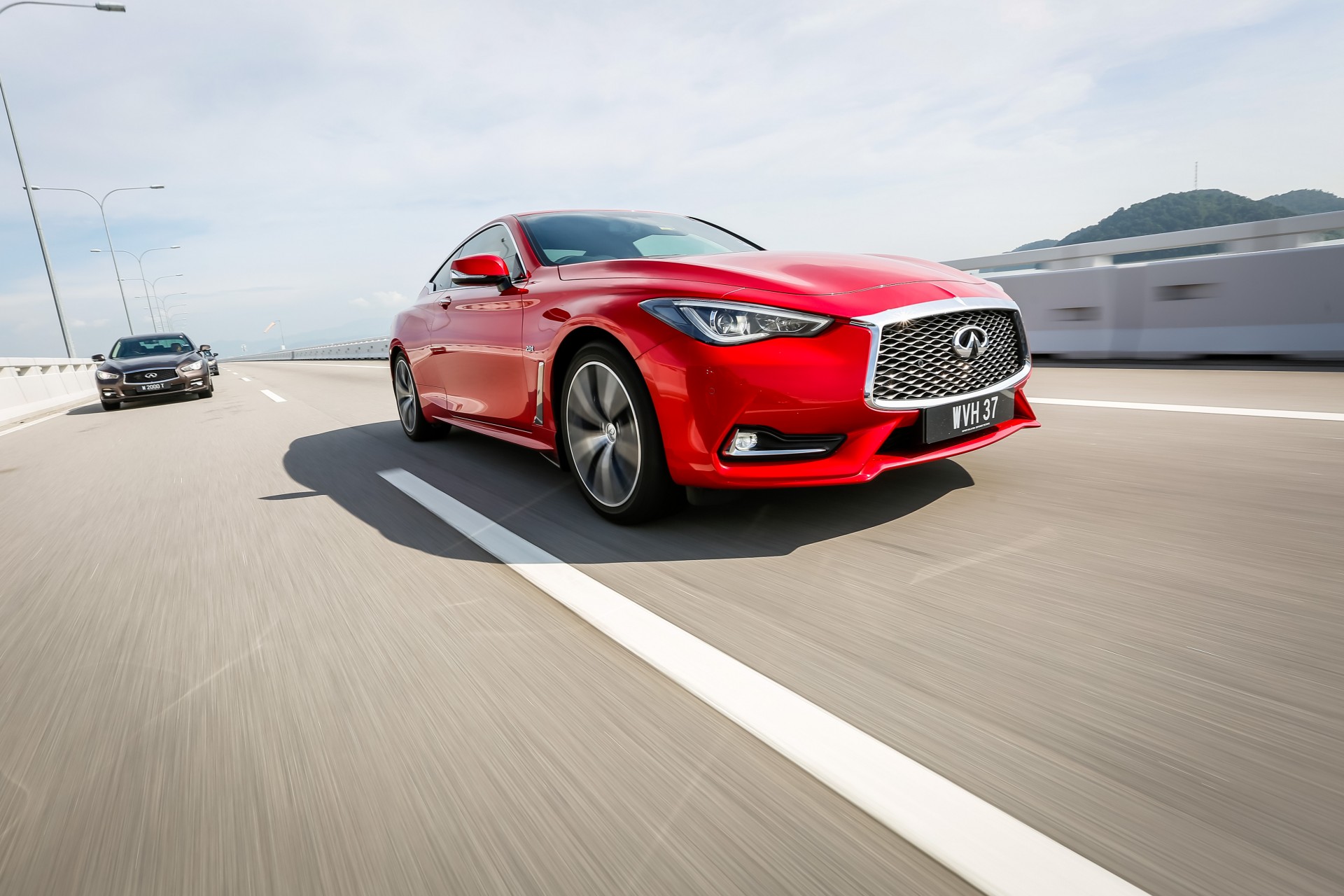 ADVERTISEMENT
First-off, I need to set the record straight. Nobody needs the new Infiniti Q60 Sports Coupe. Nobody. No one. It belongs in the automotive realm reserved purely for wants and not needs. This is not a car one buys for the daily grind – although technically speaking it's more than up for the task – nay, this car was born and bred for one sole purpose; driving enjoyment. Here are 5 reasons why you don't need the Q60…. but will really want one….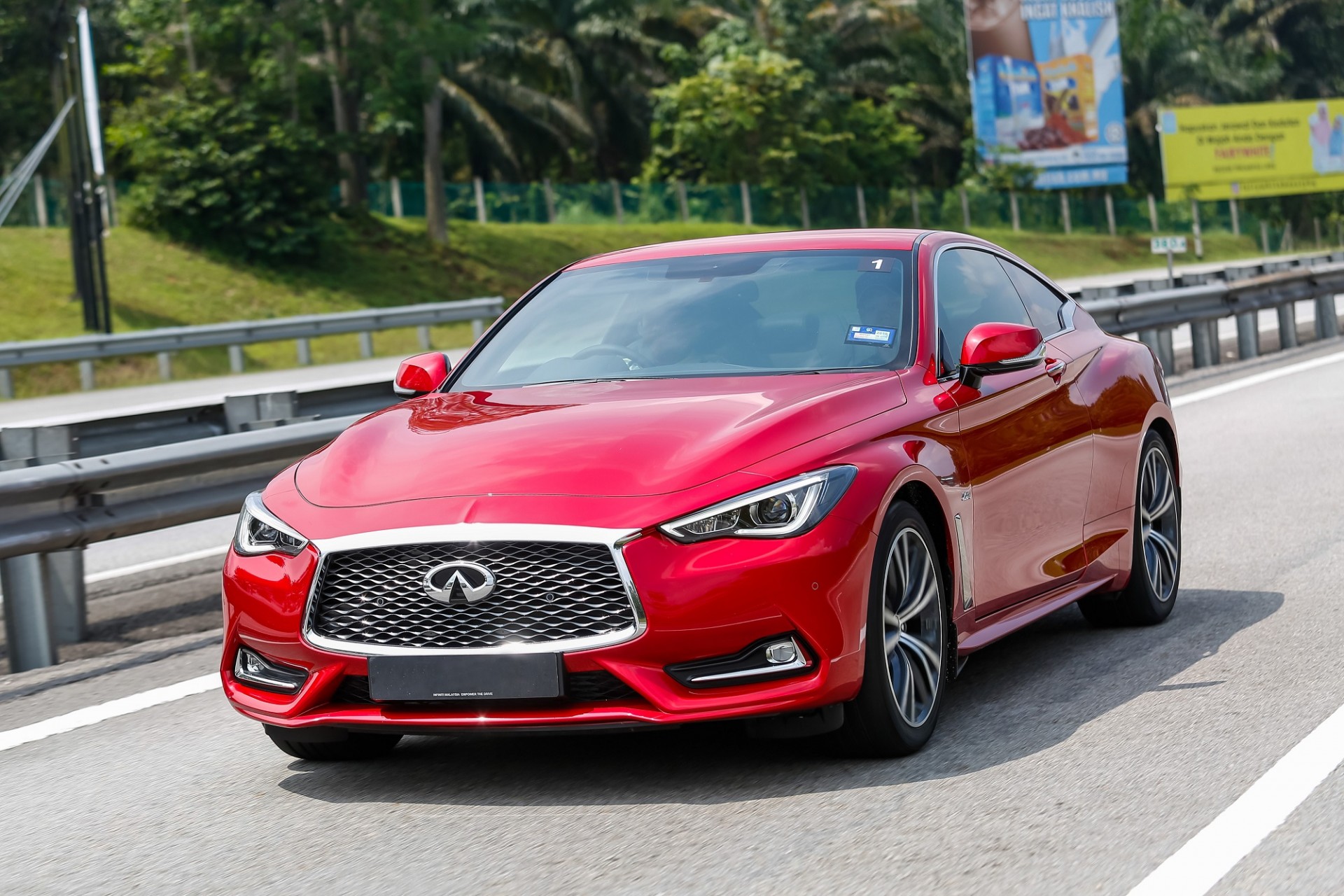 LOOKS – Let's face it, this car is gorgeous. Seriously, I was talking to a few like-minded (read "car-mad") motoring scribes, and all concurred that the Q60 looks unlike anything one would imagine coming from the land of the rising sun. In fact, I was so bold as to suggest that if the Infiniti logo were to be replaced with one bearing a cross-and-serpent, it would pass for that iconic brand, especially from the rear.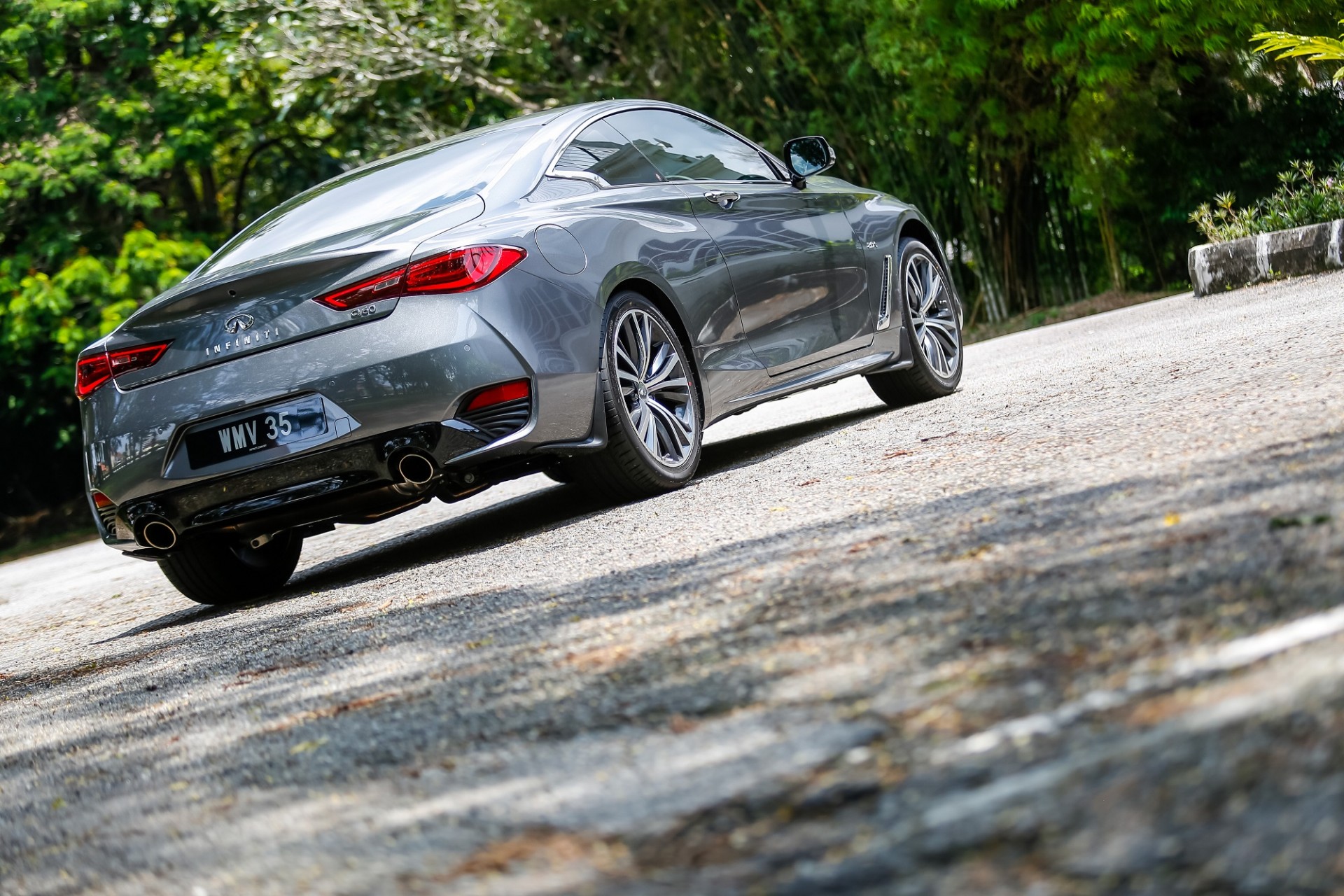 To be blunt, this car has one of the finest rear-ends the likes of which JLo and the Kardashians would say "Now that's a fine looking butt". Levity aside, just look at it; go ahead I'll wait… Boasting the kind of curvaceous body-lines one would expect of something from Italy instead of Japan, the Q60 SC is a beautiful car to look at, and very likely, this will be its main selling point. There's a famous saying that "If you don't look back after parking, you bought the wrong car…" well, you're not going to have a problem in that department with the Q60 SC, it's a sight and a half to behold. Massive 19-inch alloys with 255/40 RF19 tyres just add to the delectably sporty aura of the Q60 SC.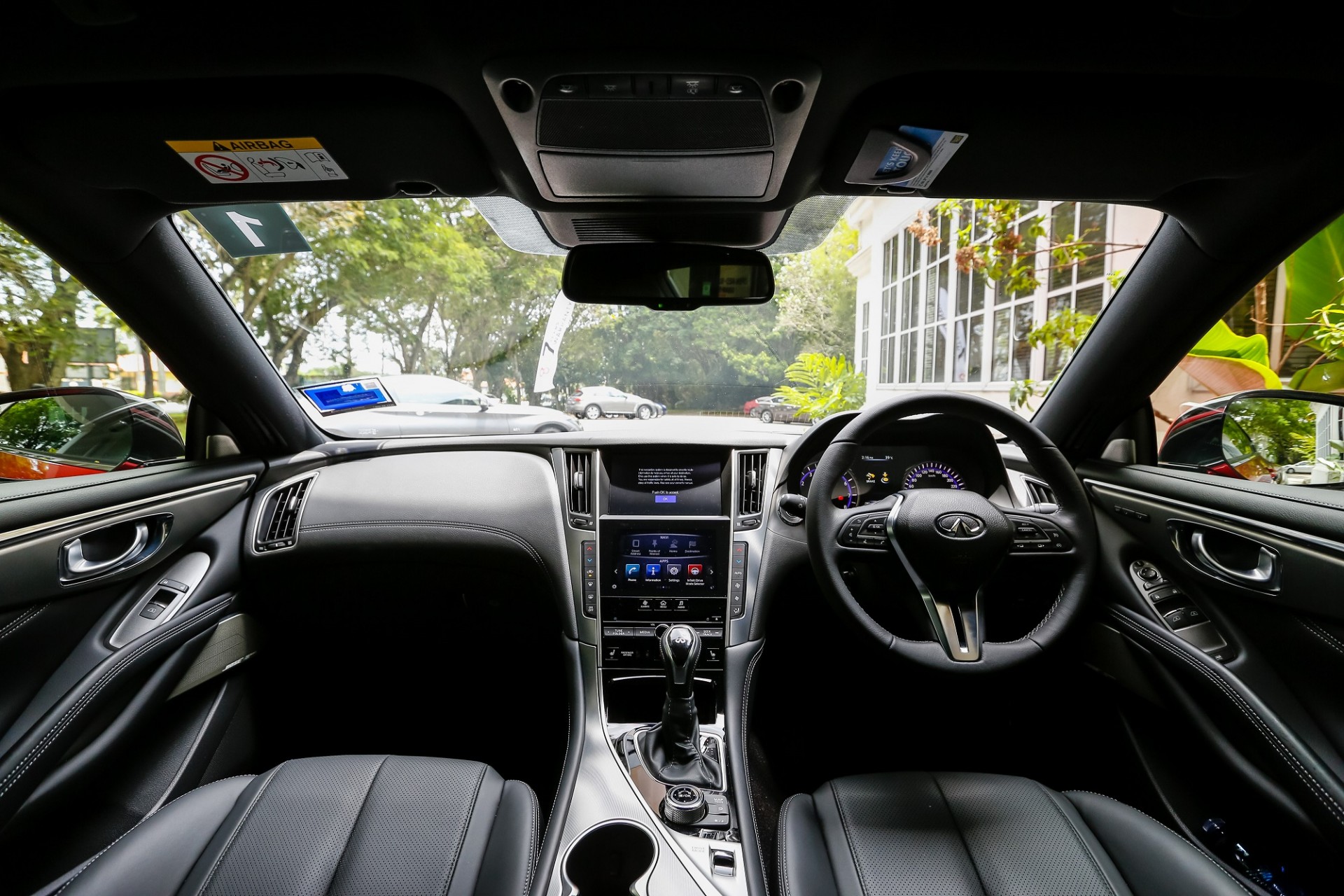 INTERIOR – In typical Infiniti fashion, the Q60 SC is blessed with the kind of interior that adheres to its credo of "Driver-centric, Passenger-minded". Okay, I'll admit there is practically zero room for rear passengers, unless your rear passengers have no legs. That said, up-front it's a different world altogether.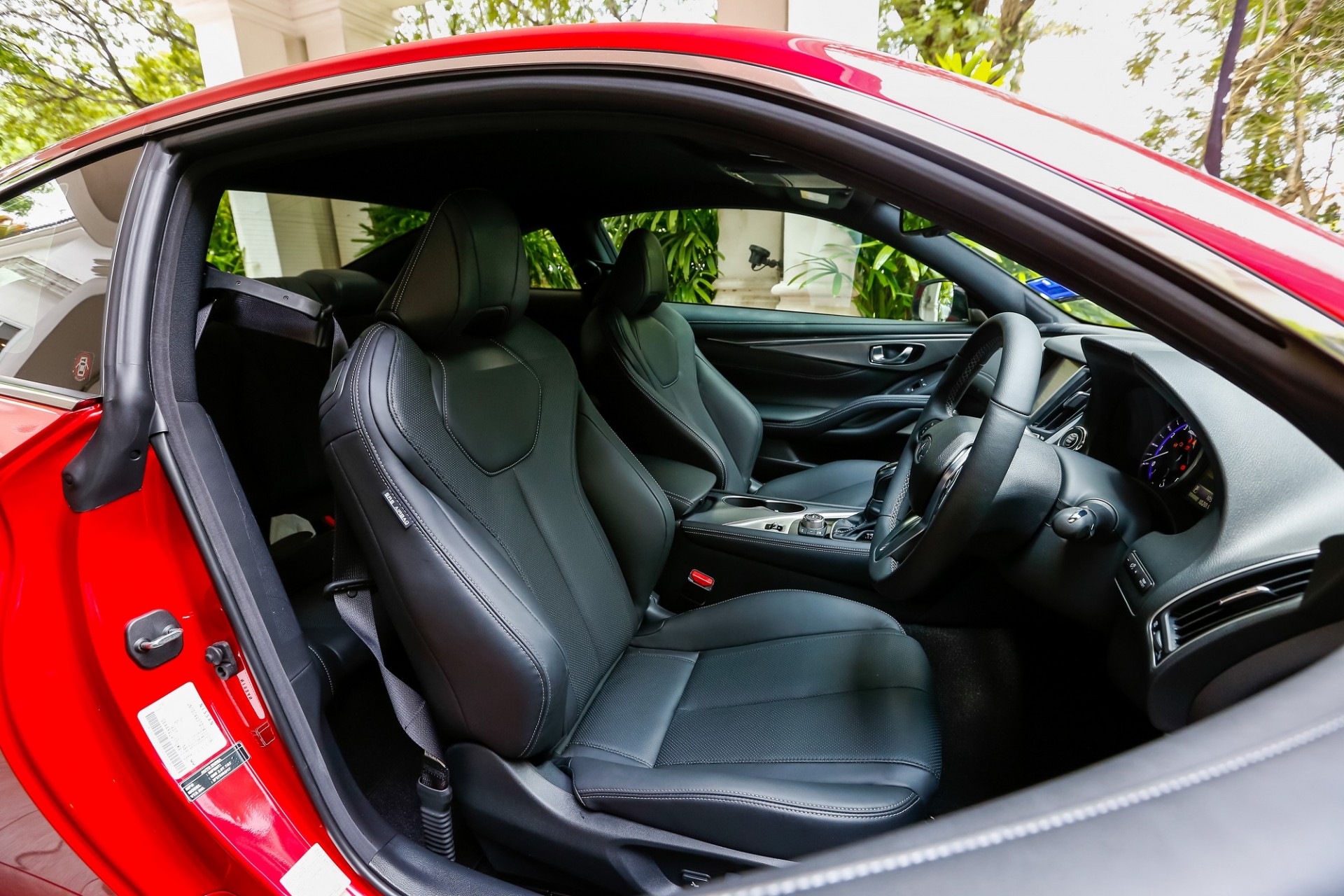 The driver sits snug in a reassuring and almost race-car like position, thanks to the semi-bucket leather-wrapped seats, and with all the necessary controls ergonomically located within easy reach. Once comfy, the driving position is spot-on insofar as conveying the type of car the Q60 SC really is. In fact it's not much of a stretch of the imagination to call the driving position 911-ish. A 13-speaker BOSE Performance audio system is at hand, just in case what lies beneath the almost phallic-looking bonnet up front becomes too monotonous…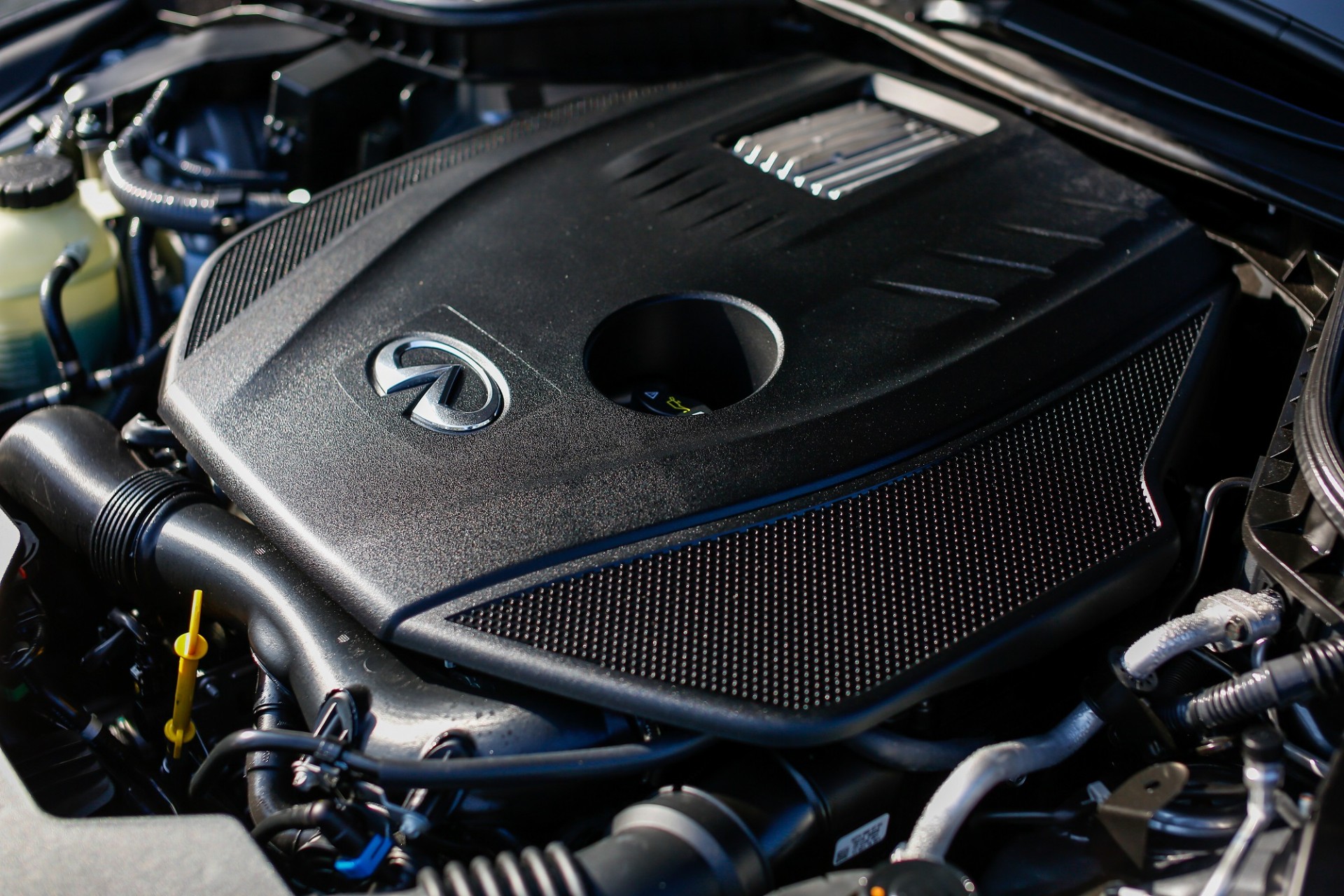 POWERTRAIN – Far from being all-show and no-go, the Q60 SC is powered by a turbocharged (with intercooler) 2.0-litre, 4-cylinder, DOHC 16-valve engine with Piezo direct-injection and variable-valve timing, which sends 211bhp and 350Nm of torque to the rear-wheels via a 7-speed automatic g'box with Adaptive Shift Control. Surprisingly though, given the sporty nature of the car, there are no paddle-shifters. Manual gear-shifting can be done though, via the gear-lever, and rev-matching ensures that sporty 'heel-and-toe' feeling.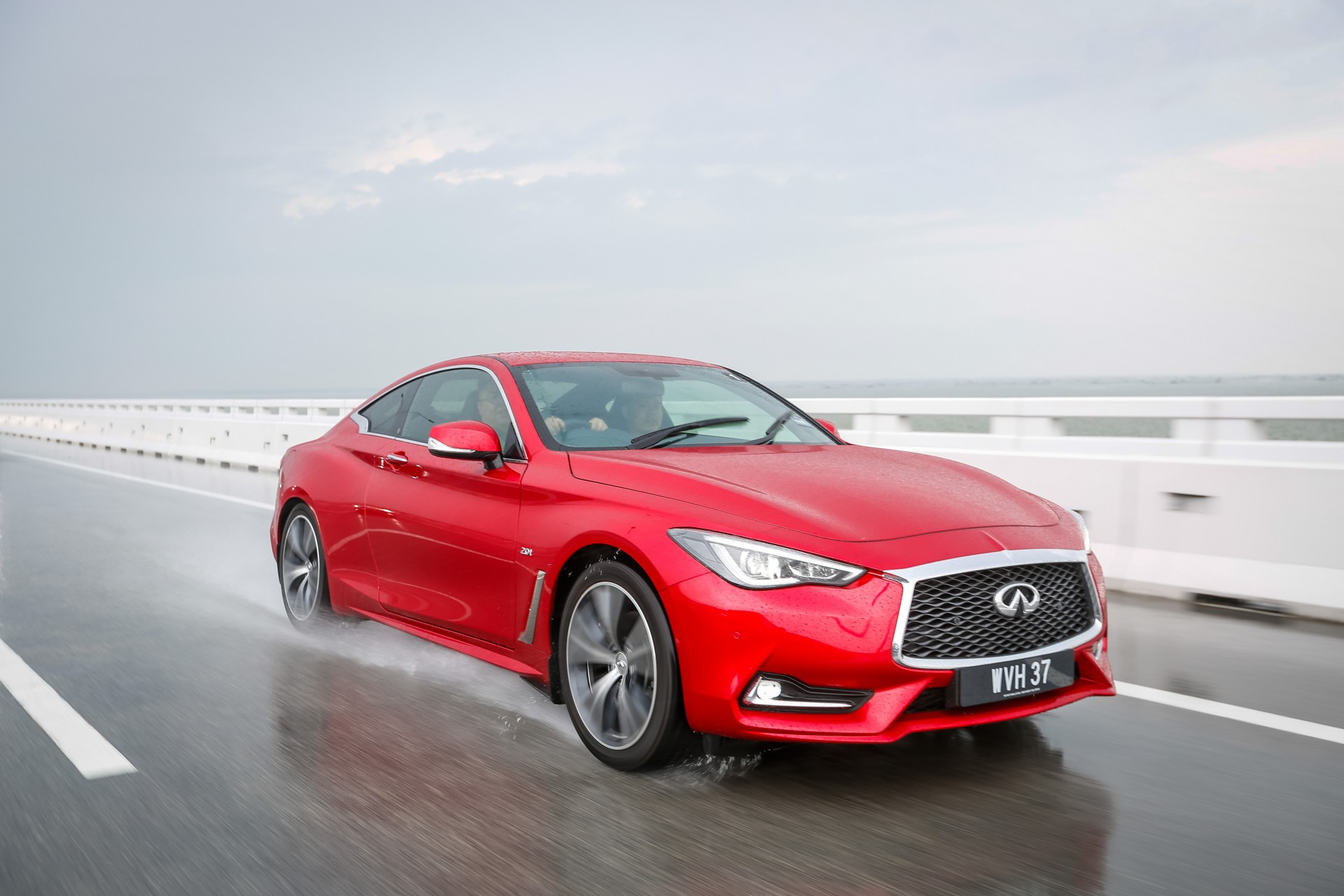 Despite being able to propel its occupants from a standstill to 100kmh in 7.3sec, and topping out at 235kmh, the Q60 SC will still return a respectable 7.5L/100km (combined, claimed) if driven normally. Then again, define normal… A slippery drag-coefficient of 0.29cd adds to the fuel-efficient nature of the Q60 SC.
DRIVETIME – Taut, reassuring, comfortable, responsive, powerful. 5 words that best describe the feeling of driving the Q60 SC, which while not blisteringly fast, is still possessed of just the right amount of oomph to keep things interesting. There are 4 Drive-modes to select from; Standard, Snow, Sport & Personal, which allow the driver to either putter around, or pound asphalt.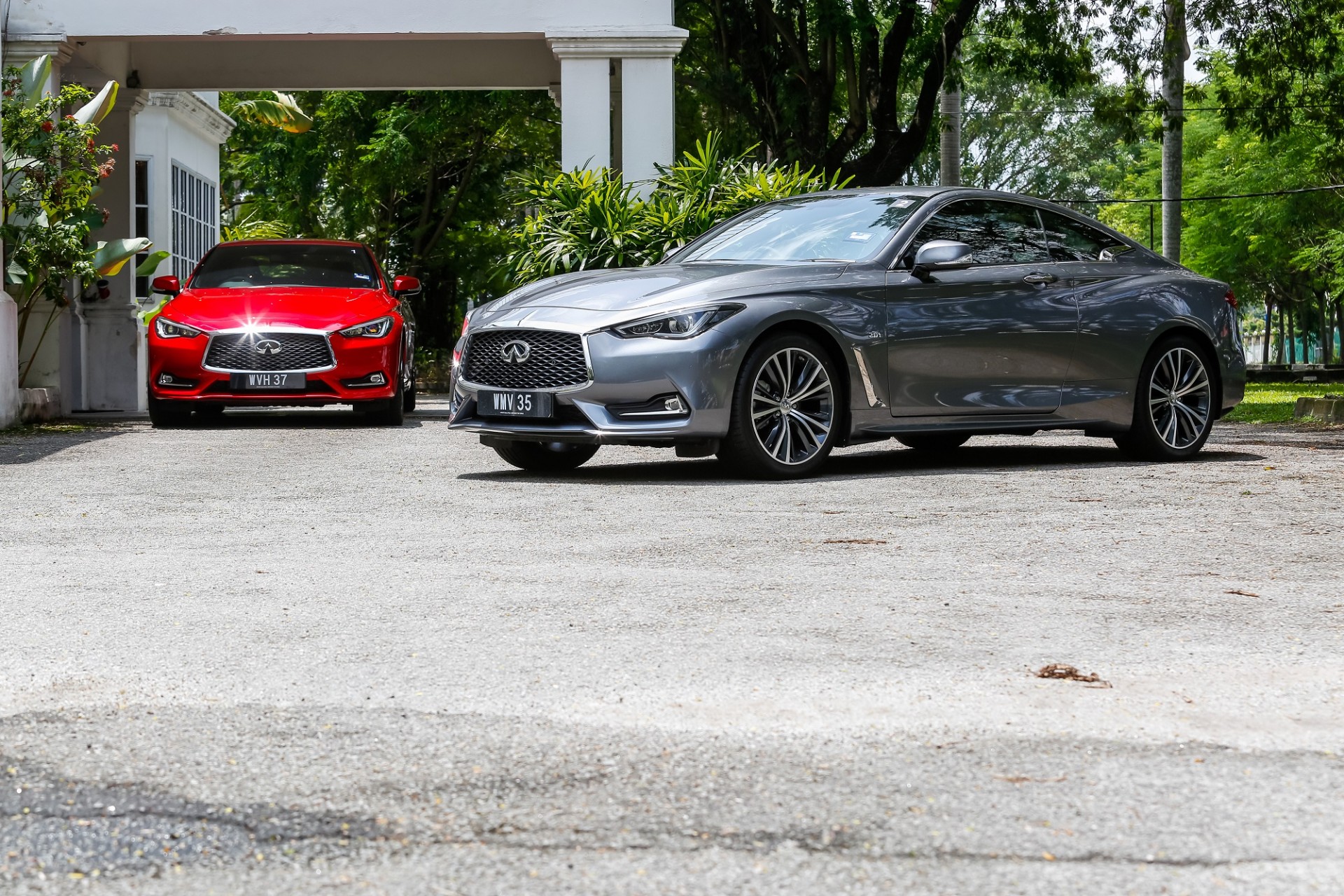 NVH, one of the things that's always been the bane of sports-coupes, has been given a total makeover with the Q60 SC. Active Noise Cancellation is also added to further boost the quietness of the interior ambiance, while an Acoustic Windshield further adds to the halt of unwanted cabin sound permeation. The aforementioned 13-speaker (I still have no idea how the engineers were able to hide thirteen speakers and 6-airbags into this cabin) BOSE sound system is remarkably high-quality, and will be a welcome addition for long-haul journeys.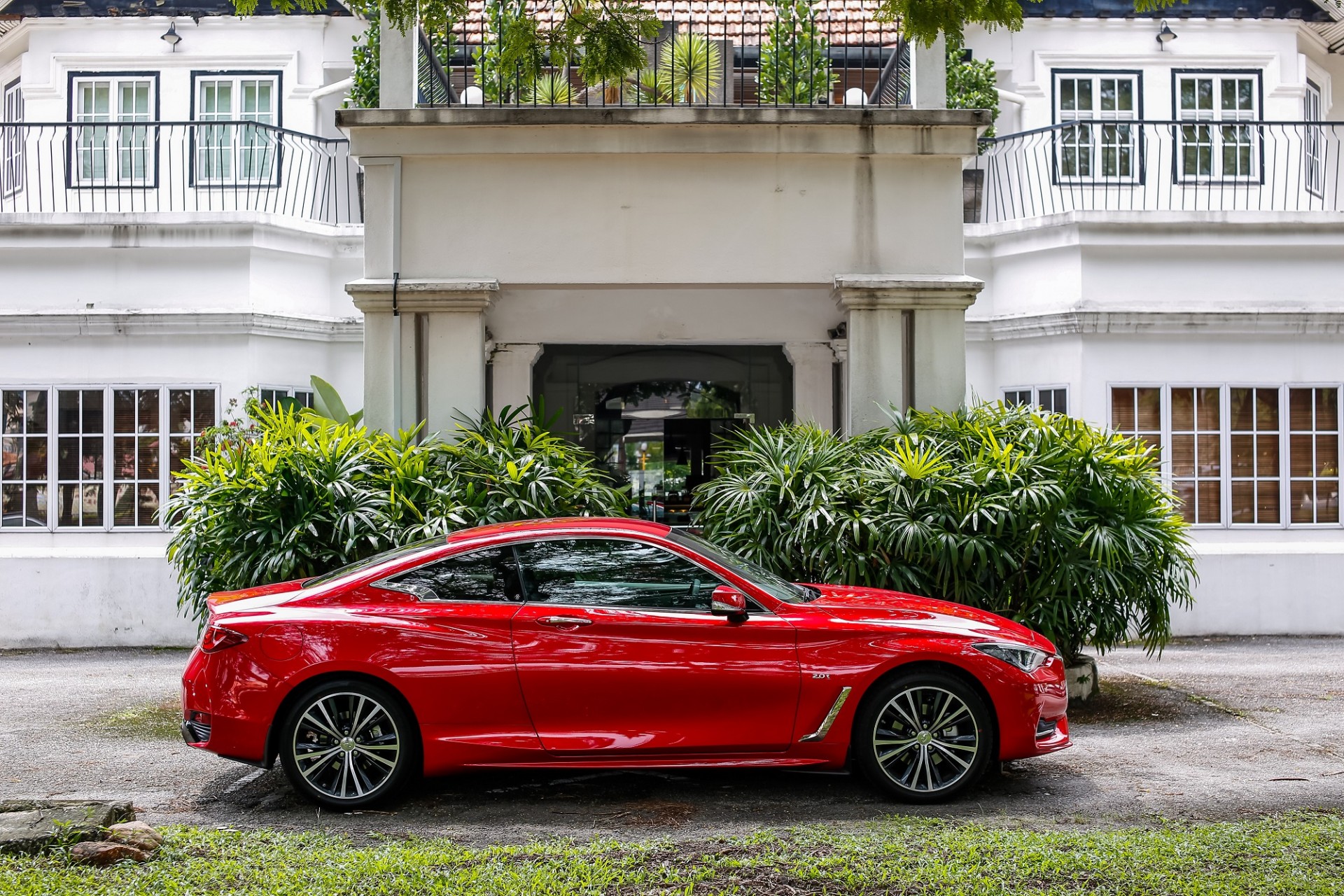 PRICELESS? – The old adage of "you get what you pay for" doesn't really apply here, because at RM308,800 (with GST plus 7-year unlimited mileage warranty), you're getting a lot more with the Infiniti Q60 SC, which really is a bargain to be honest. No, really. Yes, 300 grand is a lot of money, but taken as whole, and taking into account what's being offered with the Q60 SC, it's justified. C'mon, just look at it…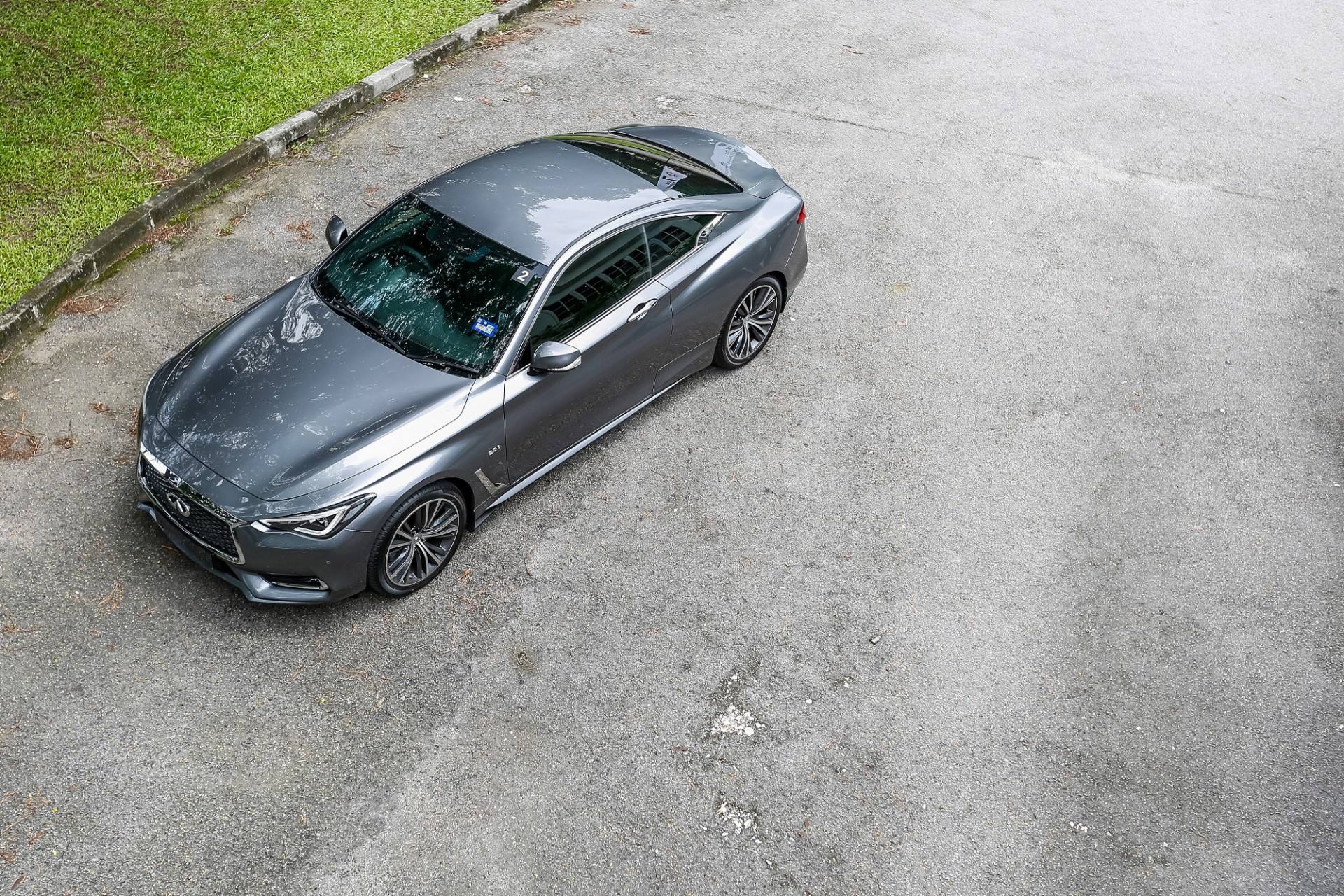 Think of it this way, Infiniti cars in Malaysia are unique. There aren't that many on the road, thus exclusivity, something money can't buy, is a given. And besides, have a gander around. There are much uglier cars out there that cost a lot more money than the Q60, but won't give you even half the personal satisfaction of owing them like the this car will, so why bother. So much want, in one car. Amazing. – Chris Wee.
Infiniti Q60 Sports Coupe Photo Gallery (Photos by Patrick Seow for Infiniti KL)