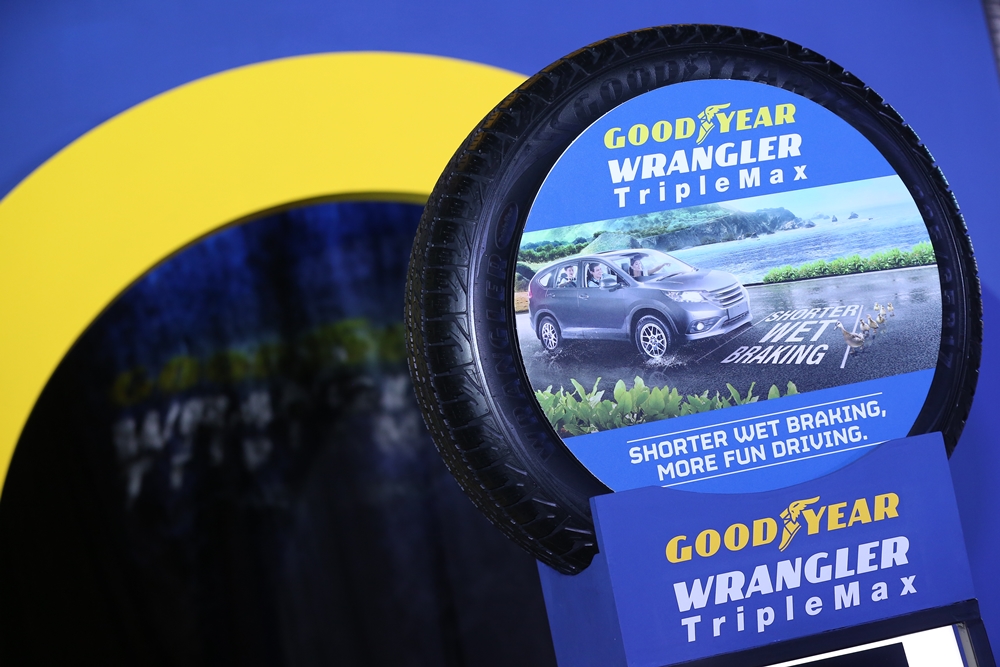 ADVERTISEMENT
Goodyear has launched its latest high performance tyre called the Goodyear Wrangler TripleMax in Malaysia. Designed for mid-size SUVs, the Wrangler TripleMax delivers superior braking performance, shorter wet braking and road hazard resistant features, offering a safer and more fun driving experience with the family.
The middle SUV segment is clearly a growing market, and is expected to increase with a compound annual growth rate of more than 12% from 2012 to 2020. This is evident as sales of SUVs in Malaysia grew 21.3% YTD in June 2016. In order to meet the growing demand, Goodyear will continue to innovate and offer high performance products to their consumers.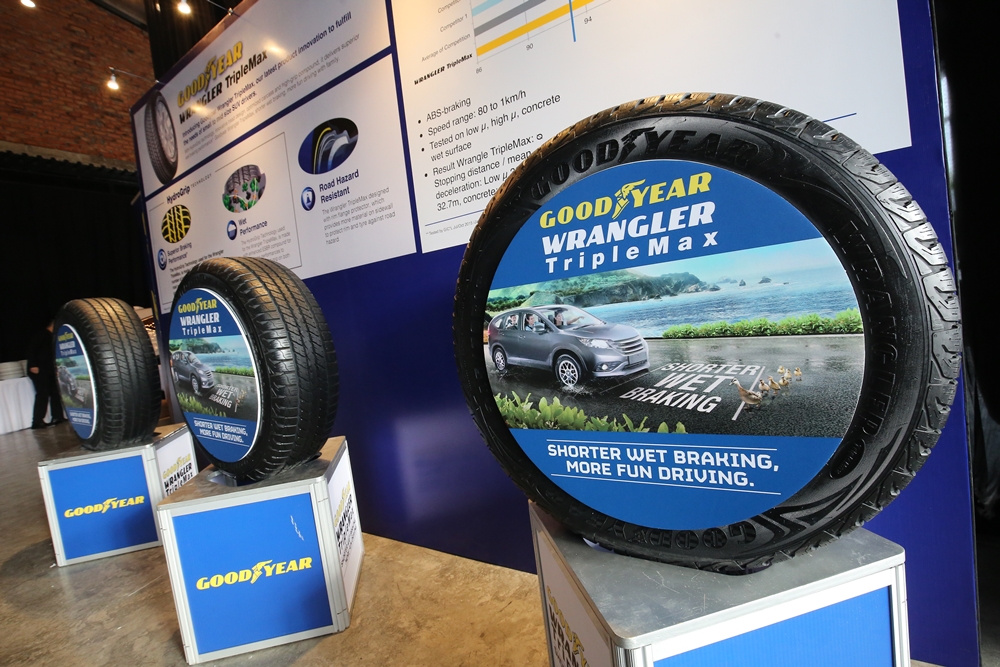 With consumer-driven needs at the center of its tyre innovations, the new Wrangler TripleMax provides peace-of-mind when driving, keeping families safer across road conditions. Goodyear developed the Wrangler TripleMax with an improved version of its proprietary Hydrogrip Technology, along with its innovative tread design, optimized carcass and high grip compound, delivers shorter wet braking performance.
Its proprietary Hydrogrip Technology comes a host of features that deliver superior braking performance. The tread and cavity design of the new Wrangler TripleMax with its larger surface area contact patch, ensures an enhanced braking ability through biting edges and large block elements.
Goodyear's Hydrogrip Technology provides an innovative new tread compound, maximizing control via a larger surface area contact patch, and translating to more rubber contact on the road. It improves braking ability by way of biting edges with large block elements. The tyres are also equipped with a wide face and optimized cavity with 5 Rib Tread matching which concentrates pressure distribution on key block elements during braking. This also provides the tyres a higher ESBR with optimized polymer blend, giving the tyres better grip and a shorter braking distance on wet roads. All of these combined together offers a more comfortable ride.
The proprietary Hydrogrip Technology is a combination of three elements:
1. Superior Braking Performance: The HydroGrip Technology used for the Wrangler TripleMax, is made with large blocks and a high number of biting edges to increase contact to road asperity. This delivers better braking and grip on wet and dry roads.
2. Wet Performance: The HydroGrip Technology used for the Wrangler TripleMax, is made with enhanced ESBR compound for multipurpose performances to improve braking and grip on both wet and dry roads.
3. Road Hazard Resistant: The Wrangler TripleMax designed with rim flange protector, provides more material on the sidewall to protect the rim and tire against road hazards.
For the Malaysian market, Goodyear Malaysia is offering 16″, 17″ and 18″ rim diameter variants, with the subsequent sizes being added to the range in due time. It retails from RM443.72 to RM675.22 inclusive of GST, depending on different sizes.
You can now purchase the Wrangler TripleMax tyres at Goodyear Autocare and Servitekar outlets, as well as authorized Goodyear dealers nationwide.
Availability and Sizes