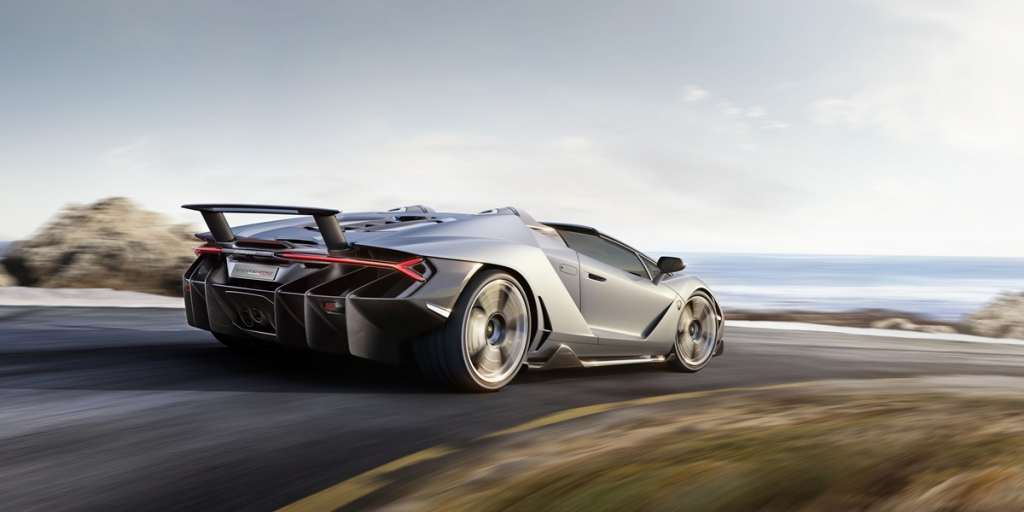 ADVERTISEMENT
Following the introduction of the Centenario Coupé at the Geneva Motor Show earlier this year, Lamborghini has unveiled the open version of its latest one-off creation at Monterey Car Week in California. A successor to its coupé counterpart, the Centenario Roadster is also limited to 20 units worldwide.
Just like the coupé , the Lamborghini Centenario Roadster is a wildly aggressive version of the Aventador supercar built to celebrate the Italian company's 100th anniversary.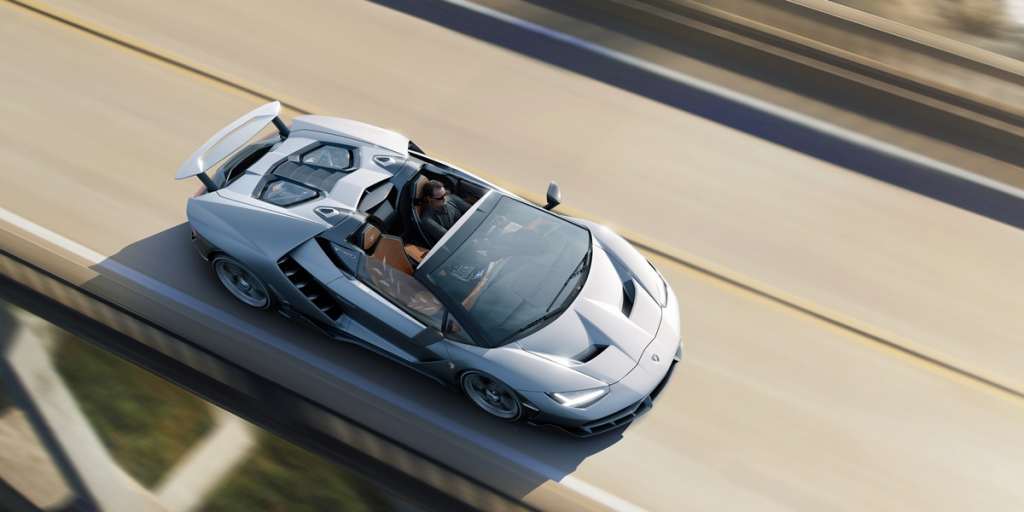 The body of the Centenario is built entirely in carbon fiber, with a monocoque and all other body parts and trims in carbon fiber. With a dry weight of just 1,570 kg, the Centenario achieves a weight-to-power ratio of 2.04 kg/hp.
The highly responsive V12 architecture delivers 770 hp with an engine speed regulator raised from 8,350 rpm to 8,600 rpm. Accelerating from 0-100 km/h in just 2.9 seconds the Centenario Roadster's top speed is more than 350 km/h. Braking distance is equally impressive: from 100-0 km/h in just 31 m.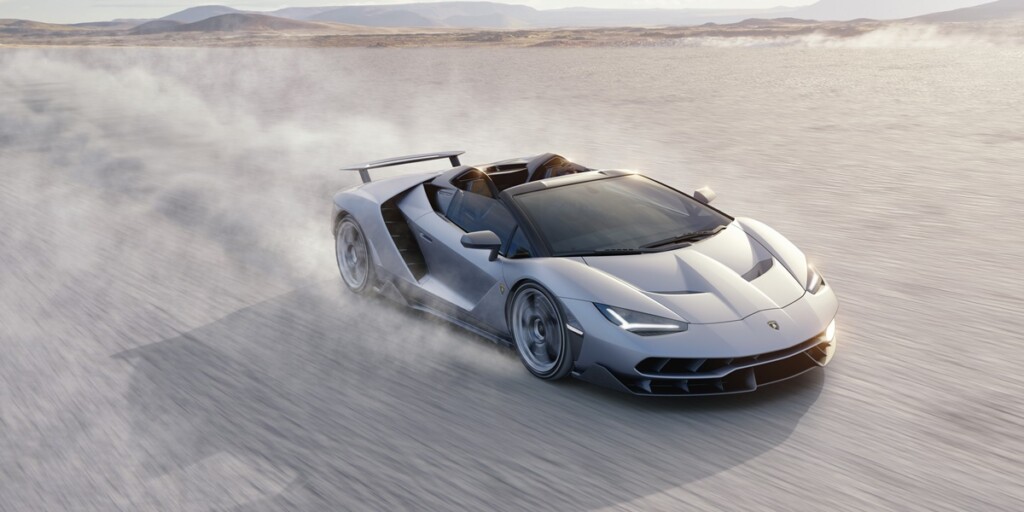 The Centenario Roadster adopts Lamborghini's new rear-wheel steering system. This system increases turning agility at low speeds and requires less steering angle, as well as a reduced turning radius. At high speeds the rear tyres turn in the same direction of the steering angle which leads to a virtual increase of the wheelbase. As a result the rear-wheel steering provides increased stability and optimizes vehicle response. In the three Lamborghini driving modes; Strada, Sport and Corsa, the rear-wheel steering heightens the characteristics of each, particularly in lateral dynamics.
The Roadster is fitted with Lamborghini's magneto rheological suspension and Lamborghini Dynamic Steering (LDS) providing optimal responsiveness and driver feedback. For a lightweight solution and faster gear shifting, it features an Independent Shifting Rod (ISR) gearbox.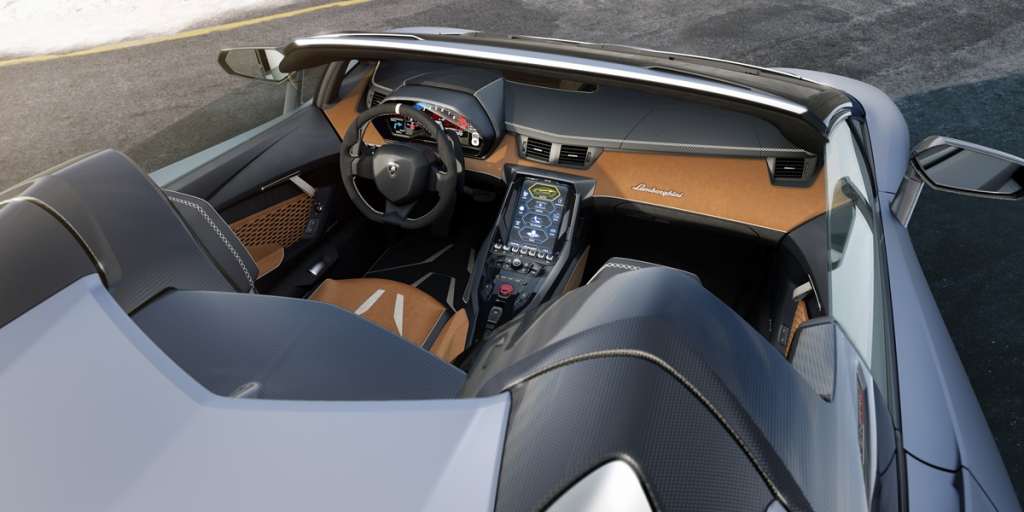 The Centenario Roadster on display features subtle and luxurious interiors in light brown Alcantara Terradi California with Bianco Polar leather inlets, stitching and piping as well as detailed cross-stitching on the seats, dashboard and rocker cover. It also comes in special exterior colour, called ''Argento Centenario''.
The Centenario Roadster also comes fully loaded with tech toys such as satellite navigation and a high definition 10.1 inch touchscreen. An advanced infotainment system allows for users to browse the Internet, connect to e-mail and social media and use other online applications such as web radio. Apple CarPlay is also included with full functionality for calls, navigation, music and iPhone integration. The infotainment system also includes a sophisticated telemetry function so drivers can record and compare speeds, times, lateral and G force data. Two optional interior cameras allow the drivers' experiences to be recorded.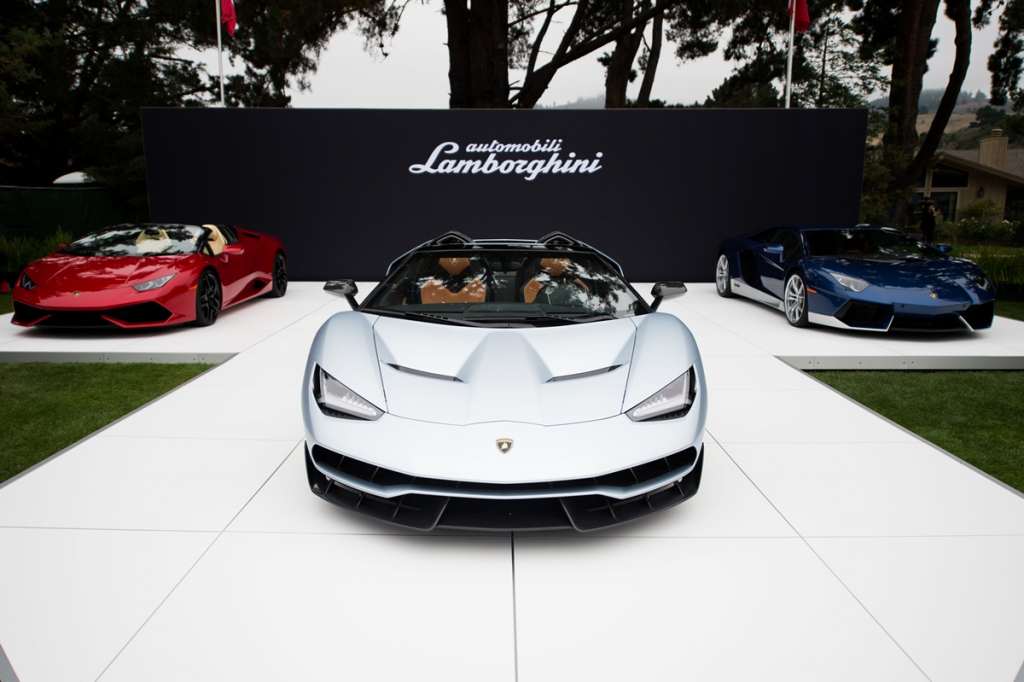 Just as the Coupé version the Centenario Roadster will be produced as a limited edition of only 20 units to be delivered through 2017. Unfortunately, all 40 Centenario models are already spoken for, retailing at 1.75 million euros (approximately 8 million) for the Coupé and 2 million euros (approximately 9 million) plus tax for the Roadster.