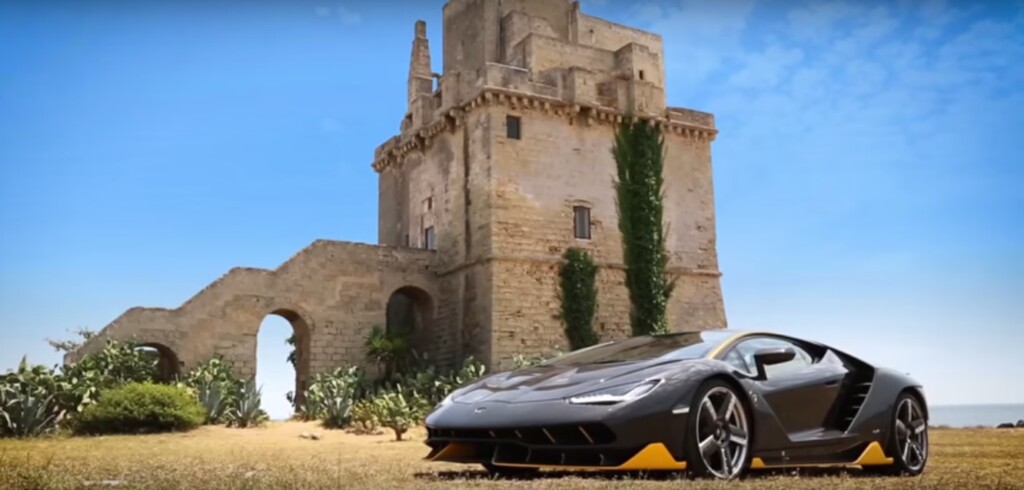 ADVERTISEMENT
Following its public reveal at the Geneva Motor Show in March this year, Lamborghini's new Centenario has been unleashed for a track run for the first time on the Nardo Ring, a high-speed test track located more than 20 km north-west of the town of Nardo, in Italy.
Joined by other supercars made by Lamborghini, the exclusive machine, created in honour of Ferruccio Lamborghini's birth, led the pack in a track run, in its first ever media test.
Based on the Lamborghini Aventador,  the car's aerodynamic design includes an extending rear wing providing more downforce at high-speeds. The introduction of rear-wheel steering provides increased agility and stability, and an innovative touchscreen provides connected infotainment, including internet browsing and Apple CarPlay.
Using the V12 architecture, the Centenario's naturally aspirated engine produces 770hp and powers it from 0-100 km/h in 2.8 seconds, and from 0-300 km/h in 23.5 seconds with a top speed of more than 350 km/h. Braking from 100 km/h to standstill is achieved in 30 meters. A monocoque and body in full carbon fiber provide a low weight of 1,520 kg and a weight to power ratio of just 1.97 kg/hp.
Lamborghini is producing only 20 coupé and 20 roadster versions of the Centenario and unfortunately, all 40 cars are already spoken for.
But fret not, you can still feast your eyes on the RM7.9 million supercar via the YouTube link below!