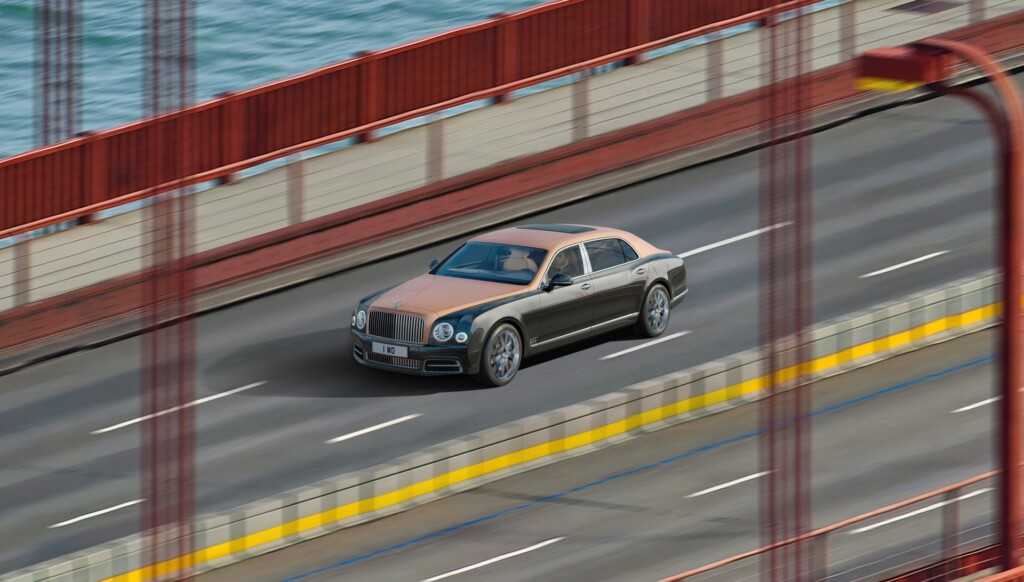 ADVERTISEMENT
Bentley recently pushed the boundaries of luxury car photography by creating the world's most extraordinary 'gigapixel' image, featuring the new Bentley Mulsanne Extended Wheelbase in Rose Gold over Magnetic duo-tone crossing San Francisco's iconic Golden Gate bridge.
The image was created using technology originally developed by NASA to enable Mars rovers to take exploratory panoramic photographs.
You can take closer look at this photo in its original size here and zoom from 700 metres out all the way into the Mulsanne's cabin – right down to the 4,500 individual stitches in the embroidered 'Winged B' headrest logo.
This image is 4,425 times larger than a typical smartphone image and is made up of approximately 53 billion pixels (or 53,000 megapixels!). It was created by taking 700 individual shots from the same location and 'stitching' them together digitally. The result, if reproduced in standard print format, would be the size of a football field!
Kevin Rose, Bentley's Board Member for Sales and Marketing, said, "Nowhere is Bentley's famed attention to detail better demonstrated than with our new Mulsanne. We wanted to commission this shot to capture both the exquisite detailing of the Mulsanne and the epic scale of our brand's ambitions. We believe the result is truly extraordinary."
The  gigapixel shot above marks the market introduction of the Bentley Mulsanne Extended Wheelbase that offers a first-class air-travel experience for the road.
The 250 mm extension of the Mulsanne's wheelbase (from 3,266 mm up to 3,516 mm) will benefit the rear-seat passenger legroom.
To make the best use of the additional rear legroom, Bentley has developed airline-style electronic legrests which are integrated into the bases of the two rear seats. These extend outward and pivot, affording rear-seat passengers the luxury of choice between upright, relaxed and reclined seating positions.
A console separates the two rear seats in the Mulsanne Extended Wheelbase. Ornate and functional, the console is appointed in the finest handcrafted veneer, metal, glass and leather and houses practical features such as USB ports, pen holders, cup holders and a glass-covered stowage area.
For those passengers who wish to work on the move, both rear seats can also be specified with a deployable, folding table. For privacy, electric curtains at the rear are standard fitment and can be tailored with either a black or champagne coloured interior lining.
Rear-seat passengers also benefit from a sunroof over the rear cabin. Controlled by the passengers or the driver, the tilting and sliding glass panel (with Alcantara sun blind) allows natural light to flood into the cabin.
For additional differentiation and choice, customers are able to specify their cars in a wide range of duo-tone exterior paint combinations, such as the Rose Gold over Magnetic seen in the gigapixel image, and with a new 21-inch wheel.