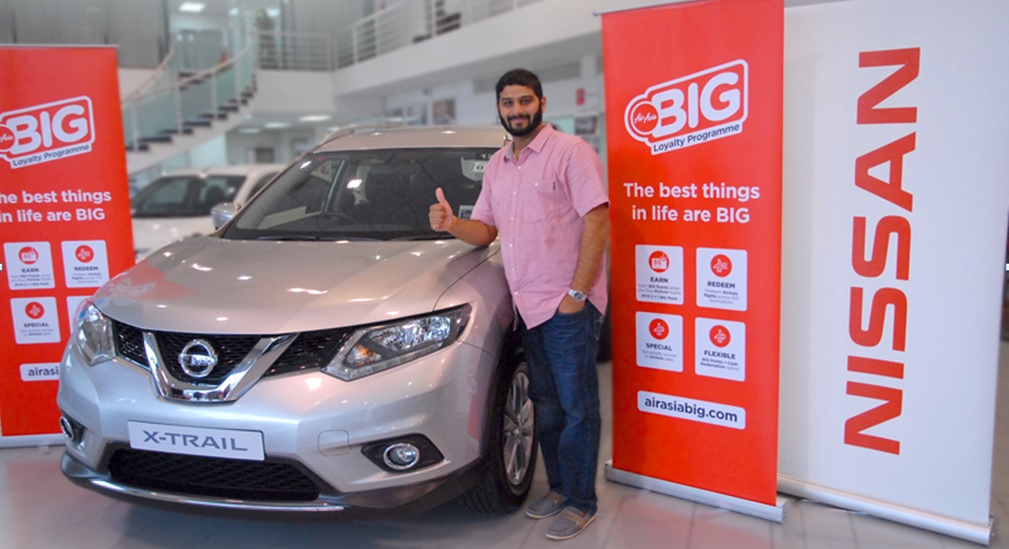 ADVERTISEMENT
Air Asia BIG has handed over a Nissan X-Trail to a lucky winner, Vimal Krishnamurthy, who won himself the SUV in Air Asia BIG's recent points conversion contest, held from 18 January to 23 February 2016.
The contest was organized by Air Asia's loyalty programme, Air Asia BIG alongside a partnership with Edaran Tan Chong Motor (ETCM), and 9 other participating banks namely Alliance Bank, AmBank, Citibank, Maybank, Public Bank, RHB Bank, RHB Invest, Standard Chartered Bank, and United Overseas Bank (UOB).
The contest was designed to provide Air Asia BIG members who are also credit cardholders with top financial institutions, an opportunity to turn their credit card reward points into chances at winning an SUV, apart from the AirAsia flights they can redeem with their Air Asia BIG Points.
"I was very happy and thrilled when I first received the good news. It is my first time winning a car and I feel absolutely lucky to be an Air Asia BIG Member. It was easy to participate in this contest. I only needed to make that call to my bank to convert my credit card reward points," says Krishnamurthy, 30, a business man who signed up with Air Asia BIG last year and emerged the lucky winner of the contest.
The points conversion contest encouraged BIG members to convert their credit card reward points to Air Asia BIG Points, and in conjunction with this contest, the winner drives home a Nissan X-Trail. 500 – 4,999 Air Asia BIG Points converted entitled members to one entry, 5,000 – 9,999 Air Asia BIG Points converted entitled members to two entries, and 10,000 Air Asia BIG Points and above converted entitled members to three contest entries. The more points converted, the higher the chances of them winning. The contest successfully garnered a total of over 3,000 entries, with Krishnamurthy walking away as the lucky winner.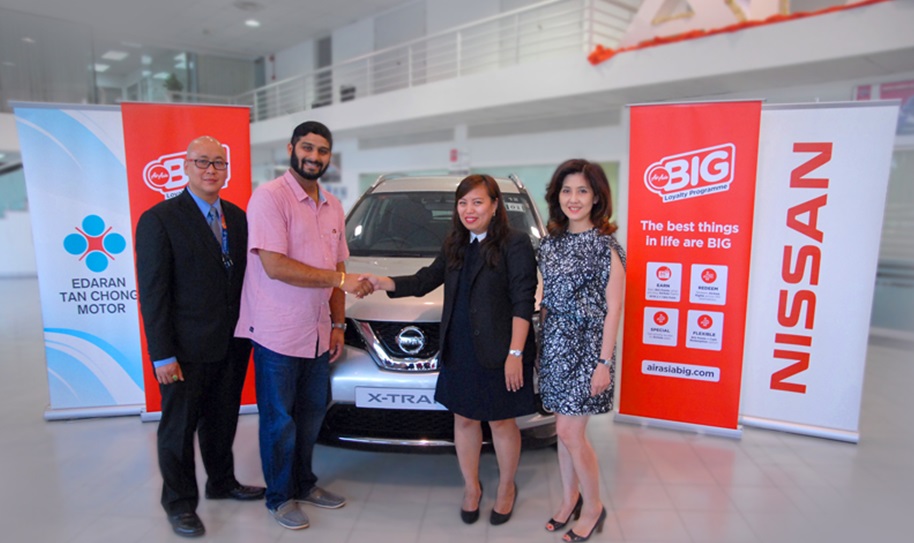 "We'd like to congratulate Krishnamurthy on being the lucky Air Asia BIG Member to win this contest, and are thrilled to be rewarding him with this prized Nissan X-Trail today," says Sereen Teoh, CFO of AirAsia BIG."Instead of redeeming for catalogue merchandise , BIG members have the choice of converting their credit card points to AirAsia BIG Points that allow them to redeem for AirAsia flights to their favourite holiday destinations. Our loyalty programme makes traveling for less possible for customers."
According to Dato' Dr Ang Bon Beng, Executive Director of Edaran Tan Chong Motor Sdn Bhd, "On behalf of ETCM, I would like to extend our warmest congratulations to Krishnamurthy as the lucky winner of the Nissan X-Trail. We are happy to have collaborated with Air Asia BIG in this program with our Nissan X-Trail, the innovative premium crossover that was recently named the Family SUV of the Year."
"We are pleased that Krishnamurthy, a loyal Am Bank Visa card holder has won the Grand Prize," says Anthony Chin, Acting Head, Retail Banking from AmBank (M) Bhd. "The partnership with AirAsia BIG has brought great value in the travel space for our card holders as we continuously strive to provide more value-added benefits and privileges to them".