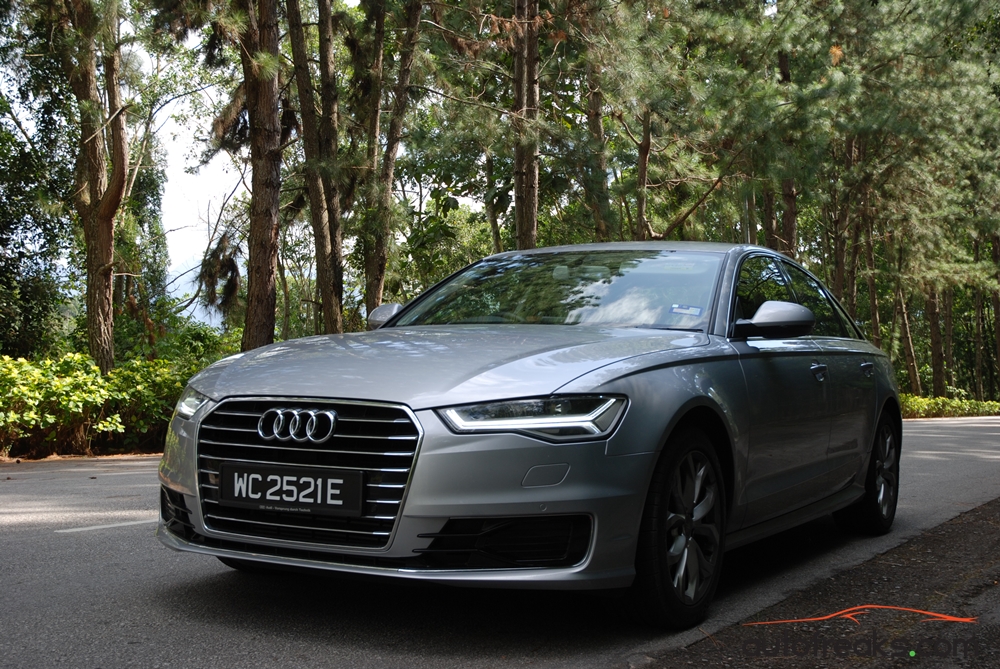 Can you remember the last time you drove an Audi? Well, here's one you should consider testing, now. The Audi A6 has been a segment leader that builds its sterling reputation with impressive features, high-tech luxury and smooth power delivery. However, through the course of its life cycle, cars become obsolete quickly as newer models appear with even better upgrades.
So it comes as no surprise if excellent machines like the A6 are shunned and aren't getting the spotlight it truly deserves as buyers are spoilt with a plethora choices across its segment range.
In doing so, Audi makes sure that its handsome Audi A6 sedan continued to stay polished in the highly competitive segment by giving this sedan a mid-cycle makeover in August last year.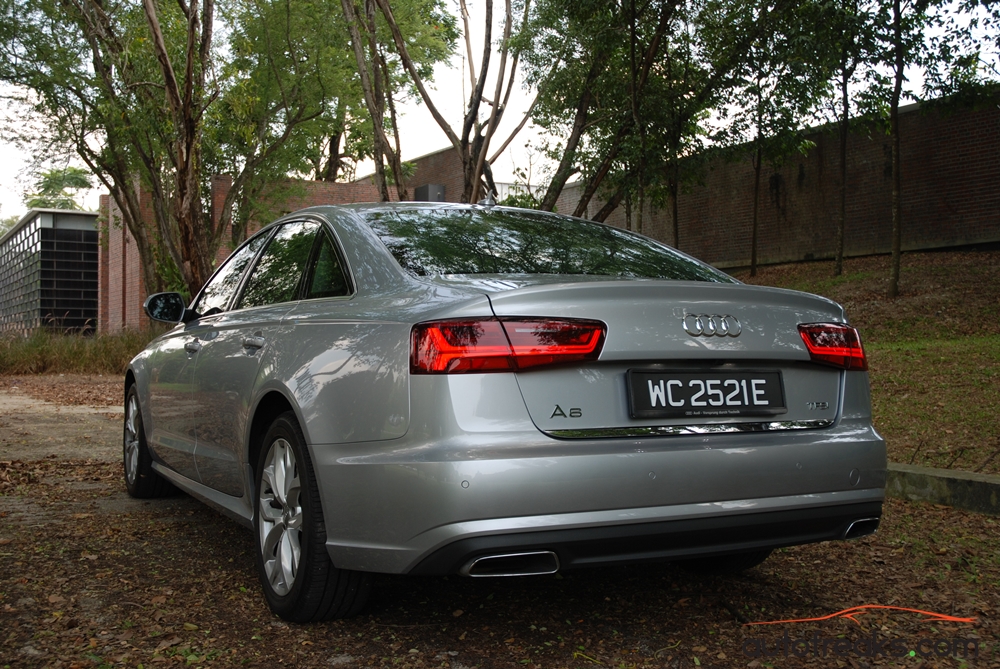 The exterior updates are mostly subtle that perhaps, only Audi fans with an eye for detail will be able to spot the difference between the outgoing A6 and the updated model here. Its signature Singleframe grille now appears even wider and changes were also made to the air inlets, bumpers, side sills, rear lights, tailpipes and headlights.
The headlights of the sedan have seen particularly significant updates. Besides featuring newly designed LED daytime running lights, the xenon plus units on this 1.8 TFSI model can now be upgraded with Audi's Matrix LED technology combined with dynamic indicators, but it will set you back at an extra RM10k. Ouch.
While the A6's big city looks are still admired amongst its legion of fans, it seems like somehow, over the years, it has lost a little bit of sparkle. Plus, its signature looks shared across the rest of its family range prompted me to check the badge twice to make sure that I didn't drive off with the smaller A4 or the bigger A7 because at first glance, they all look almost identical.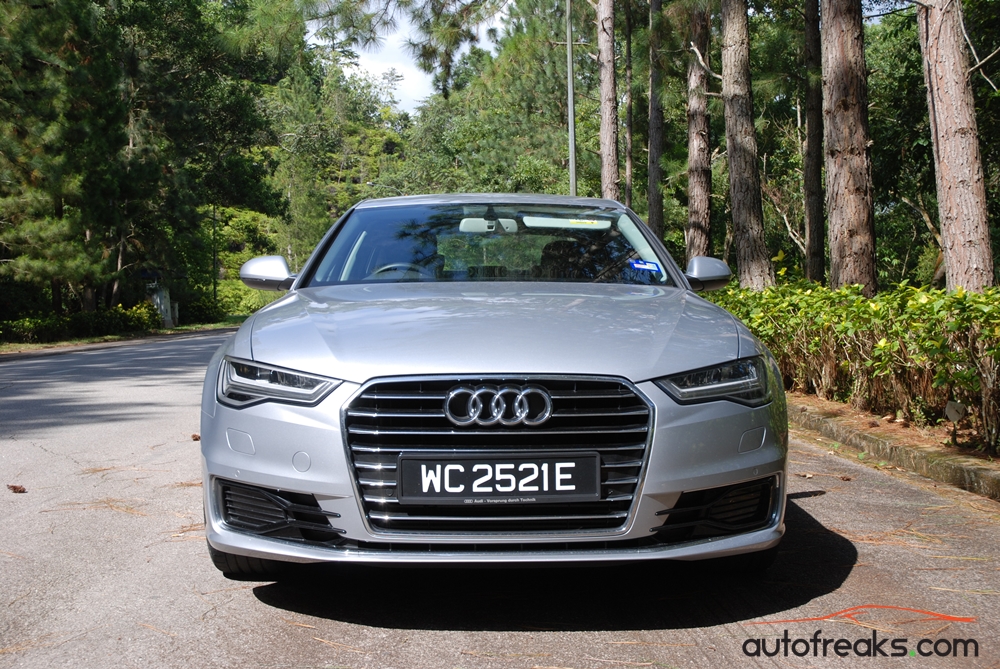 The A6 however, is popular not just for its sharp looks, but also what lurks underneath its skin.
Perhaps one would think that the A6 has somehow lost its 'macho' personality when a humble four-cylinder engine is now taking responsibility for the drive of a relatively big-sized premium saloon like the A6. But after getting behind the wheel of the A6 and driving it around town, the four-pot turbo powerplant that packs quite a punch quickly set my mind at ease.
This base model is powered by 1.8-litre TFSI engine developing 190hp and delivering up to 320Nm of torque. This propels the sedan from nought to 100 km/h in just 7.9 seconds (a full 0.4 seconds faster than its 2-litre engine predecessor) and up to an electronically governed top speed of 233 km/h. A 7-speed S-Tronic transfers engine power to the front-wheel drive system.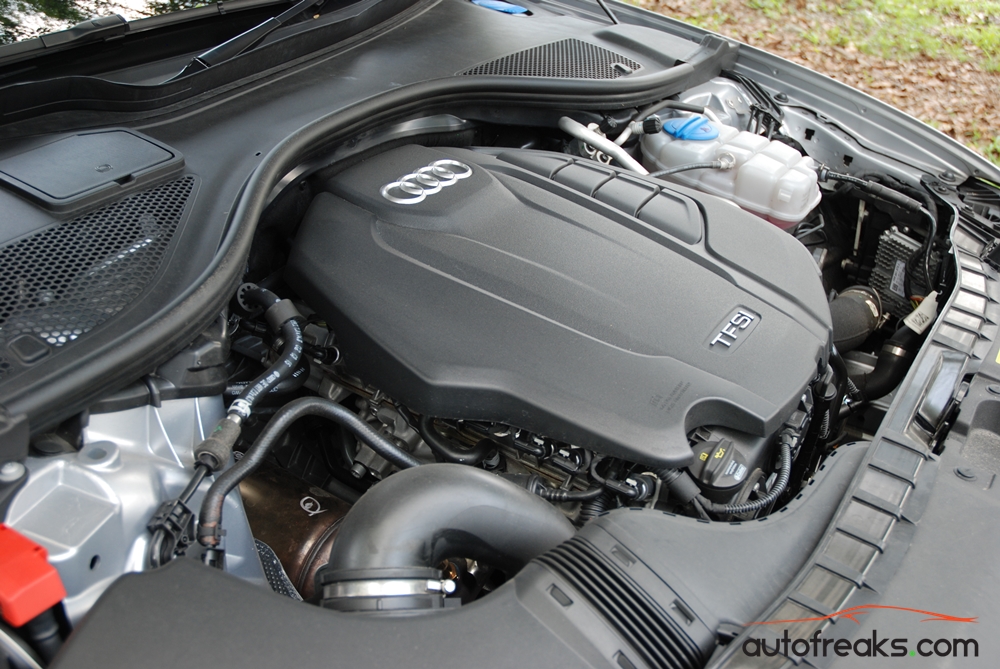 Overall, the A6 does a fantastic job of providing sheer driving refinement out on the open road. The 7-speed S-Tronic automatic gearbox is incredibly smooth and linear, while the turbocharger provides an instant boost of power with a very unnoticeable presence. This makes the A6 an excellent choice for a long distance cruiser.
By incorporating numerous lightweight materials, this updated sedan now offers a curb weight (without driver) of just 1,535 kg. As a result, the A6 offers more agile handling with plenty of driving engagement between the sedan and the driver. Its ride and handling is genuinely excellent for a front-wheel-drive sedan though its rear-wheel drive rivals like BMW 5 series or the Mercedes-Benz E-Class, might easily outshine the A6 as far as enthusiasts are concerned, simply for being RWD.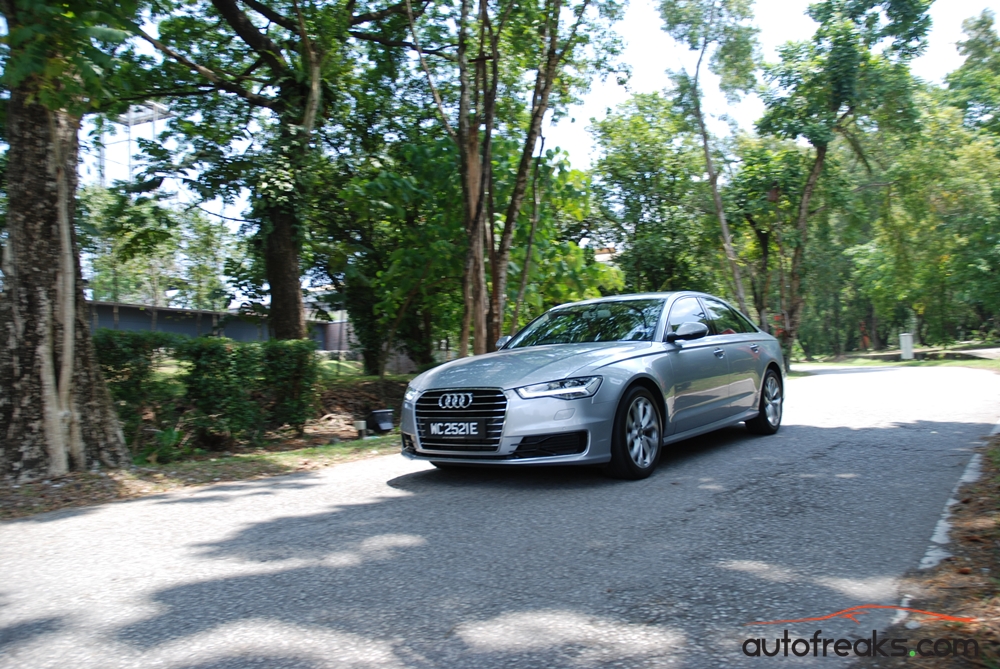 Nonetheless, the A6 strikes a perfect balance providing driving dynamics and spoiling you with a plush ride when hitting the road, as it never feels unsettled when driving through potholes or uneven roads.
Being seated inside the A6's cabin is also a treat. Thanks to its 2,912 mm wheelbase, the A6 that can accommodate up to 5 occupants in luxury and comfort – much like getting an upgraded flight ticket from economy to business class seat. It also benefits from improved insulation from vibrations and lower cabin noise than ever before so you will feel more calm and relaxed on the road even when braving the madness of city traffic!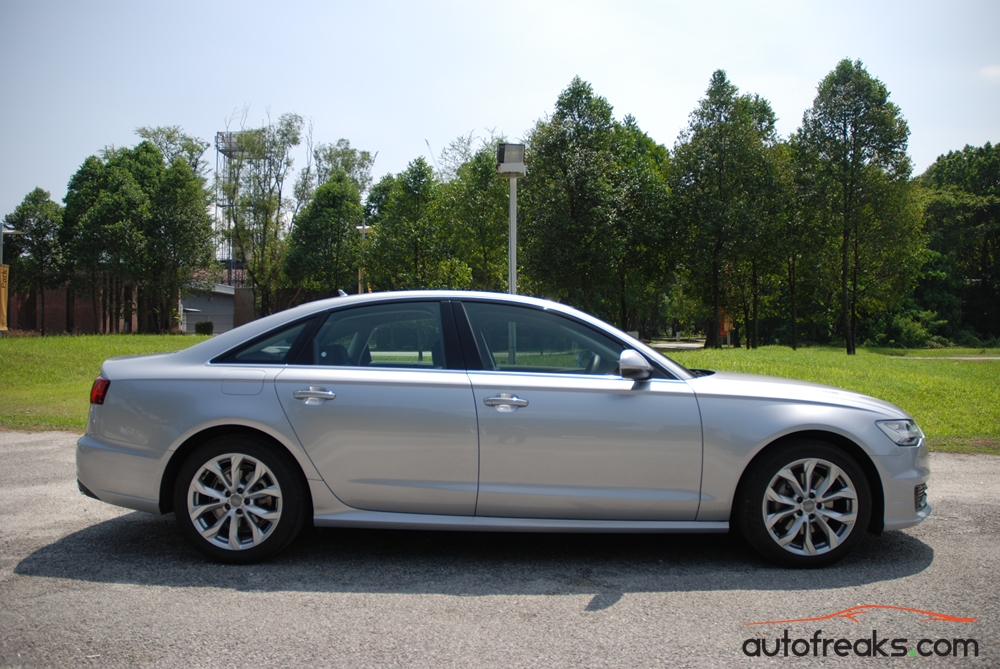 Alas, while luxury is a trait for Audis, simplicity isn't. With the updated A6, Audi offers more bells and whistles like new infotainment system and connectivity options as standard that could possibly give Bill Gates a migraine. While some features are useful, others are kind of redundant…
For instance, the A6 sedan features a touchpad control which oversees the management of all online, media, voice control, navigation and telephone features. This touchpad enables you to write your entries, prompting the system to suggest destinations (much like Google search) on a little pad just next to the shifter. Sounds cool, right? Well, it is, except that writing anything by hand is tedious, and isn't that the whole purpose why they invented a keypad at first place?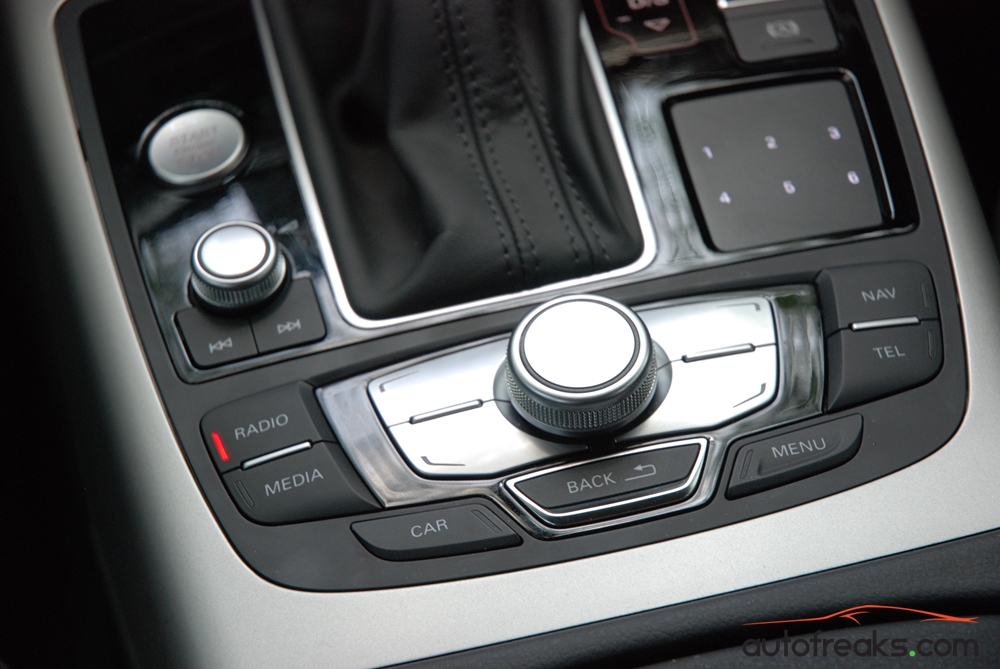 Frankly, I find that all the controls, buttons, dials and switches that operates a wealth of functions like the radio, the A/C, the MMI control system are very confusing and clutters the dashboard and the centre console. On top of that, getting access to simple connectivity options like USB for example can get pretty complicated as most functions are hidden beneath a layer of menus. So if you're not a tech savvy kind of guy, most of the functions available on the dashboard, centre console and the steering wheel will require some getting used to.
On the plus side, I do appreciate that the 6.5-inch MMI screen that sits on the centre of the dashboard can be electronically folded when it's not in use, which makes the dashboard look more classy and neat.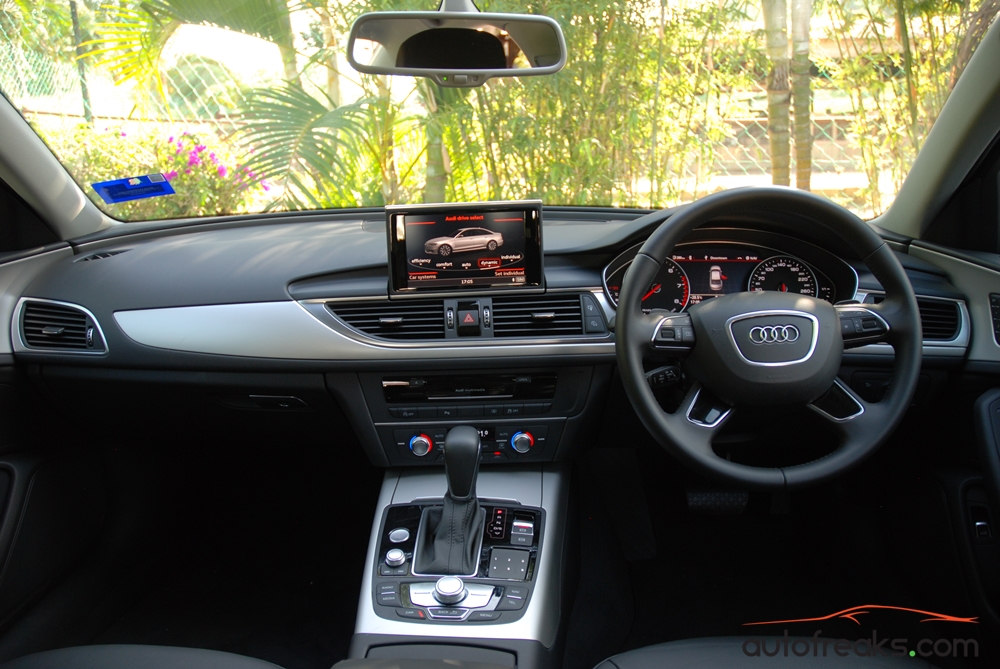 Despite it all, the A6 is still a very competent proposition in its segment that does its job well as a day to day commuter. It has one of the best looking cabins in its class that makes use of the finest quality materials and the best workmanship complemented with sophisticated styling.
The best thing about the updated A6 is that buyers putting down money for a 1.8-litre engine most likely would have not expected a sedan this dynamic, thus it always leaves you with an element of surprise every time you set your right foot on that accelerator pedal.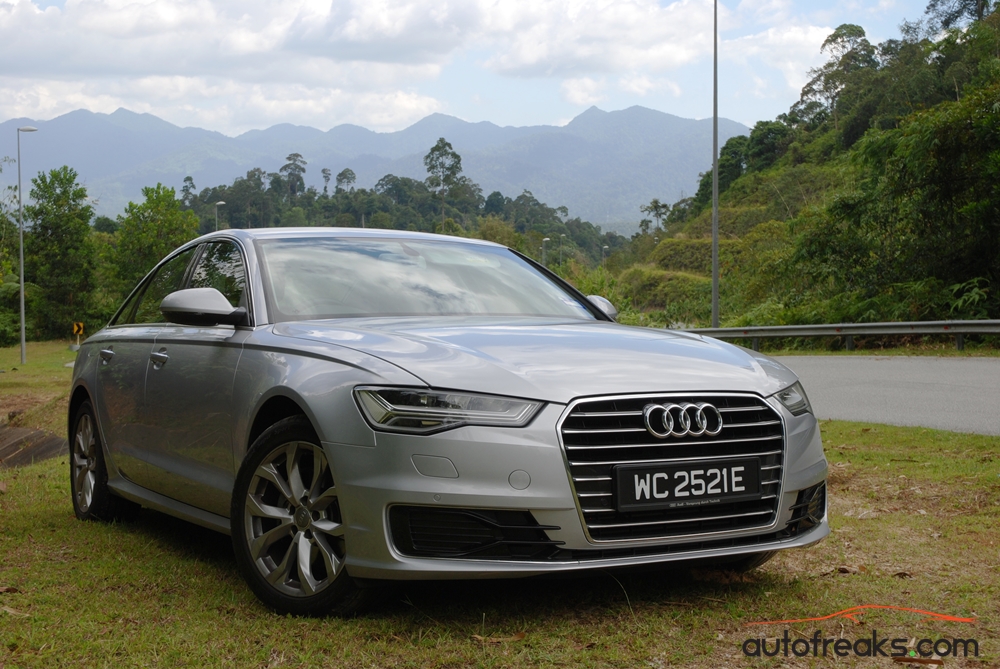 PRICING AND TRIM LEVELS
In the German luxury segment, the Audi A6 competes with the likes of the Mercedes-Benz E-Class and the BMW 5-Series. For RM327,900, the Audi A6 is a very tempting offer for those seeking a premium mid-size sedan, plus it is more affordable than the E300 BlueTEC Hybrid that retails at RM338,888 and the baseline 5-Series, 520d Sport which will set you back at RM354,800.
If you're willing to fork out RM487,900, the A6 also comes with a more powerful 3.0 TFSI quattro all-wheel drive variant with 333hp and 440Nm of torque on tap – this enables the sedan to make a century sprint in just 5.1 seconds. Choices, choices!
SPECIFICATION: Audi A6 1.8 TFSI
Displacement: 4-cylinder 1.8 TFSI
Transmission Type: 7-Speed S-Tronic
Power: 190hp @ 4,200rpm-6,200rpm
Torque: 320Nm @ 1,400rpm-4100rpm
Price: RM325,379 OTR without insurance
Rival: Mercedes-Benz E-Class, BMW 5-Series, Jaguar XF, Lexus GS