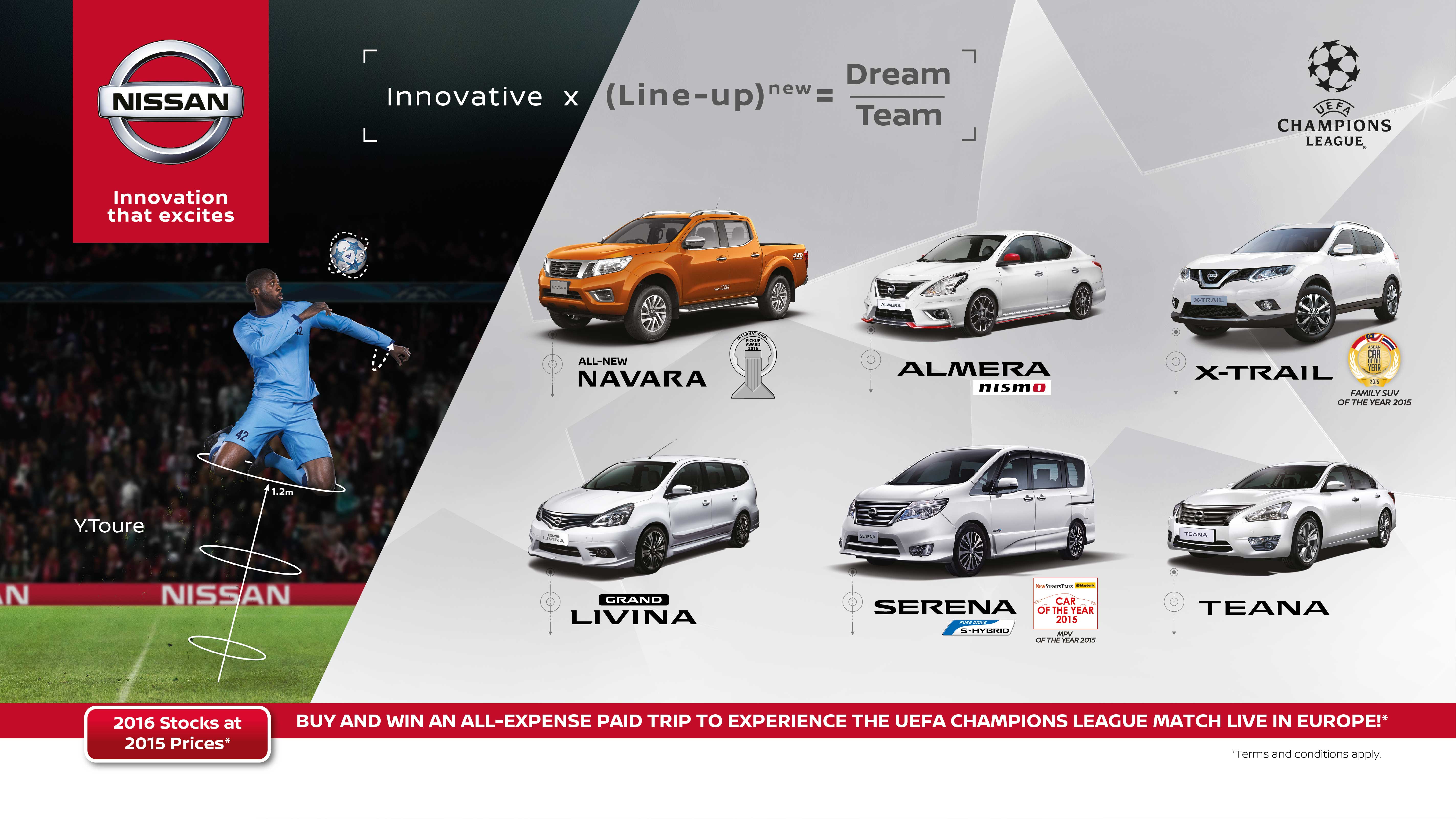 Edaran Tan Chong Motor Sdn Bhd (ETCM) has kicked off the highly successful Nissan UEFA Champions League Campaign for the second year running.
The UEFA Champions League Campaign will run throughout the month of March, and Nissan customers who purchase a Nissan stands a chance to win an all-expense paid trip to experience the 2015/16 UEFA Champions League Semi-Finals match in Europe.
"The Nissan UEFA Champions League campaign is back once again bringing more excitement for both Nissan customers and local football fans! It marked the second year running that Nissan is collaborating with UEFA. We in ETCM believe that this campaign in its 2nd year running will continue to evoke and deliver the excitement of Champions League football to the local football fans and enhancing their experience of Europe's most prestigious football competition," said Mr. Tan Keng Meng, Director of Product Planning & Marketing Communication, Edaran Tan Chong Motor.
Adding to the campaign's excitement, ETCM invites all football fans to vote for their favorite goals through the "Goal of the Week" contest at bit.ly/NissanUCL-GOTW from 16 March to 3 April 2016. This UEFA Champions League "Goal of the Week" contest is engineered by Nissan providing worldwide fans an opportunity to determine the best and most technical goals throughout the match, offering participants a chance to win UEFA Champions League merchandise.
To support its global Champions League initiatives for the 2015/16 season, Nissan has continue their partnership with the official brand ambassadors or 'Engineers of Excitement', Barcelona's star Andrés Iniesta, Paris's Saint-Germain captain Thiago Silva, Manchester City's Yaya Touré and Schalke's Max Meyer.
In addition, ETCM is offering 2016 stocks at 2015 prices for selected Nissan models at all showrooms nationwide. All Nissan line-up models are also available with attractive promotions which include rebates, irresistible trade-in offers and innovative financing package.
Members of the public are also invited to visit Nissan Showrooms and Roadshows to experience great Nissan deals on offer, including free exclusive Nissan UEFA Champions League merchandise by just test driving a Nissan. Dates of the Nissan roadshows are as follows: