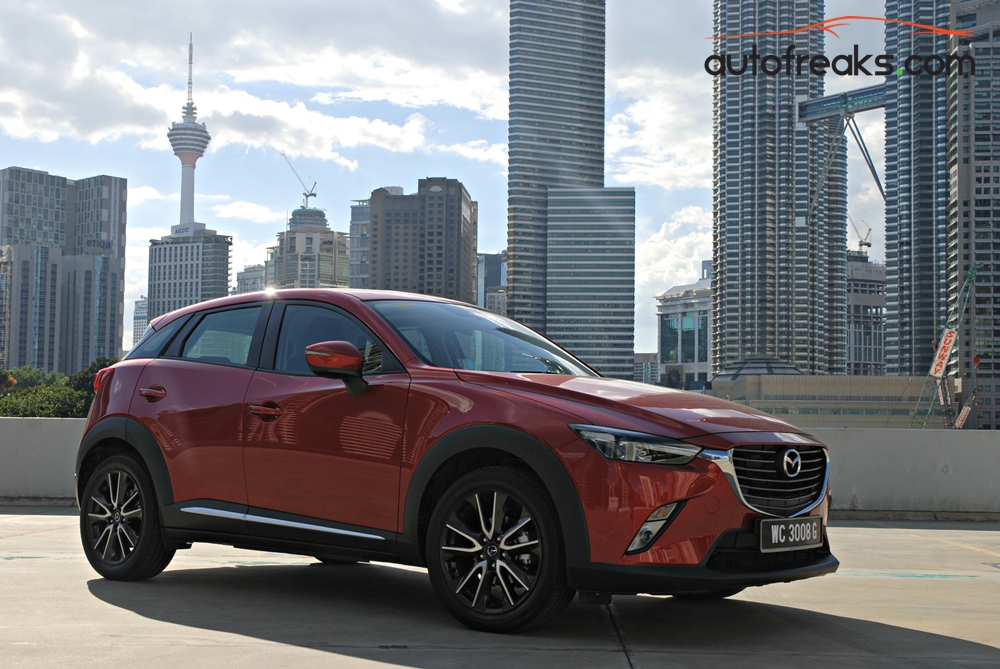 ADVERTISEMENT
SUVs are booming in the automotive market due to their overall practicality and affordability but the latest trend when shopping for an SUV is that buyers are eyeing for compact SUVs rather than a bigger size SUVs.
Because let's face it, whether you're focused on efficiency, practicality, roominess or affordability, a small SUV is designed to perform similar to a larger SUV at half the size, well sort of.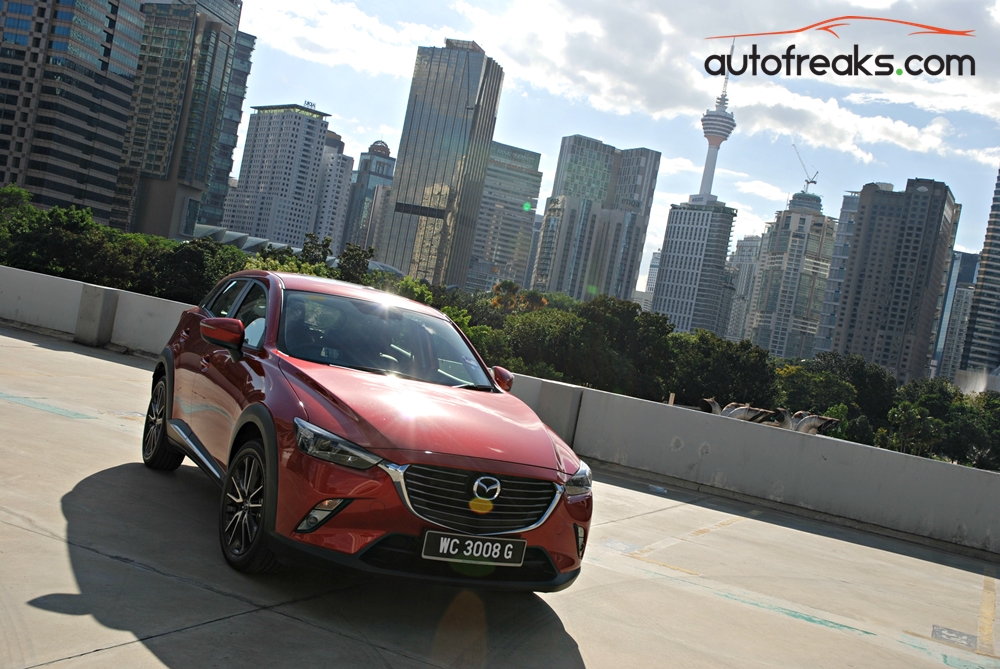 As the demand for small SUVs continue to grow, the segment that barely even existed a couple of years ago suddenly became the hottest demand for Millennial buyers. The hype surrounding this new segment finally reached new highs when the Mazda CX-3 entered the Malaysian market late last year. Slotted below the CX-5, I was keen to find out whether the CX-3 had what it took to be a segment leader trailing behind other small SUVs like the Renault Captur, Ford EcoBoost, Subaru XV, Mitsubishi ASX and Honda HR-V.
So here's 10 simple reasons why I think that the CX-3 'freestyle crossover' is more value for your money.
1. Looks – Of all the compact crossovers available in the market, the Mazda CX-3 easily triumphs in the styling department. Other cars' designs reveal too much in their own daintiness or quirkiness but the CX-3's Kodo design language charms the buyers heart with its bold, fresh and beautiful proportions.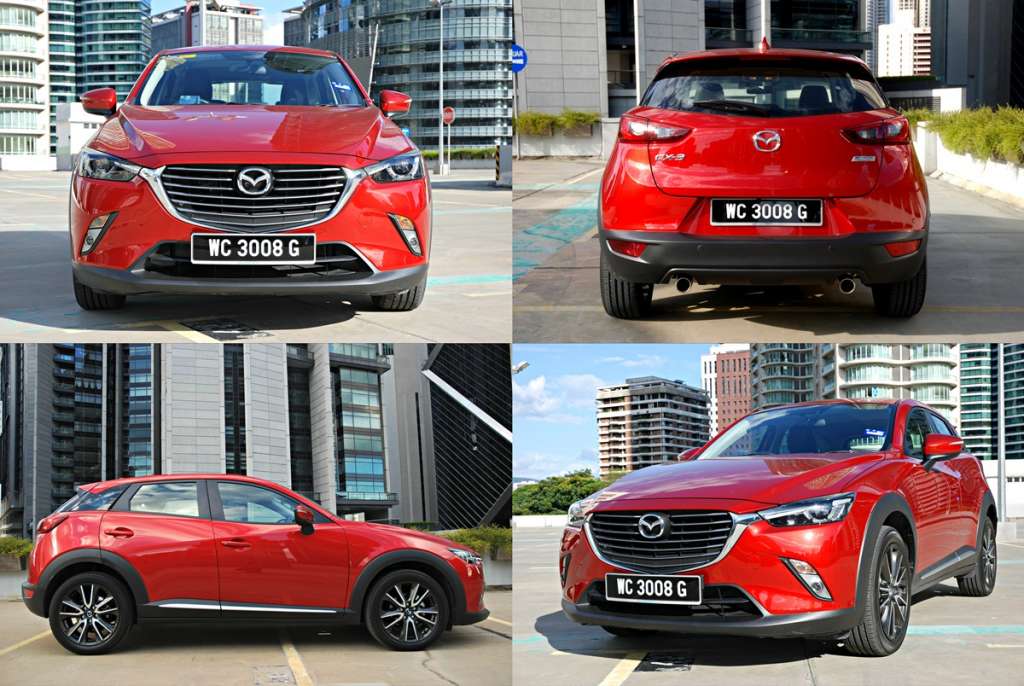 My test unit here comes in a shade of metallic red paint called Soul Red that changes in appearance depending on the angle and intensity of light hitting it; creating a combination of classy and youthfulness character to the vehicle, aside from looking good when viewed from every angle.
2. Inside – The interior of the CX-3 is a very inviting place to sit in and very much similar to the interior design found in the Mazda 2, which it is based on. Mazda has done a great job wrapping the CX-3's cabin in handsome materials that smack of quality, which is not something you would find in a vehicle in this class. For instance, the dark red seat stitching found on the dashboard, seats, leather gear knobs along with the combination of leather and suede on the seats elevates the cabin's sophisticated environment.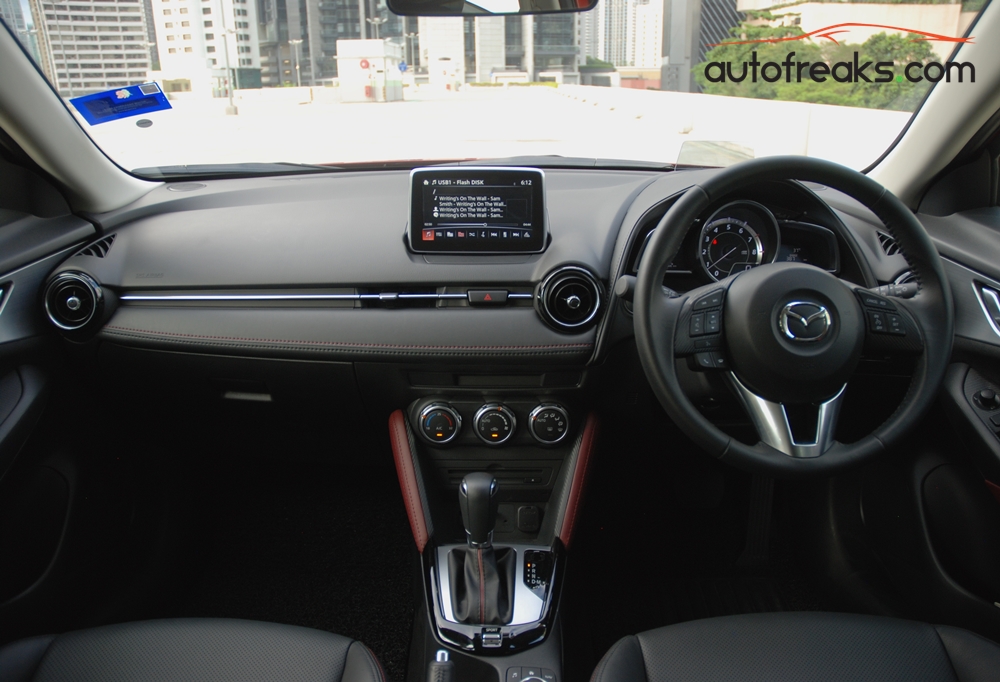 Mazda has also installed a MZD 7-inch touchscreen centre display with commander control switch and reverse camera on the dashboard that can be controlled either with a rotary dial located on the centre console or by using your fingers. Elsewhere, the CX-3 also comes with (HUD) Head-Up Display and a built-in sat-navigation system fitted as standard, a welcome plus for a vehicle in this segment.
3. Driving Position – What I like about driving the CX-3 is that the driving position is a combination between sitting in an SUV and a car where the driver sit in a slightly raised position, but doesn't tower over traffic as you would in a large SUV, which is perfect for an average size driver like me.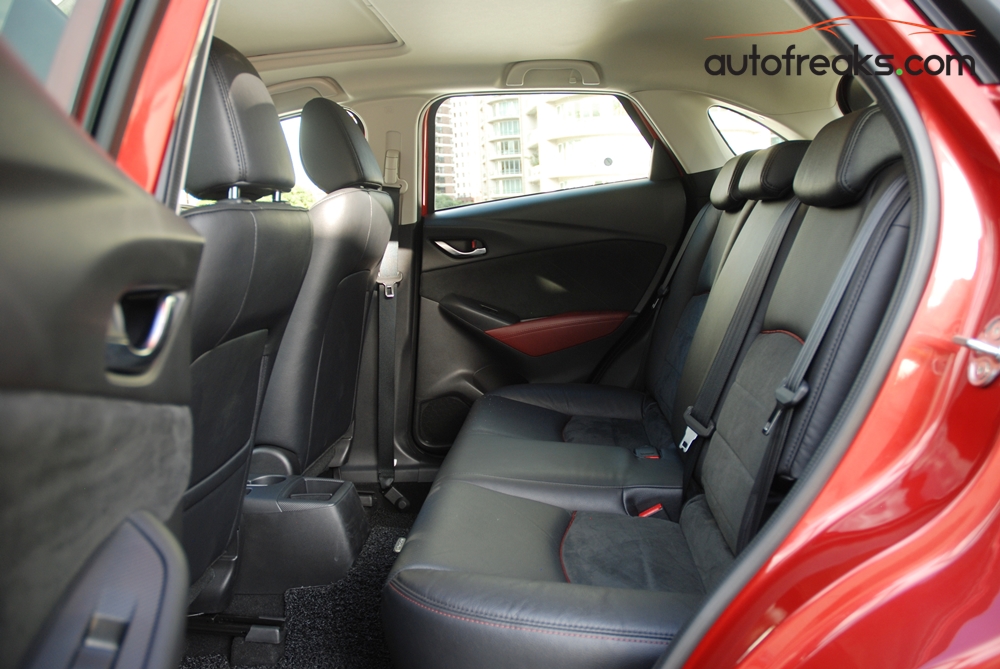 My only concern is the lack of space especially for the rear seat passengers. Due to the limited amount of legroom, you might end up brushing your knees against the front seats, especially if you are 6 foot tall. Plus, I felt more confined and restricted when sitting in the rear, probably because the side windows are much smaller than the front side windows and the seating position of the rear seats is set much closer to the center of the cabin than the front seats. A trip to the store won't make much of a difference but if you're travelling on a long distance trip, rear seat occupants will easily get fidgety having to sit straight all the time.
4. Space – The 350-litre boot space in the CX-3 is not the most spacious in the compact SUV territory and if you had to compare, the Honda HR-V offers larger trunk space at 453-litres along with its magic seats that can free up more space at the back. But fret not, the rear seats can split 60/40 and be folded to provides a flat load floor. Do that and you get a maximum luggage capacity of 1,260-litres, which is actually not bad for a vehicle of this size. But let me be honest here, practicality is not exactly the CX-3's strong suit.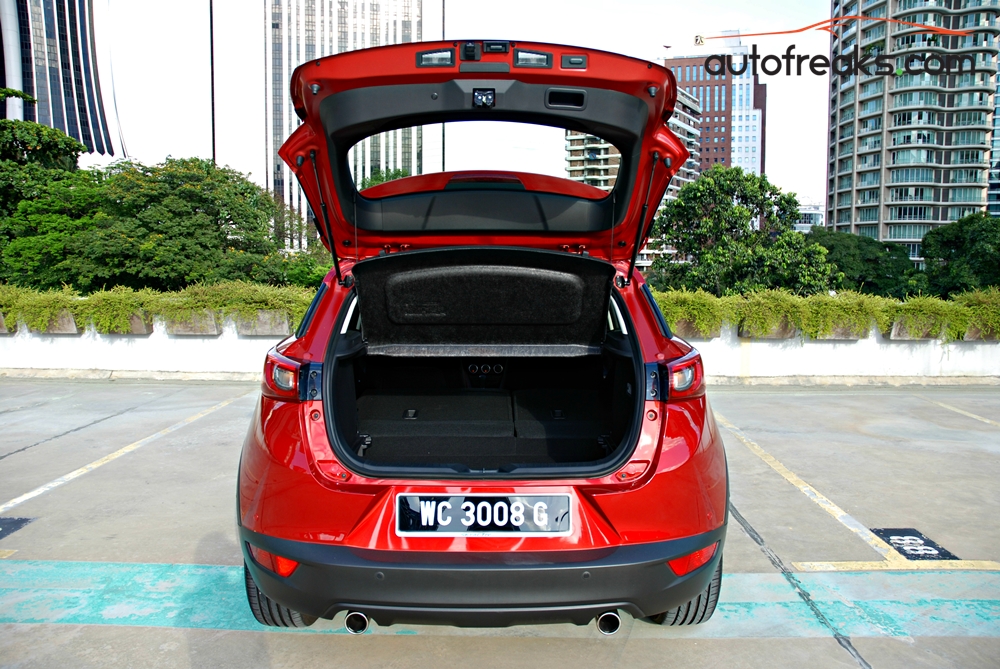 5. Powertrain – After having driven a number of small-size crossover in the past, I personally think that the CX-3 is one of my most favorite compact SUV I've driven to date.
The CX-3 on sale in Malaysia comes in a choice of a sole powertrain; a 2.0-litre SkyActiv-G petrol engine mated to a SkyActiv-Drive 6-speed automatic gearbox. The CX-3 makes full use of the 154hp and 204Nm of torque with smooth and linear power delivery where the gear changes as the conditions demands. The loud engine noise is still quite disconcerting especially when you plant your right foot hard on the accelerator, but I love the fact that the CX-3 doesn't have the annoying tendency to accelerate sluggishly away from traffic lights or during an up hills climb with continuous flow of power channeled through the front wheels.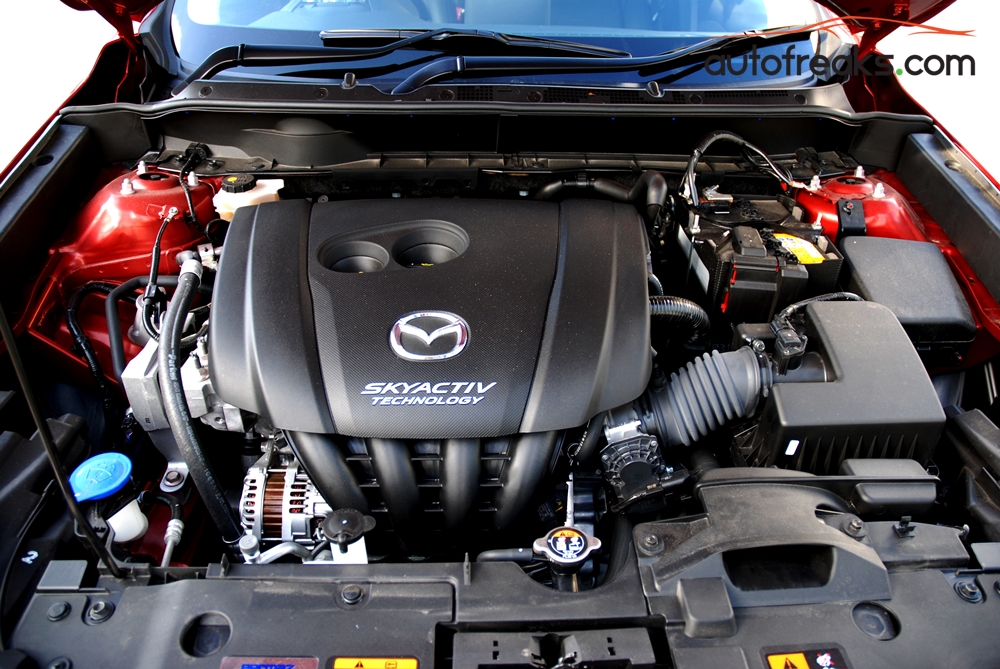 For the Malaysian market, there's no all-wheel drive on offer but for a daily urban commuter, a two-wheel drive will suffice. Besides, four-wheel drive only adds more weight and cost while reducing fuel economy, don't you think?
6. Drivability – The CX-3 also proves to be a good fun to be driven around, something you don't normally say to an SUV. It does have the same responsive steering feel as the Mazda 2, and despite its taller stance, it feels nearly as steady in corners, with some forgiving body roll, which is very typical when driving a crossover.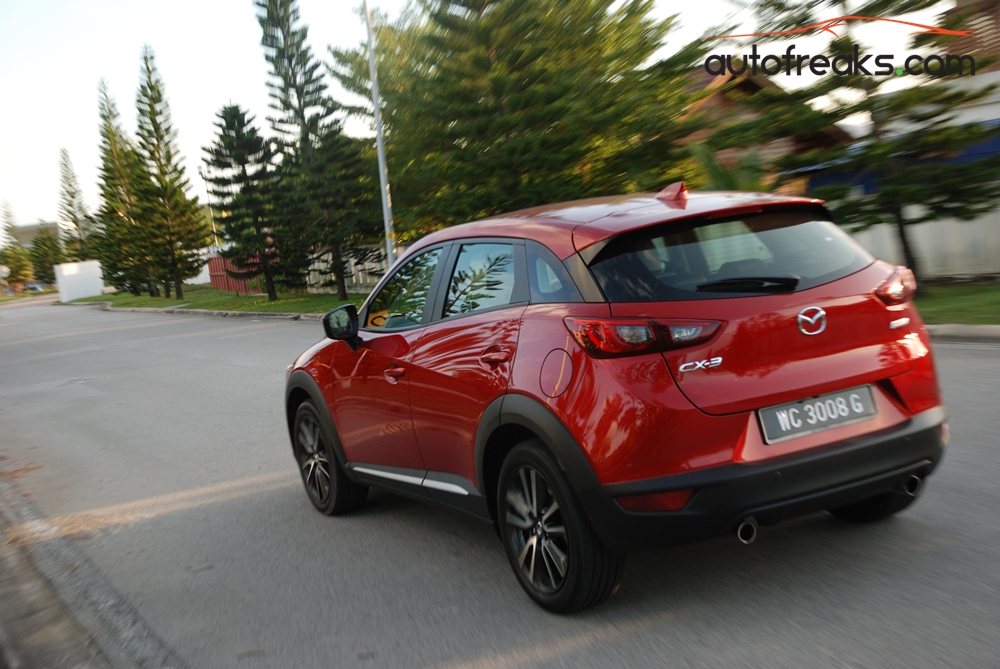 7. Fuel Efficiency – Mazda has yet to reveal the CX-3 fuel economy ratings but based on my weekend test drive with the CX-3, this little machine does not thirst of fuel either. I achieved 9.5-litres/100km on a combination of highway drive and stop and go traffic according to the trip computer at the time and overall, I've covered 350km with a quarter tank of fuel to spare. Of course, fuel figures vary based on individuals driving habits and mine does not include engaging the i-stop technology which is fitted as standard in the CX-3. In case you're wondering, i-stop technology can automatically shut-off the engine when the vehicle is idling so you'll be able to maximize fuel efficiency.
8. Size – At 4,275 mm in length, 1,765 mm wide and 1,535 mm tall, the CX-3 is smartly packaged for around town commuter. The 'compact' size makes it easy to maneuver in congested areas and squeeze through traffic or small parking area. If you're not confident enough to park our own crossover, Mazda has installed a reverse camera in the CX-3 for your own convenience.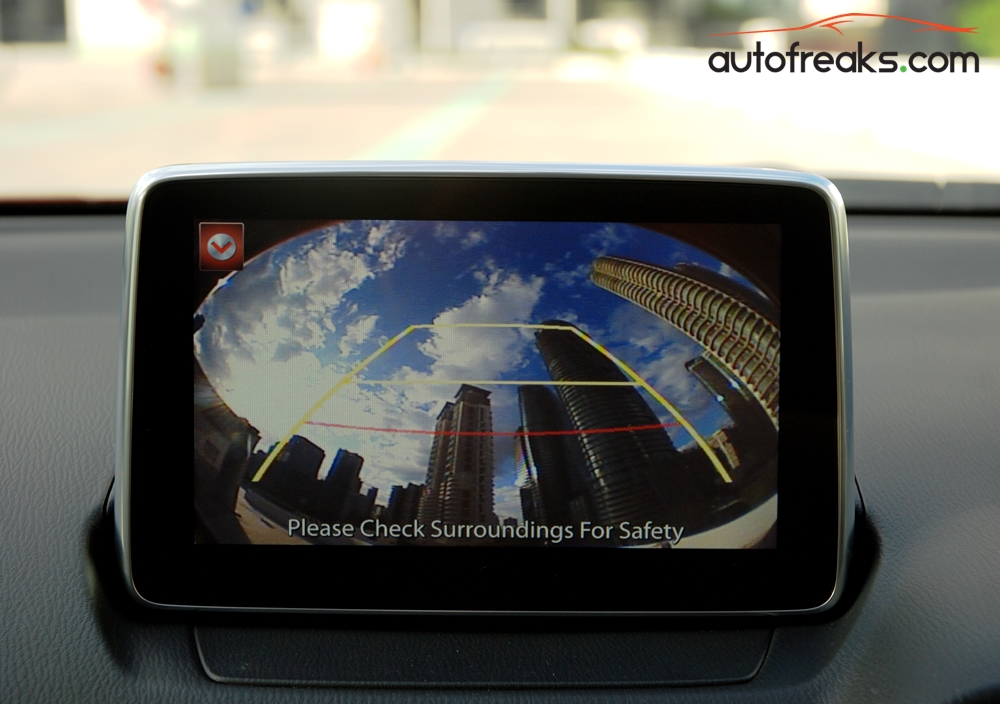 9. Standard Kit – The best part about purchasing a Mazda CX-3 is that you don't have to think twice about choosing the right level trims that would suit your taste buds. All the equipment mentioned above comes as standard, along with a plethora of other bells and whistles like sunroof, LED head lamps with DLR, auto windshield wiper, auto cruise control and paddle shift, making the best value for your money.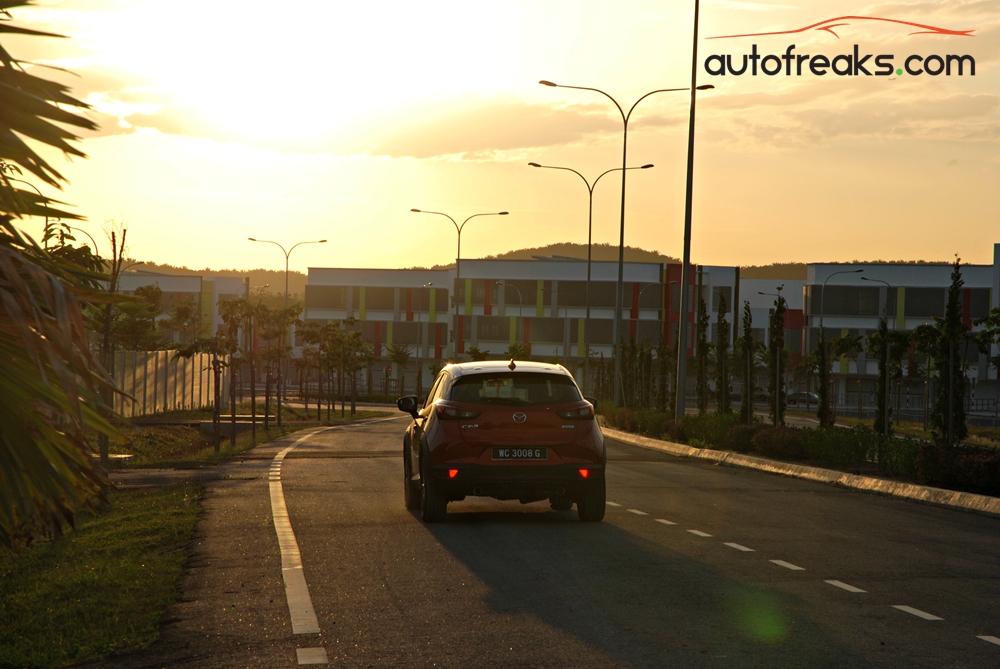 10. Price – For RM131k, the CX-3 might not be the most affordable but it is definitely the savviest small size SUV in the market right now. If you compare brochures among other brand's compact SUVs, the CX-3 is the most generously kitted here. At the end of the day, you will end up feeling like you're paying more than what you bargained for.
But hey, if you don't want to take my word for it, then go ahead to your nearest Mazda showroom and test drive one for yourself today. Don't forget to let us know what you think about it!