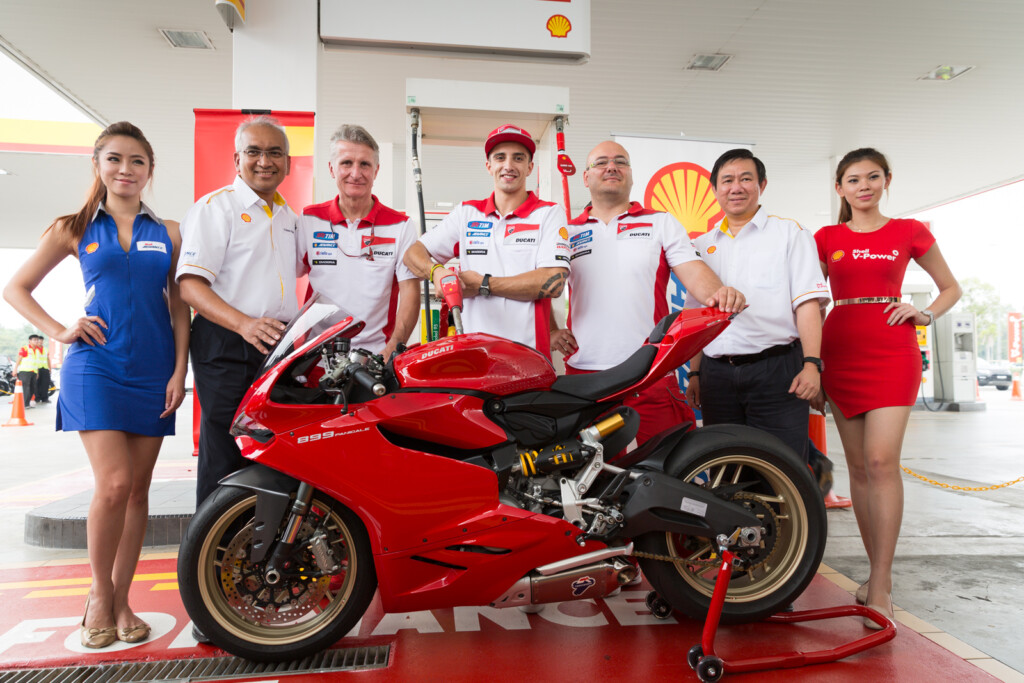 The air was thick with excitement at the Yazn Enterprise Shell retail station in KLIA recently when the Ducati Team made a unique appearance in the build up to the 2015 Shell Malaysia Motorcycle Grand Prix.
ADVERTISEMENT
Celebrating the ongoing Technical Partnership that Shell and Ducati Corse enjoy, now into its 17th year, the event was a chance for the Ducati Club Malaysia members to meet Sporting Director of Ducati Corse Paolo Ciabatti, Technical Coordinator Fabiano Sterlacchini and rider Andrea Iannone and hear their thoughts before the penultimate round of the 2015 MotoGPTM season.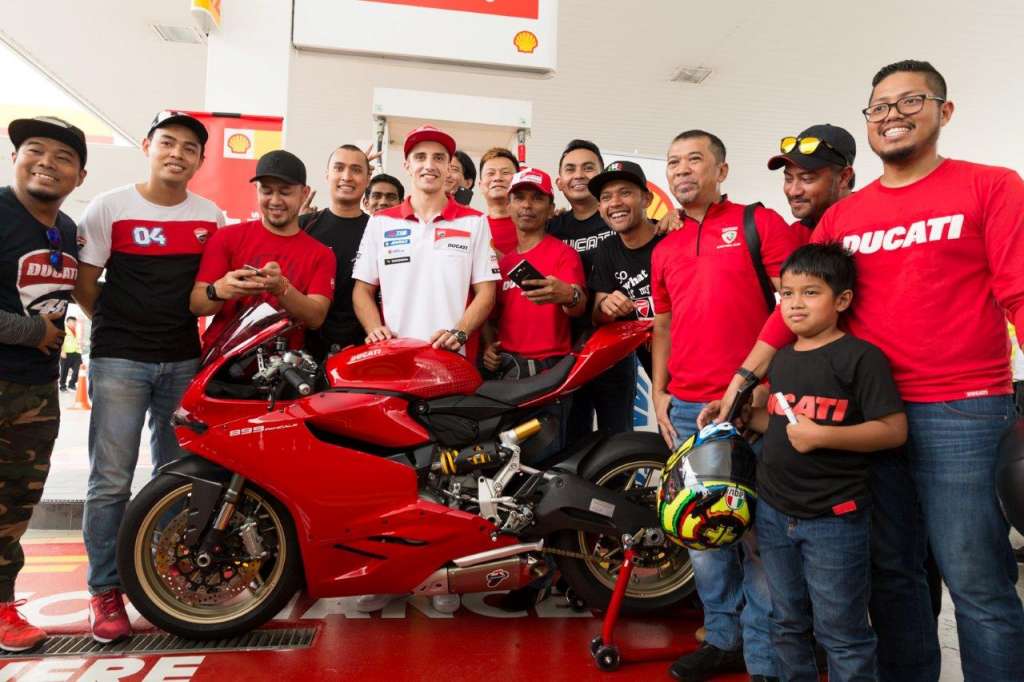 "Shell is thrilled to welcome the Ducati team back to Malaysia for the MotoGP weekend. The Technical Partnership we enjoy with Ducati is pivotal to the development of Shell products for our customers' bikes around the world. The MotoGP track is the ultimate test-bed for our products and takes us on a continual quest for technological innovation, which transfers across to our lubricants for the road.
"The Technical Partnership with Ducati provides us with an environment to test our Shell V-Power fuels and Shell Advance Ultra oils in extreme conditions, providing our scientists with a better understanding of what will deliver improved power and performance. As motorcycle experts, Shell's engineers and scientists know that when your bike is in peak condition it offers you a high degree of reliability and enhanced control, giving you an enjoyable ride at all times," said Tuan Haji Azman Ismail, Managing Director of Shell Malaysia Trading Sdn. Bhd. and Shell Timur Sdn. Bhd.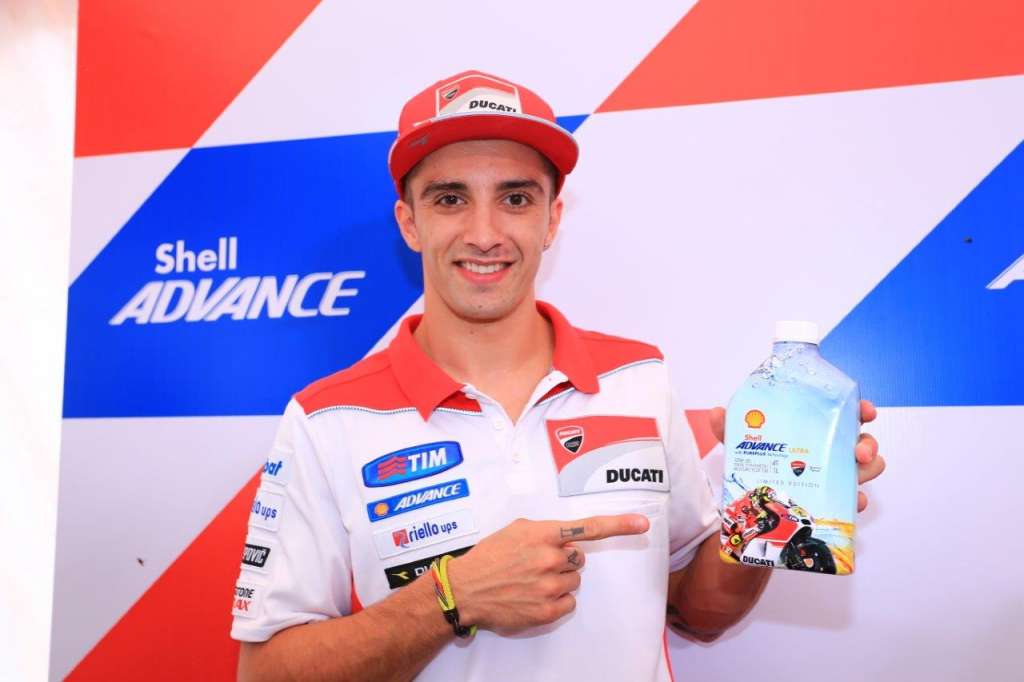 The introduction of innovative new products on-track has been a feature of this season for Shell with the debut of a new Shell V-Power racing fuel formulation at the Grand Prix de France, Le Mans (17 May). Assen, Netherlands (27 June) saw the first use of Shell Advance Ultra with PurePlus Technology lubricant, made via Shell's revolutionary process converting natural gas into crystal-clear base oil, by the Ducati MotoGP team; both contributing to the team's most successful season in several years.
Kick-starting with a live chat session, Iannone shared his personal experiences and aspirations for the race, as well as speaking about Shell and Ducati's ongoing Technical Partnership; before surprising fans of the Ducati Club Malaysia when he autographed a bike at the event.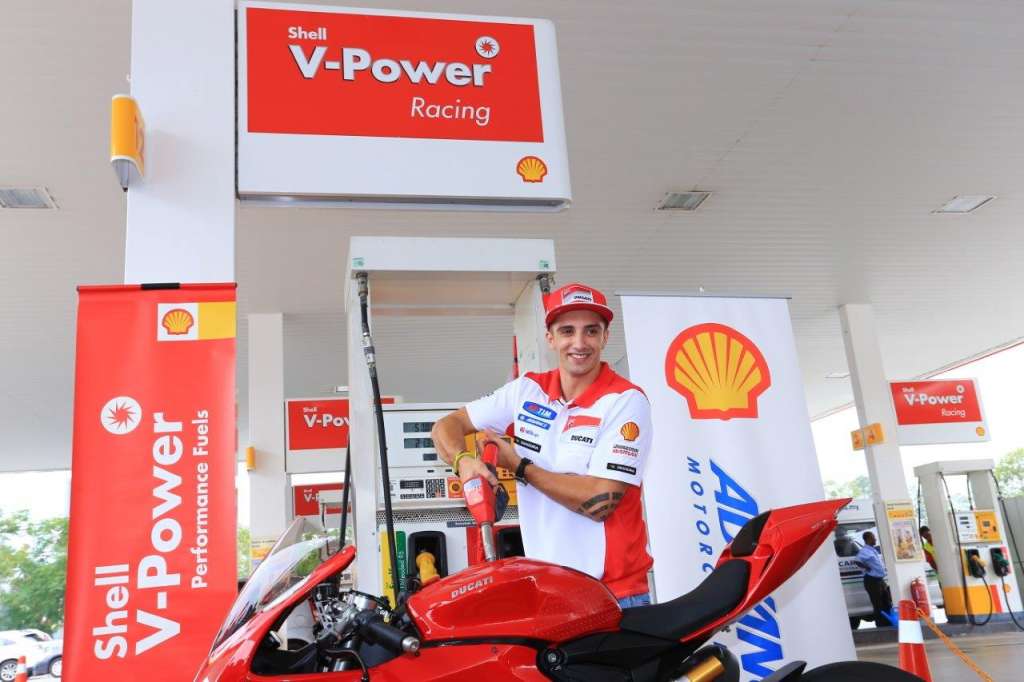 Speaking at the event, Andrea Iannone commented, "We are thrilled to be back with our fans from Malaysia and being able to meet with them was a pleasure. We look forward to racing at the Sepang International Circuit this weekend, which we hope will be a successful run for Ducati."
"As we enter a 17th successive season of technical collaboration together, Ducati and Shell are working more closely than ever to get the best out of the Shell Advance lubricants and Shell V-Power fuels that power our Desmosedici GP15 machines. Having Shell alongside us is of vital importance both on and off the track, and we are looking forward to optimising it on the track over the weekend," added Fabiano Sterlacchini, Ducati Technical Coordinator.
This strength in partnership is further complimented by Shell's continued support of the MotoGP World Championship, with the public confirmation of the renewal of Shell's title sponsorship of the Malaysian Motorcycle Grand Prix for both 2015 and 2016.