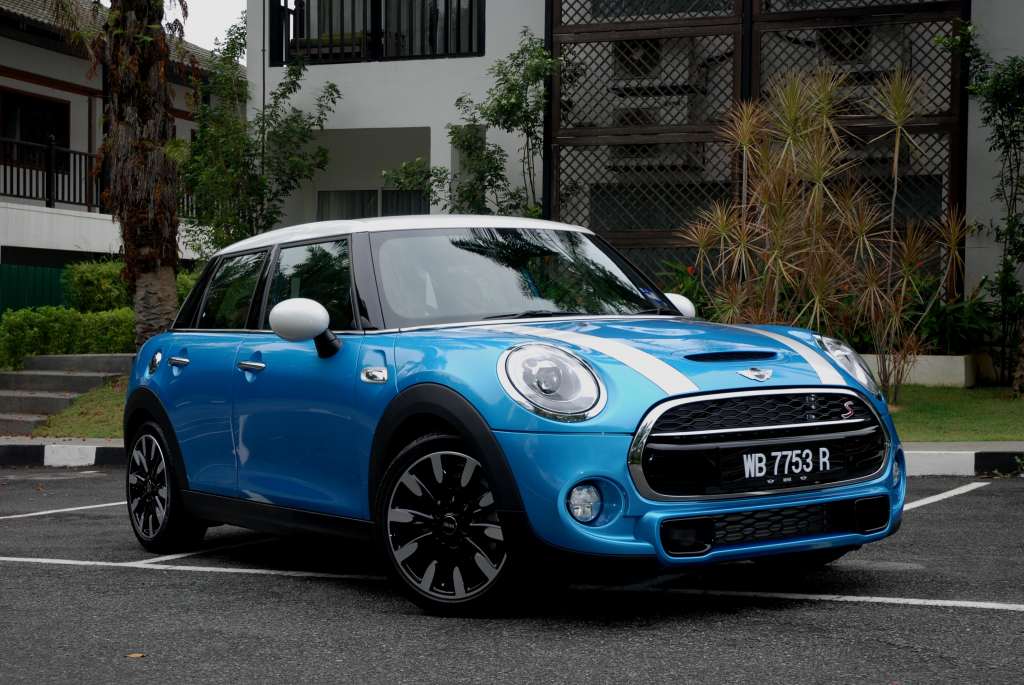 ADVERTISEMENT
MINI has always been associated with fashion for so many decades. In the 1960s, Mary Quant, a Welsh fashion designer and British fashion icon invented a shorter version of skirt and called it the miniskirt, naming it after her favourite make of car, Mini.
While miniskirts continue to shrink over time, Mini, despite its name has grown significantly in terms of size. In respect of the brand's history and heritage, the company has to adapt to their customers' demands that seek spaciousness and practicality in order to compete more effectively in the compact car category.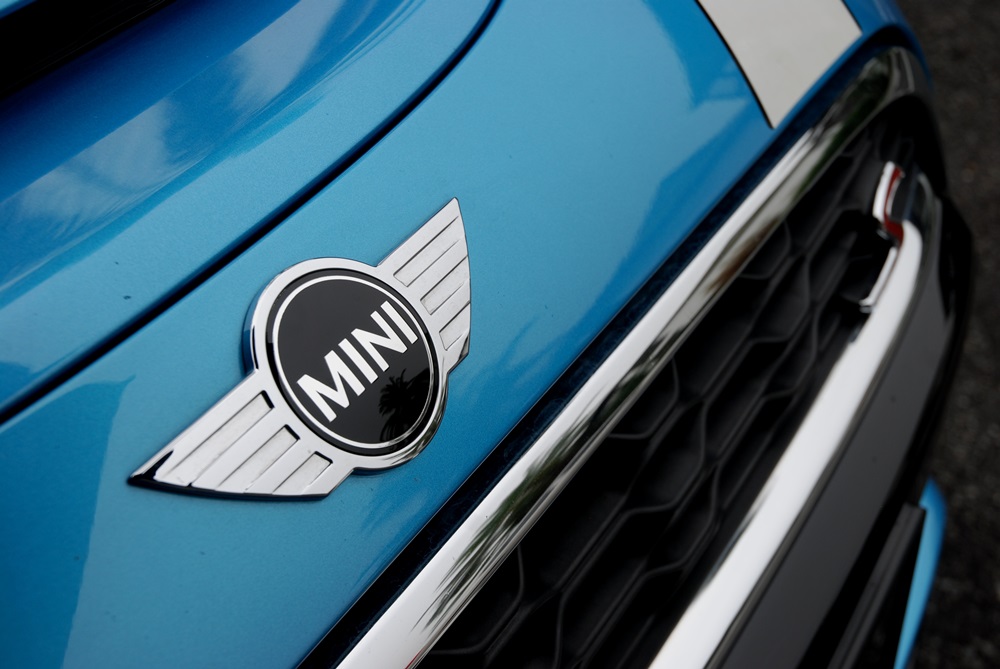 Enter the 5-door Mini…no, really!
Recently I had the opportunity to get up-close-and-personal with this hatchback for a couple of days and after driving it and being spoilt by its funky yet luxurious cabin, it's hard to not fall in love with this car.
While I'm not a big fan of its goofy face, the 5-door Mini is a definite head turner. Just like its siblings, the 5-door Mini features an unmistakable Mini appearance with its signature radiator grille with a honeycomb pattern and classic elliptical 'bulging' headlamps. LED daytime driving lights, LED headlights and fog lamps come as standard equipment, while all four wheels are shod with run-flat tyres with stunning 17-inch Roulette Spoke two-tone rims.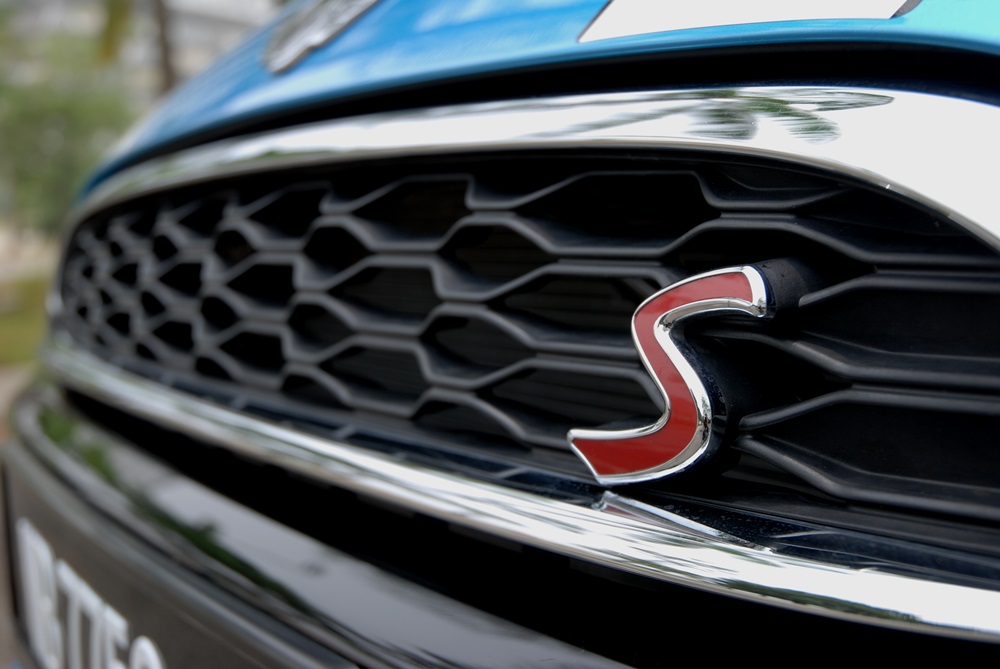 Appearance wise, especially when viewed from the front of the rear, the 5-door Mini can easily be mistaken as a 3-door version because it is after all, a stretched-out version of the hatch. In order to deliver a more practical hatchback and to bring an additional kicker to the party, the 5-door Mini is 16cm longer than the 3-door Mini.
The overall dimensions of the 5-door Mini now measures at 3,982mm long, 1,727mm wide and 1,425mm high – all of which are for the benefit of the additional 2 doors for rear seat passengers and of course, improved rear cabin space.
Still, the 5-door Mini managed to keep its traditional shape and doesn't look out of proportion, which is usually the risk when adding extra doors from an original 2-door design.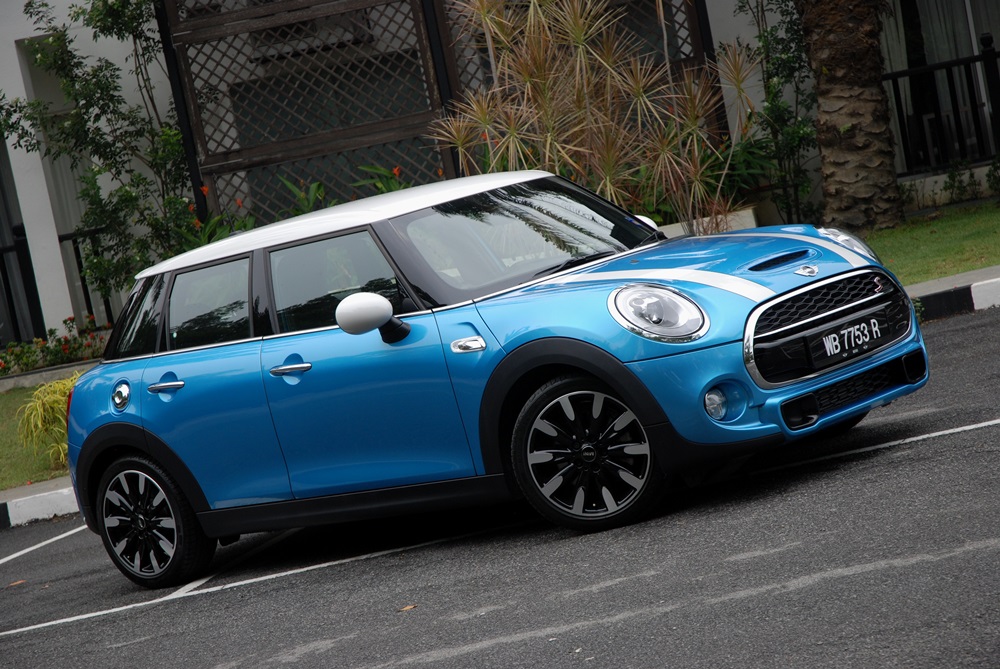 As I pop the rear door open and hopped into the rear, I noticed that there's actually ample leg and head room for two (normally sized) adults to sit comfortably.
But here's the thing, the rear doors don't open wide enough for you to load bulky items or if you're thinking of making a grand entrance or exit. So if you're born incredibly tall, you should probably sit in front instead.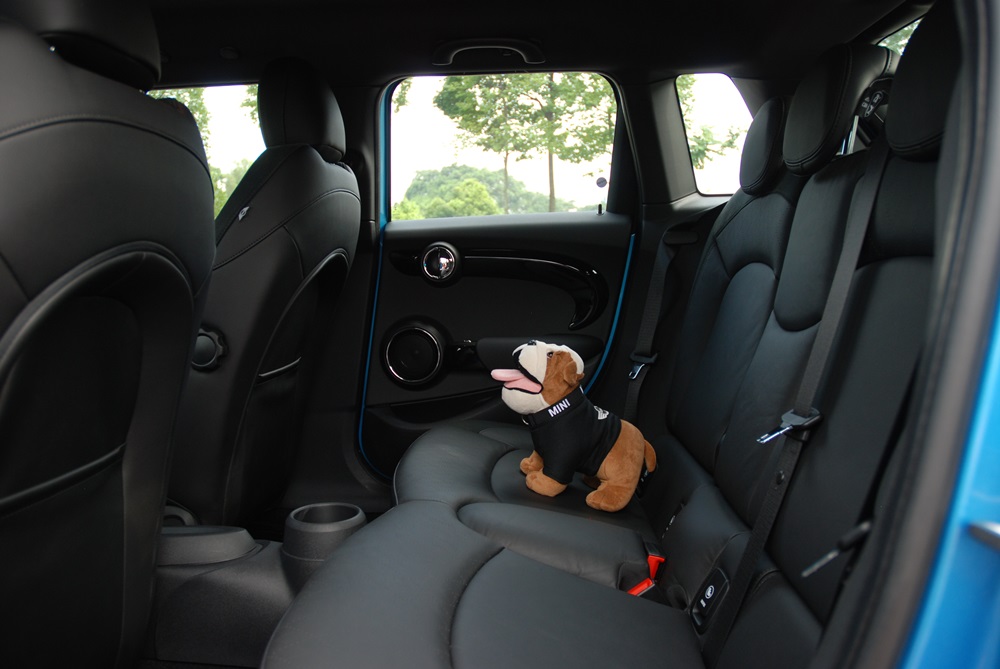 One of the things that excites me the most, especially when getting a Mini for a test drive is how cool it looks like from inside the cabin. There's plenty of intricate details strewn throughout the interior, such the Carbon Black leather upholstery, Black Checkered interior surface, elegant chrome inserts, retro-looking toggle-switches, a gigantic round speedometer with LED lights and colourful ambient lights on the door trim and centre console area that starts to illuminate when driving at night, leaving you with plenty of visual pleasure!
So who's up for a party? Seems this car certainly is!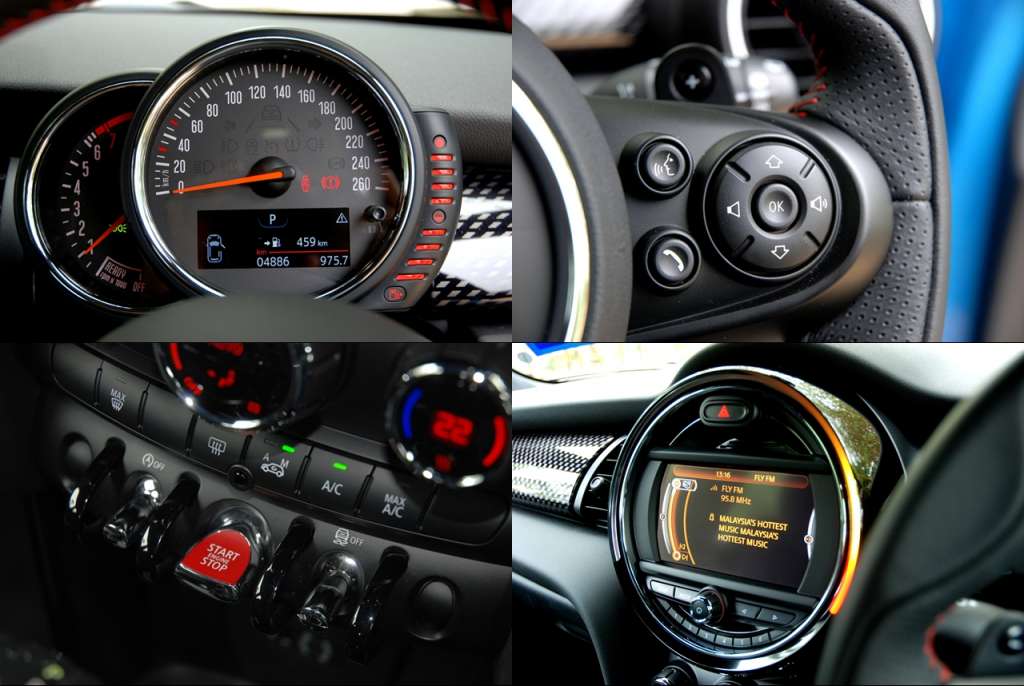 The boot offers adequate space as well. The 5-door Mini adds an additional 67-litres of luggage compartment space for a total of 278-litres in comparison to the 3-door model. This extra space equates to one large duffle bag or one cabin size bag. Due the absence of a spare tyre, there's also a hidden storage space beneath the boot-floor, so you can hide your valuable things from prying eyes.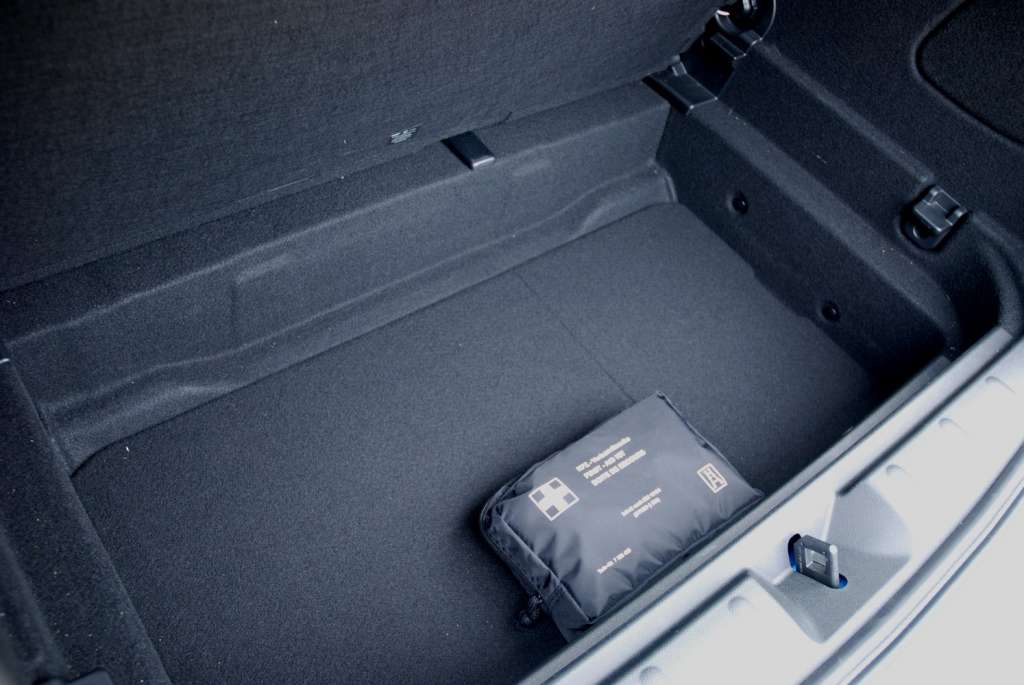 Anyway, let's explore what's hidden under the hood of the 5-door Mini because Mini has always been associated to driving fun. My test unit came in a form of the Cooper S powered by a 2.0-litre Mini TwinPower Turbo engine, that churns out a healthy 192hp and 280Nm of torque. When mated to a 6-speed sports automatic transmission, the 5-door Mini is capable of making a century sprint from a standstill in just 6.8 seconds, whilst reaching top speed of 230 km/h.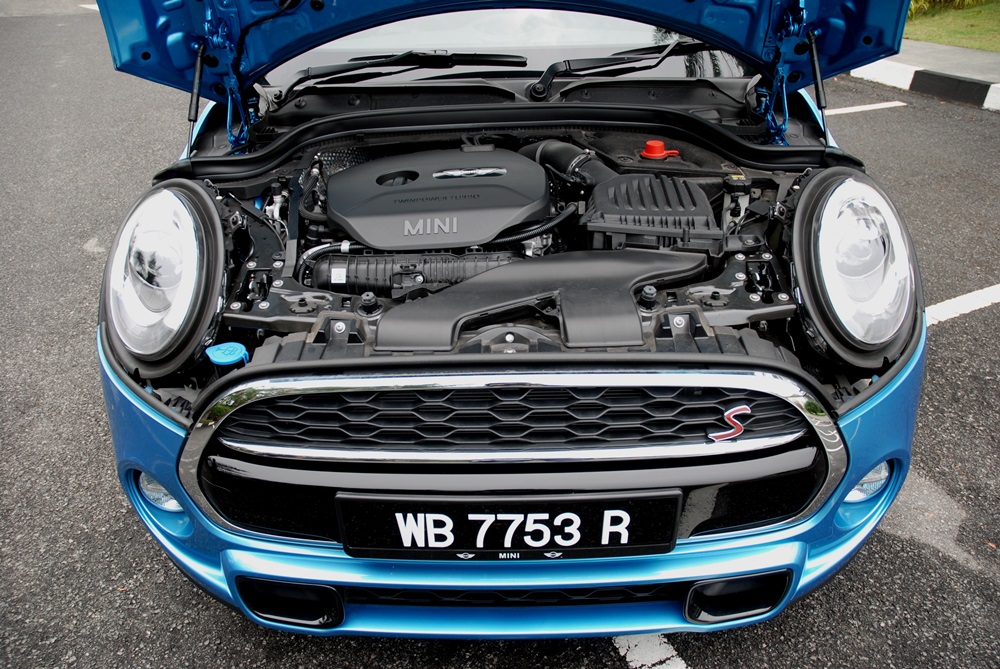 Although it shares the same powertrain as the 3-door Mini, the extra weight thanks to the additional rear doors, has not compromised on its fun factor at all.
The punchy little engine proved to be very peppy and revs smoothly in any given driving situation. The 5-door Cooper S also has one of the best 6-speed automatic gearboxes around, and does a better job at shifting its own gears than I do on my own. Given any situation it is thrown at; whether you are merging off a highway, driving uphill or cruising at speed, or even driving in slow moving traffic, the 5-door Mini gear shift responds very briskly to a drivers' request. Besides, driving with an automatic gearbox is also blissful especially if you live in a congested city like Kuala Lumpur where shifting gears manually can be laborious.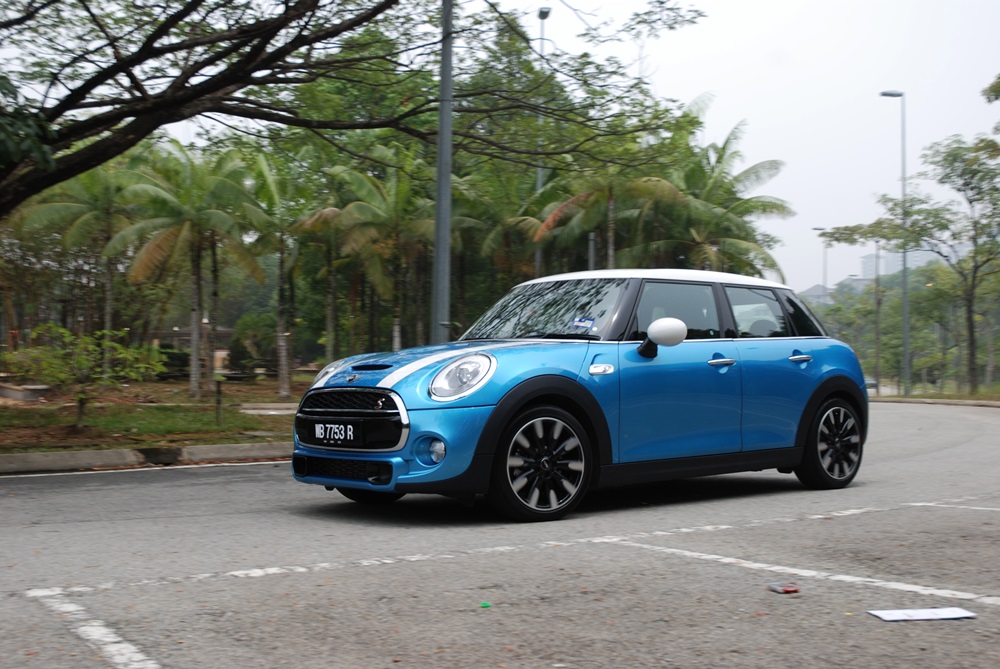 The lack of NVH (Noise, Vibration and Harshness) makes it even more enjoyable and happy to be driven at high speed with ease, besides, the hatchback possesses a low center of gravity which makes it really stable when cruising on a long stretch of highway.
The steering provides excellent feedback as well. It is light, accurate and you can even feel it become a tad heavier and sharper as you build up speed. Thanks to its signature go-kart handling, the 5-door Mini feels playful and agile in the corners, gripping hard and staying planted even when making high speed turns. While the rigid chassis and low profile tyres tend to provide a slightly stiff ride, it won't spoil the whole driving fun factor nor leave you cringing at any point.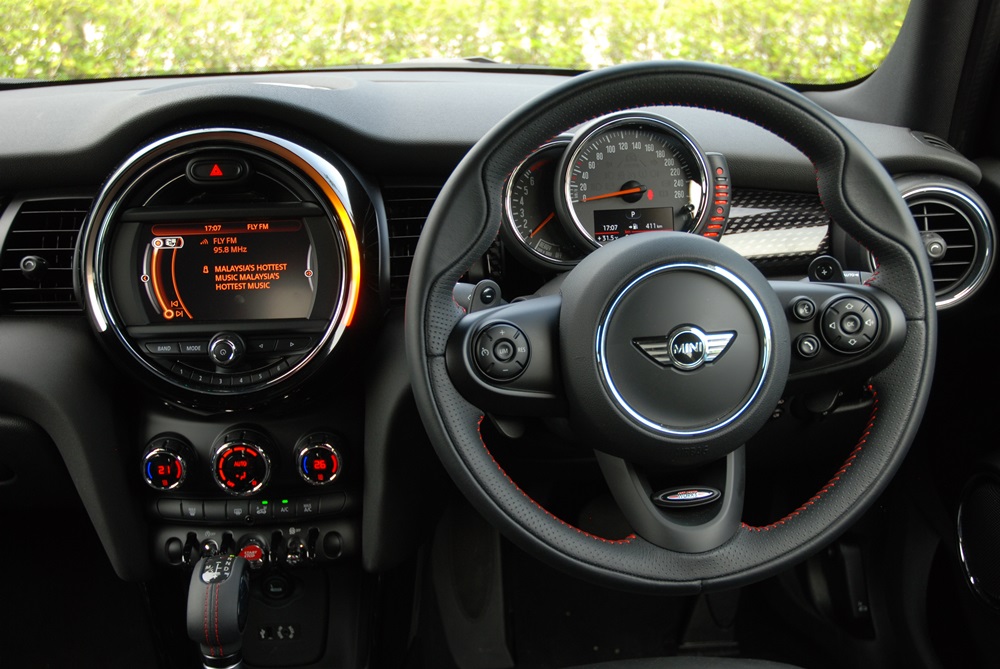 With the Mini Driving Modes, you can flick the switch located around the gear lever and it will modify the driving dynamics of the vehicle. For instance, the Sport mode brings a progressively stronger engine response of the car and gives you a maximum go-kart feel. For my daily to- and from-work driving routine, I prefer the Green or Mid mode for more sedate driving experience, but it's nice to know the Sport mode is there if the mood ever strikes!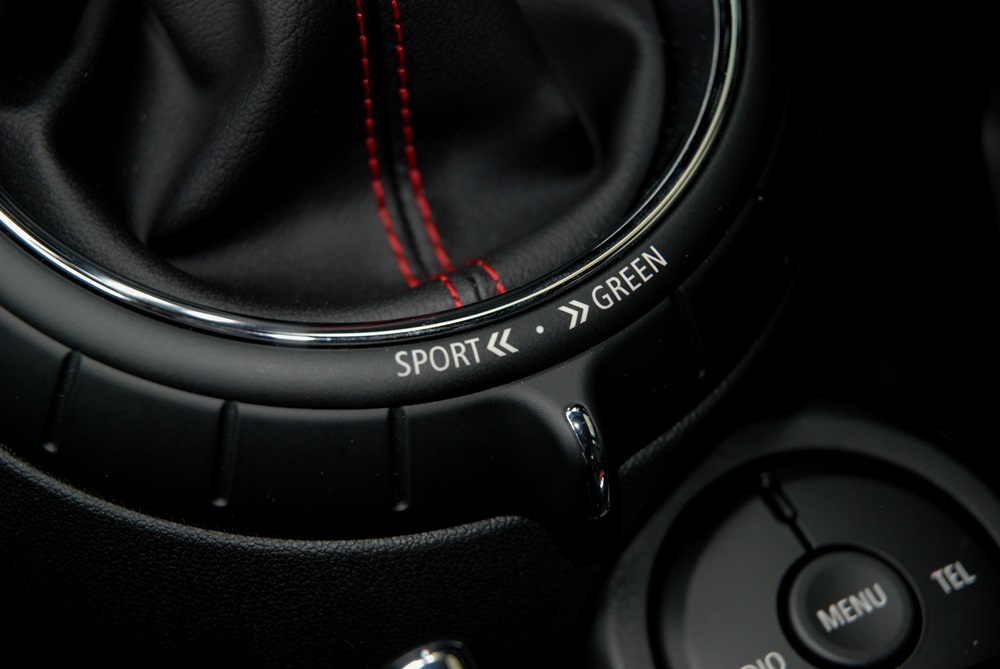 While many people would underestimate the capabilities of small cars, it shows a great deal that this BMW-generation Mini has learnt a lot from its parent company when it comes to producing good quality cars. It may not be a proper hot hatch, but it will leave you with a long lasting big grin on your face.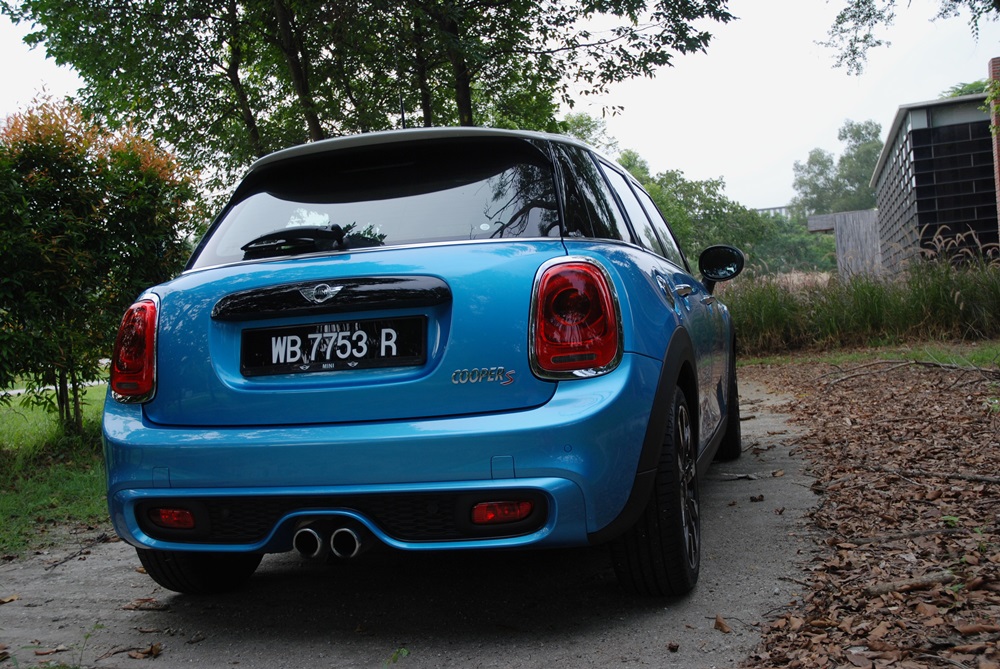 Therefore, I would happily recommend the 5-door Mini to young couples who made a bad decision of having kids, and in need of that of that extra door to mount the child seats at the back easily. But at the same time, aren't willing to sacrifice their youthful exuberant lifestyle or are just too cool to drive an MPV. Of course, there's plenty of choices out there, but hey, you don't need a huge petrol-guzzling SUV or MPV to get around town, the 5-door Mini will suffice. All the same fun and extra doors too, what's not to like?
By the way, who says you can't have an occasional driving fun after you decided to settle down?
SPECIFICATION: MINI 5-Door Cooper S
Displacement: 2.0-litre TwinPower Turbo engine
Transmission Type: 6-speed sports automatic transmission
Power: 192hp @ 4700 – 6000rpm
Torque: 280Nm @ 1250rpm
0-100km/h: 6.8 seconds
Top Speed: 230 km/h
Fuel Consumption: 5.5l/100km
Price: RM236,888 OTR