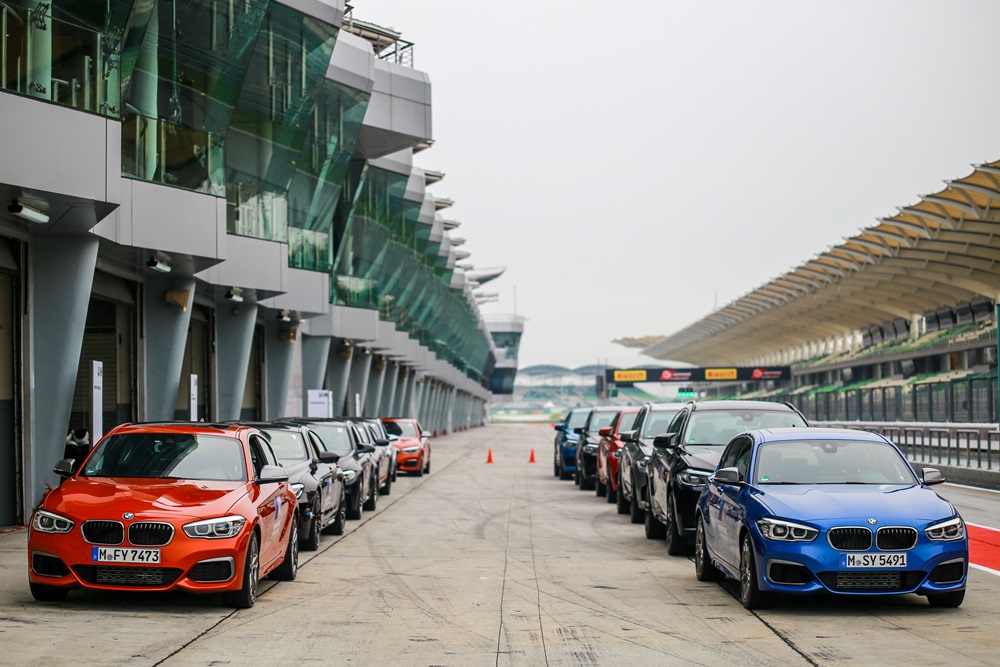 ADVERTISEMENT
I'll admit, as much as I enjoy my line of work, I vigorously dislike working on weekends. And yet, when my Editor recently asked if I wanted to test drive a bunch of BMW performance cars at the Sepang International Circuit, an invitation as part of the BMW's M Track Experience Asia 2015, I immediately said yes. Hey, I may not enjoy the idea or waking up at 6am on a Saturday morning, but an opportunity to drive high performance BMWs on a world class race track like this is usually hard to come by.
The BMW M Track Experience is part of the company's Motorsport experiential program where participants experience the power, dynamism and the thrill of the latest premium vehicles from the BMW M division, which included the BMW M135i, the BMW M3, the BMW M5, the BMW X5 M as well as the BMW M6 Gran Coupe. However, the highlight of the event was to put the recently launched BMW X6 M on the racetrack so that customers get to sample its full potential. After all, each M model that rolls out of the BMW production line is tested and tuned at BMW's private facility at the Nurburgring racing circuit in Germany.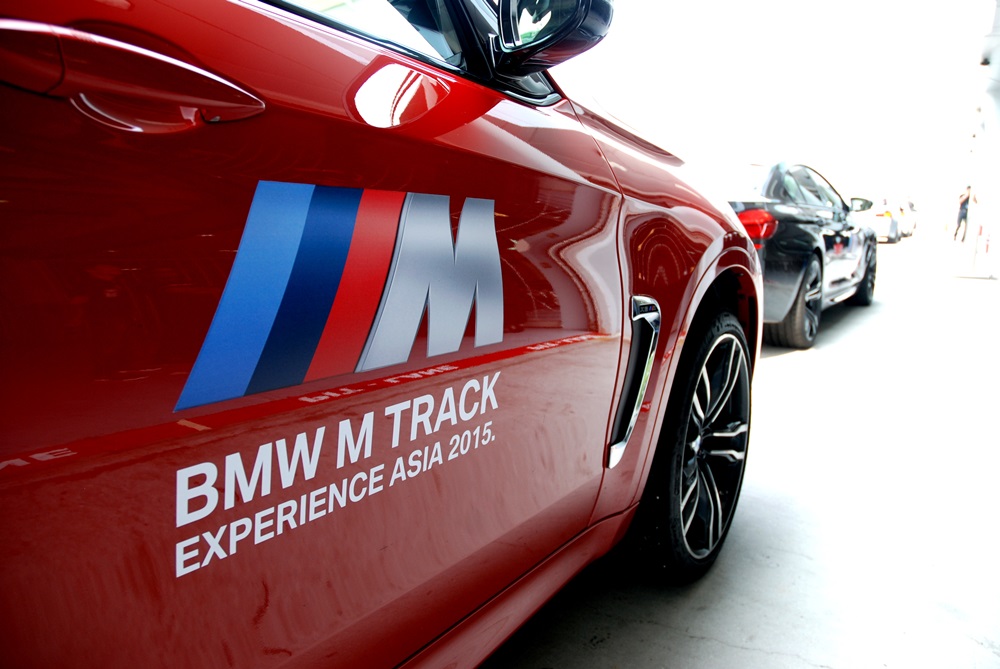 This year, the BMW M Track Experience was run over the course of four days (17th-20th September) with more than 300 participants and BMW M enthusiasts from Malaysia, Thailand, Singapore, Indonesia, Taiwan and Hong Kong. The half day activity consists of an exhilarating track driving experience, along with the opportunity to feel the excitement on track, being driven by a professional BMW instructor.
That Saturday morning, after we were given a brief presentation and divided into groups and driving partner (I decided to pair with a female journalist from Harper's Bazaar magazine who is also an M track virgin like me), both of us were then escorted to one of the sleekest looking M3 for a taxi ride. The BMW driving instructor, greeted us with a huge smile on his face, and told us to sit back and relax because it's going to be a slow ride. However, I knew that it sounded too good to be true…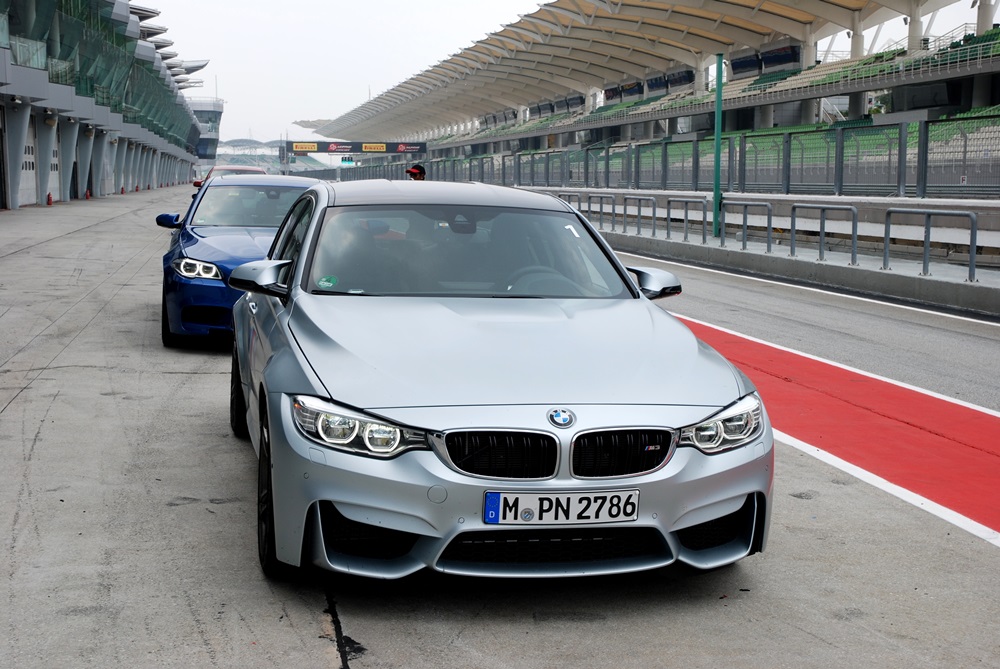 The BMW M cars are unlike an ordinary car to begin with. These M-badged cars traditionally include 'tuned' engines, transmissions, suspension, interior trims, aerodynamics, and exterior modifications to set them apart from their counterparts. With a total output of 431hp and 550Nm of torque on tap, the M3 could go from 0-100km/h in 4.1 seconds before reaching a governed top speed of 250km/h.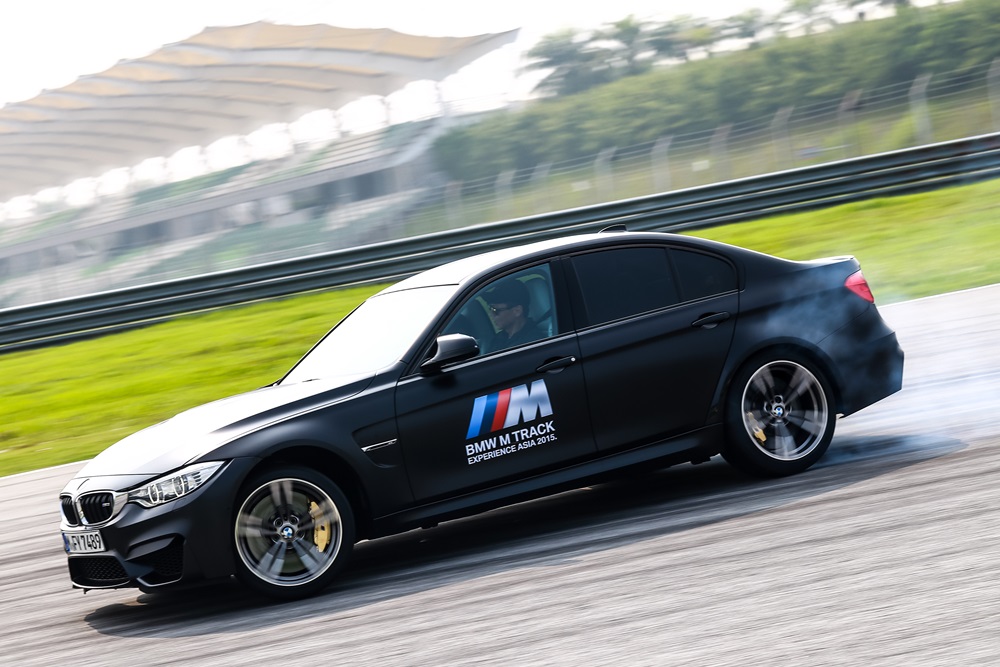 In between adrenaline rushes and panicking, the professional BMW driving instructor was practically pushing G-force in every direction, but the harder the M3 was being put to a task, the more it came to life. With all the electronic aids turned off, the M3 was drifting its way through corners. If I wasn't wearing proper headgear, I swear I'd probably have a couple of head bruises from banging my head against the window. My riding partner and I were also screaming out lungs out, in fact, you couldn't hardly hear the sound of the braking traction that's forced into the cabin.
The taxi ride was some serious high adrenaline stuff, but fun nonetheless!
We then jumped onto the M6 Gran Coupe for another taxi ride and that moment I already knew what was coming. With max a output of 560hp and 680Nm, the M6 as you would have guessed, is frighteningly fast. I could feel the blood in my veins running ice cold and my stomach suddenly felt empty. Although we went through the same process of 'drifting' on tight corners, the M6 Gran Coupe, for some reason felt tamer and danced its way through corners with elegance as compared to the stark-raving mad M3.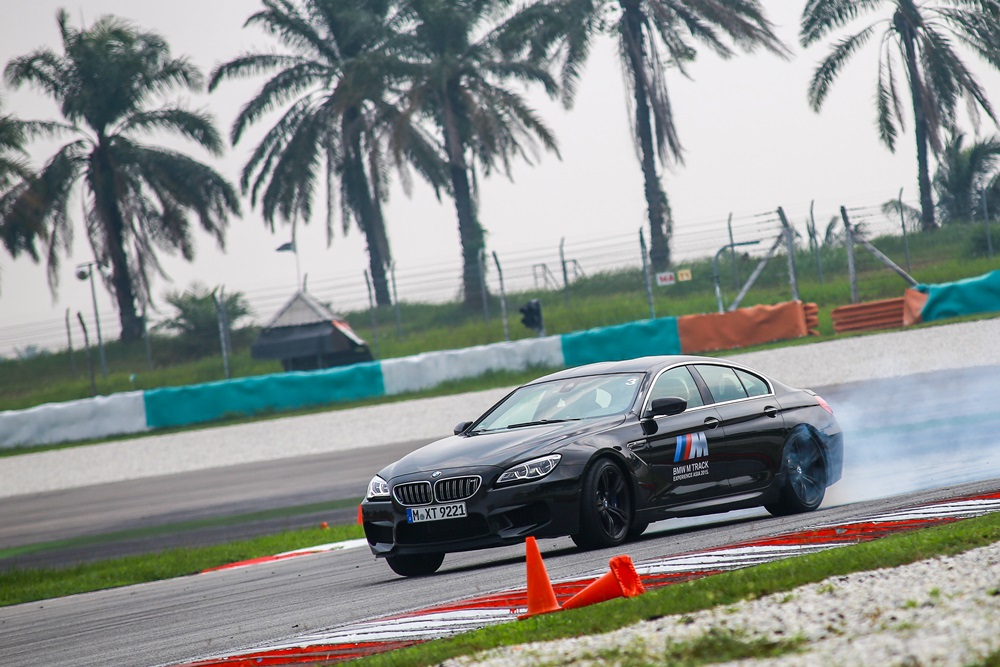 The highlight of the event was the opportunity to feel each of the M cars' limits through a couple of hot laps on the race track, armed with the BMW X5 M, the BMW X6 M, the BMW M3 and the BMW M5 driven by me, the amateur drivers. We were guided by a professional driving instructor that told us (via two-way walkie talkie) to follow his line at every turn like a train, keep up with his pace and to look straight ahead. It might sound like a child's play, but it's kind of amazing how simple instructions given clearly via the two-way walkie-talkie suddenly become so hard to comprehend, it was almost like learning rocket science!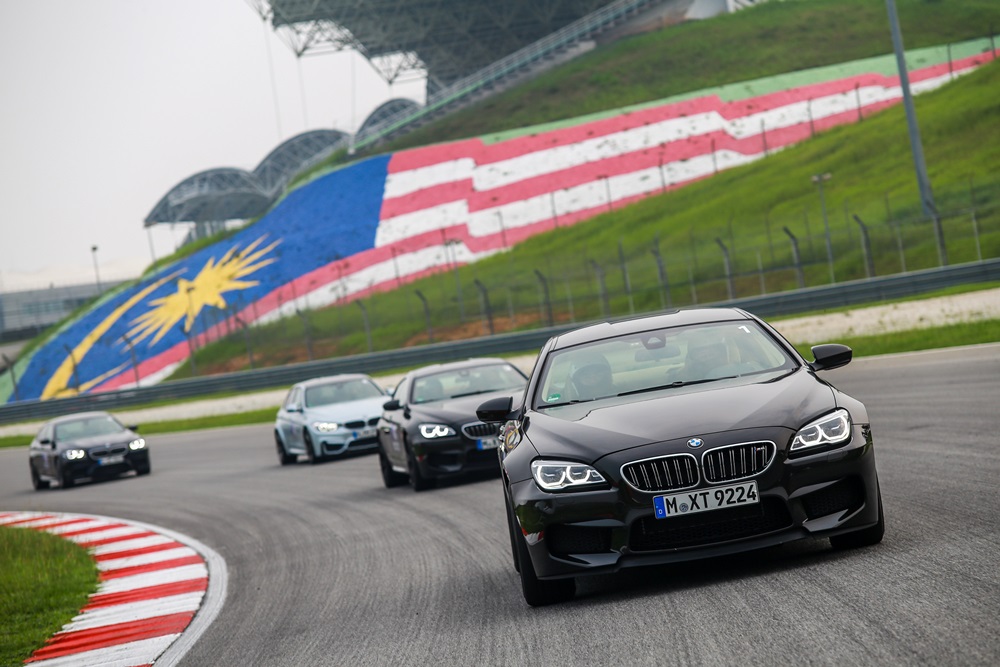 Now back to the BMW X5 M and BMW X6 M, while one is called an SAV (Sports Activity Vehicle) and the latter is called SAC (Sports Activity Coupe), the X5 M is pretty much mechanically identical with its X6 M big brother. Both use the same 4.4L V8 engine with a pair of TwinScroll turbocharged engines that churn out a stonking 575hp and a colossal 750Nm of torque. This allows both the X5 and X6 achieve a century sprint time of 0-100km/h in 4.2 seconds on its way to 280km/h.
Naturally when you get on to a track, you would expect to drive a sports car, an F1 car or even a rev-popping little hot hatch, but a crossover? You must be joking right?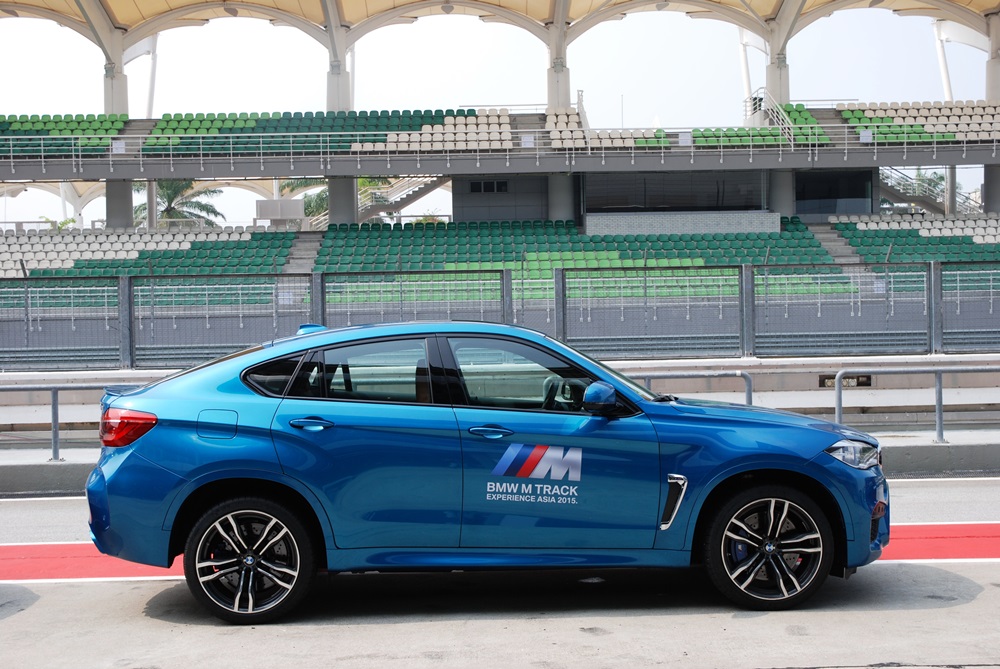 However, after I took both crossovers for a couple of fast laps around the track, it completely changed my perception towards this vehicle. The X5 M and X6 M are no doubt pleasurable to be driven on the track, but more astonishing still is how this high-riding crossover can be so nimble when thrown into corners at seemingly any speed you choose. The X6 is able to balance itself and seemingly correct each mistake and it adjusted with the throttle much like you would expect in a sports car. Let's not talk about how well it performs on a straight line either. The X6 and X5 were incredibly fast, it allowed me to nudge 210km/h before it was time for me to stomp on the brakes hard or I'll end up crashing into the barrier. God bless BMW M GmbH for bringing the driving thrill out of an SAV/SAC!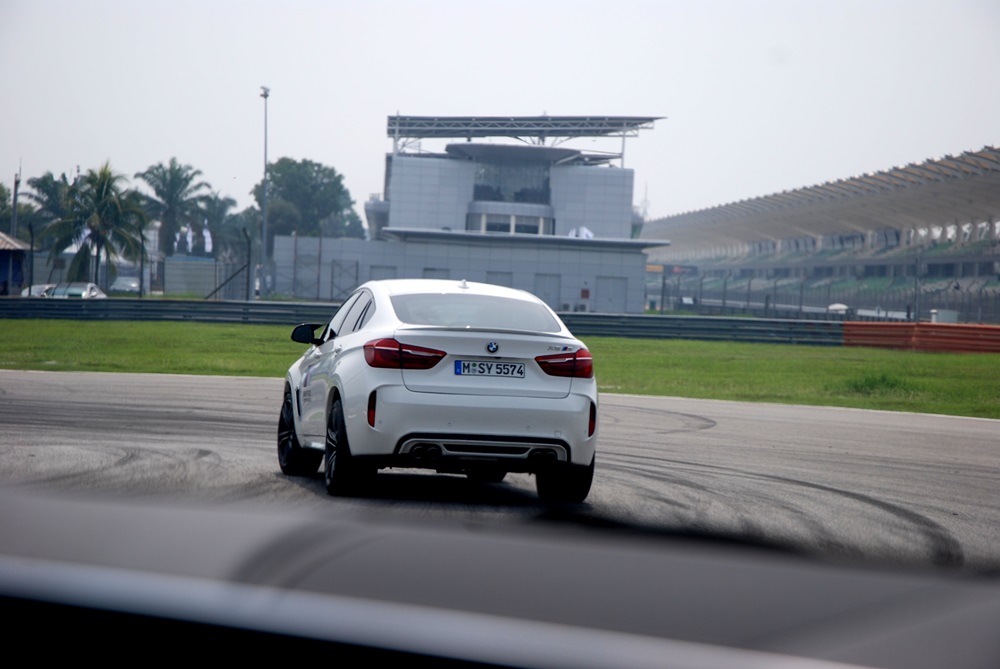 I didn't intend to behave like a lunatic, because as much as I enjoy trashing both crossovers on the race track, it felt awkward in nature because first; it didn't feel sporty as I would expect due to its high riding position and second, I was driving a million Ringgit vehicle. Don't get me wrong, the X5 M and X6 M are truly a one of the kind vehicles, hence I was relieved to bring these bad boys back to the pit lane unharmed for others to enjoy.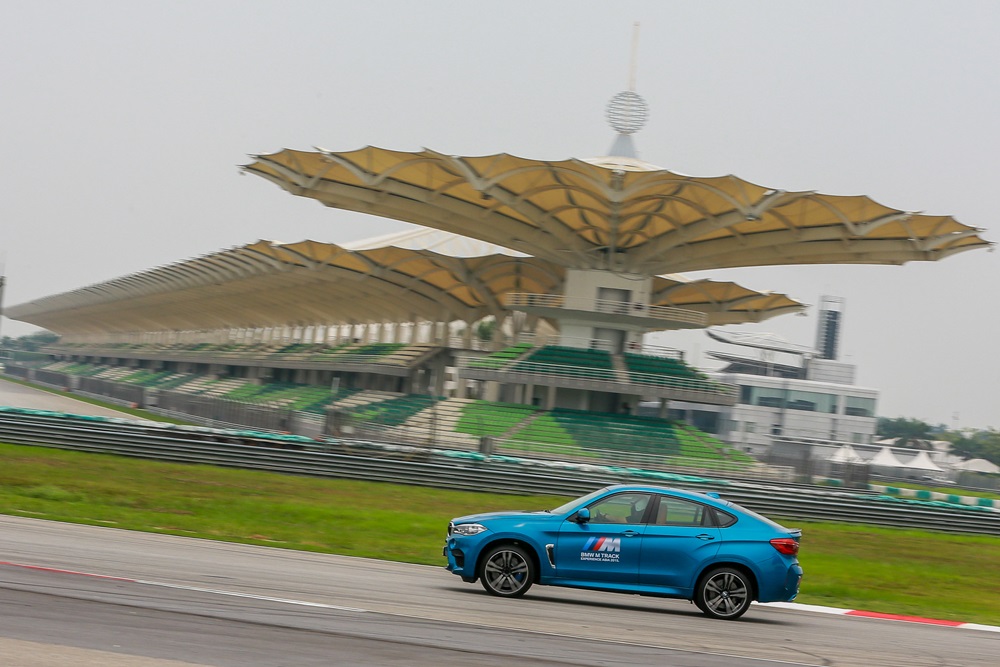 I found my comfort zone only after it was my turn to drive the M3 and the M5. If I get to choose between these two, the M5 is perhaps my favorite because it's not as harsh and edgy as the M3 and although it is seriously fast, the drive felt much more refined. When you have 560hp and 680Nm on tap you are bound to have lots of fun behind the wheel. To top it off, I love the lustrous sound of the V8 engine that simply begged me to abuse it to its limits. Both M sedans are very agile on the track and the brakes are quick to bite and it's amazing how much control the car maintains no matter what kind of situation it is thrown into, but at the same time, it has a tendency to induce vomiting, especially when it was my turn to take the passenger's seat.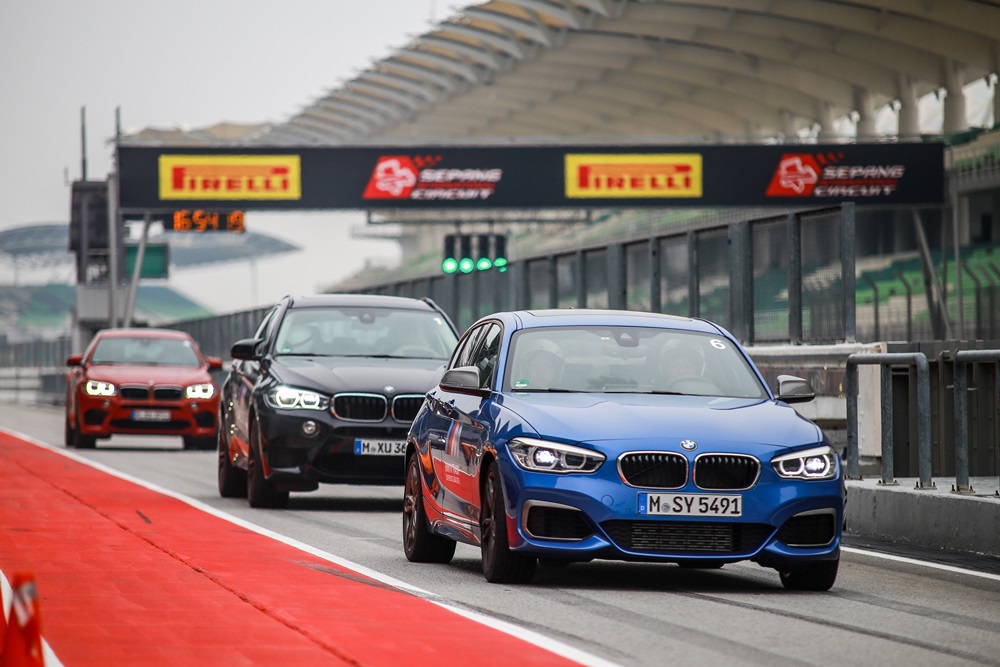 Aside from that horrible nauseous feeling, there was never a dull moment at this year's BMW M Track Experience. It was in all such a exciting experience that BMW fans should try it out at least once in their lifetime. With that, thank you BMW Group Malaysia for inviting AF to sample some of your cool ///M machines!
BMW ///M Track Experience Photo Gallery (Photos courtesy of Alia, BMW M'sia & Aaron Lee)