Before tackling the Australian rally leg,Volkswagen World Rally Championship driver Jari-Matti Latvala together with his co-driver Miikka Anttila made a swift pit stop right here in Malaysia.
Fresh off the exhilarating one-two-three win on Volkswagen's home turf, Latvala and Anttila graced Kuala Lumpur to meet fans and launch the limited edition Polo Trophy released in conjunction with Volkswagen's success in the World Rally Championship (WRC) arena.
At the circuit, the duo – who finished second after team mates Sebastian Ogier and Julien Ingrassia at the German Rally – competes in the Polo R WRC, a vehicle technically enhanced and cosmetically upgraded from the roadworthy Polo.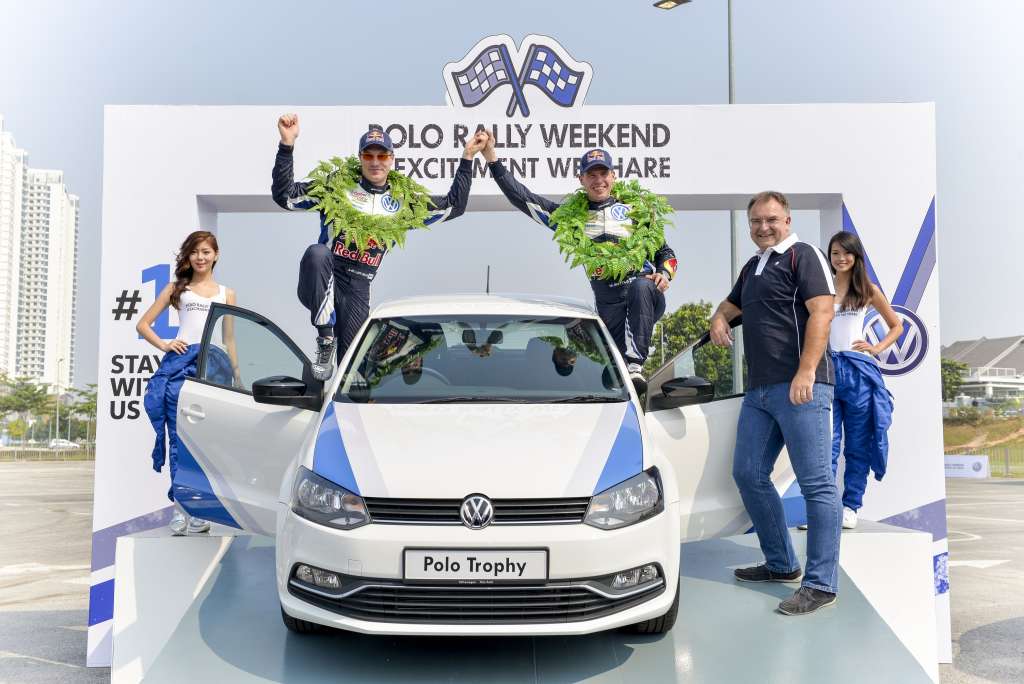 The duo were received by Volkswagen Group Malaysia Managing Director Mr Armin Keller, who congratulated them on their spectacular achievement before launching the new Polo enhanced with side and bonnet stickers, contrast wing mirrors and rear spoiler inspired by the sport. The Polo Trophy also comes equipped with satellite navigation and tinted windows. You can read all about it here.
"Today's Polo Rally Weekend is an important one for the team. What a great way to be able to share with you another side of the brand. Volkswagen has had a long history of engagement in different rally platforms through the years.
"The World Rally Championship is one of them and we have consistently made podium finishes in most of the rallies in recent years. And last month was a great day for Volkswagen at the Rallye Deutschland, where all three of our WRC teams had podium finishes," Keller said at the launch event held at Setia City Convention Centre.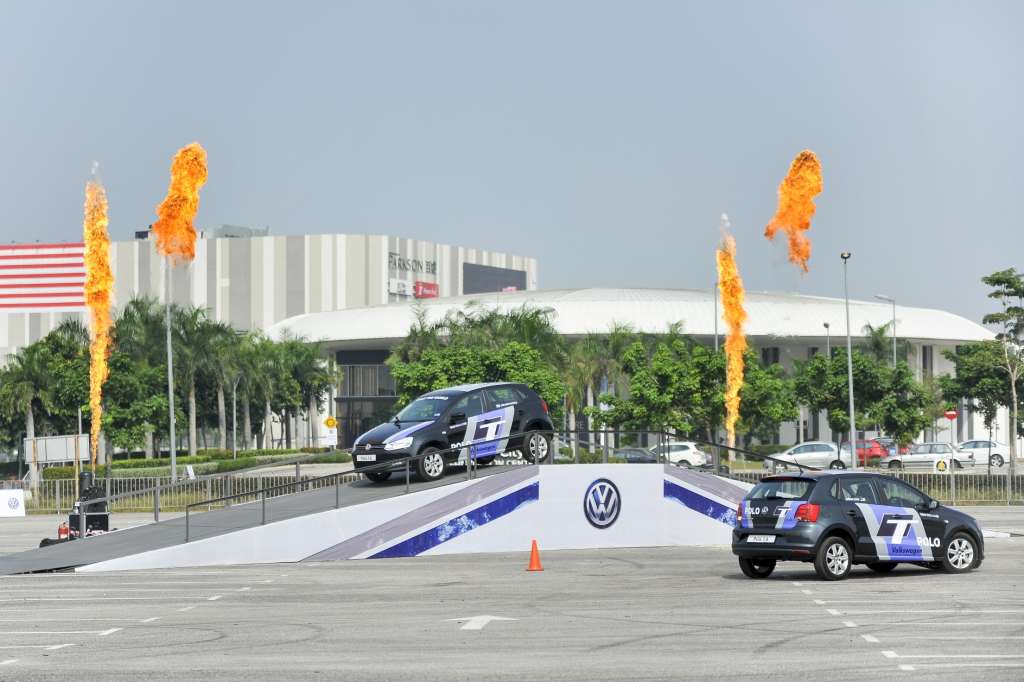 Latvala and Anttila (picture below), who finished second after team mates Sebastian Ogier and Julien Ingrassia at the German Rally, unveiled the cars in nothing short of magnificent fashion via an explosive, show-stopping ramp jump; a first for a regular production Polo here.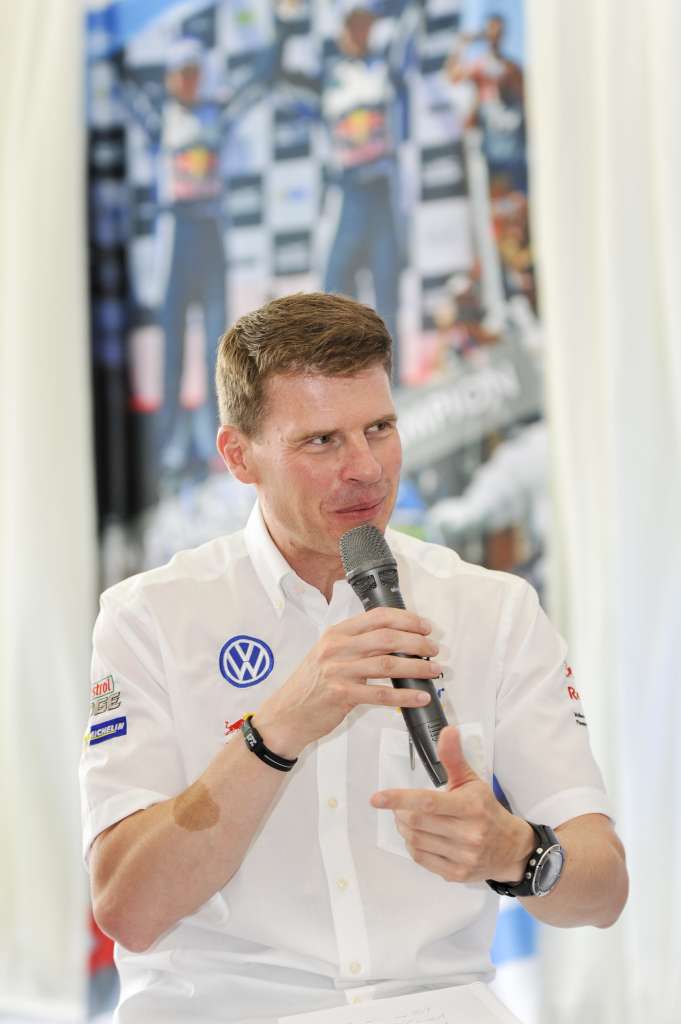 Latvala (picture below) also gave 60 lucky fans comprising media, consumers and Volkswagen Facebook contest winners a memorable ride of their lives. Sitting shotgun, the 30-year-old piloted them through a thrilling, fast lap displaying precise driving action around the course in daily drive Polos.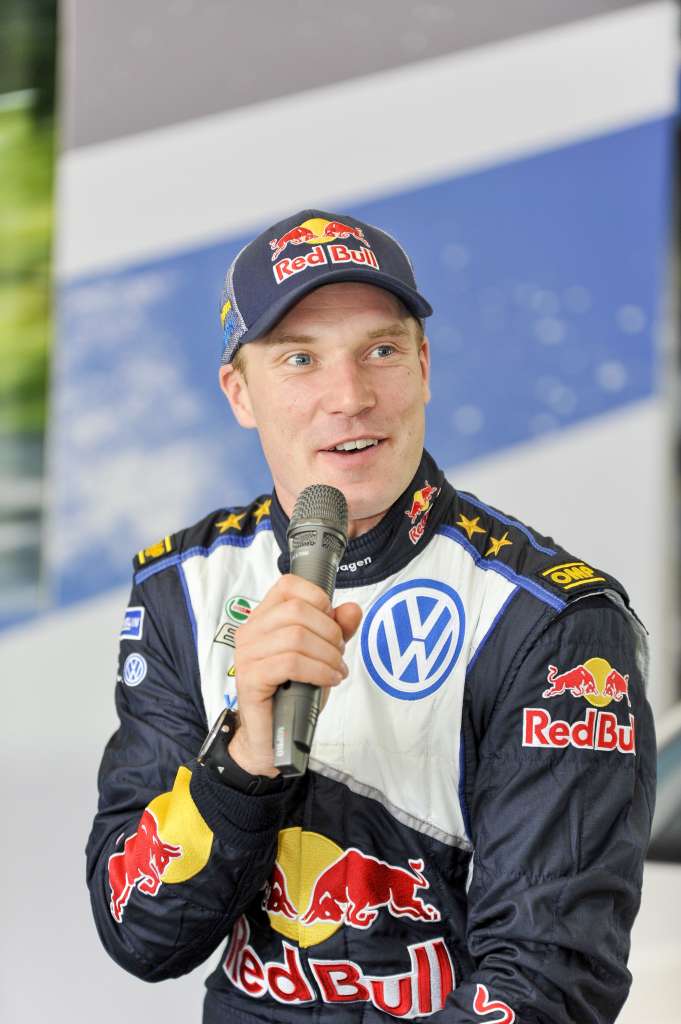 And before departing, Latvala – currently ranked 2nd in the WRC arena –got behind the wheel as promised, to take on the challenge issued by viral drift princess Leona Chin on her Facebook page a week prior to his arrival.
The time attack challenge saw the duo going head-to-head in a gymkhana course where both demonstrated who can outrun the other better and faster in the Polo. While the amicable challenge crowned Latvala victorious, Chin walked away feeling like a winner having had the race of a lifetime against a 14-times rally champ.
The event continued over the weekend for consumers. Visitors could go for a ride with two of Malaysia's top female drifters – Chin and Azrina Jane Abdullah.  They could also take a closer look at the Polo Trophy where only 100 units are available nationwide. Aside from that, fans of the Volkswagen performance range could also enjoy up to RM30,000 in savings for the Golf GTI, Golf R and Scirocco R till 30 September 2015.