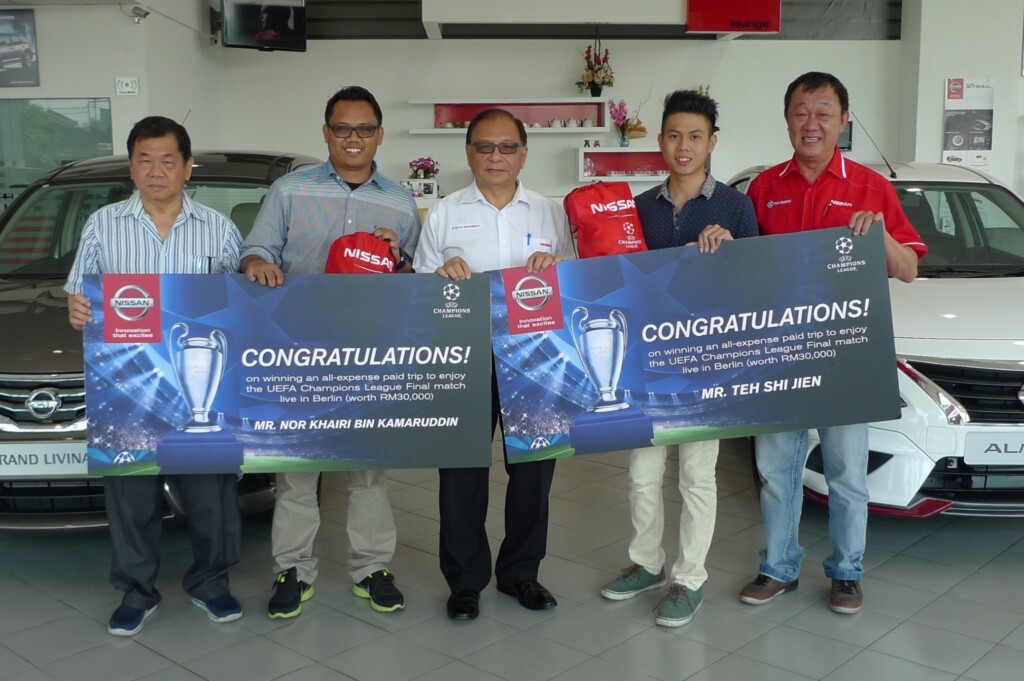 ADVERTISEMENT
The Nissan UEFA Champions League Campaign round two has just concluded whereby three lucky customers who bought Nissan cars from March to April won an all-expense paid trip to watch the Final of the UEFA Champions League. Spanish champions Barcelona will face Italian champions Juventus at the Final on 6 June 2015 at Olympia stadium in Berlin.
The winners are Mr. Teh Shi Jien, who bought a Nissan Almera 1.5E A.T at ETCM Shah Alam; Mr. Nor Khairi Kamaruddin, who bought a Nissan Grand Livina 1.8L A.T at ETCM Kuala Selangor; and Madam Lee Kah Guek who bought a Nissan Almera 1.5E A.T at ETCM Johor Bahru.
38-year old Nor Khairi was disappointed that his favourite team, Bayern Munich, did not make it to the final, but nevertheless is excited at the thought of watching the Champions League Final live between Barcelona and Juventus.
"This is an absolute dream come true! I knew about ETCM's UEFA Champions League Campaign and that there were tickets to be won, but I didn't think I would be a winner when I purchased the Grand Livina. I bought the Grand Livina because I have a growing family, and the car comes with amazing space and specifications. Now I am on the 'Road to Berlin', all thanks to ETCM."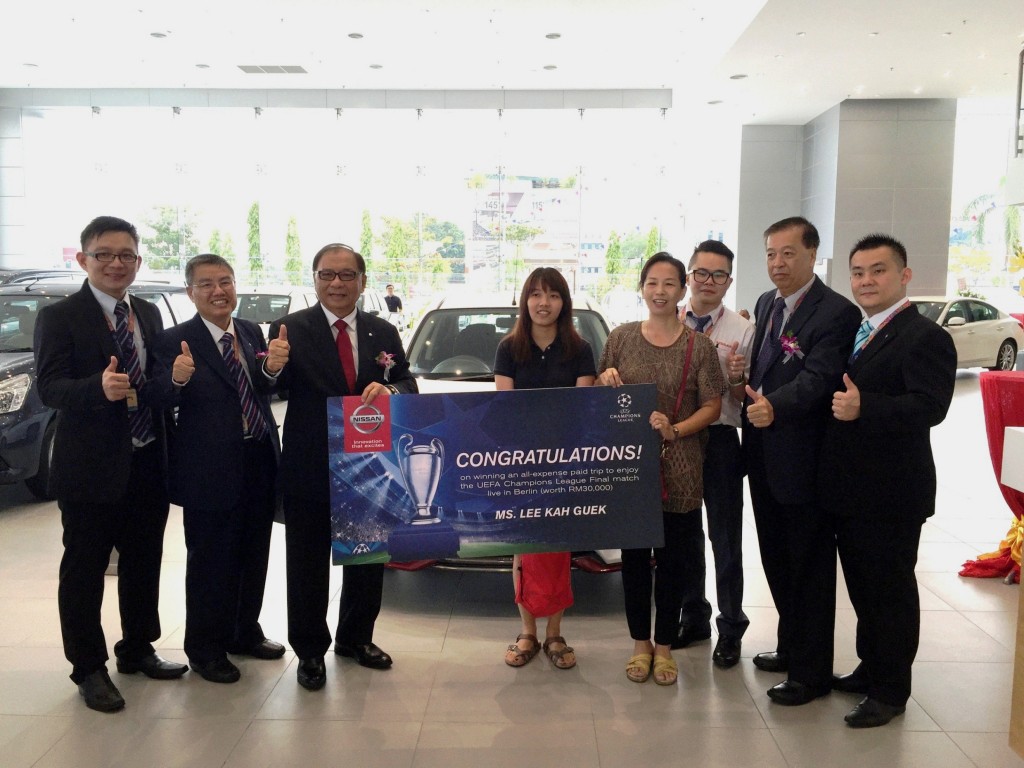 According to Mr Tan Keng Meng, Director of Marketing and Product Planning, the partnership between Nissan and UEFA was the perfect platform for Nissan's innovation and UEFA's football excitement to bringing an amazing experience for ETCM and Nissan customers.
"This partnership has resulted in work to be proud of, and we believe it will continue to elevate the Nissan brand globally and here in Malaysia. At the same time, this is a way for us to reward our customers for their continuous support towards Edaran Tan Chong Motor and Nissan. I thank all winners and all customers in making this campaign a success."
Last year, Nissan signed a 4-year global partnership with UEFA, establishing it as a Proud Sponsor of the UEFA Champions League.
As an automotive sponsor, Nissan will supply over 100 EVs (comprising of the LEAF and e-NV200) to UEFA and other associated sponsors to transport guests and officials in Berlin. 129 electric car charging stations will also be installed around various locations in Berlin, as a lasting legacy for the people of Berlin.
Adding to the 'electrifying' experience of the Finals, Nissan will unveil a special installation at the UEFA Champions Festival in Berlin and invite fans to'generate' an equivalent amount of energy which will go towards powering the 'trophy ride'. Participants generating the most kilowatts will receive tickets to the Final as well as an exclusive opportunity to accompany the trophy on its journey from the UEFA Champions Festival to the Stadium in a specially designed Nissan e-NV200 all-electric van on match day as part of the UEFA Trophy Parade.