We have reached the conclusion of the Formula One season of 2013, where Sebastian Vettel took the Red Bull RB9 into the highest level of domination that made the other 21 drivers on the grid look like amateurs. So at AF we look back on the highs and lows (and the borefeast) of 2013 Formula One season with our specially crafted awards of Heroes and Zeroes of F1 2013! (Above image credit: Getty Images)
Race of the Year: Our very own Malaysian Grand Prix!
The 2013 Malaysian Grand Prix will be fondly remembered when the Red Bull duo were almost caught in a near disaster clash on the first few corners of Sepang. Vettel disobeying team orders not to overtake Mark Webber, with the whole "Turkey 2010" episode springing to mind. In the end, an infuriated Webber will be remembered for his infamous "Multi 21" code that added drama off the track.
Most awkward Moment: The podium ceremony on the Malaysia GP.
The podium ceremony was reminiscent of a headmaster's office scene, with none of the drivers on the podium celebrating. Even for Lewis Hamilton, who got his first podium for Mercedes on the third step; no thanks to yet another team order by Ross Brawn who ordered Hamilton's attacking team mate, Nico Rosberg to stay back.
It was all glum faces from Webber, who was furious with Vettel for robbing him of his victory and Vettel, who knew his team mate was miffed, but still couldn't care less. The humorous image from F1 satire site Sniff Petrol pretty much sums up the podium drama in Malaysia
Image credit: Sniff Petrol
Calamity of the Year: Lewis Hamilton went to his former's team during pit stop in Malaysia Grand Prix. Perhaps he dropped by to say hi.
The "faith in humanity restored" Award: Vettel's donuts celebration after winning in India, Abu Dhabi, United States and Brazil. He has brought boyish fun back to F1.
Quote of the Year: "What part of Multi 21 don't you understand?" Webber's infamous response to Vettel prior the podium ceremony in Malaysia
Kimi Raikkonen's quote of the Year: "Maybe someone should punch him in the face" Kimi Raikkonen who wasn't impressed with McLaren's Sergio Perez's antics in Monaco.
Most improved Driver: Romain Grosjean. From "Crashjean" to potential world champion. Where his performance with Lotus in 2012 always left him near the chopping block (and near chopped off Alonso's head in Spa 2012), this year was his coming of age, scoring 6 podiums and outperforming Kimi Raikkonen in some races, making him a talent to watch in 2014. Also notable is his amazing comeback drive from a 17th place start to third in India. A talent to reckon with in 2014.
Villain of the Year: Pastor Maldonaldo. The Venezulan was dubbed as "Crash"tor for crashing into many of his fellow F1 drivers this year, and notoriously faced a fallout with his own team, Williams. Maldonaldo has crashed as much as Windows 95 has throughout his F1 career, although most bizarrely he did win one race in 2012.
Image credit: Williams F1 | @WilliamsF1
Most unsporting Moment: Vettel's boo entourage that traveled in most parts in Europe just to jeer him when he wins. Fortunately for Vettel, the entourage ran out of funds after the Singapore race, meaning there were no more jeers for him from the Korean GP onwards.
Saga of the Year: Kimi's refusal to race in the remaining races due to pay issues with Lotus F1. In the end, he decided to go for his back surgery instead, thus missing the final two races. Oh well, he will return to Ferrari in 2014 anyway.
Image credit: Lotus F1
Most useful companion to watch F1: A pillow. No thanks to Vettel's domination and a surprise lack of race action, most F1 races proved to be a more effective sleeping aid than sleeping pills or Prozac.
The wish upon a star Award: The fire truck incident in Korea. There was a tale where a SUV wished upon a star that he would race in a Formula One race one day. It came true during the Korean GP this year.
Action of the Year: The Pirelli tyre spectacle at the British GP. Four tyre blowouts that rained havoc in Silverstone. It must be a horrific time to be in Pirreli's PR shoes on that moment.
Best overtaking Action: Fernando Alonso's move on Hamilton and Raikkonen on the opening laps of the Spanish GP was simply sublime.
Most absurd steward's Decision: Punishing Webber with a 10 spot penalty in Korea for getting a lift from Alonso after the end of Singapore GP. WTH??
Biggest Disappointment of 2013: A draw between McLaren's dismal fall from grace in 2013 and Sergio Perez's performance in 2013.
Best Machinery of 2013: Red Bull RB9. 13 race victories out of 19 and numerous of podiums. Need we say more?
Image credit: Red Bull Racing F1
Best Invention for viewers: 180 degree camera. Making overtaking views looked a lot better like never before.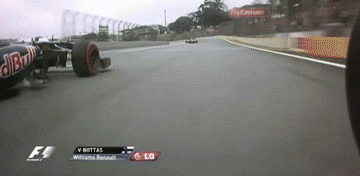 Best Driver Award: Sebastian Vettel. More on his achievements here
The (true) best driver Award: Max Chilton. Completing all 19 races without any accidents or retirements, where the rest of the field retired at least once this year. An astonishing feat, despite the fact that he ended up in last place.
You will be terribly be missed Award: Mark Webber. The AussieGrit ended his  F1 career on high note with his solid second place finish in Brazil. An honest bloke and well loved by everyone (except Vettel and vice-versa), he is set to return to endurance racing with Porsche. For that, we will follow his exploits in Porsche for next year's Le Mans.
Image credit: Gretty Images
*This is the personal opinion of the writer and does not necessarily represent the views of Autofreaks.Net