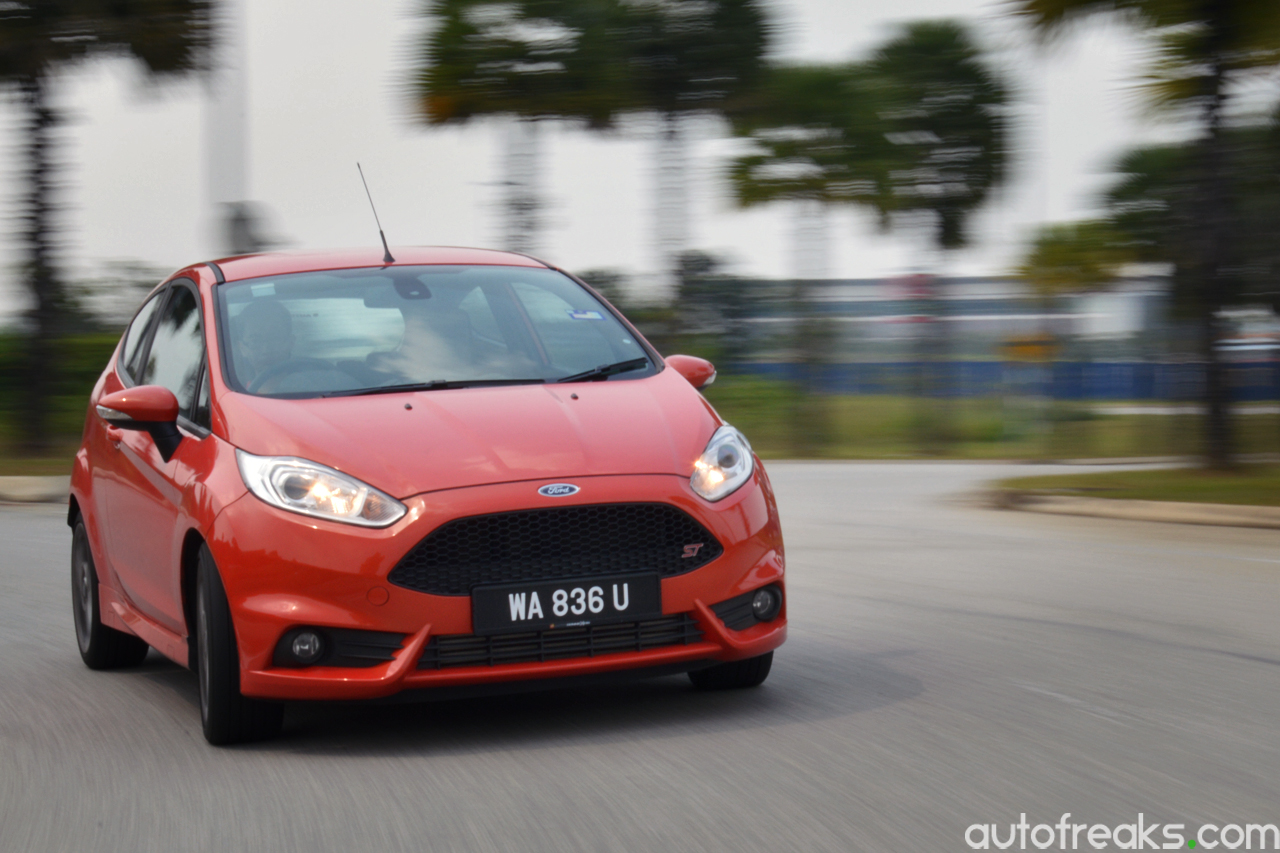 ADVERTISEMENT
The Ford Fiesta ST was first previewed back at the 2013 Kuala Lumpur International Motor Show, and was launched late last year. A long wait indeed, but was it worth the long wait? We took one for the weekend, and here's what we have to say about this little hot hatch. It really sucked…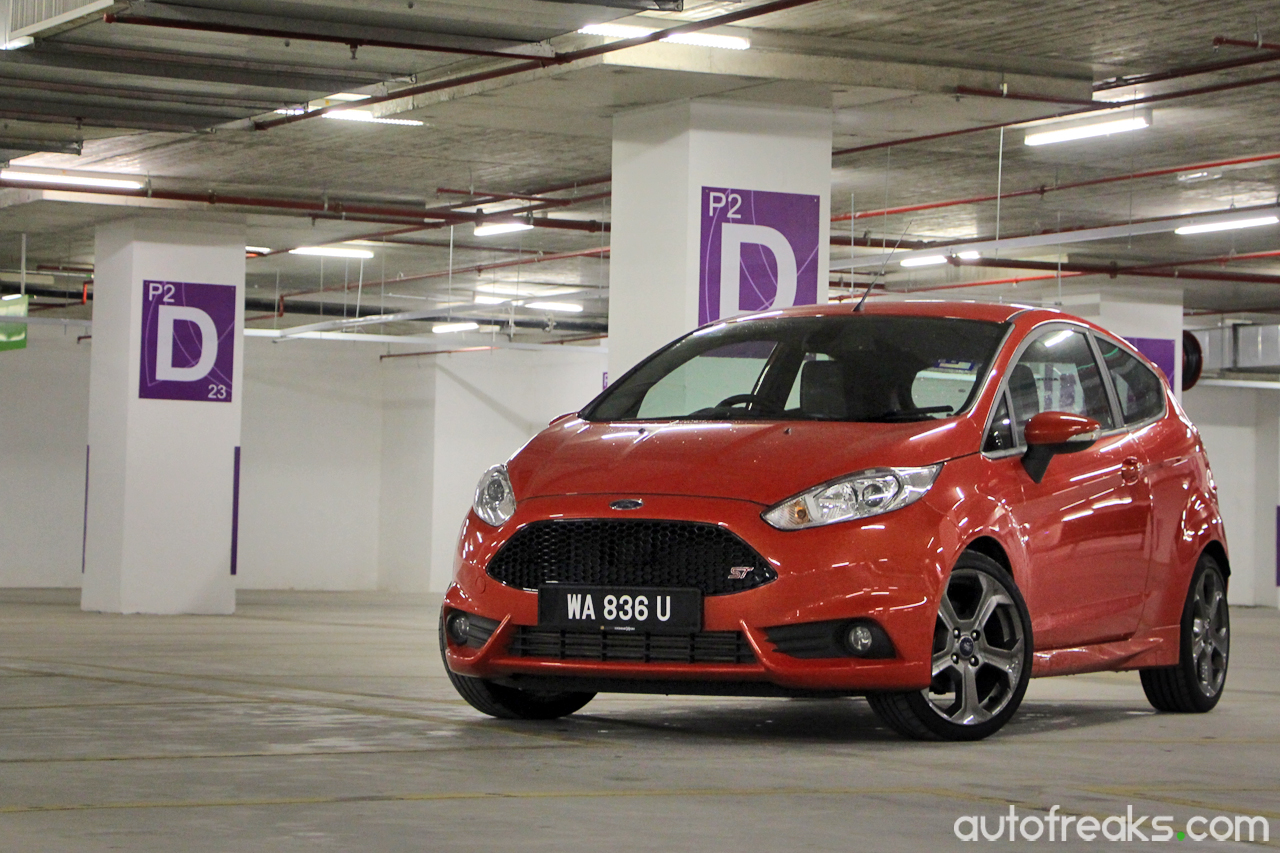 …that we had to return it. (Eric is still mourning the return, a week later. – Ed)
From the outside, in passing you'd be forgiven for thinking you just saw a regular Ford Fiesta, but upon closer inspection, you'll notice the different front bumper with a large grille, side skirts, 17-inch wheels and a different rear bumper. That is, if the bright shade of Molten Orange (no, its NOT red) doesn't grab your attention first. I did notice some drivers doing a double-take when I passed them, as a 2-door Ford Fiesta isn't a common sight here.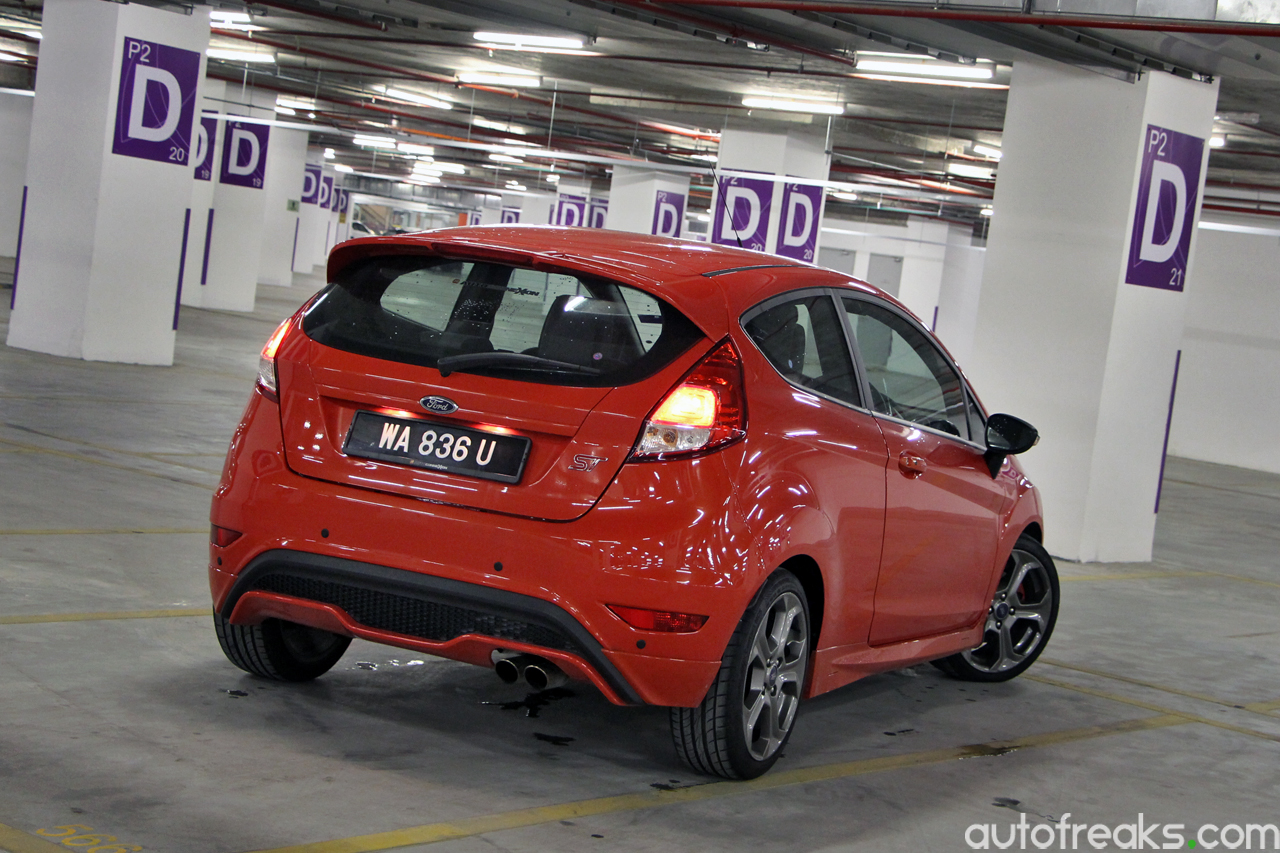 The front headlights feature halogen projectors and halogen daytime running lights. Having daytime running lights are good for visibility, but halogen daytime running lights give the impression that we forgot to turn the lights off. Apart from that, the projector headlights do a decent job of illuminating the dark roads every time. The rear lights are conventional bulbs, not fancy LEDs. But we're not complaining, as the looks of the Fiesta ST is the least of our concern, especially for a little pocket rocket.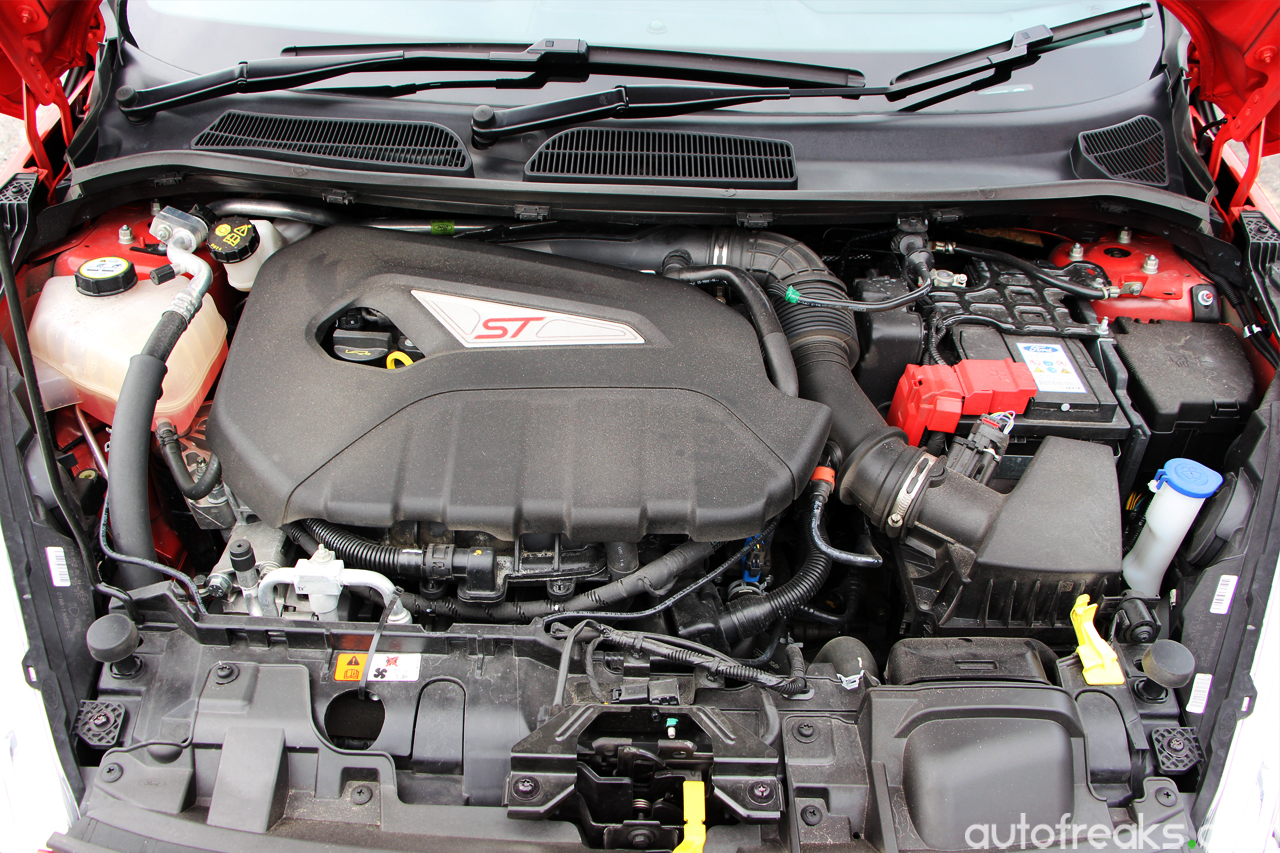 The Ford Fiesta ST may be flashy from the exterior, but does offer quite a lot of grunt to match. Under the hood lies a 1.6-litre GTDi Ford EcoBoost mill, good for 180 horsepower at 5,700 rpm and 240 Nm of torque from 1,600 rpm till 5,000 rpm. The engine allows for a short 15 second overboost till 197 bhp at 6,500 rpm and 288 Nm of torque when the throttle is wide opened. The only transmission choice offered is a 6-speed manual, which returns excellent light and slick throws. Given the beans, the little Fiesta ST can sprint from standstill to a hundred km/h in 7 seconds flat.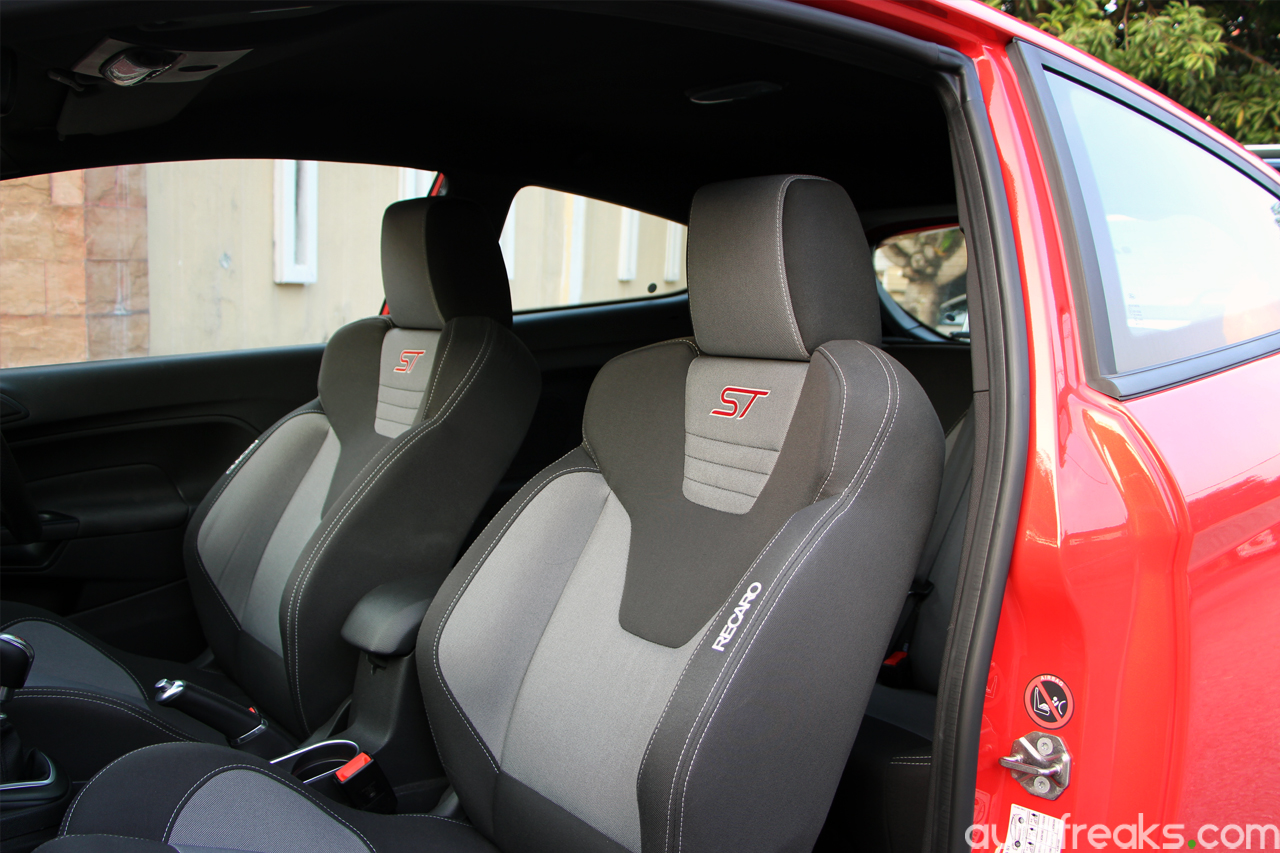 With such performance numbers, one would surely be interested to know how life is on the inside of the Fiesta ST. The first thing that got my attention was the fabric Recaro semi bucket seats (yes, these are REAL semi bucket seats) which does a swell job of hugging those who sit in it. It may be a bit hard for some, but when the little Fiesta ST gets chucked into corners (which will happen), you will be glad that the seats prevent you from kissing the side windows. The leather-wrapped steering wheel offers excellent grip and feels nice to hold.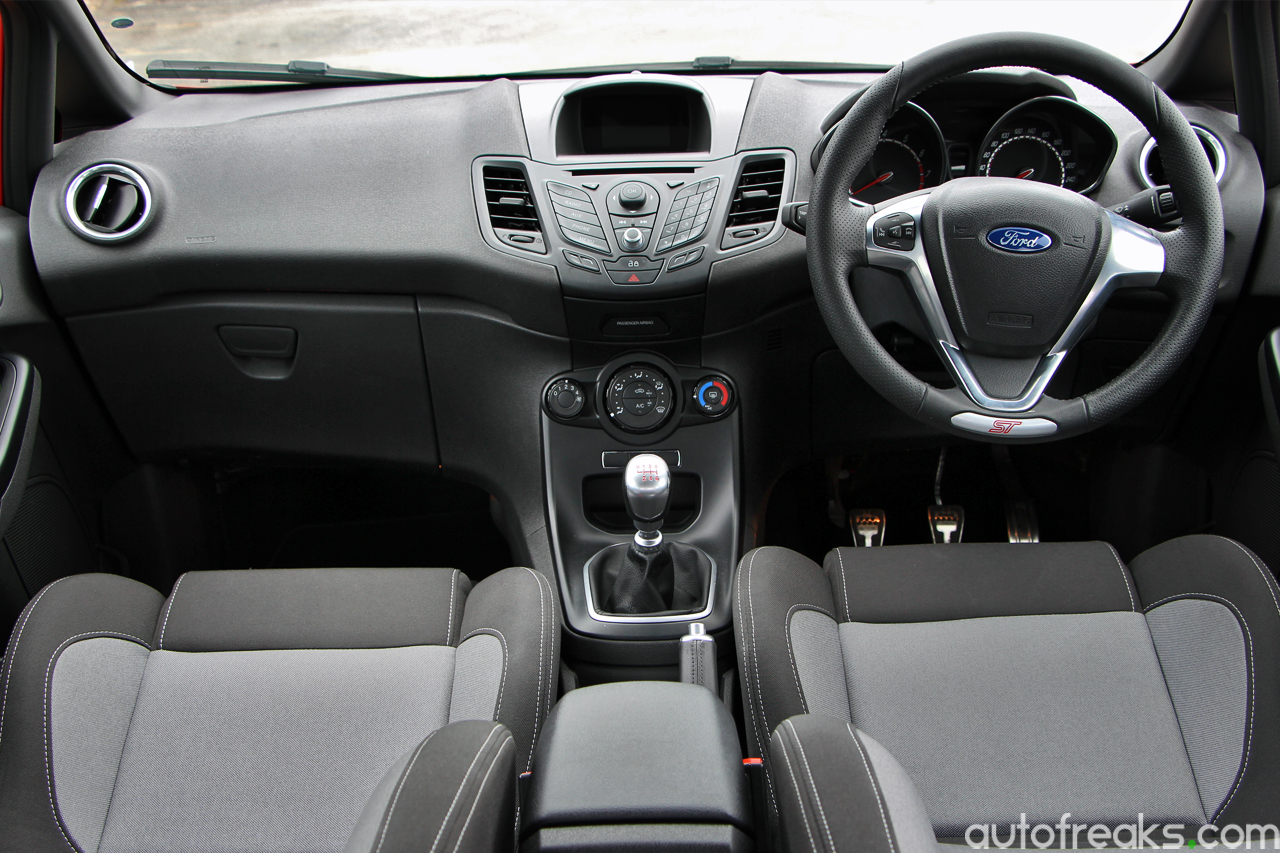 As for the dashboard, it has some nice soft touch materials that gives the little Fiesta ST an upmarket touch (pun intended). The head unit offers Ford SYNC with a single colour LCD display, Bluetooth, USB input, AUX and six speakers. While largely irrelevant, the Fiesta ST's sound system is pretty darn decent.
But what is like like to drive? Well, in short, the Fiesta ST induces the broadest smiles when driven really hard. The car may "only" have 180 horsepower, but it does weigh a paltry 1,200 kilograms, and when coupled with 240 Nm of torque, much self-discipline is needed. The surge of torque coming in from just 1,600 rpm, and coupled with the aggressive sounding engine note left a deep and lasting impression on me. The Fiesta ST, like the big brother Focus ST, features Ford's Sound Symposer which allows engine noise into the cabin for that sportier feel. Some may consider it a gimmick, but for us, it's a cool touch, nonetheless.
As mentioned earlier, the gearshifts are a pleasure to work with, and the nicely weighted clutch adds to the sporty feel of the car. The steering has been retuned as well, which now has a 13.6:1 steering ratio for a much quicker steering response. Those on the outside will only be greeted with a mild exhaust sound.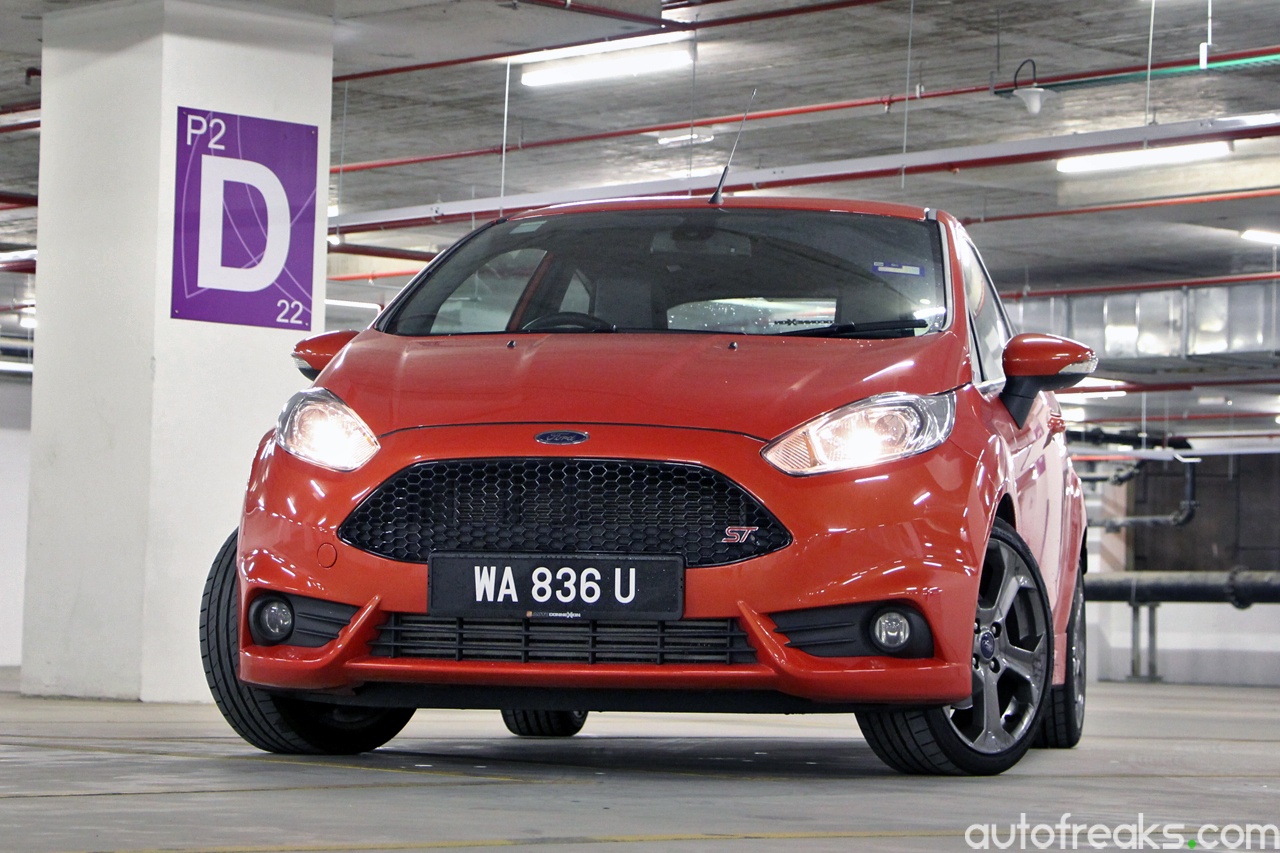 But the true fun of the Fiesta ST is when it is chucked into corners. Point the car in, and the rear end follows nicely. Grip was never an issue, as the Continental ContiMaxContact MC5 tires gripped the surface well, and the stiff ST-specific monotube shocks makes sure bodyroll is kept at a bare minimum. The little Fiesta ST does get bumpy (but not trashy) on roads with a busier surface, but we'll forgive it because of its handling prowess.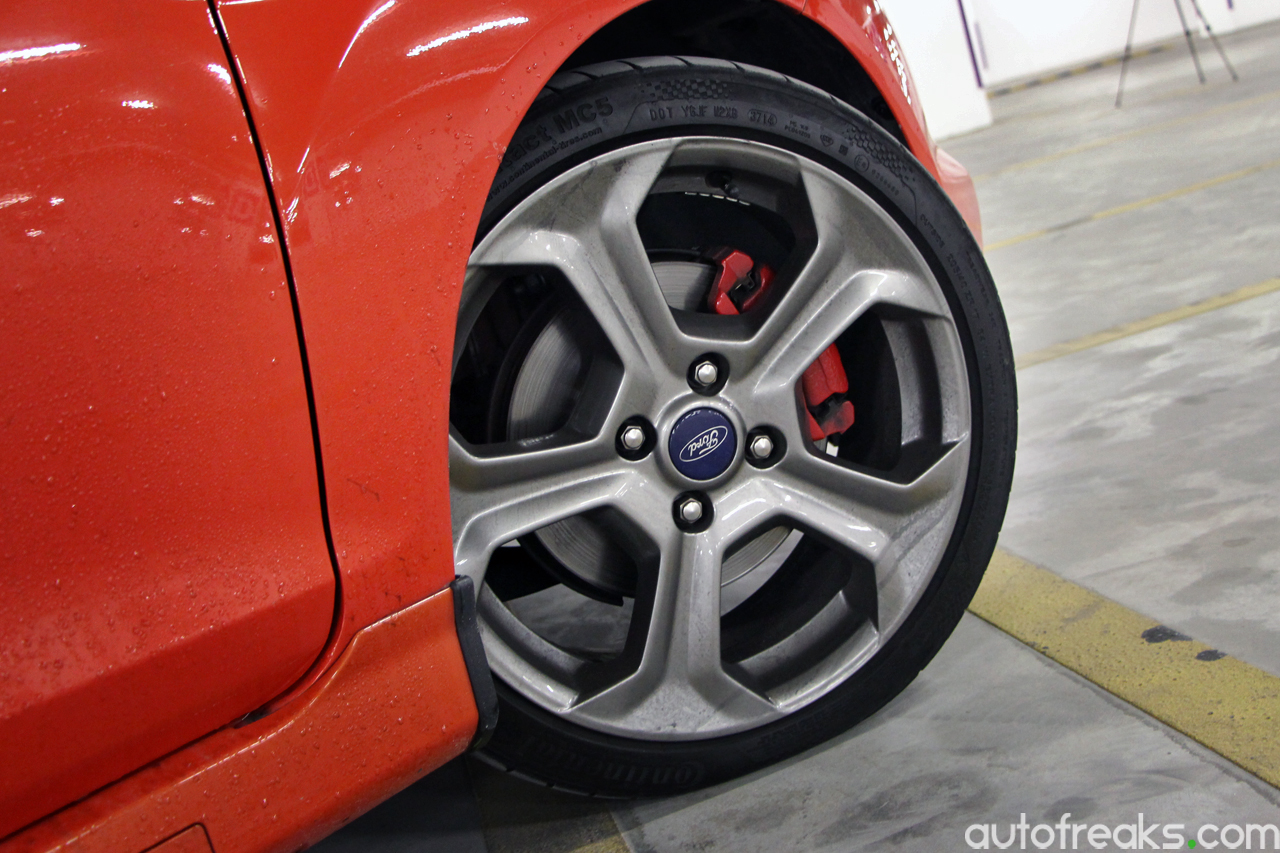 Then again, with 240 Nm of torque pushing through the front wheels, torque steer is bound to happen, right? Well, I have to hand it to Ford and their eTVC torque-vectoring system which works exceptionally well. It works by applying brakes to the inside wheels to minimize the torque steer. Under normal driving circumstances there will be no signs of any torque steer, but when driven hard through corners, there will be some hints of torque steer creeping in.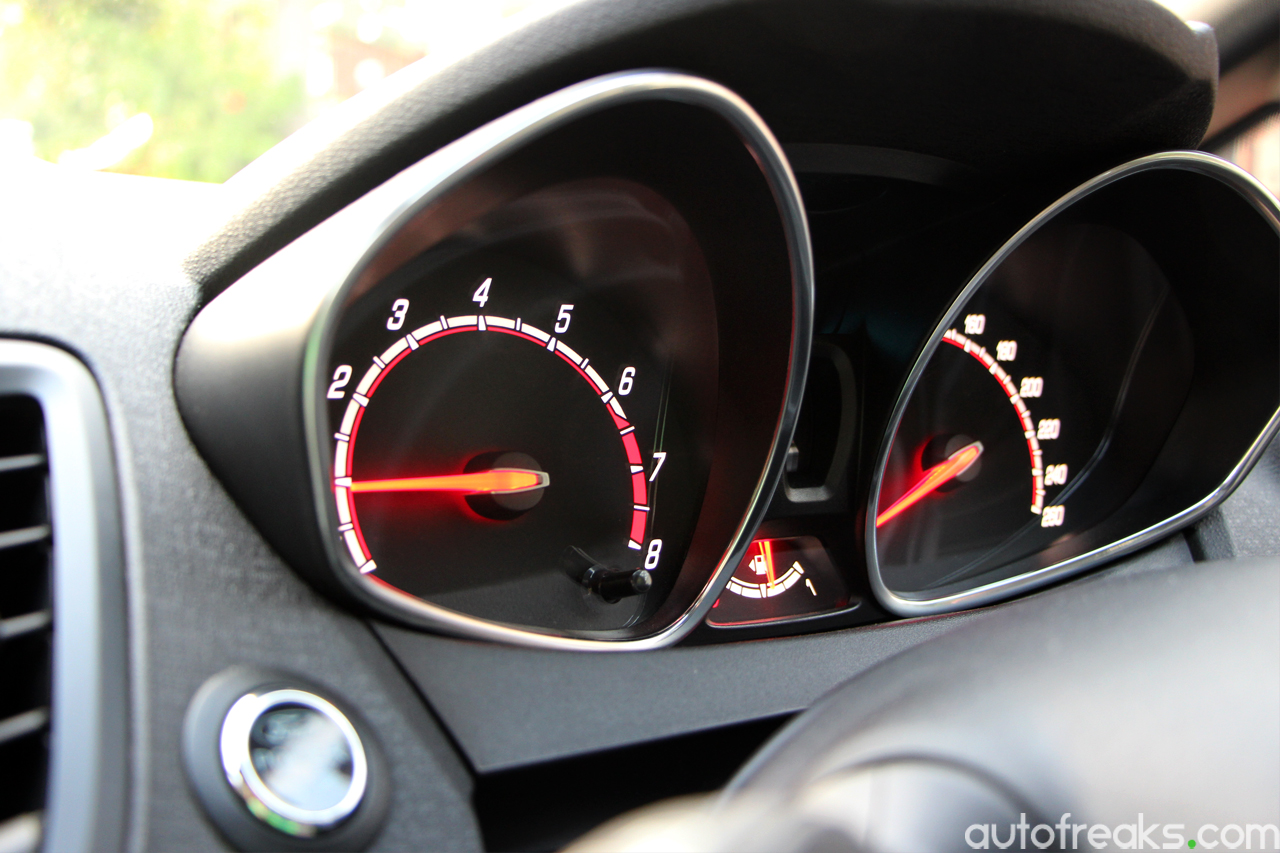 Despite all the hooning done, the Fiesta ST still managed to return an average fuel consumption of 10.1 L/100km. Very impressive, coming from a little hatch that can shame a lot of cars off the line and through the turns. When driven sedately (a rarity), I'm confident that the Fiesta ST will return decent fuel-consumption.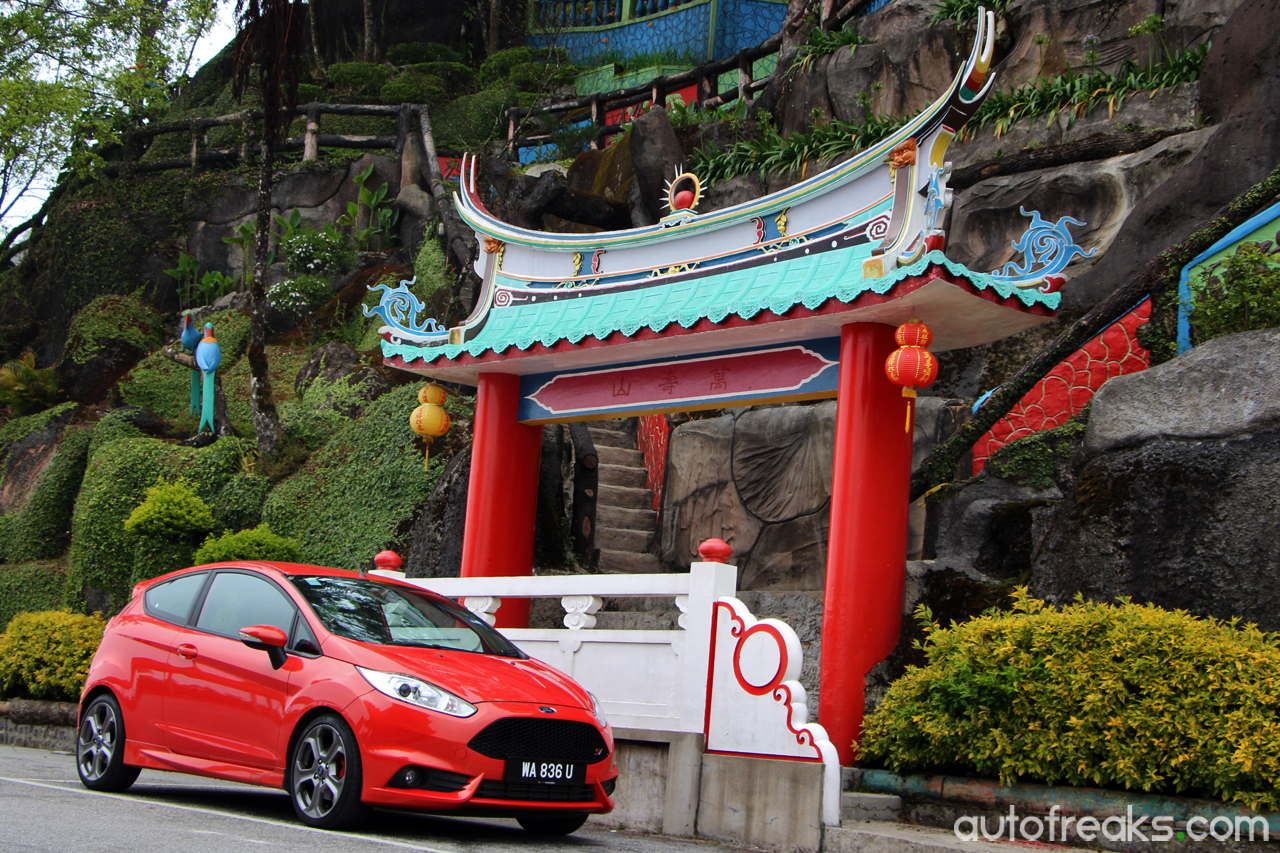 So it is true then, that good things do come in small packages, as evident in this small potent hatch. Priced at just below RM150,000, the Fiesta ST packs immense fun in a small package. Cheap it isn't, but you'll be hard pressed to find another hot hatch that matches the Fiesta ST dynamically.
Chris Wee says…
I managed to pry the keys away from Eric – with a crowbar – briefly during the time we had the car on test, and I have to say, this is one car that's worth every penny of its asking price. Coming from an era where hot hatches like the grand-daddy of this ST ruled the streets (I'm referring to the mighty Ford TX3 of course) this car harks back to an age when cars were made purely for driving pleasure. Forget A to B, this ST makes you want to drive the longest route possible, especially if said route involves a tonne of corners. Don't buy this car if you work in the city, seriously, you'll curse and swear on a daily basis getting stuck in a jam with this thing. But if your commute involves highways and a few back roads, and if you're able to tolerate just a bit of inconvenience, then your Sundays are going to be filled with the biggest grins when you head out of town with the ST. It just begs to be driven hard, hates going slow and simply laps up just about anything you can throw at it. You'll probably run out of gas chasing this cars' limits… – CW.
Specifications: Ford Fiesta ST 1.6 EcoBoost
Price: RM149,888 (OTR with insurance)
Engine: 1.6-litre inline-4 EcoBoost GTDi
Horsepower: 180 hp @ 5,700 rpm
Torque: 240 Nm @ 1,600 rpm – 5,000 rpm
Transmission: 6 speed manual
Ford Fiesta ST exterior shots
Ford Fiesta ST interior shots
Ford Fiesta ST panning & rolling shots (Image courtesy of my friend Ken Ng)