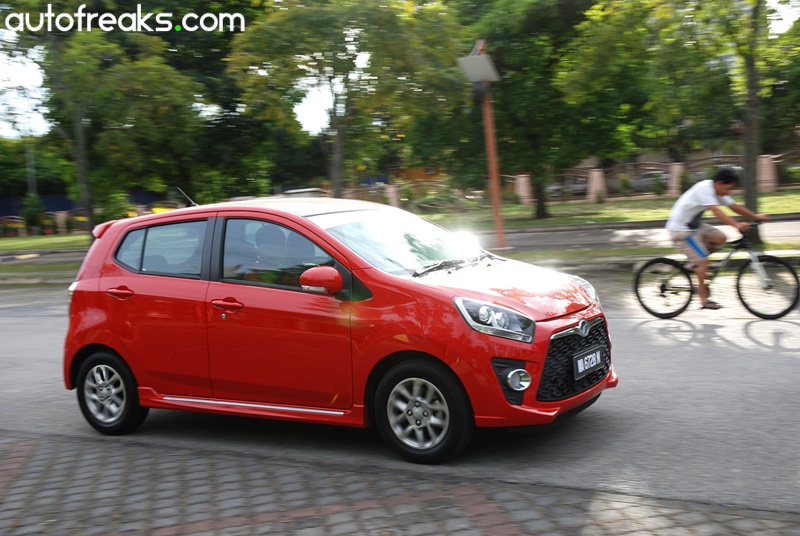 ADVERTISEMENT
Choosing the best 'first' car depends on what your priorities are, although many first-time car buyers these days will probably settle for an affordable set of wheels that costs as little as possible to run. Given the fact that car prices in Malaysia are among the most expensive in the world, owning a car that would cost less than RM25,000 in the new millennium sounds like it's too good to be true. But fret not, it doesn't have to cost you your entire savings either, for something very decent…
The car I'm referring to of course is Perodua's latest model called the Axia. It is available in four variants and the one I had for a test run was the top-spec Advance that's been given an extensive list of kit as well as cosmetic enhancements such as a sporty front and rear bumper, rear spoiler with 3rd brake light (LED type) as well as LED Tail Lights and chrome finish side skirting, just to name a few. If you notice from the picture below, the styling design between both the basic (left) and the top-of-the-line variant (right) is quite significant.

Small might not necessarily mean you'll be cramped in this compact car. Based on my observations, the Perodua Axia actually offers plenty of space to accommodate at least 5 adults in comfort (well, that depends if one of your friends is a little chubbier than the other). And it doesn't matter if you're seated at the front or back, there's spacious legroom and headroom to spare for an average 5'5″ passenger.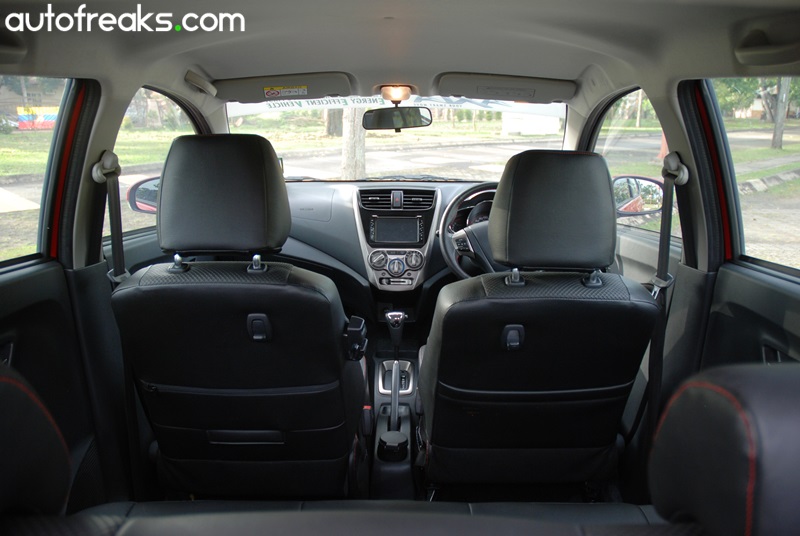 The cabin is also a very decent place to be in where the dash is well laid out, although I think that some bits of the interior feel chintzy and cheap. My test unit was generously equipped with leather seats and leather-wrapped steering wheel with audio controls, and it is loaded with tech and gizmos such a touch screen multimedia that hosts Bluetooth with hands-free function, Wifi Hotspot Locator, DVD Player as well as USB connectivity.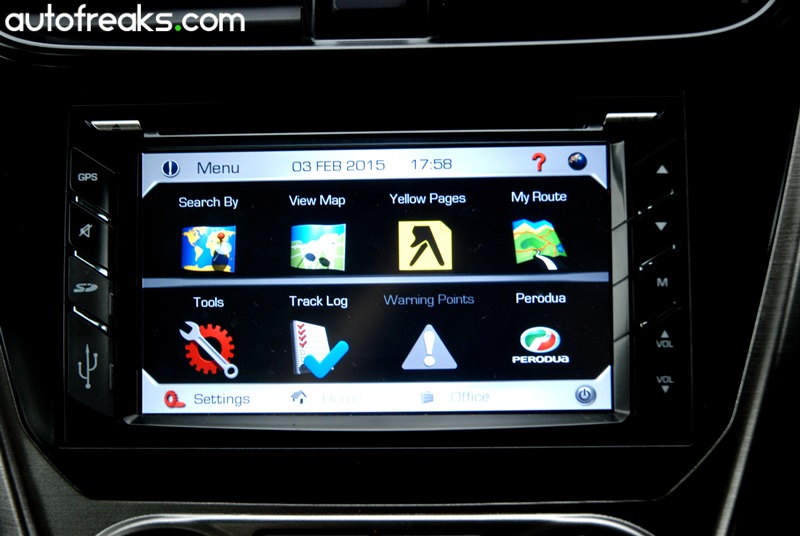 The Axia's overall practicality is its best trait. There are so many convenient features that's very 'female' friendly such as a built-in tissue compartment at the back of the front passenger seat so you won't have to carry a large tissue box in the car. Apart from that, there's an anti-snatch hook that's strategically located on the side and at the back of the front passenger seat so you can sling your handbags or your tapau food safely and securely before driving-off.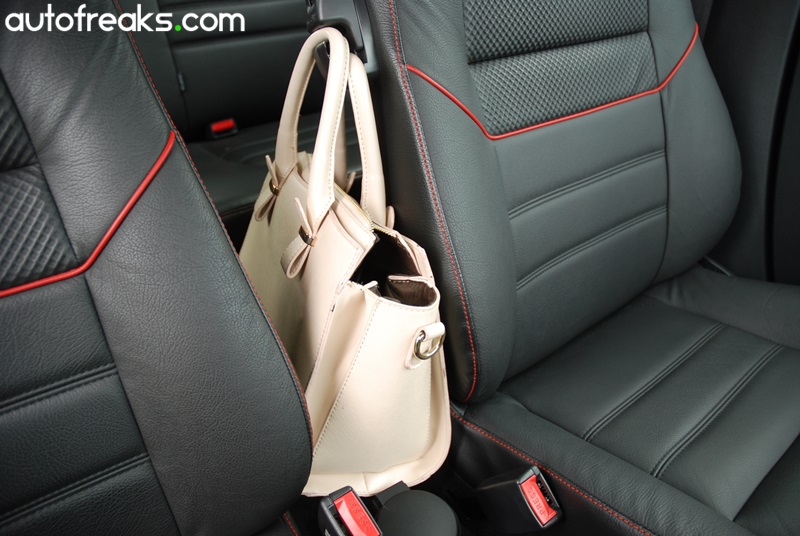 Speaking of space, the 260-litre of boot allows you to store at least 4 cabin size bag, although the boot is likely more appropriate for gym bags and grocery bags for a trip from the market. On top of that, the Axia features versatile seating configurations that can be easily adjusted to carry oversized items like a bookshelf or bikes by simply positioning the front passenger and rear seat in full-flat mode.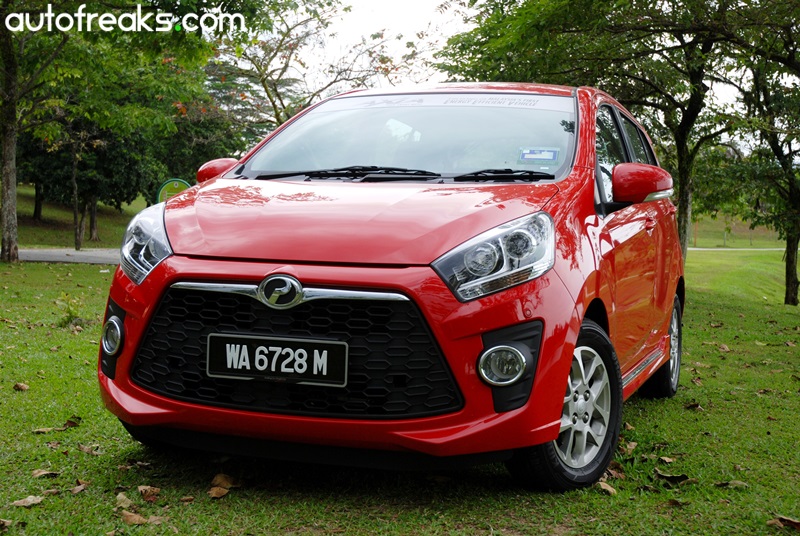 The Perodua Axia's claim to fame is that it's Malaysia's first energy-efficient vehicle. In simple terms, it is currently the most fuel-efficient 'local' car on the market, which returns a respectable 20.1km/liter (claimed). Credit for Axia's fuel economy goes to its low-emission, all-aluminium 3-cylinder 998cc petrol engine that delivers 67hp and 90Nm of torque. This engine is standard across all variants, but customers can choose to purchase either a 5-speed manual or a 4-speed auto tranny.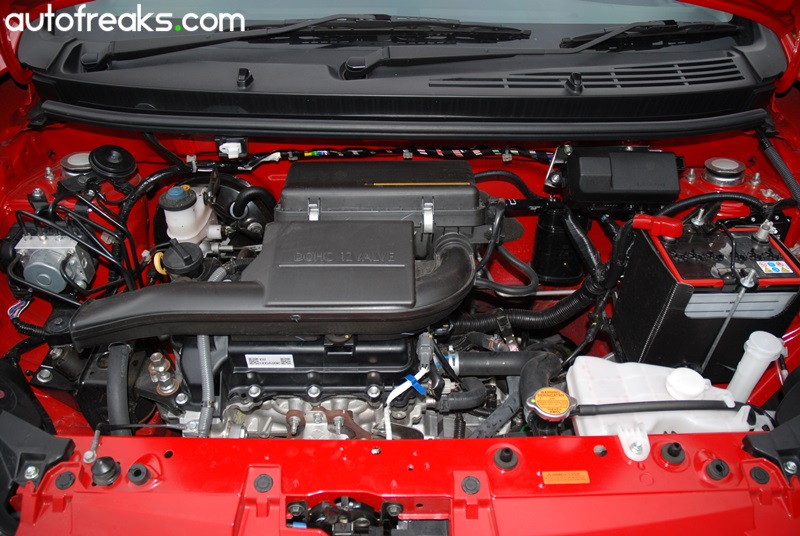 Make no attempt to sprint in the Axia because merging onto the freeway is not for the faint of heart, and passing on a two-lane road requires a guardian angel. However, once the Axia cruises down the road, I was really surprised how stable the it felt even when I pushed it beyond the 110 km/h highway speed limit. The Axia only requires a small steering correction as it suffers from crosswinds due to its light weight characteristics.
Axia's level of Noise, Vibration and Harshness (NVH) aren't anything to shout about either. Although my test drive unit had already clocked 6,000km, the engine noticeably vibrates especially when stationary. The overall ride is comfortable on smooth pavement, but it crashes noisily over potholes and bumps. I also noticed a loud buzzing engine noise creeping into the cabin, especially when revved too hard, but I got used to it after a while.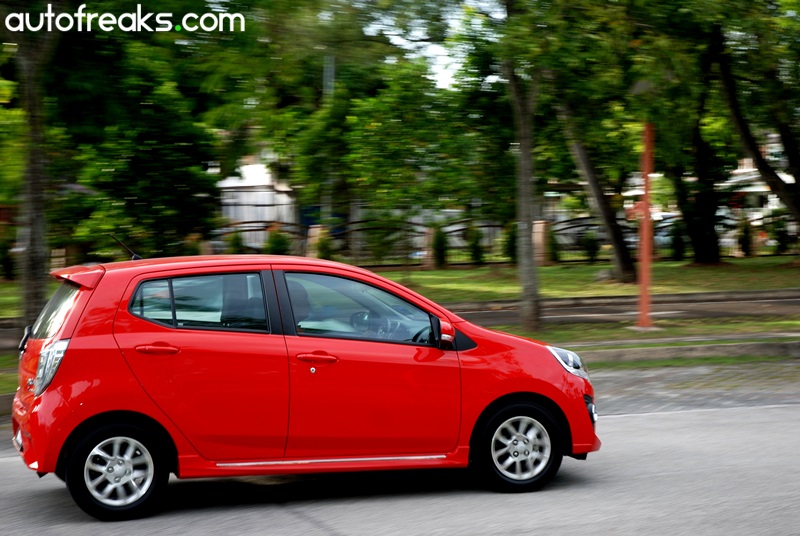 Despite its overall driving imperfections, I really enjoyed driving the Axia because it built my driving confidence and it's such an easy and nimble car to drive, especially in the crowded streets of Kuala Lumpur. It's 4.5m turning radius makes it trouble-free for me to make the tightest U-turn or corner. Plus, the Axia is aided with front corner sensors and given its diminutive dimensions, the Axia is a lot of fun to squeeze into a half size parking lots. Ahem.
The sensors, however, cannot be turned-off so it does get a tad irritating especially when motorbikes pass by whilst waiting at the traffic light.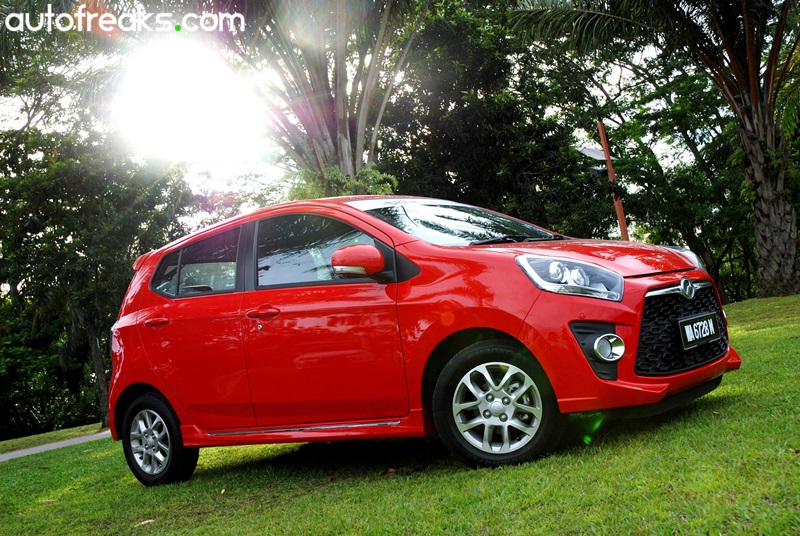 Safety is one of the most important concerns when buying a new car and it's good to know that the Perodua Axia is a safe and reliable micro car. The Axia has an ASEAN NCAP 4-Star Rating, with safety and security features fitted in accordance with Malaysian regulations. For instance, you'll be able to find dual SRS airbags, 3 point seat belt, ISOFIX system, Immobiliser, solar and security window film as well as ABS (Anti-lock braking system) with EBD (Electronic brake distribution) & BA (Brake Assist) as standard features in this Advance variant.
For RM42,530, the Perodua Axia is a small, simple hatchback that is affordable to run and super economical. If you can get over its poor ride and handling, I would personally recommend the Perodua Axia as a fuss-free commuter for the urban and suburban area. However, you prefer a car with more oomph and one that delivers a more comfortable ride, then you might want to look for something a bit further up the scale. Given its price bracket though, the Axia is excellent value for money for first-time car buyers seeking something new.