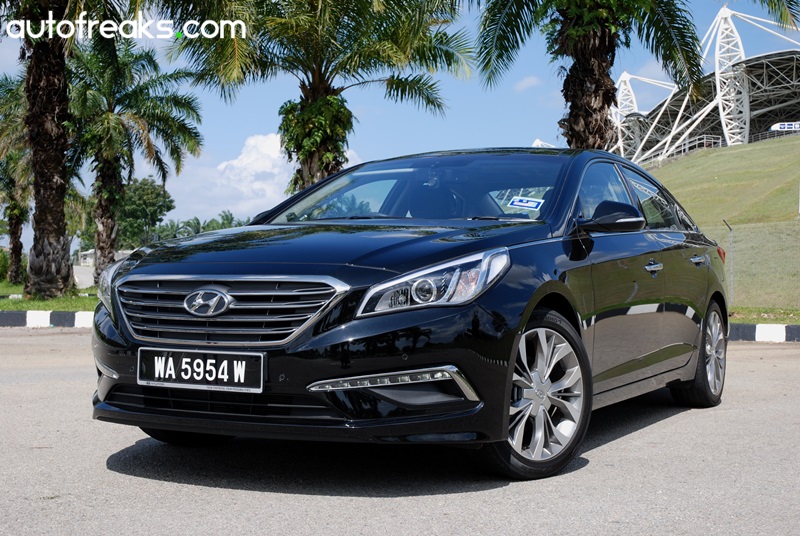 ADVERTISEMENT
1. Eye-catching exterior
A sight for sore eyes, the Hyundai Sonata is undeniably one of the most attractive looking D-segment cars available in the market today. With the 7th-generation Sonata, the overall styling (dubbed Fluidic Sculpture 2.0) retains the original essence, but has been toned down just a little bit to make it look more 'less busy' yet high-class and sleek at the same time. According to the Korean automaker, the design team at Hyundai decided to give the Sonata a more subtle makeover because apparently its previous look was too dramatic for its target consumers. Unlike the younger generation of car buyers, mid-size segment buyers aren't just seeking for aesthetics, but they're also in favour of practicality, fine-tuning and driving comfort.
2. Good Ergonomics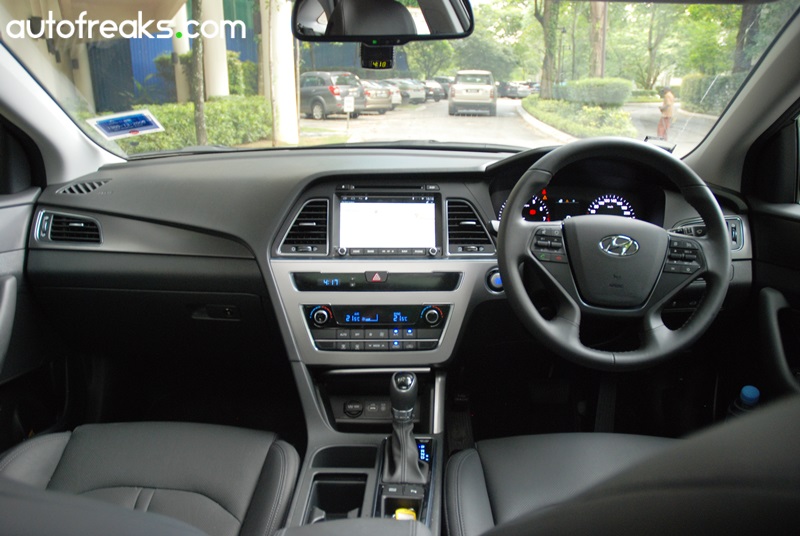 The new Sonata is now benefitting from improved interior ergonomics, resulting in a completely driver-focused cabin. For instance, the size of the steering wheel has been reduced by 1cm for better grip and feel to maximize the driving experience. Apart from that, all the switches in the Sonata have been grouped depending on function and are within easy reach of the driver, facilitating quicker, safer control especially when on the go.
3. Better Performance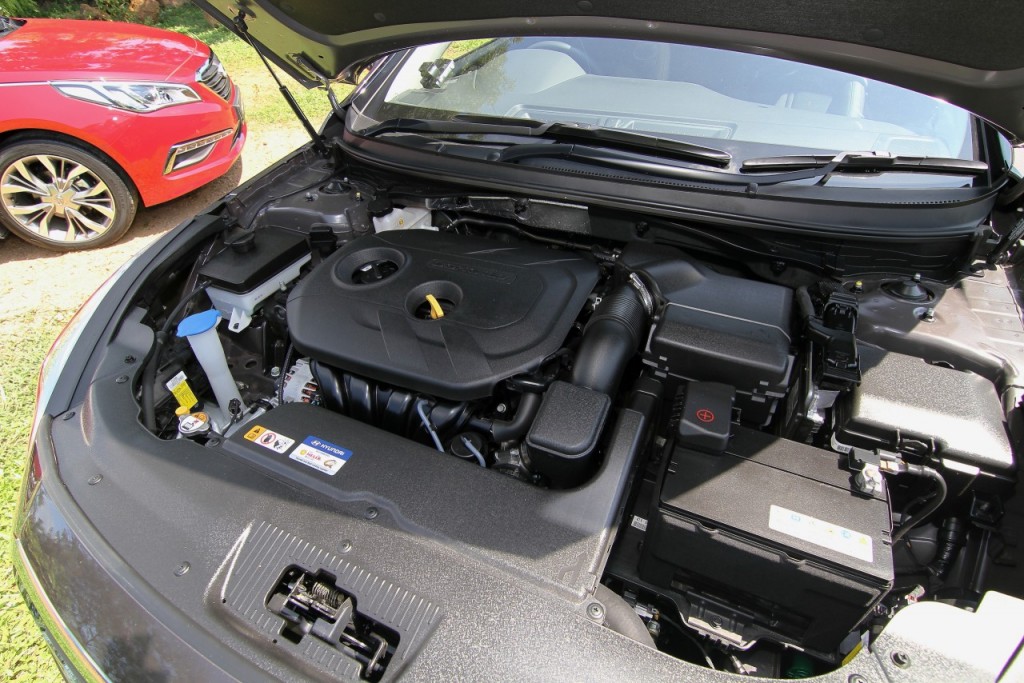 The 2.0-litre MPi 4-cylinder engine fitted under the hood that churns out 154PS and 194Nm torque is carried over from the previous generation Sonata, but has been tweaked by reducing peak power and upping the torque to move the power band downward for better responsiveness at lower-RPMs, which is where most drivers spend the majority of their time. As a result, the Sonata allows for faster pick-up from a standstill, whilst its 6-speed transmission offers smooth and quick gear shifts. Despite the engine making slightly less horsepower than the previous version, it didn't feel short on performance.
The engine also has done a good job maintaining good fuel-consumption. During our test run, the Hyundai Sonata returned 8.4 km/litre which is a realistic number for conservative drivers driving in mixed driving conditions.
4. Improved NVN (Noise, Vibration & Harshness)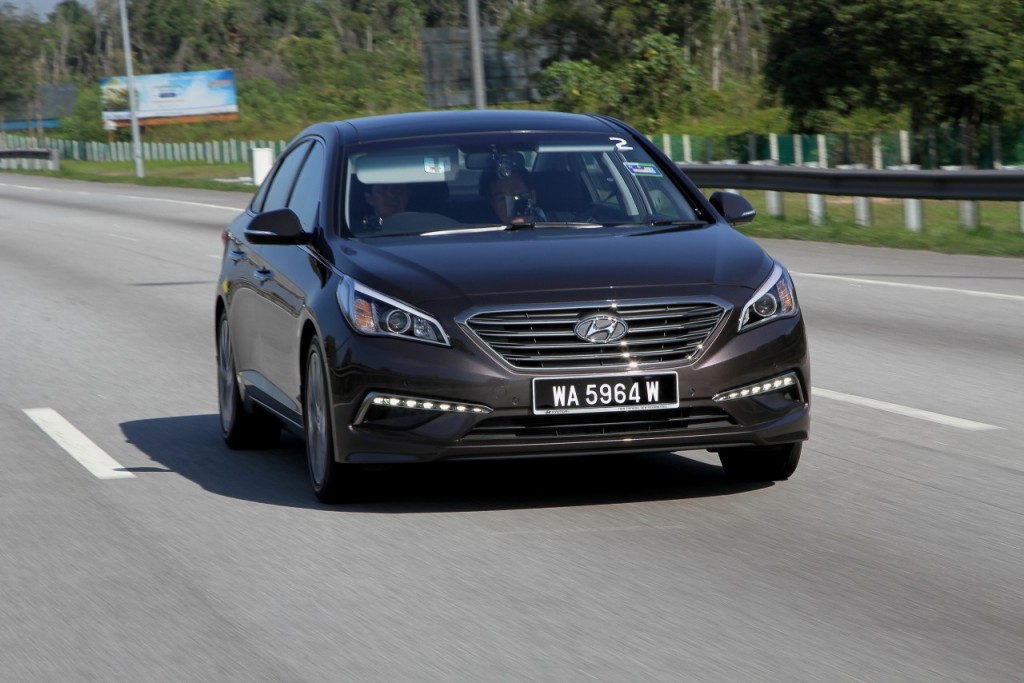 In short, the NVH level has been greatly improved over the previous generation Sonata. The levels of engine and transmission NVH have been kept to a minimum, although it is slightly noticeable especially at high revs. Thanks to soundproofing materials that have been used to reduce apertures through which noise could potentially be transmitted into the cabin, you can hardly hear any rumbling or booming wind or tyre noise permeating the cabin. As a result, you'll be able to enjoy a quiet and comfortable ride, creating a calm, luxurious and Zen-like ambiance. Surely this is a suitable choice for its target buyers who seek a more refined driving experience rather than driving thrills.
5. Improved Ride and Handling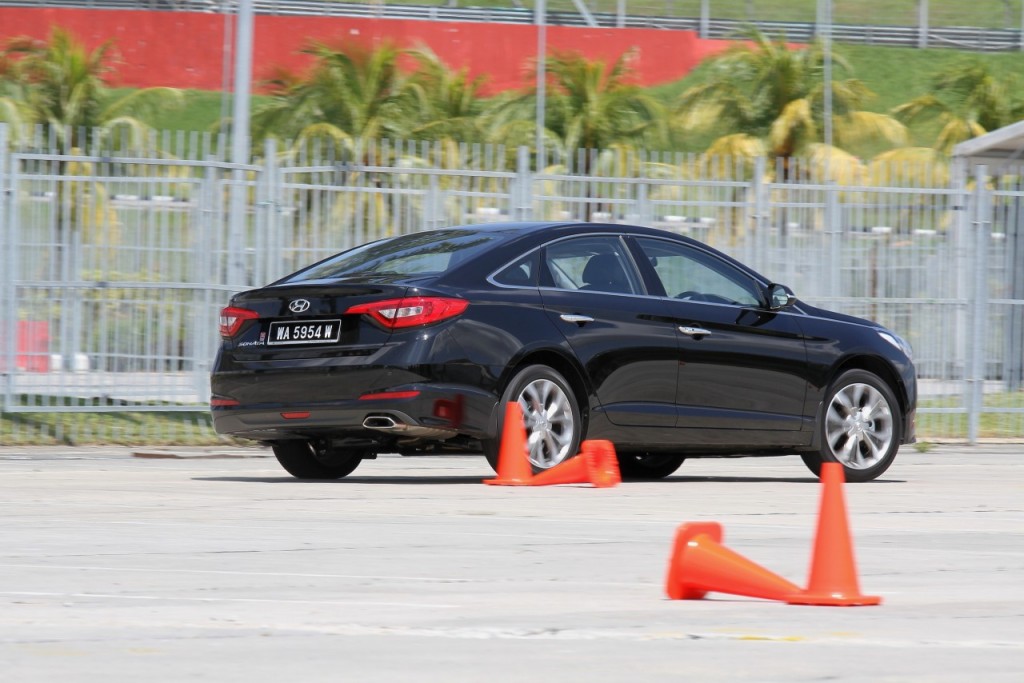 Reducing road noise, vibrations and enhancing driving dynamics were one of the key priorities for the all-new Sonata development team. Hyundai has optimized the suspension damping to provide occupants with a balanced ride; not too stiff nor too 'wallowy', especially when passing through trunk roads or broken pathways.
In order to improve on the ride and handling performance, there have been significant changes to the front and rear suspension, whose structure and geometry have been greatly modified to enhance responsiveness, handling and stability especially during high-speed driving. The dual lower suspension arms of the rear suspension distribute lateral forces more effectively than single arm versions, providing more agile handling especially when tackling sharp corners.
Beyond that, the design of the engine room improves aerodynamic performance, with a custom flat underbody normally only found in sports performance cars. As a result, the new Sonata is able to achieve a class-leading aerodynamic drag-coefficient of 0.27cd, the lowest in the D-segment category.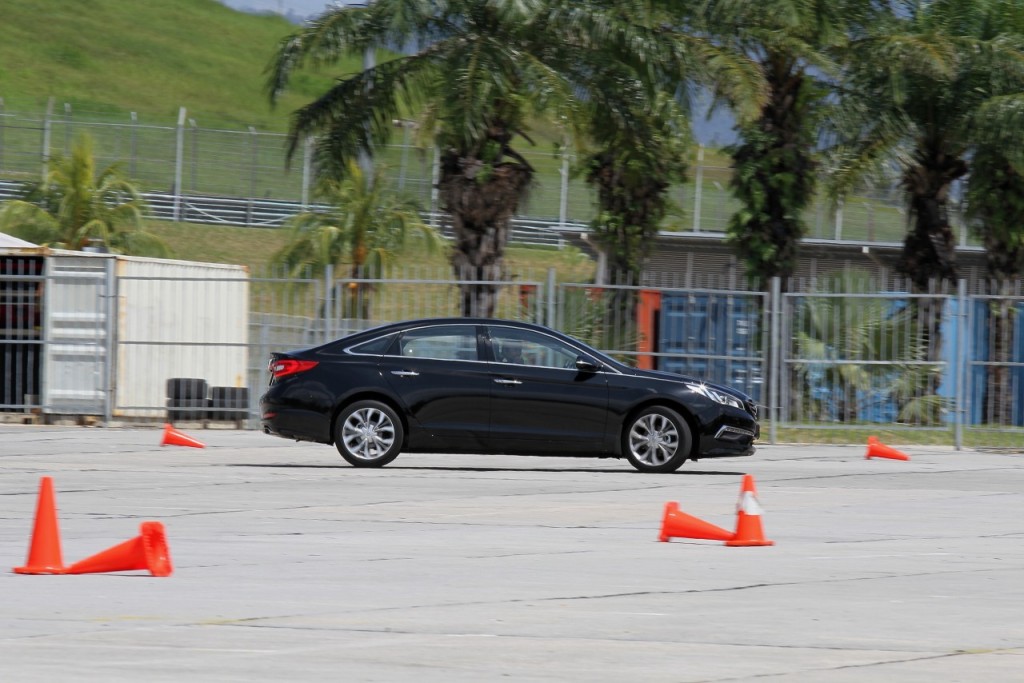 Steering feel also has been further increased thanks to the development of the Motor Driven Power Steering (MDPS) that has resulted in a larger data processing unit, increased logic control cycle and motor control speed, and greater steering column rigidity.
While its overall ride and handling performance might not be the best in its segment if you compare it with the Honda Accord or Mazda 6, the Sonata's braking performance is excellent. Combined with an assured, firm feel, the stopping performance is one of the best in its class.
6. Safety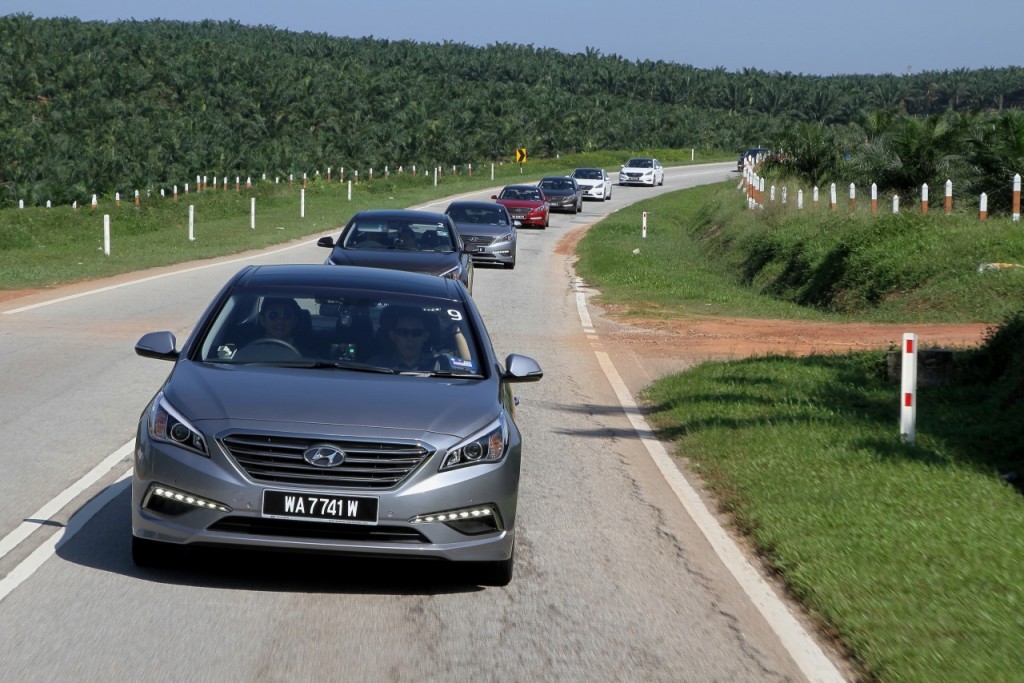 Safety is also one of the Hyundai's key strengths. The seventh generation Sonata possesses a greater structural rigidity over the previous generation model, resulting in 41% better torsional strength and 35% better bending strength than the outgoing model. It's also consists of 51% Advanced High Strength Steel (AHSS), an increase of 30% over the previous generation model. These AHSS components are used to both increase stiffness and more effectively protect passengers, helping the Sonata to achieve top-class safety ratings according to the company's internal tests. The Sonata has been validated in extremely demanding environments, including Germany's Nürburgring Nordschleife racing circuit, using tests such as Hyundai's proprietary 'accelerated durability tests' which simulate up to 180,000 km of severe driving in a matter of weeks.
Advanced safety features such as Anti-lock brake system (ABS), Electronic Stability Control (ESC) and Hill start Assist Control (HAC) are also available as a standard feature in the 2.0 Executive variant.
7. Spacious interior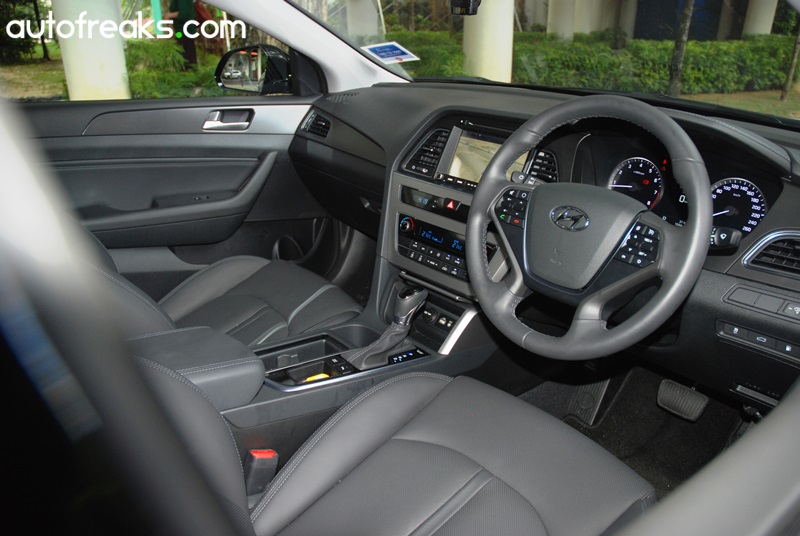 Compared to its predecessors, the new Hyundai Sonata is now 35mm longer and 30mm wider, which contributes to better rear passenger leg room, delivering a marginal increase in exterior size but more gains in internal volume. As a result, the all-new Sonata has one of the most spacious interiors in its class. For front passengers, the all-new Sonata features integrated, height-adjustable seats that have been developed to maximize comfort, while the car's spacious interior and slim front seat backs mean there is plenty of legroom for all its occupants to stretch their legs even for those over 6 feet tall.
8. A plethora of tech and other gizmos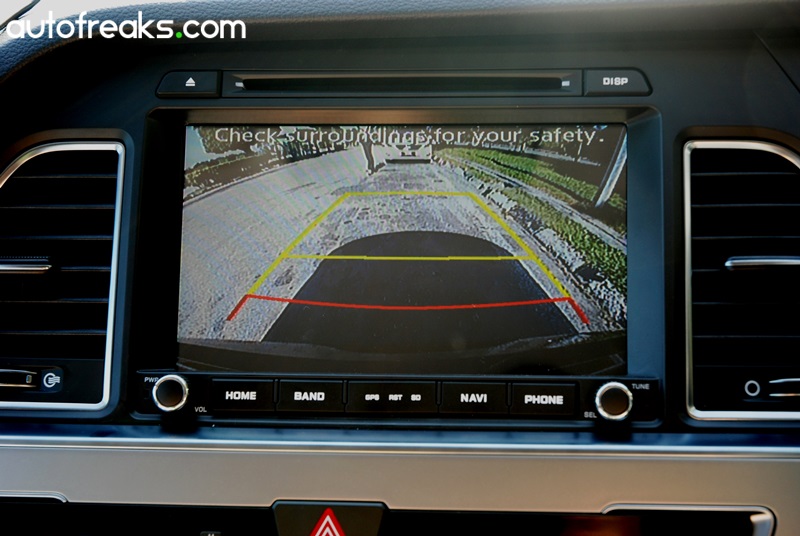 There are plenty of infotainment features to ensure that its occupants stay connected and entertained whilst on the go. For instance, its Audio Visual Navigation (AVN) system, powered by an Android 4.4.2 operating system can be accessed via the touchscreen display panel. The Audio Visual Navigation system can be tethered with smartphones at any time to provide Web browsing, navigate using Waze or listening to music via YouTube or Spotify. The system supports USB, Bluetooth and micro SD card so you can connect your smart phones and control the AVN via your mobile phone.
9. Smart Trunk System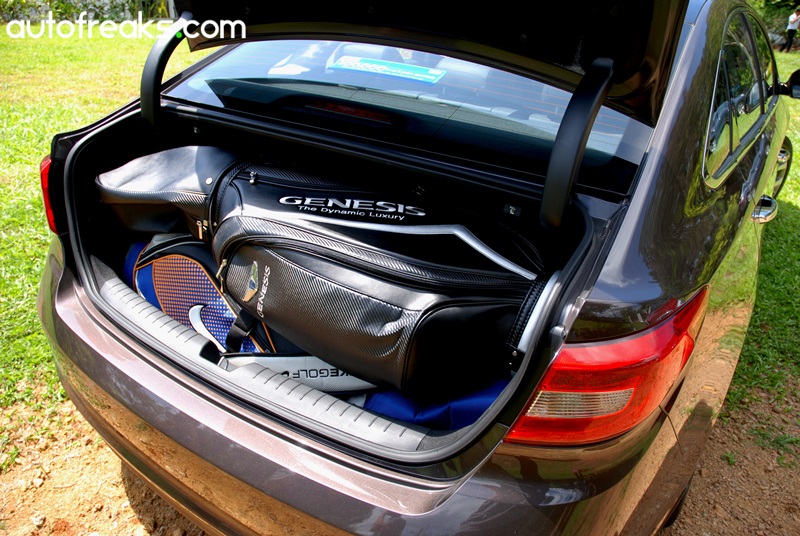 One of the Sonata's party-tricks is the Smart Trunk function. Using the vehicle's smart key, the system can be activated (in the user settings menu) to open the trunk automatically when the smart key is detected near the rear bumper for longer than three seconds. Some hands-free automatic trunk opening offered in other carmakers like the Ford Kuga utilize an under-fender kick-sensor, but the Sonata only employs a fender-mounted antenna to receive its instruction to operate, providing an illuminated and audible warning prior to opening. So you can keep both feet on the ground at all times during operation. Its only downfall is that the trunk only opens halfway so you still have to use your hands if you want to load or unload your items in the spacious 462-litre trunk, or kick it.
10. Epic warranty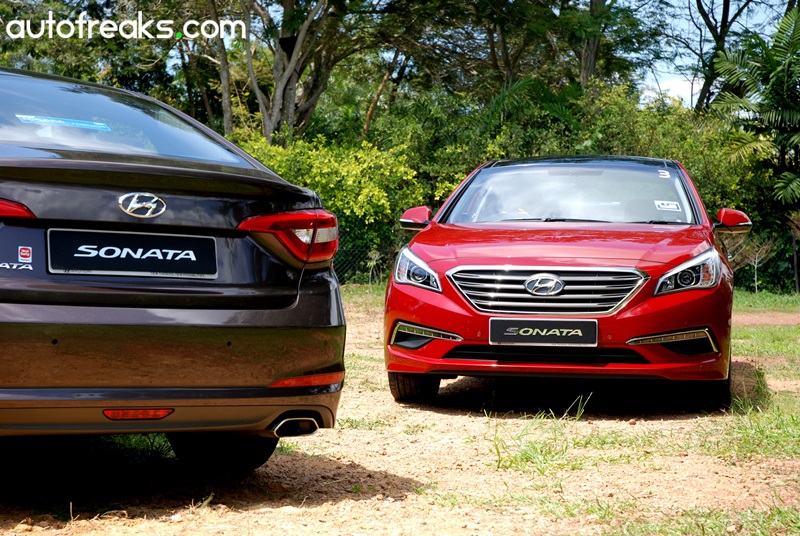 What really impressed me the most is its comprehensive warranty program. The new Hyundai Sonata now comes with 8 years / 300,000 km powertrain (engine and gearbox) warranty program, as well as 5 year manufacturer warranty. That means you can drive up to 164km daily for 5 years and rest assured that your sedan will be taken care of.
Conclusion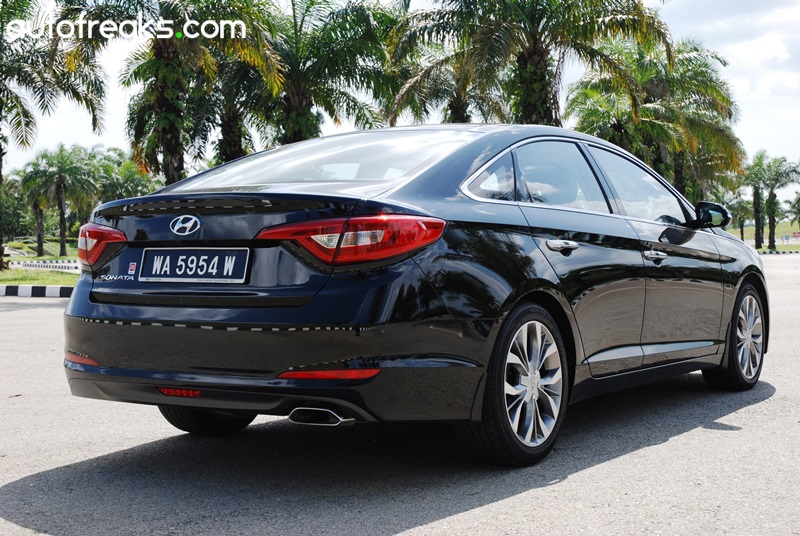 The latest Hyundai Sonata 2.0 Executive epitomizes the essence of what its target consumers expect, with an elegant exterior and interior styling, good body strength and a comfortable driving experience and Zen-like cabin. After three years in the making, the 7th generation Hyundai Sonata certainly has risen from just a mediocre D-segment car to a truly competitive luxury sedan.
SPECIFICATIONS: Hyundai Sonata 2.0 Executive
Displacement: 1,990cc, 4-cylinder
Transmission Type: 6-speed automatic
Power: 154hp @ 6,200rpm
Torque: 194Nm @ 4,000rpm
Fuel consumption: 8.4km/l combined (monitored)
Price: RM158,053 on-the-road with insurance