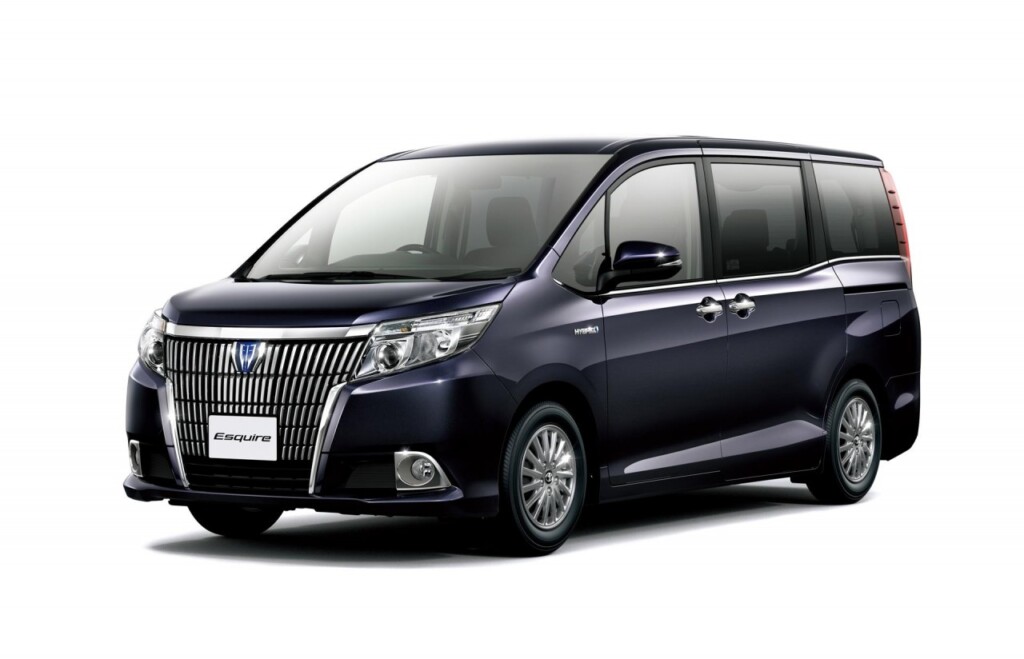 ADVERTISEMENT
Toyota Motor Corporation today launched the all-new "Esquire" deluxe minivan, to be sold in Japan nationwide through "Toyota" and "Toyopet" dealers.
The all-new Esquire was developed as a new choice, providing a spacious interior in a minivan that fits within the "five number"1 Japanese vehicle dimension requirements. This new deluxe "compact cab wagon"2 is aimed to establish a new position in the Japanese market.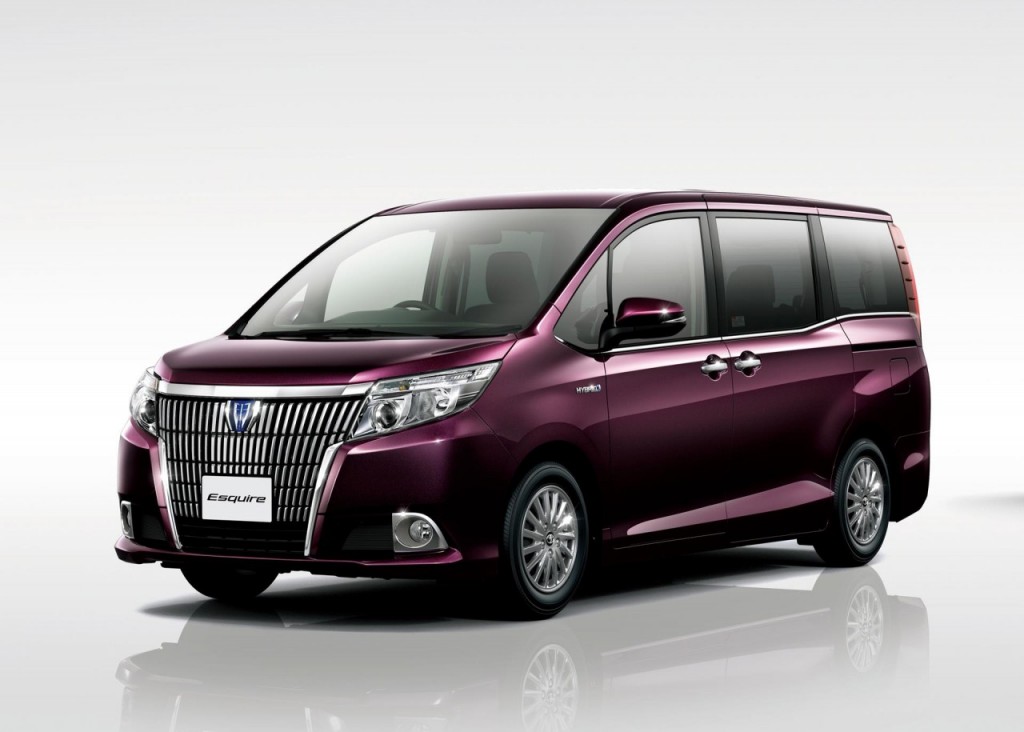 The vehicle exterior has a stunning and powerful presence, from its front grille with a striking vertical emphasis that stretches all the way down to the lower bumper, to the plated finish on its door handles and back door. In the interior, it features synthetic leather with a metallic finish and stitching from the instrument panel through to the door trims. The "Gi" grade features a high-quality finish throughout, from the black wood grain finish on the steering wheel and shift knob, to full synthetic leather seat covers and a burgundy interior color scheme.
In addition, a flat, low-floor package creates a roomy interior with outstanding ease of ingress and egress to ensure a high level of basic functionality, while also achieving environmental performance with class-leading3,4 fuel efficiency for hybrid models at 23.8 km/L under the Japanese Ministry of Land, Infrastructure, Transport and Tourism (MLIT) JC08 test cycle.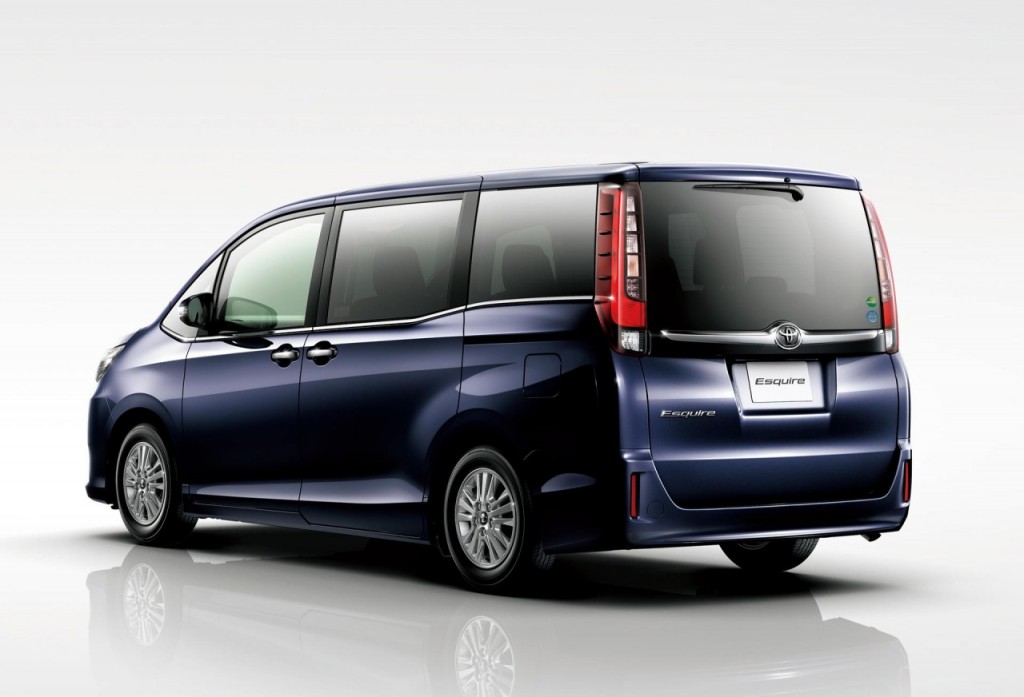 1* Japanese license plate designation for vehicles less than 4.7 m in length, 1.7 m in width and 2.0 m in height and with an engine displacement of 2,000 cc or less
2* Japanese car category for box-like minivan with "five number" Japanese vehicle dimension requirements
3* 1.8-2.0 liter, 7-8-seater minivan with overall height of 1.8 meters or more
4* As of October 2014, according to calculations by Toyota Motor Corporation
Vehicle Outline
1. Esquire boasts deluxe feel and a powerful presence
Elegant, striking front view
The Esquire presents a striking impression with a sense of width achieved through a large and striking T-shaped front grille down to the lower grille, a bumper profile gripped from the side, and fog light covers with a deep profile.
The decorative plated bars over the grille give a vertical emphasis that expresses a stunning, superior luxury, with a sense of width and solidity achieved by changing the pattern of the vertical bars arranged from the center out to the sides. The grille bars and headlights come with a smoked-effect coating to emphasize the T-shaped profile.
The Esquire's front marque combines the sword and shield of a medieval knight's apprentice, the collar of a gentleman's suit, and the abbreviation "Esq."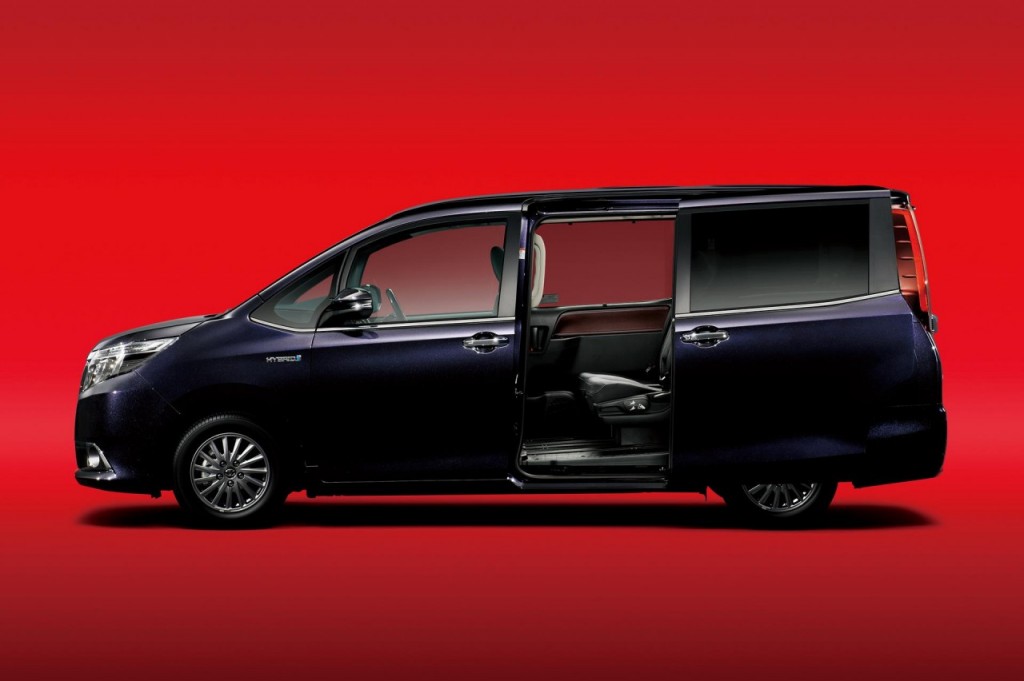 Side view delivers a sense of openness to the cabin and vigor to the body
The side profile presents a large, continuous window area through to the third row of seats, with a vivid beltline extending from the front to the rear, which provides both dynamic body qualities and a sense of openness with its panoramic view.
Stainless steel belt moldings and decorative plating on the door handles provide deluxe accents to the side view. The gray metallic coating on the wheels also expresses high quality.
The expansive profile presented by the decorative plating on the back door, together with a sharp cross-sectional profile, present width and grandiosity. With a structure that appears to be floating over the back window, it expresses a sense of interior openness and a grand rear view.The Esquire comes in seven body colors, including Sparkling Black Pearl Crystal Shine that offers lustrous elegance and depth of color that further expresses a deluxe and high quality feel.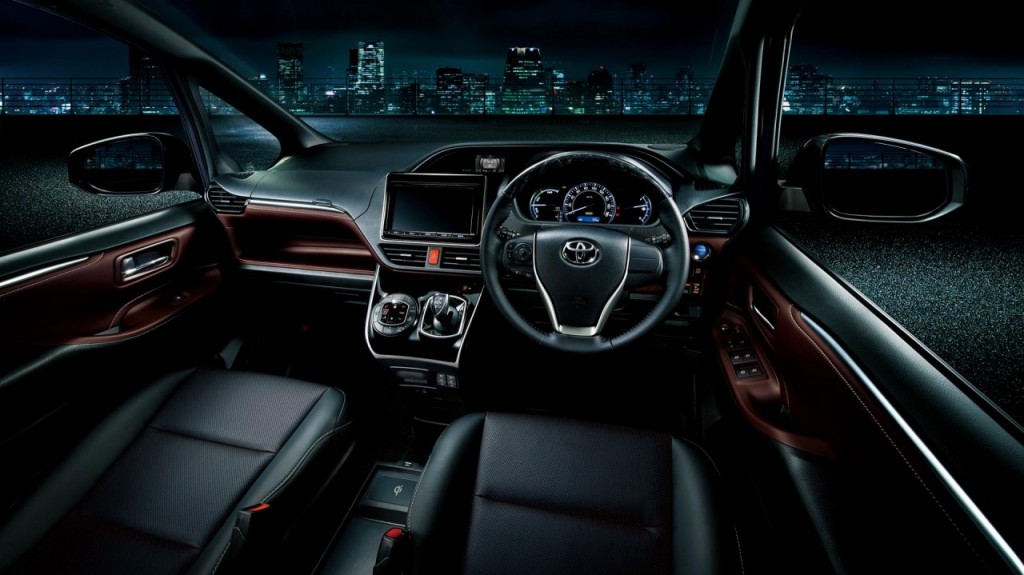 2. Refined, high quality interior
The Gi grade evokes high quality, from its interior burgundy color scheme to its use of synthetic leather throughout, including full seat covers and covered surfaces from the instrument panel to the door trims. With the delicate expression of red tones through the perforated seat covers, the synthetic leather material also works to control temperature variations to feel less hot to the touch in summer and less cold to the touch in winter.
The Gi grade also offers a high-quality interior through use of leather and a black wood grain finish on the steering wheel and shift knob (excluding hybrid versions).The air conditioning control panel features an elegant Piano Black coating.The large open tray on the passenger-side of the instrument panel and the upper sections of the door trims have a metallic finish and stitching to present a strong impression of refinement.The three-gauge instrument panel uses metallic finish dial rings and three-dimensional lettering and scales to achieve a modern, high-quality design.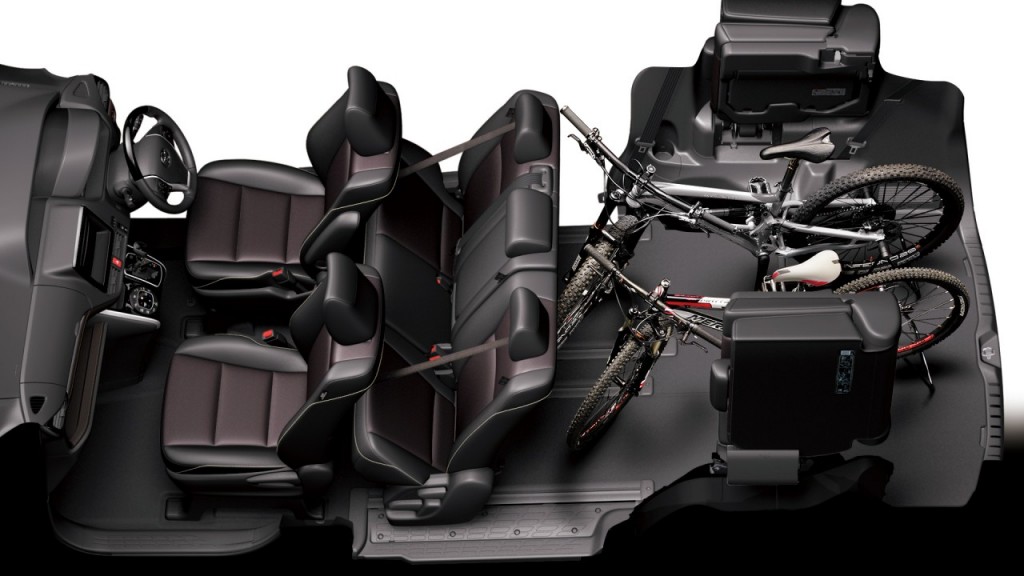 3. High level of basic functions
Package
The flat, low-floor design achieves a class-leading roomy interior, outstanding ease of ingress and egress through a low, non-step space, and a user-friendly cargo space.
Achievement of a cabin height of 1,400 mm within an overall vehicle height of 1,825 mm1 enables comfortable movement within the vehicle.
The flat floor design also extends to the interior, with a sliding door height of only 360 mm1 and 805 mm of sliding range to provide outstanding ease of ingress and egress for children and the elderly.
Seven-seater models feature ultra-long sliding captain seats in the second row. A combination of the side-sliding mechanism for the second row of seats and thinner-profile, one-touch folding third-row seats creates an ultra-long 810-mm sliding range with exceptional leg room, providing a diverse range of comfortable seating arrangements.A wider wheelbase, and a revised design to the rear shape of the second row seats and to the seat cushions to ensure a more comfortable seating posture, allow for more legroom at knee height in the second and third row seats.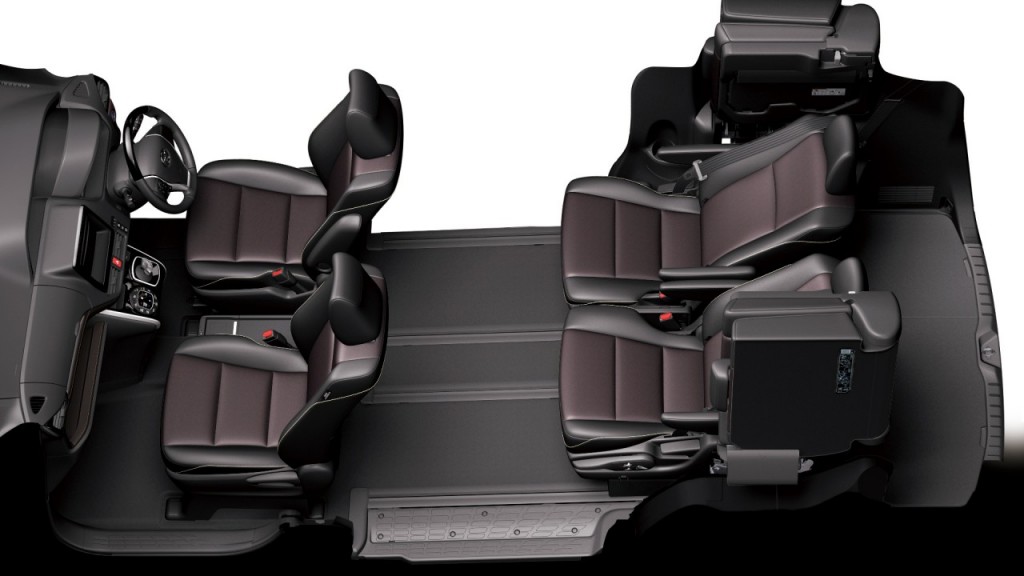 Environmental Performance
Hybrid versions feature a 2ZR-FXE 1.8-liter Atkinson cycle combustion engine in its true hybrid system to achieve outstanding environmental performance, with fuel efficiency of 23.8 km/L under the MLIT JC08 test cycle. The battery is located below the front seat, creating a comfortable riding space, large cargo space and exceptional user friendliness.
'Esquire' Minivan Hybrid System Main Specifications
Engine
Model
2ZR-FXE
Displacement
1,797 cc
Maximum output
73 kW [99 PS] / 5,200 rpm
Maximum torque
142 N-m [14.5 kgf-m]/4,000 rpm
Motor
Model
5JM
Maximum output
60 kW [82 PS]
Maximum torque
207 N-m [21.1 kgf-m]
Complete system*
Maximum output
100 kW [136 PS]
Battery
Nickel-metal hydride
| | |
| --- | --- |
| * | Using both engine power and electric motor power (calculations by Toyota Motor Corporation) |
The 2.0-liter 3ZR-FAE gasoline engine model uses a high-efficiency Valvematic engine with Super CVT-i and other features, which enables it to achieve gasoline-engine class-leading2 environmental performance, with fuel efficiency of 16.0 km/L3 under the MLIT JC08 test cycle.Apart from the Xi grade gasoline engine model (four-wheel drive model weighing 1,650 kg or less)4, all models exceed MLIT's 2015 fuel economy standards by 20 percent5. Being certified as having emissions that are 75 percent lower than the 2005 standards under the MLIT's Approval System for Low-emission Vehicles makes these models eligible for the Japanese government's subsidies and tax incentives for eco-cars.
Ride comfort and handling stability

The flat, low-floor package, with tuned front and rear suspension, limits vehicle roll and other movement when turning and provides a smooth ride with very little shaking and great driving stability.

Handling stability and ride comfort have been achieved by increasing body rigidity through such things as using bracing around the rear suspension and employing spot welds focused on door openings and floor joints.
Equipment providing safety and security

"T-Connect" compatible navigation systems will be available as an option. The "Agent" Toyota Smart Center-based voice recognition service supports the driver through interactive voice communications and by using the driver's route history to predict the car's destination. T-connect compatible apps can be downloaded straight to in-car navigation systems, and the "Online Care" service integrates and improves on the functions currently provided by G-BOOK.

Also available as an option is the Intelligent Parking Assist system with Easy Set and wide-angle color backup guide monitor, which detects the location of parking space lines when the gear shift lever is moved to Reverse, and then automatically steers the vehicle straight into the parking space once the OK button is pushed.Automatic High Beams help ensure good forward visibility for the driver by using an interior camera sensor to detect various light sources during night-driving (including the headlights and tail lights of preceding and oncoming vehicles) and automatically switch from high beam to low beam, while LED headlights provide an improved sense of security with bright lights for night driving.
| | |
| --- | --- |
| 1 | Two-wheel drive vehicles only |
| 2 | As of October 29, 2014; according to calculations by Toyota Motor Corporation |
| 3 | Two-wheel drive model results |
| 4 | The Xi grade gasoline engine model (four-wheel drive model weighing 1,650 kg or less) exceeds MLIT's 2015 fuel economy standards by 10 percent. |
| 5 | Specified under the Act on the Rational Use of Energy |
1.8 L hybrid
2.0 L
front-wheel
drive
2.0 L 4WD
Length/width/height
(mm)
4,695/1,695/1,825
4,695/1,695/1,865
Wheelbase
(mm)
2,850
Engine
Model
2ZR-FXE
3ZR-FAE
Displacement
(cc)
1,797
1,986
Maximum
output
(kW
[PS]/rpm)
73 [99]/5,200
112 [152]/6,100
Maximum
torque
(N・m
[kgf・m]/rpm)
142 [14.5]/4,000
193 [19.7]/3,800
Fuel efficiency
Under JC08
test cycle
(km/L)
23.8
16.0
14.8*

| | |
| --- | --- |
| * | For vehicle weighing 1,660 kg or more (four-wheel drive model weighing 1,650 kg or less has fuel efficiency of 15.0 km/L under the MLIT JC08 test cycle) |
Welcabs: Specially equipped vehicles with factory-installed features for the disabled and elderly
The Welcab wheelchair-adapted models (ramp type) equipped with a manual forward ramp aid access to the luggage compartment through the back door, and a custom installed second row of seats provides direct wheelchair access to the cabin. When wheelchair access is not required, the vehicle can be used conventionally. An electric ramp is also available as an option with some specifications.
A Welcab Friendmatic Seat model also has support for moving to and from the driver seat, together with electrically controlled storage for the wheelchair.
A Welcab Side Lift-up Seat model (detachable type) has a second row seat that doubles as a wheelchair, while usability is improved through an automatic memory function that stores forward and backward sliding positions and reclining angles during seat storage.
The Lift-up Front Passenger Seat model with seat that slides down and to the outside of the vehicle has improved usability through an automatic memory function that stores the height of the lowered seat, and forward and backward sliding positions and reclining angles when storing the seat.