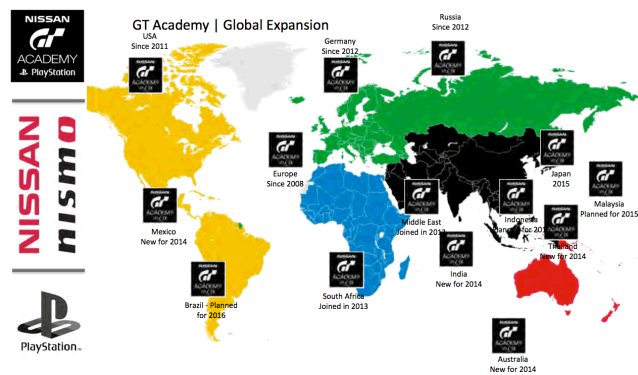 ADVERTISEMENT
The GT Academy, the world's one and only competition that transforms video gamers to become real racing drivers, is expanding rapidly in many countries. Now, local gamers may have their opportunity when Malaysia will be among a few new countries selected to have its own GT Academy program. The round in Malaysia is planned in 2015, together with new countries such as Japan and Indonesia as well.
The GT Academy, a joint-effort by Nissan, PlayStation and Gran Turismo, began in 2008 and has turned a few ordinary Joes into full-fledge racing drivers. Over six years of this program there are already 4 million applicants in 8 editions across the globe. Participants can join as long they own a PlayStation game console, a Gran Turismo 6 video game and of course, good racing skills. Think of it like "The Voice" or "American Idol" for aspiring racing drivers and you aren't far off the idea here.
Should the round in Malaysia kick-off, aspiring gamers will go through a tough and rigid selection to prove their virtual racing skills on PlayStation before being selected to be trained on the circuit. Participants will then go into an intensive boot camp (presumably at Sepang Int Circuit) where their driving skills will be honed by real racing drivers.
The winner of that round will graduate as the GT Academy winner of that country, and will be given the chance to race with the GT Academy team driving a Nissan sports car in endurance races around the world. Sounds fun, so are you pumped-up for the challenge? Then wait for the announcement and we will share it on AF once it's official!
[Source:GT Planet]