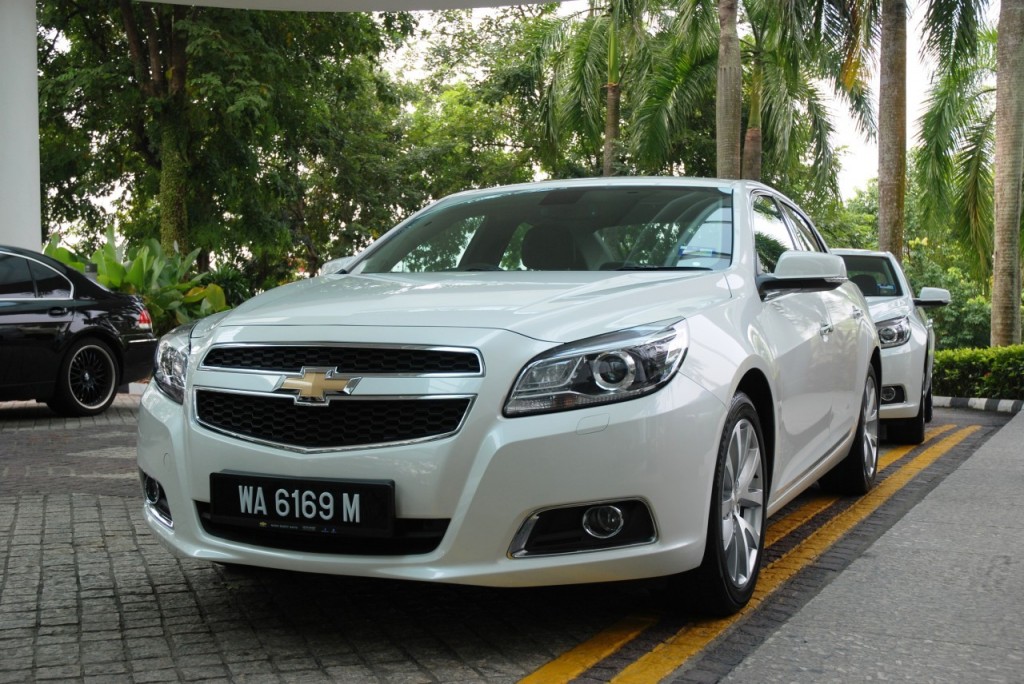 ADVERTISEMENT
Named after the affluent holiday city in California famed for its white sandy beaches, the name 'Malibu' is iconic to the Chevy brand, and while it may be relatively new to us, it is actually more than 50-years old. The original Malibu was made as a top of the range version of the iconic Chevelle, a car which sold 200,000 units in its first year of production, but the Malibu became its own model line in 1978.
Are you starting to yawn now? Apologies if I started to bore you there, but after having tested this car for two days, the Malibu is definite proof that family cars need not necessarily be boring, especially since Chevy added a little bit of a Camaro-inspired tweak to the Malibu's rear design, and while looks are subjective, I personally love its design especially the aforementioned rear, plus its overall bold and premium-look makes me look good when driving it (below). Sorry…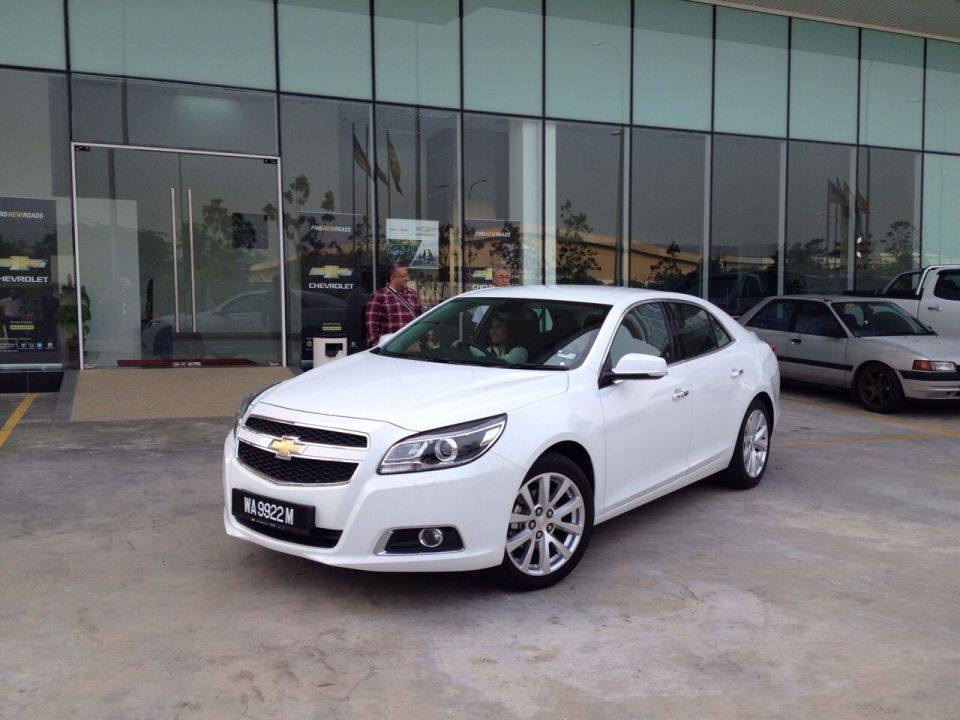 The Malibu's interior hosts more premium and elegant touches than the interiors found in many mid-size sedans in its class. They are mostly upscale and high-quality where most of the buttons and switches fit perfectly in place and within the driver's easy reach. I love the multi-adjustable electric front seats that not only provide comfort and support for its occupants, but also provides ample headroom and leg room for me to stretch my legs.
The first thing I noticed when entering the cabin is the 7-inch full colour touch screen that displays a variety of functions such as audio, Bluetooth connectivity and reverse camera display. One of the things I like to do when test driving a new car is poking around and pushing every single button, toggling every single switch and knob available in the car because you're never going to know what you're going to find, it might just amaze or surprise you. For instance, whilst a seat-heater is totally unnecessary feature in our hot climate, I actually enjoy having it on when driving.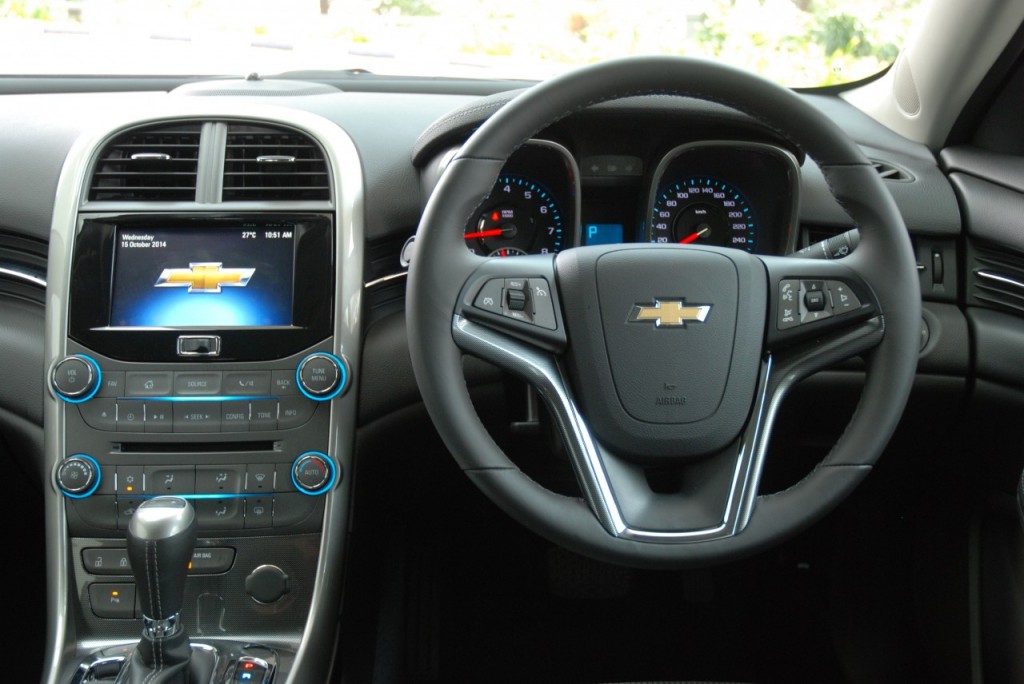 Whilst my co-driver was busy behind the wheel, I managed to poke around too see what else this car had too offer (in an attempt to look for a seat heater but to no avail), and I noticed that the Malibu doesn't come with a navigation system. Although a build-in Navi is normally equipped as a standard feature in other models in its class, I don't find it a catastrophe since these days a lot of people rely on their smartphone app like Waze to navigate anyway. One really 'awesome' feature I found on the dashboard during my 'exploration' is a secret storage space to stash small stuff like sunglasses, mobile phones, keys and money from prying eyes located behind the LCD touchscreen (below).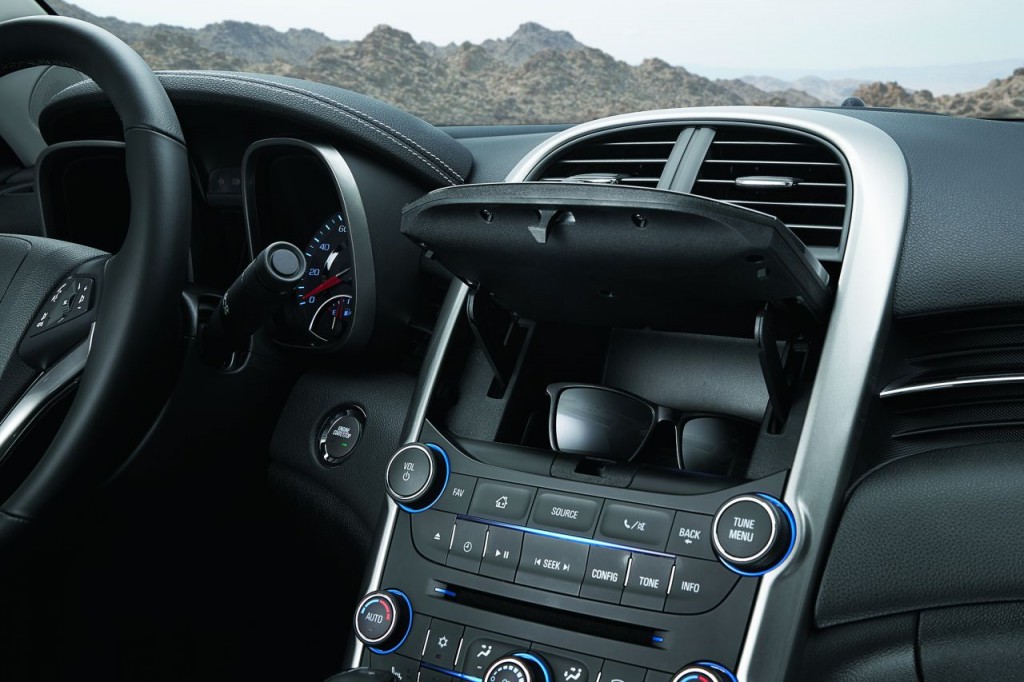 My most favourite tech goodie found in the Malibu is actually the Remote Engine Start found in the remote key fob. With the push of a button on your key fob, you can actually warm-up the engine and cool down the interior from the outside the vehicle. For instance, if you've just parked your Malibu out in the hot sun, you can start the engine (don't worry guys, you won't be able to drive the car without the key) and cool down the cabin before entering. How cool is that?
Rounding up the level of equipment available in the LTZ variant (only one variant offered in Malaysia) is a Tyre Pressure Monitoring System (TPMS), high-pressure headlight washers, electric power operated parking brake and auto headlamp system with auto levelling, welcome lights, tunnel detection and follow-me-home lights functions among others.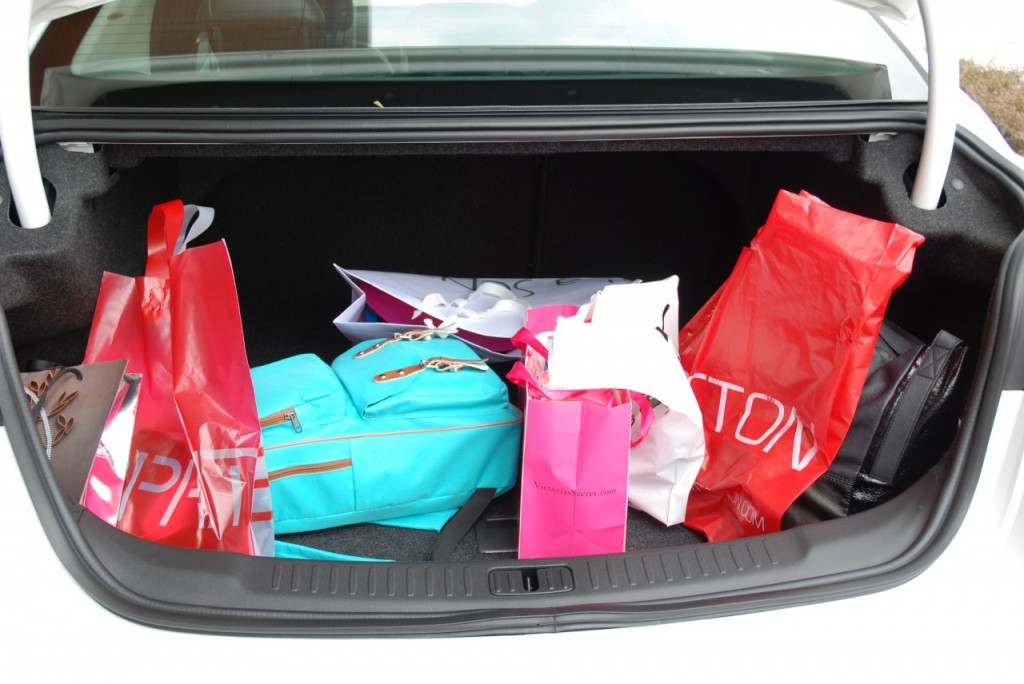 Back in '64, the Malibu was powered by a carbureted 3.2-litre inline 6-cylinder engine producing 120hp; a 3-speed automatic transmission was optional. Just imagine how much your petrol bill will add up if you run around with that big engine!
Half a century later and after having gone through a revolution, the Malibu now uses a 2.4-litre direct injection Ecotec engine that churns out a maximum output of 165hp @ 6500rpm and 225Nm @ 4800rpm, paired with a silky-smooth 6-speed automatic transmission. The MacPherson strut up front and multi-link suspension at the rear is well insulated and able to soak up with any potholes and road bumps extremely well. The overall ride isn't too soft but you can barely feel a sudden jolt, especially when going across road imperfections at highway speed.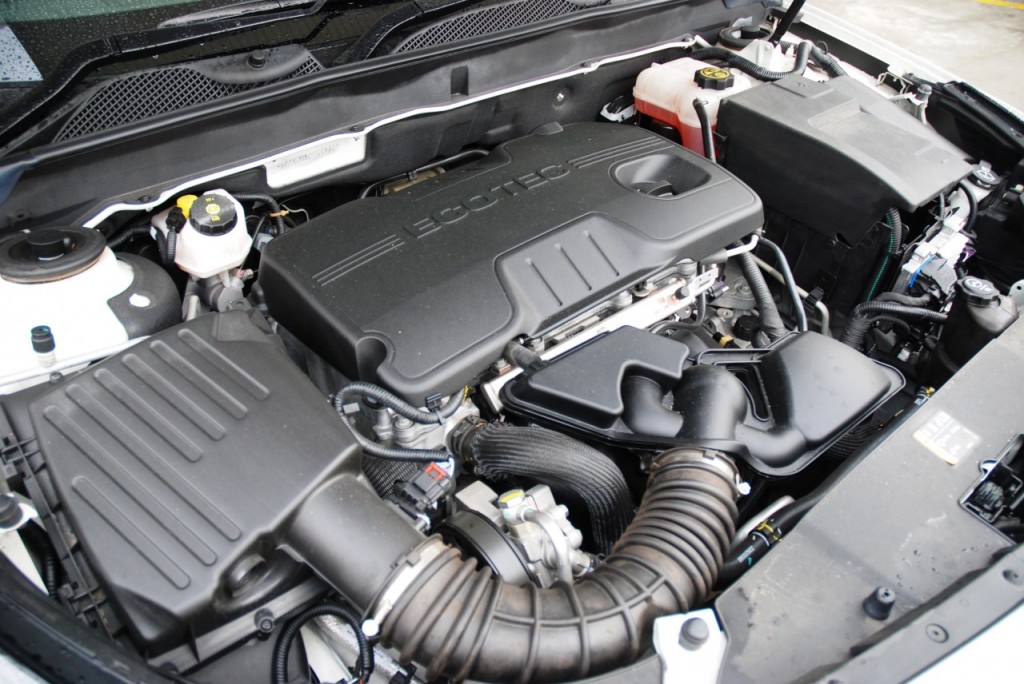 While driving the Malibu is actually a reward, especially for highway cruising, what this sedan lacks of is dynamic handling. After having tested the Honda Accord, Toyota Camry, Nissan Teana and Mazda 6 in recent times, I notice that the Malibu is the least-engaging and most unexciting vehicle to drive in its class.
For example, while the Malibu offers excellent performance on the road, the engine feels strained when pushed rather than sounding sporty. Nevertheless, once you've reached a certain speed, the engine noise is well isolated from inside the cabin allowing me to have a quick snooze when my co-driver took the wheel (I'm a terrible driving partner!).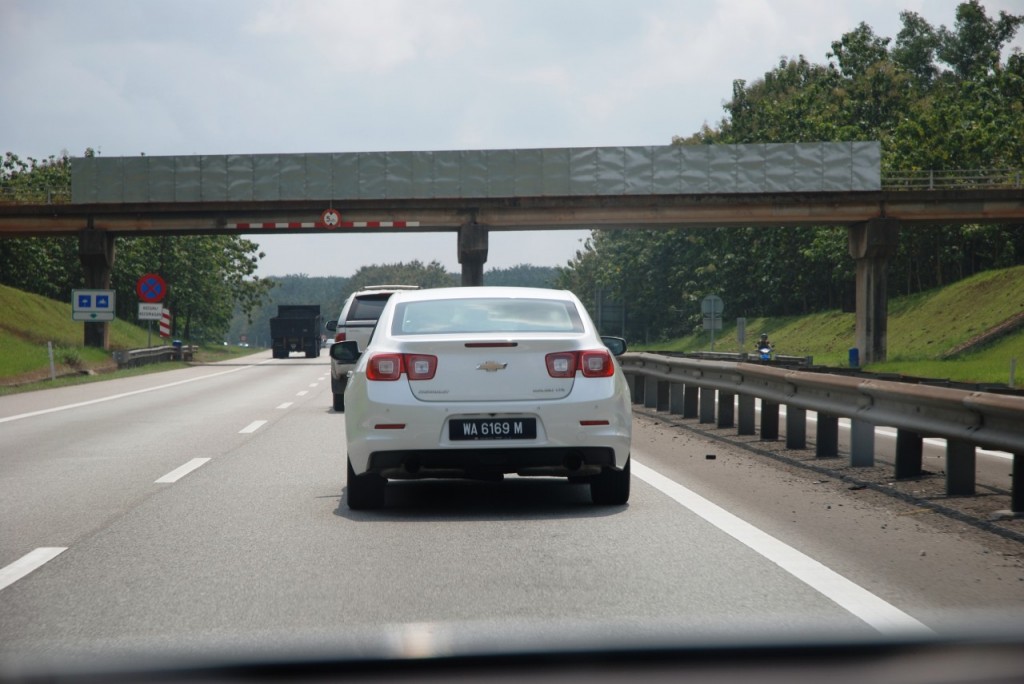 And while the steering returns a tight turning radius, it actually feels vague and light, causing the car to meander, especially when passing through buses or trucks. I also felt that the front end feels a light and not planted enough like the Mazda 6 I've tested before. Yes, it's probably because I'm so used to driving small cars and I might feel a little overwhelmed when driving a bigger dimension car like this, but frankly speaking, I've tested other D-segment sedans in its class that's more well-balanced and thrilling to drive than the Malibu.
I also notice that there aren't any paddle shifters available in the Malibu, but manual shifting can be done via the + and – buttons on the gear knob, which I find it in a really odd position, which is right on top.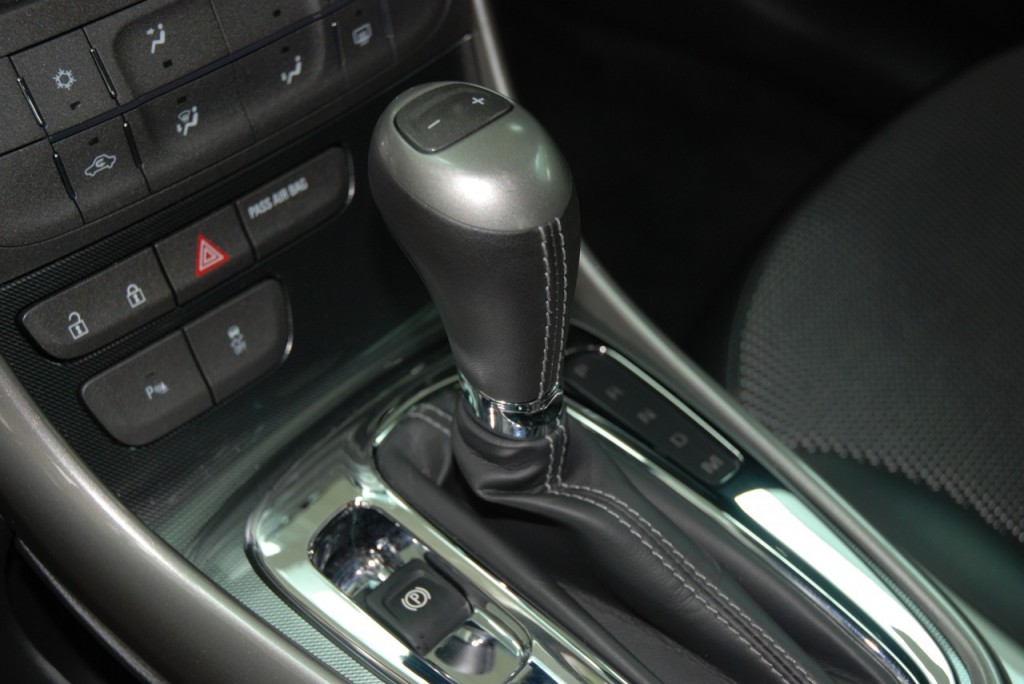 If you are ever considering buying an American sedan, the Malibu is a good choice for most mid-size sedan buyers who appreciate a very relaxed, unfussed and a comfortable drive. However, even though it is competitively priced, the Malibu still remains a wildcard choice in the populous D-segment sedan market, with the likes of the Mazda 6, Kia Optima K5 and of course the wildly-popular Camry and Accord ever-ready to take a bite out of the Malibu. While it might not be the sportiest or most accomplished family sedan out there, the Malibu does deserve a consideration, especially if you're looking for something totally different from the norm.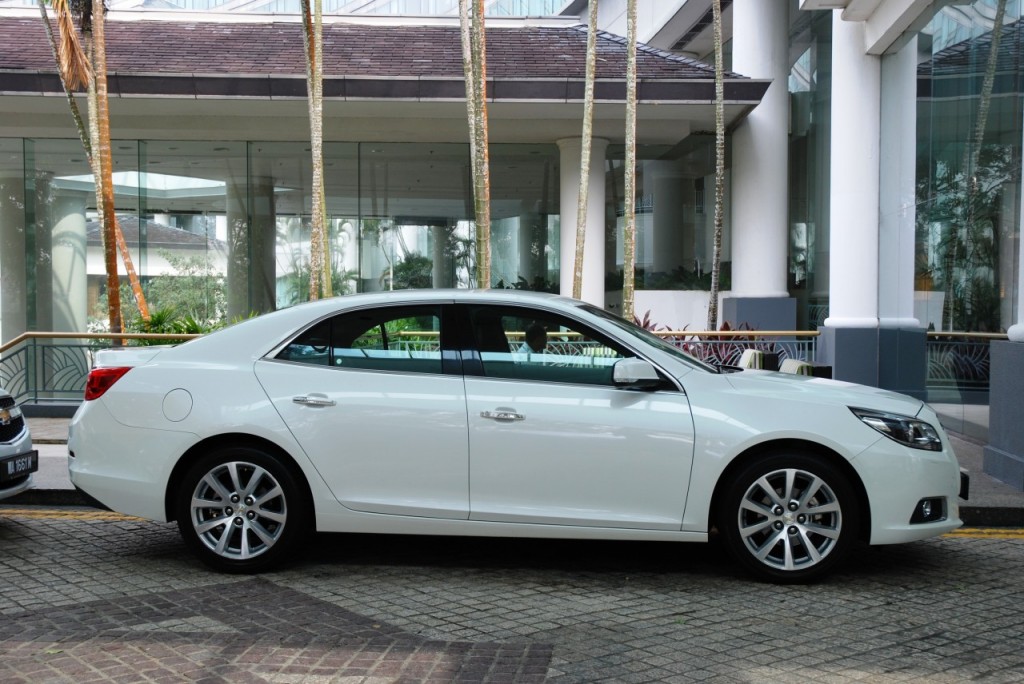 SPECIFICATIONS: Chevrolet Malibu LTZ
Price: RM153,888 on-the-road without insurance
Engine: Ecotec 2.4-litre direct-injection
Max power: 165hp @ 5,800rpm
Max torque: 225Nm @ 4,600rpm
Transmission: 6-speed automatic with manual shifting
Steering: Variable Effort Electric Power Steering System
Suspension: Front, MacPherson strut; multi-link rear