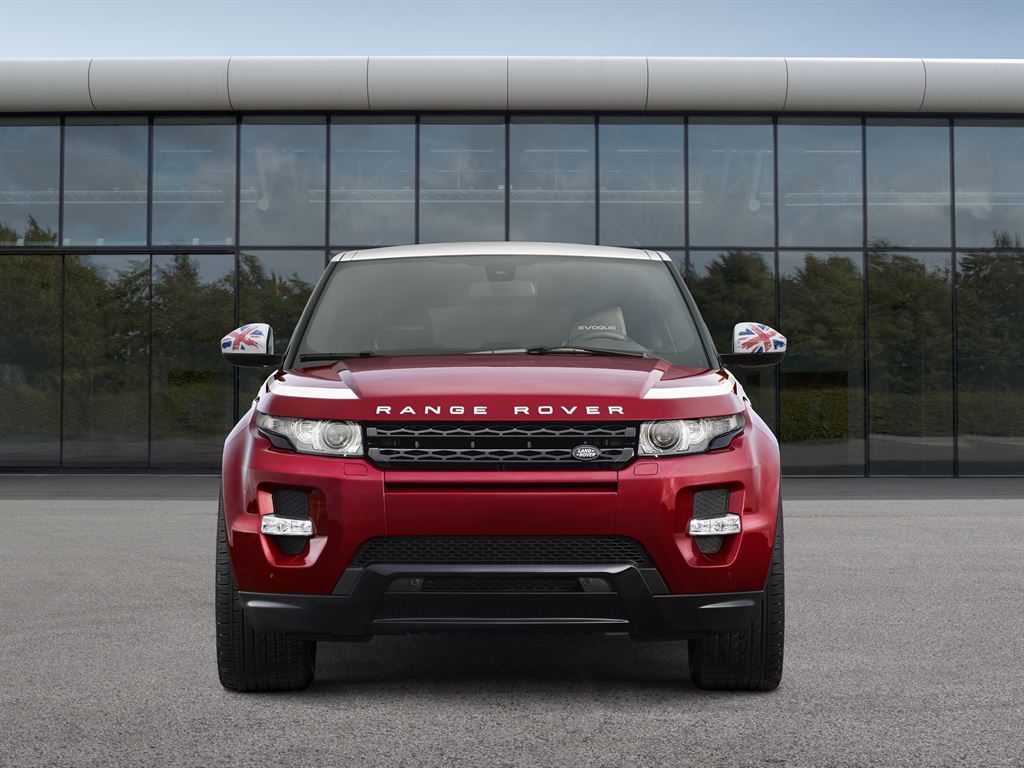 ADVERTISEMENT
Land Rover celebrates the best of British with new personalisation options and technology for the Range Rover Evoque. SW1 Special Edition Evoque is the first in a series of "Inspired by Britain" special editions from Jaguar Land Rover's award winning design team. The new models provide additional personalisation opportunities for Evoque customers globally.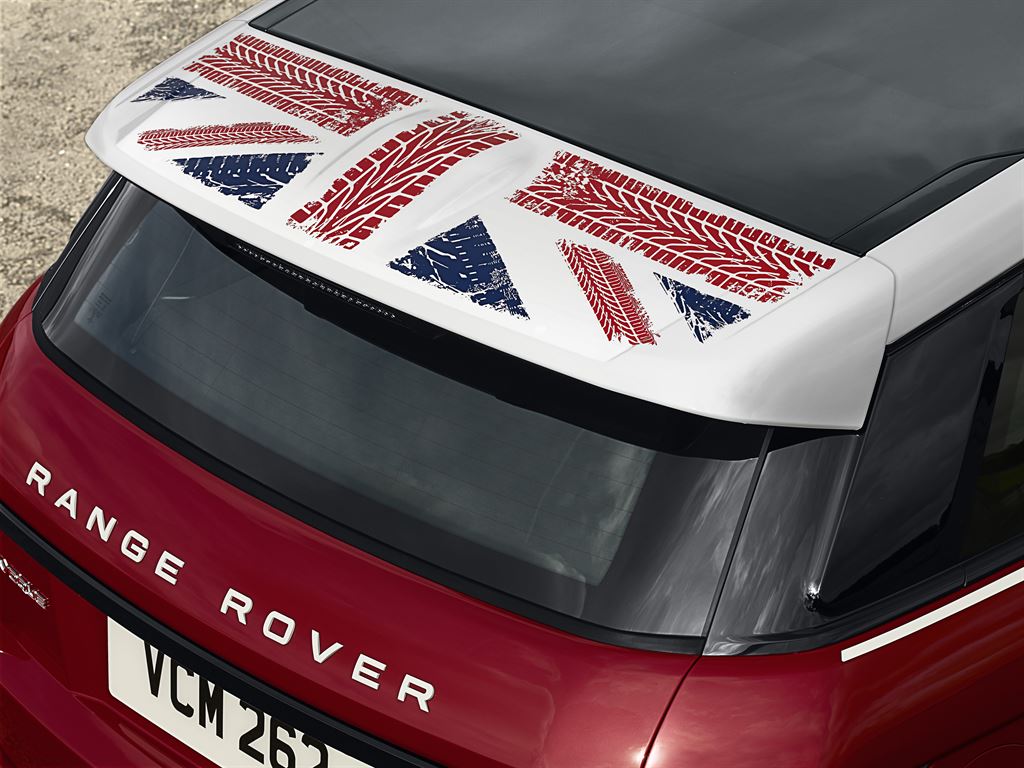 The instantly recognisable design of the British flag and its combination of red, white and blue provides the perfect theme for Evoque, which is a huge British success story. Range Rover Evoque was designed and developed at Land Rover's Design and Engineering headquarters in Gaydon, Warwickshire, and is manufactured in Halewood, Merseyside. To date Evoque has won 161 international awards and recorded more than 340,000 sales worldwide, making it the fastest-selling Land Rover of all time.
"The Range Rover Evoque is a fresh interpretation of classic Range Rover design cues" said Land Rover Design Director and Chief creative Office, Gerry McGovern. "These special editions are a celebration of our Britishness. Evoque is designed and engineered in Britain and we know that resonates with our Global consumers."
The full colour SW1 Special Edition Evoque will be on the Land Rover stand on the consumer days of the Paris Motor show and will be available for customers to order from mid-October.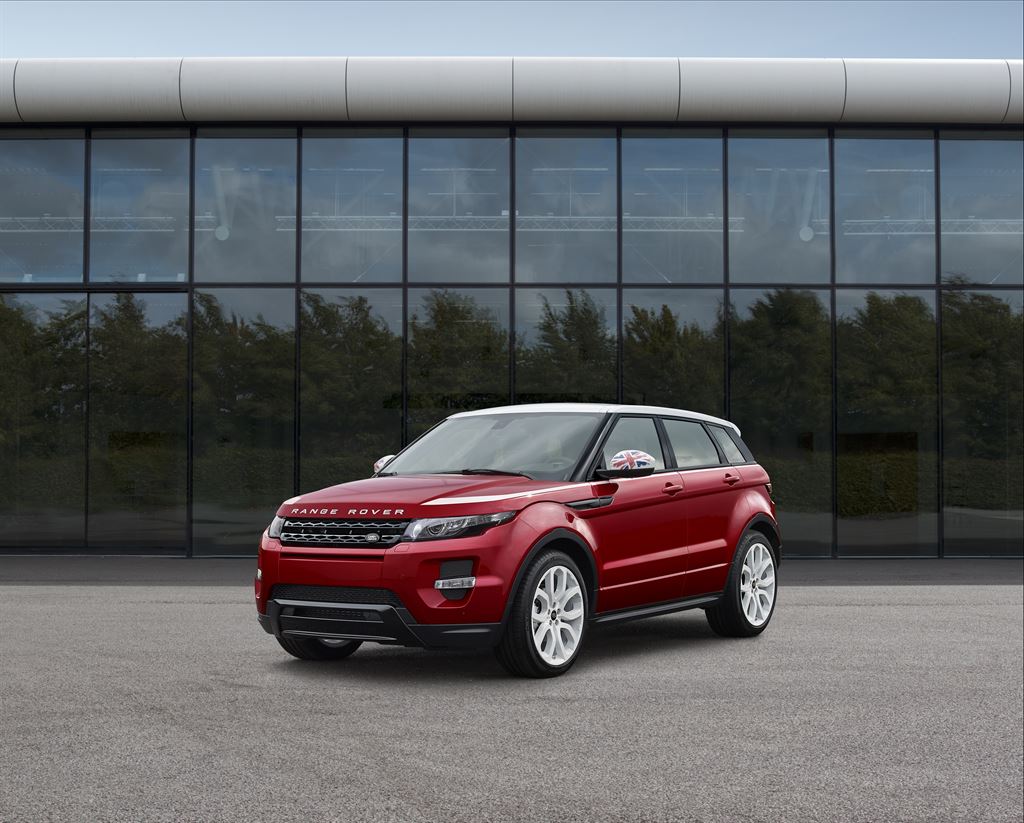 SW1 Special Edition Evoque Design
The colourful SW1 Special Edition Evoque offers co-ordinated features inside and out. Based on the current Dynamic body style, it will be offered in Firenze Red, Fuji White, Loire Blue, Santorini Black and Corris Grey with a contrast Fuji white roof and gloss  Fuji white 20″ alloy wheels. Stylish Union Flag graphics feature on the rear spoiler and the white door mirror housings. White tick decals also adorn the bodywork – changed to red for the Fuji White paint option.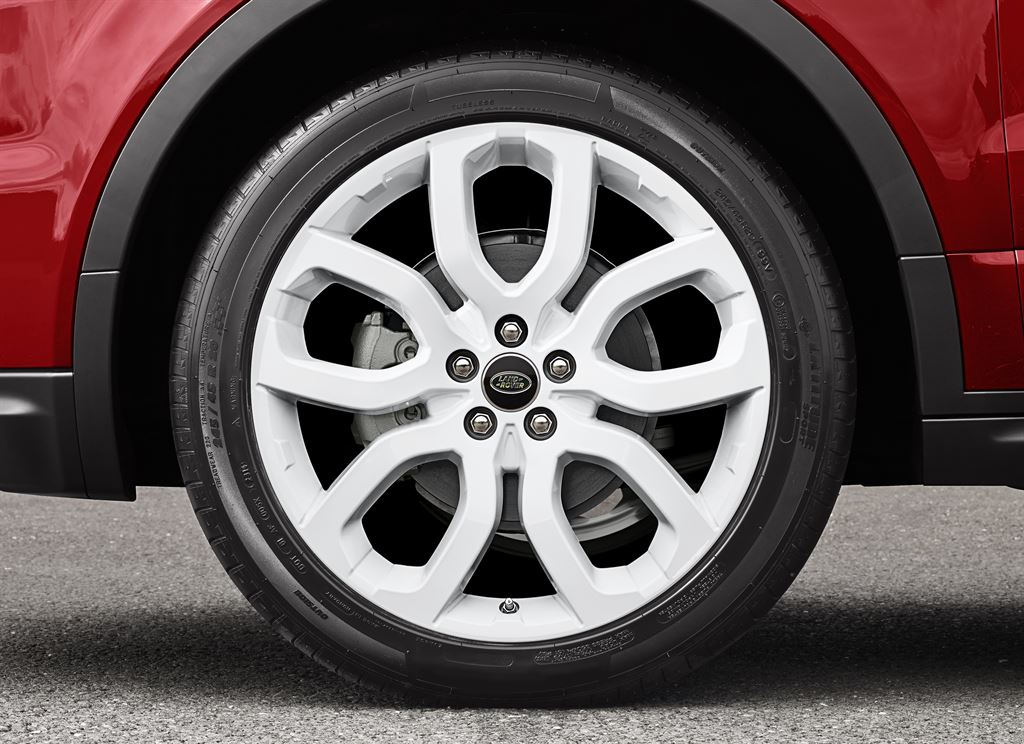 The cabin continues the theme with Taurus Ebony leather upholstery, door inserts, arm rests and facia trim picked out with contrast Cirrus stitching. A stand-out anodised red finish is applied to the rotary shift controller and shift paddles for models fitted with the 9-speed automatic transmission, while versions with the manual transmission receive a unique themed gear lever insert. Headrests are finished with tags bearing the Union Flag colour graphic, and this is repeated on the carpet mats with Ebony binding. As a finishing touch, the same motif, rendered in monochrome, is etched into the sill plates and vehicle key.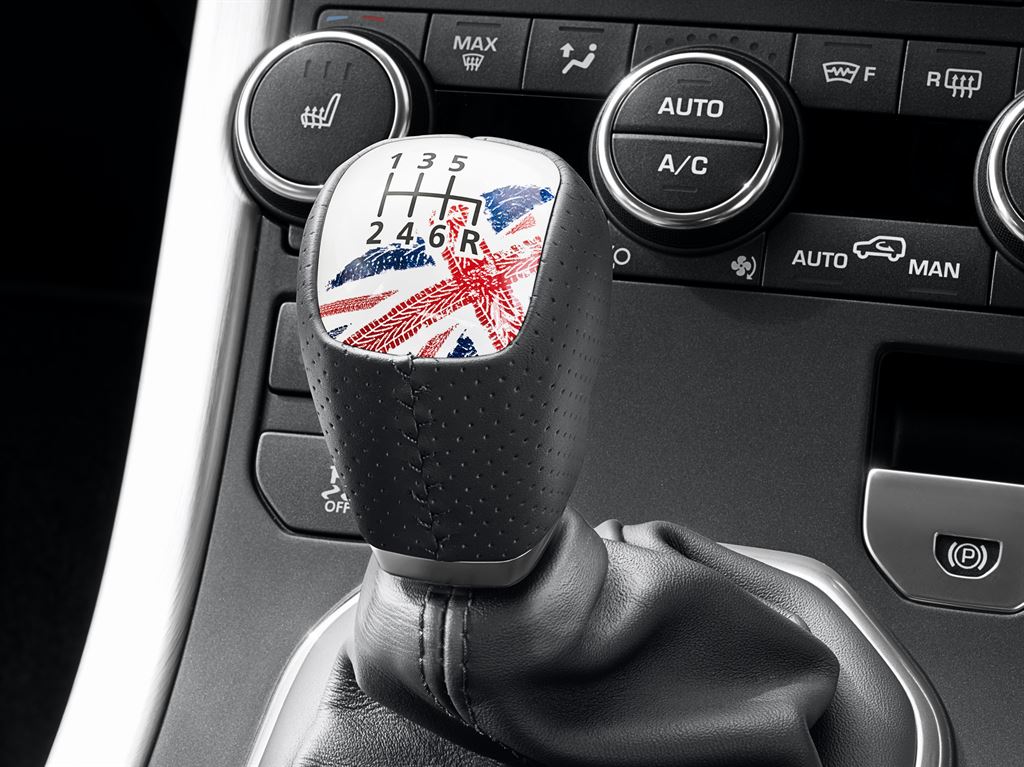 SW1 Special Edition Evoque Monochrome adds a twist by following the style treatment of the Evoque Union, but with the graphics and details presented in a single colour, Based on the Pure body style, it will be available with a choice of Santorini Black, Fuji White and Corris Grey paint finishes, with a contrast black roof on the second two colours. Again, Fuji gloss white 20″ alloy wheels and the tick decals are featured. The interior features Ebony upholstery, door trim and facia insert. The anodised red rotary control and shift paddles strike an eye-catching contrast inside. Both special edition models feature unique white RANGE ROVER lettering on the bonnet.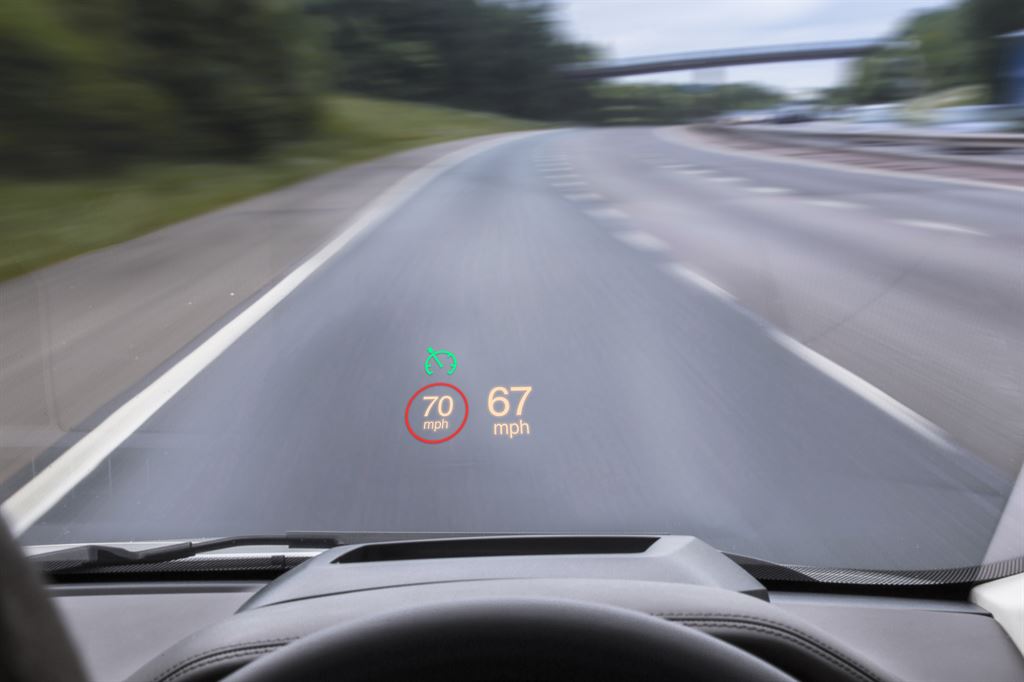 Head-Up Display
Range Rover Evoque is now available with an advanced integrated laser Head-Up Display (HUD). The secondary driver information display projects useful information directly onto the vehicle's windscreen and into the driver's field of vision. In a world first, the Land Rover system features laser holographic techniques, resulting in superior colour saturation, brightness and contrast compared to rival systems, and all in a small, lightweight package. The innovative laser system is more robust against issues such as "washout" – the effect that the glare from sunlight has on inferior LED-based systems.
A further addition to the Range Rover Evoque's suite of innovate technologies, HUD allows drivers to maintain a clear view of the road, while simultaneously receiving key driving information such as road speed, gear position, turn-by-turn navigation, traffic sign recognition, the cruise control set speed and the Automatic Cruise Control (ACC) status, including warnings. The system is fully configurable and customisable all functions can be switched on or off, brightness can be increased or decreased and the vertical position of the display can be adjusted from the cluster menu.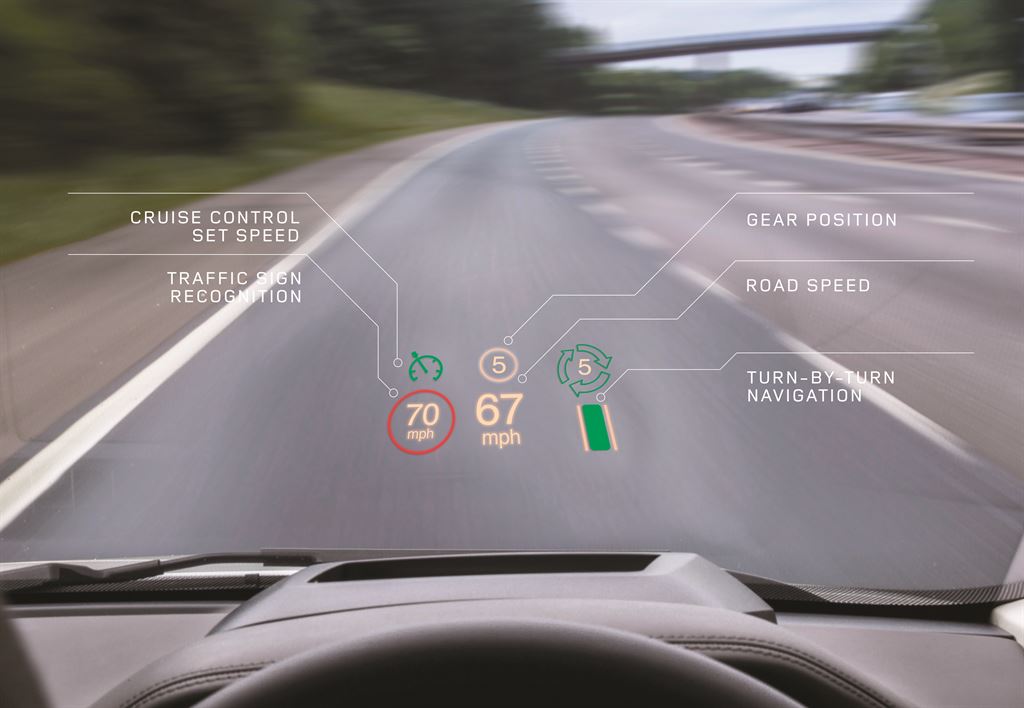 "Jaguar Land Rover's HUD system is an innovative driver information tool, which really pushes the boundaries of advanced laser projection technology. It borrows from military technology – which, until now, has been unheard of in the automotive industry." says Murray Dietsch, Director Land Rover Programmes "Land Rover is commited to preventing the risk of accidents by reducing driver distraction. By presenting key driver information in this way and removing the need for the driver to look away from the road ahead, HUD is an important step on the journey to delivering Land Rover's vision of the intelligent car of the future."
Available to order now on the Range Rover Evoque, HUD functionality will vary to ensure an optimal customer experience. HUD is now available as an option in almost all markets.
Since its launch in 2011, the Range Rover Evoque has won 161 international awards for its combination of leading-edge design, striking interior craftsmanship, in-car technology and off-road capability. With highly competitive pricing, a range of powerful yet efficient petrol and diesel engines, 'On-Demand' Active Driveline to enhance agility and efficiency and a fuel-efficient 9-speed automatic ZF transmission, the Evoque continues to win awards across the globe.