Thinking of getting yourself the new Perodua Axia? Well, to help you along with the decision process, we've compiled 10 things that you should know about Perodua's 10th car!
ADVERTISEMENT
1. The Perodua Axia's claim to fame is that it's Malaysia's first energy efficient vehicle. In simple terms, it is the most fuel-efficient 'local' car on the market, excluding hybrids, diesels and electric cars, which returns a respectable 21.6km/litre (manual) and 20.1km/litre (automatic). Credit for Axia's fuel economy goes to its low-emission, all-aluminium 3-cylinder 998cc petrol engine that delivers 67hp and 90Nm of torque. You might not be impressed with these figures, but do note that the Axia is built for affordable eco-driving and excellent mileage so you must be willing to compromise on outright performance.
Trivia: The Axia's cylinder head cover is made of high-quality, impact- and heat-resistant plastic.

2. The Perodua Axia possesses a luggage space that is more spacious than a Perodua Myvi! 260-litres to be exact and this allows you to store at least 4 cabin size bag side-by-side, although the boot is likely more appropriate for gym bags and grocery bags for a trip to the shopping mall. On top of that, the Axia features versatile seating configurations that can be easily adjusted to carry oversized items like a bookshelf or bikes by simply positioning the front passenger and rear seat in full-flat mode.

3. The Perodua Axia comes in two distinctive exterior designs to choose from. The basic E & G variants (above) features an aerodynamic front bumper, grille and rear bumper as well as halogen headlamps and 8 spoke alloy rims.

The top of the line SE & Advance variant (above) on the other hand, comes fitted with sporty front bumper, rear bumper and grille with fog lamps, retractable side mirrors with turn signals, chrome finish side skirting, eagle-eye projector headlamps, 5-split alloy rims, rear spoiler with 3rd brake light (LED type) as well as LED Tail Lights. If you notice from the picture above, the styling design between both the basic and the top-of-the-line variants is quite significant, but both projects a dynamic, modern and bold look.

4. The Perodua Axia is designed to be female friendly! You'd be surprised to find convenient features such as a built in tissue compartment at the back of the front passenger seat so you won't have to carry a large tissue box in the car.

On top of that, the Axia comes with an anti-snatch hook that's strategically located on the side and at the back of the front passenger seat so you can sling your handbags or tapau food safely and securely in the car. Besides that, there's plenty of storage space that allows to store your keys, smart tags, sunglasses, coins or smartphones whilst on the road or away from praying eyes.

5. Female drivers will also love the Perodua Axia because it is such an easy and nimble car to drive especially in busy streets of Kuala Lumpur. Its 4.5m turning radius makes it trouble-free for you to make the tightest U-turn without breaking a sweat and the front corner sensor allows you to park your vehicle effortlessly especially in a small space. To top it off, the Axia comes with Electronic Power-Steering that allows easy manoeuvring so you don't have to build bigger biceps when making a sharp turn (if you used to own a vehicle with no power-steering then you'll know what I'm talking about!). There are two types of transmissions available, 5-speed manual and 4-speed automatic, but I was told Perodua receives more bookings for the stick shift in rural areas compared to automatic variant, which is more popular in the capital city. If you like to know how does the Axia behaves on the road, click here.

6. Creature comforts: Techie gadget freaks will probably love the Perodua Axia Advance variant. It comes fitted with a touch screen multimedia system with built in GPS that allows you to navigate your way to your destination. On top of that, the touch screen multimedia hosts Bluetooth with hands-free function, Wifi Hotspot Locator, DVD Player as well as USB connectivity that allows you to listen to your favourite songs wherever you go.

7. The interior is very decent for an affordable priced car where the dash is well laid out and made of good quality materials, although I think that some bits of the interior feel chintzy and cheap. However, if you have sophisticated taste and are willing to splurge, you can also opt for the top if the line Advance variant as it is generously equipped with semi-bucket leather seats and leather-wrapped steering wheel with audio control.

8. Small might not necessarily mean you'll be cramped in this cute compact car. Based on our observations, the Perodua Axia actually offers plenty of space to accommodate at least 5 adults in comfort (well, that depends if one of your friends is a little chubbier than the other). The Perodua Axia actually feels open and airy whether you're seated in either the front or back, with spacious legroom and headroom to spare for an average 5″5″ passengers.

9. The Perodua Axia has an ASEAN NCAP 4-Star Rating, with safety and security features fitted in accordance with Malaysian regulations. For instance, you'll be able to find dual SRS airbags, 3 point seat belt, ISOFIX system, Immobiliser as a standard feature while an anti-snatch hook, solar and security window film as well as ABS (Anti-lock braking system) with EBD (Electronic brake distribution) & BA (Brake Assist) are also available for the top of line variants.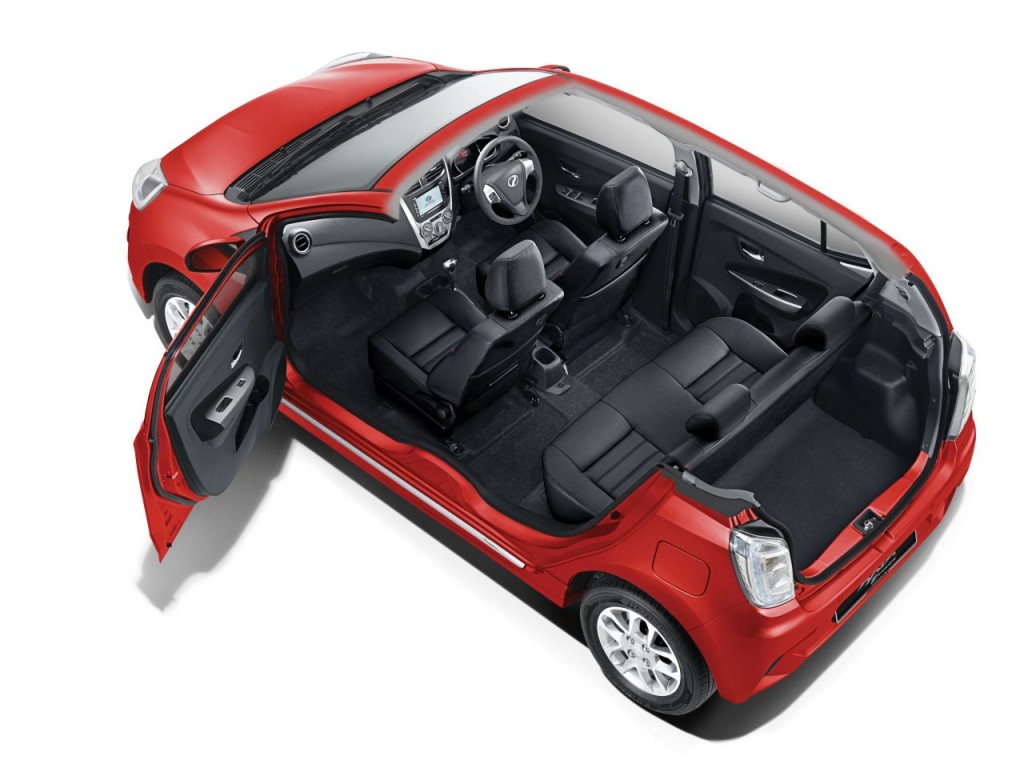 10. The Perodua Axia is backed up by an epic warranty of 5 years or 150,000km.* On top of that, Perodua has designed the Axia with the lowest cost of ownership in the market. With less than RM2.5k down payment, you can own the Axia with monthly instalments from as low as RM265**. Yes, you can't get any cheaper than that! Besides that, Perodua has designed the car for easy repair, which should keep your ownership cost as little as possible.
(NOTE: If you're holding off your decision for the launch of the Proton PCC/Iriz, you might want to check out the end of this article as to why the Perodua Axia is NOT really its competitor)
*Term and Conditions apply
**Price for Standard E (Solid) manual with 9 years monthly instalment