So the teasing is over, the launch has just taken place a couple of days ago, and the gloves are now off. No more teasing, no more embargoes. It's time to reveal the photos and what went down on 19th August 2014 at MAEPS Serdang, when the media were allowed a first impression drive of the new Perodua Axia.
As mentioned in the Axia first impression, we were not allowed to use any of the photos that we took that day, so here they are in all their glory. First though, we've just learned that bookings for the new Axia have surpassed 15,000 units nationwide, following the initial order-taking which started on 15th August. That is a staggering number of bookings, surpassing everything that Perodua has introduced in the past.
RIDE & HANDLING
Despite being a short test-drive course, the route proved ideal for testing the ride and handling characteristics of the new Axia, thanks to the multitude of undulations, corners and crests. While outright speed in not what the Axia is all about, it nonetheless provided a very comfortable ride. Being a small engine, it does tend to get loud, especially when gunned hard, and while it was never intended to be a performance car, the Axia does exhibit very good road-holding manners. Expectedly, suspension travel is a but on the short side, given the size of the car, but overall, driven and used for what it was created to do, the Axia does well,
INTERIOR
This is probably the Axia's strongest point. It's remarkable just how much space there is over on the inside of this car. As always, being part 'Japanese', the Axia was built from the inside-out, since Perodua also claims that "You Matter Most!" when it comes to the Axia, and therefore it's obvious that the designers have placed a lot of emphasis on the interior. I'm always teased during the launch of small cars, as to whether or not I can fit. Well, at 6'2″, yes, not only can I fit, I can get quite comfortable, and that goes for the rear seat too.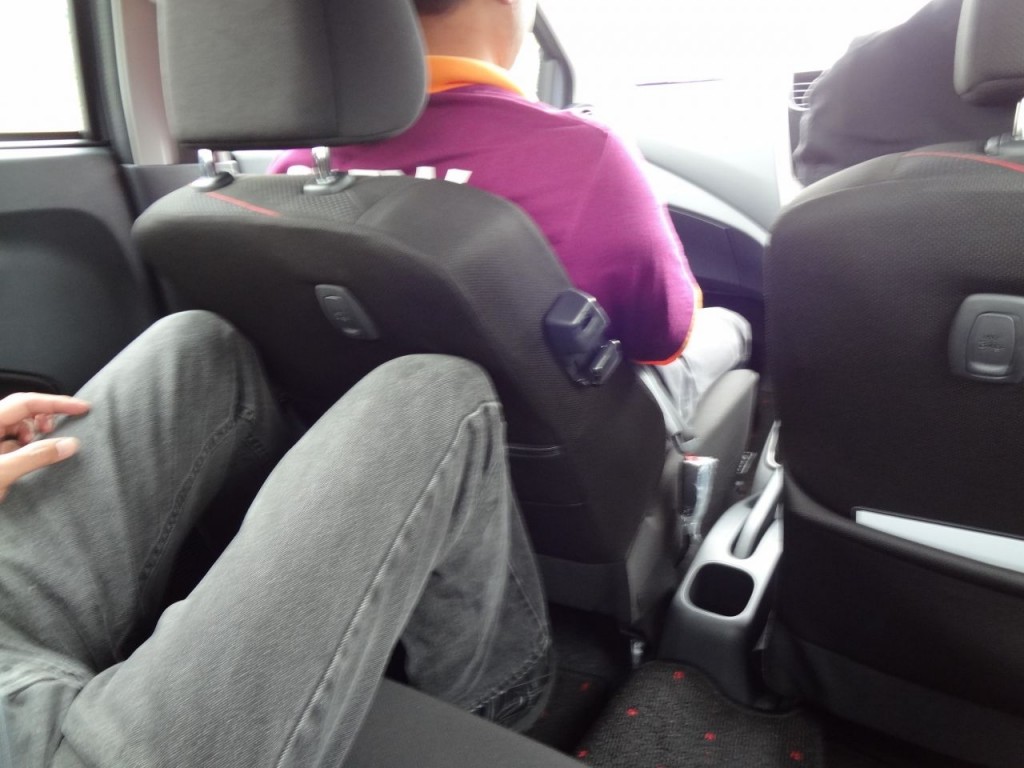 ENGINE
Do try to remember, it's just a 998cc DOHC 12-valve that churns out 67bhp and 90Nm of torque. It was built for fuel-efficiency, not to win races, and in that respect, it's Malaysia's first locally-made EEV or energy efficient vehicle, returning 21.6km/L (manual) and 20.1km/L. It's a relatively quiet engine, which only makes its presence known if the accelerator is floored and kept there (4-speed auto variant). The manual variant on the other hand offers very slick-shifts through its 5-speeds, the clutch is extremely light, and having driven to the venue in my own manual TX3, I'm quite sure I dented the floorboard the first time I hit the clutch; it's just that light.
COMPONENTS, FIT & FINISH
Remember what I mentioned in my article about carmakers producing a cheap car but not making it look and feel cheap? Well, that's what Perodua has done with the Axia, IF you don't take into consideration the lowest spec model – Standard E*. However, for the rest of the variants, it's a very decent all-round package that just reeks of value-for-money.
*(Excerpt from Axia launch article: There's a reason why this car (Standard E) costs less than RM25k, and that's because it doesn't even have a rear-demister. Not kidding. It really is very basic, and apart from the mandatory dual-front airbags, perhaps its only creature-comforts are power windows all-round and 2 cup-holders in front. There isn't even a basic stereo or speakers.)
PRICING & CONCLUSION…Should you wait for the Proton Iriz?
The imminent launch of the Proton PCC/GSC/Iriz doesn't seem to be causing Perodua any sleepless nights, and it shouldn't, because they are "not competitors". In Perodua's own words, they feel the Axia is in "a different class from the Iriz, especially when price and engine size is taken into consideration. The Axia is a 1.0L car, while the Iriz is a 1.3L & 1.6L."
There is some truth in this, for in terms of pricing the Axia starts at a mere RM24,600 to RM42,530, while the Iriz starts at RM42,888 and goes all the way up to a whopping RM62,438. Look at it this way, for the price of a base-line 1.3 Iriz Manual, you can get the top-of-the-line Axia SE Advance Auto. "Both the Perodua Axia and Proton Iriz will appeal to different segments of the market; both have their own strengths and appeal, and we wish Proton all the best…" – Perodua.
So don't wait, if you want the Axia get it now, and if you want the Iriz, more will be revealed here on AF in 10 days after its official launch on 25th September. Just in case you missed the Axia TV commercial which aired following the launch on Monday 15th Sept, log on to our official Facebook page here: https://www.facebook.com/Autofreaks
MEDIA PREVIEW PHOTO GALLERY