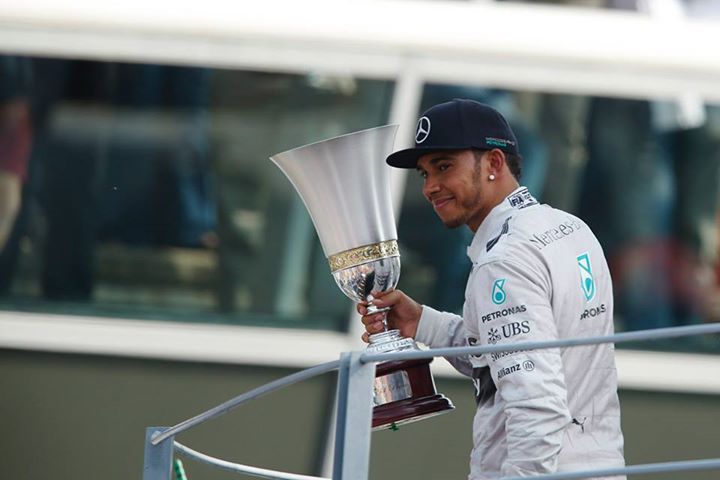 ADVERTISEMENT
Lewis Hamilton overcame an early setback to claim victory at Monza Italy. Nico Rosberg settled for second following a mistake during mid-race, adding another 1-2 result for the Mercedes squad. Williams' Felipe Massa grabbed his first podium of 2014 by finishing third. Hang on a sec; where was Ferrari at its home race?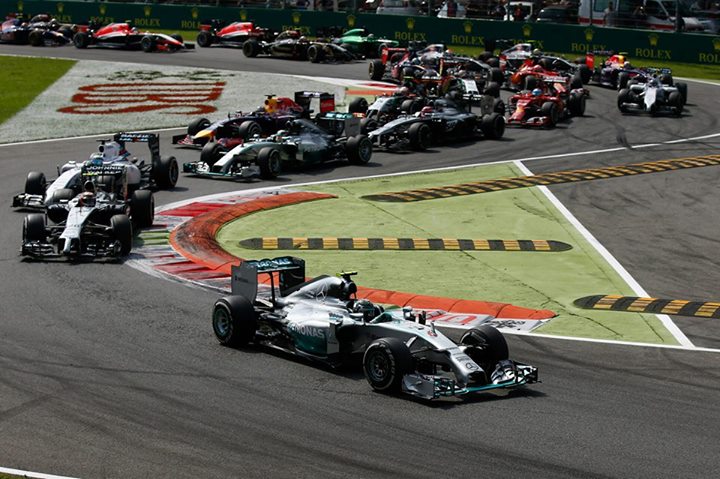 Hamilton began the race poorly when his Mercedes struggled for power, losing his pole position to Rosberg, McLaren's Kevin Magnussen and Massa. The defiant Briton fought all the way up towards his teammate.
Rosberg locked his front tyres at the tricky first corner at Monza and used the escape road to rejoin the race on lap 9, but it was his second similar mistake twenty laps later which caused him dearly. Hamilton capitalized from Rosberg's mistake by retaking the lead from the German and never looked back.
Monza, which is also known as the cathedral of speed, saw a great number of overtaking battles between many drivers. Williams's Valteri Bottas and Red Bull Racing's Daniel Ricciardo were in an overtaking frenzy, overtaking other racers like there's no tomorrow.
Ricciardo's daring moves at 300kmh on both Raikkonen and Sebastian Vettel were clearly documented in the GIF animations as below. That stellar driving rewarded him fifth, just behind Bottas and in front of Vettel.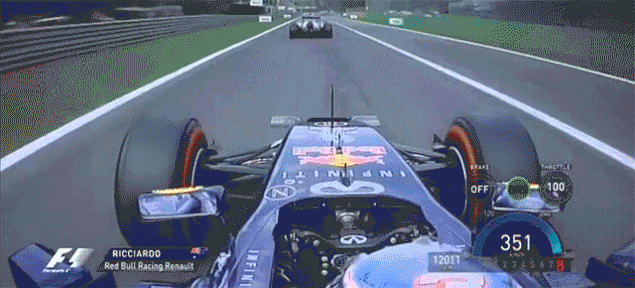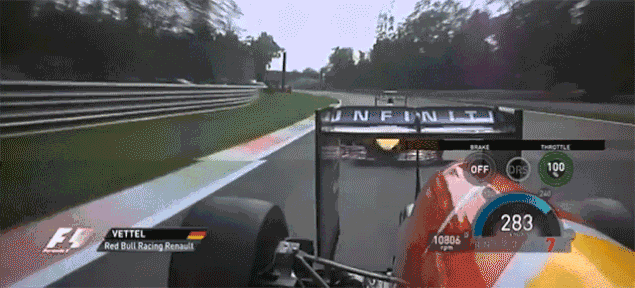 Danni Kvyat's last minute dash towards Raikkonen almost ended up a disaster when he lost control on the first corner, but regained composure to rejoin the race. He finished his race in eleventh place.
Heartbreak could be felt in Monza as the passionate Italian fans were disappointed to see Fernando Alonso's Ferrari succumb into mechanical troubles. This is Alonso's first retirement since the 2013 Malaysian Grand Prix.
The results at Monza meant Hamilton is only 22 points adrift of Rosberg. The F1 circus will leave Europe for Singapore in two weeks time.
RESULTS
1. Lewis Hamilton Britain Mercedes 1hr 19m 10.236s 53 laps
2. Nico Rosberg Germany Mercedes +00m 03.1s
3. Felipe Massa Brazil Williams-Mercedes +00m 25.0s
4. Valtteri Bottas Finland Williams-Mercedes +00m 40.7s
5. Daniel Ricciardo Australia Red Bull-Renault +00m 50.3s
6. Sebastian Vettel Germany Red Bull-Renault +00m 59.9s
7. Sergio Perez Mexico Force India-Mercedes +01m 02.5s
8. Jenson Button Britain McLaren-Mercedes +01m 03.0s
9. Kimi Raikkonen Finland Ferrari +01m 03.5s
10. Kevin Magnussen Denmark McLaren-Mercedes +01m 06.1s
11. Daniil Kvyat Russia Toro Rosso-Renault +01m 11.1s
12. Nico Hulkenberg Germany Force India-Mercedes +01m 12.6s
13. Jean-Eric Vergne France Toro Rosso-Renault +01m 13.0s
14. Pastor Maldonado Venezuela Lotus-Renault +1 lap
15. Adrian Sutil Germany Sauber-Ferrari +1 lap
16. Romain Grosjean France Lotus-Renault +1 lap
17. Kamui Kobayashi Japan Caterham-Renault +1 lap
18. Jules Bianchi France Marussia-Ferrari +1 lap
19. Marcus Ericsson Sweden Caterham-Renault +2 laps
20. Esteban Gutierrez Mexico Sauber-Ferrari +2 laps
Rtd. Fernando Alonso Spain Ferrari 28 laps completed
Rtd. Max Chilton Briton Marussia-Ferrari 5 laps completed
Fastest lap:
Lewis Hamilton Britain Mercedes-Mercedes 1m 28.004s Lap 29
[Image Source: AMG Mercedes Petronas]