Hyundai Motor is offering customers a growing range of attractive N choices. With the launch of the New Tucson N Line, they'll be able to drive the brand's first SUV with the sporty N look and feel. To mark the occasion, Hyundai enlisted German artist Andreas Preis to create the 'Drive A Statement' Project Tucson, a unique illustration on a New Tucson N Line.
The New Tucson N Line combines the popular design, safety and comfort of Tucson with the motorsport-inspired dynamic styling and attitude of N Line. With its sportier, aggressive design elements, the model is aimed at people who want to "drive a statement" that is sophisticated, yet bold.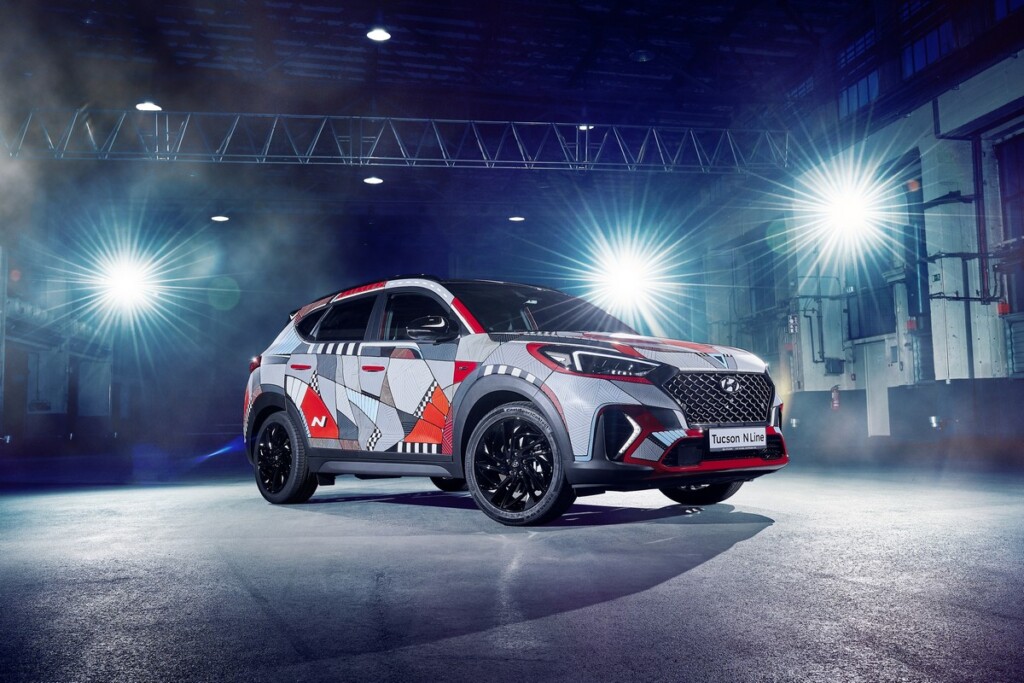 For this special occasion, Hyundai chose to work with Andreas Preis as he is renowned for his multi-faceted works of art. He specialises in illustration, murals and live paintings and likes to draw and paint portraits of abstract shapes and ornaments through a range of different mediums including paper, canvas, walls and wood.
Hyundai asked Preis to create a truly eye-catching design that turns the New Tucson N Line into a real statement, while emphasising the car's new features. It is inspired by Hyundai N's heritage, and takes many cues from motorsport, with references to corners, chicanes, curbs and chequered flags, as well as the livery of Hyundai's i20 Coupe WRC and i30 N TCR models. The visual elements and lines also create a dynamic, fast look, especially along the sides of the car.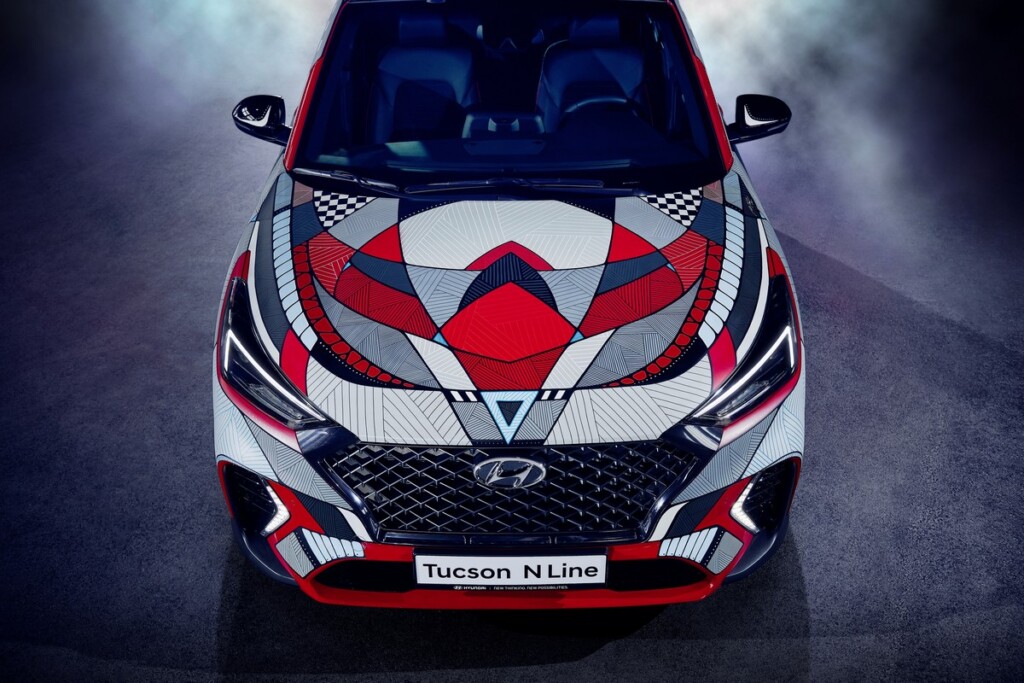 The base colour of the illustration is Engine Red, and the artist has utilised the N Line colour palette of black, white, red and light blue. Preis' design highlights key aspects of the model, such as its more aggressive and sporty front, which includes a new grille design, refined daytime running lights and new black-bezel headlamps. It also draws attention to the car's elegant glossy black accents on the side mirrors and rear spoiler, as well as the dark alloy wheels and N Line badge. After designing the illustration, Preis transferred the work onto the car by hand with great attention to detail, with the whole production taking 72 hours of painting.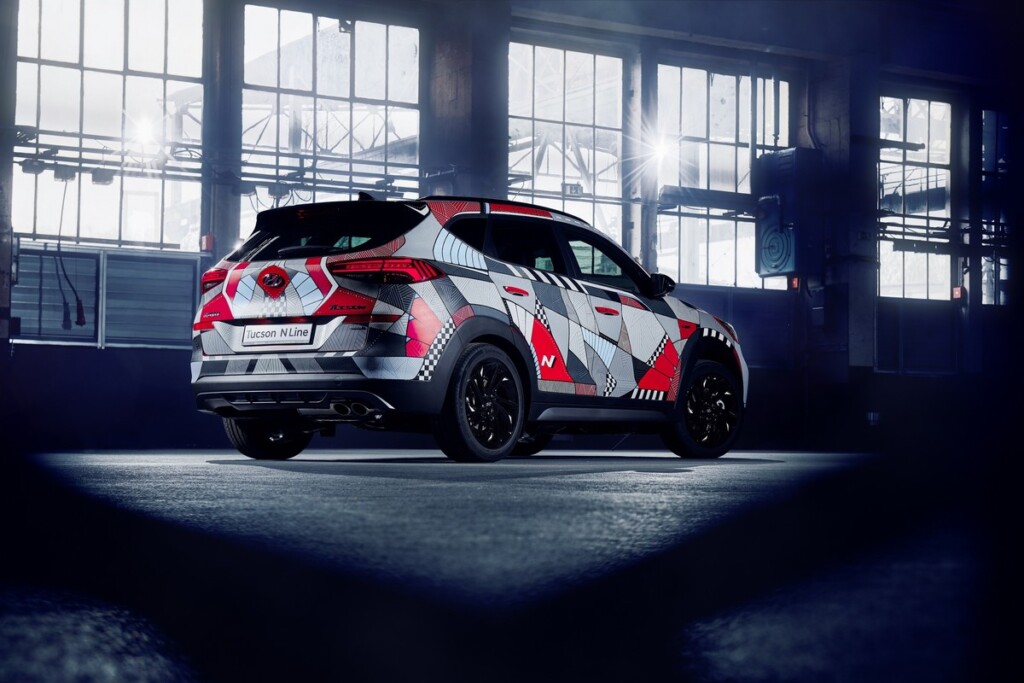 "I was very excited to be asked by Hyundai to create an illustration on a New Tucson N Line. It is not every day you get to create an art work where a complete car is the canvas. With this project, I was able to turn the car into a statement of my own," said Andreas Preis, Artist and creator of the 'Drive A Statement' Project Tucson
"With the New Tucson N Line, we are appealing to a new customer base compared to the regular version. We therefore wanted Andreas Preis to create the 'Drive A Statement' Project Tucson to demonstrate that this is a special new model for Hyundai. I believe he has achieved this, and it fits perfectly with our claim that you are driving a statement. We will soon be displaying this unique car at events around Europe," said Andreas-Christoph Hofmann, Vice President Marketing and Product Hyundai Motor Europe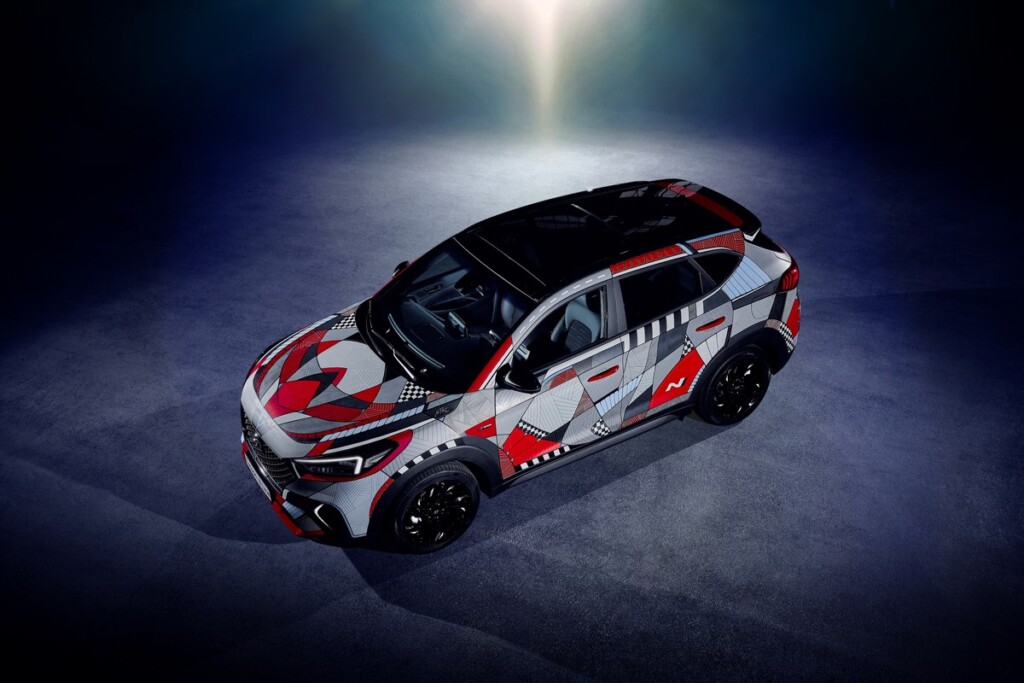 New Tucson N Line: a family SUV with Hyundai N sportiness
The Tucson N Line is the first Hyundai SUV with the sporty N Line look and feel. Available in three powertrain variants, the model provides customers with the option to choose a family-friendly vehicle that suits their daily driving needs.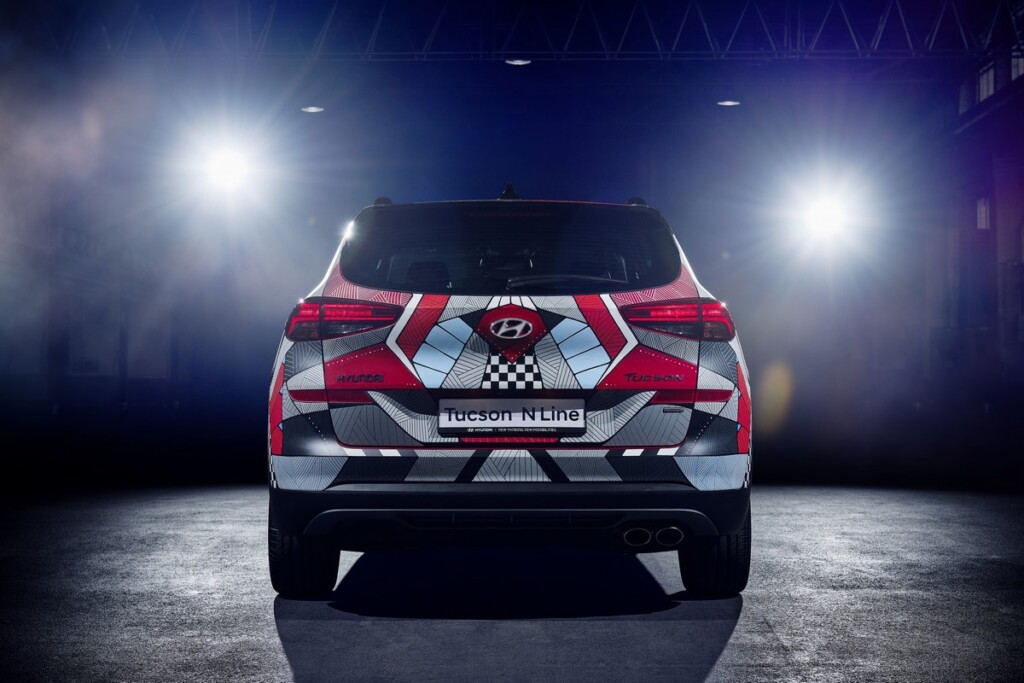 The new trim features exterior and interior elements inspired by N, Hyundai's high-performance range. The dynamic design features are complemented on the two petrol models by refined chassis and suspension settings to customers can experience a more sporty drive feel.
In the interior, consumers can enjoy N-branded leather sport seats and a sport steering wheel. Other enhancements include alloy pedals and the leather-wrapped, red-accented N gear shift level.