NTT DOCOMO, INC. (DOCOMO) and Toyota Motor Corporation (Toyota) today announced that they have successfully controlled the Toyota-developed T-HR3 humanoid robot in trials using fifth-generation mobile communications (5G) under a test environment with control from a remote location (a distance of approximately 10 kilometres) using 5G in an area between two points.
ADVERTISEMENT
Toyota developed the T-HR3 with the aim of creating a partner robot that can safely support human activities in a variety of circumstances, such as homes and healthcare institutions. By employing Torque Servo Modules that control torque (power) and a Master Maneuvering System that allows the robot's entire body to be operated at will, the operator can feel external forces exerted on the T-HR3 and prompt it to move in the same manner as them.
To ensure it achieves gentle, smooth movement, minimizing communication delays during control signal exchange between the T-HR3 and the Master Maneuvering System is essential. Until now, T-HR3 experiments have been conducted on a wired connection, with relatively few communication delays. This time, with an eye toward improved use in practical environments, the T-HR3 was successfully controlled wirelessly, using low-latency 5G communication technology developed by DOCOMO.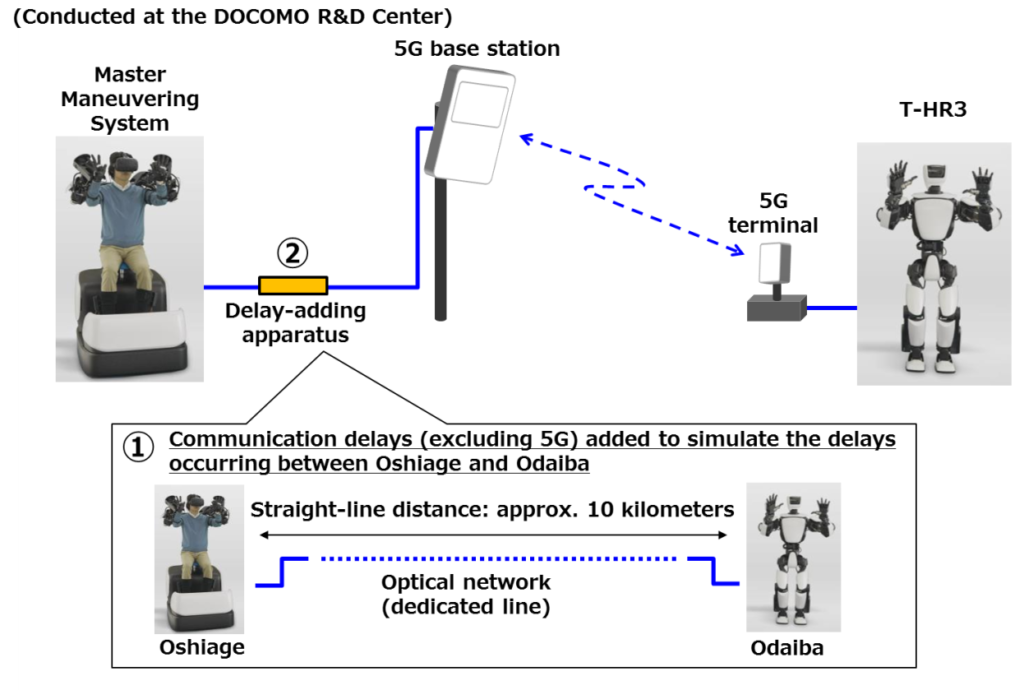 DOCOMO and Toyota plan to demonstrate the technology between Tokyo Big Sight and Tokyo Skytree as part of the DOCOMO Open House 2018, which will be held at Tokyo Big Sight over two days starting on December 6, 2018.
DOCOMO and Toyota aim to continue conducting trials based on diverse scenarios of robot use, and intend to research and develop technologies and services with the aim of realizing 5G services in 2020 and, subsequently, a prosperous society of mobility.