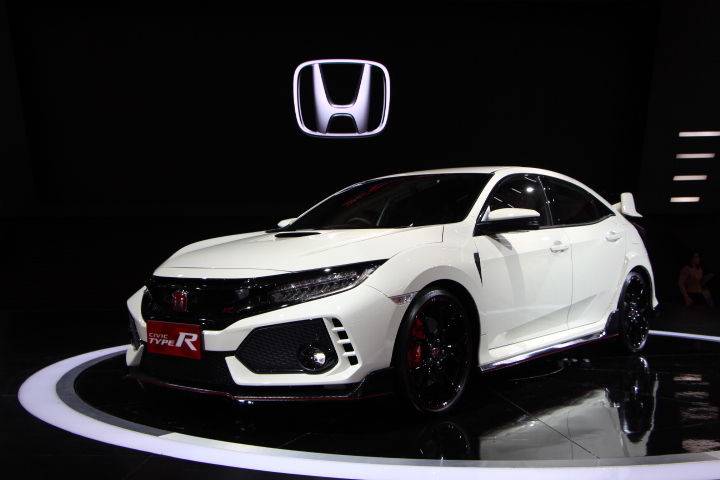 There was no doubt about it, this was the show-stopper right here; the one everyone had come to see, the all-new Honda Civic Type-R (CTR). It's been setting records around the globe, not least of which, shattering the Nurburgring FWD record for a production car by and astounding margin with a time of 7min 43.8sec.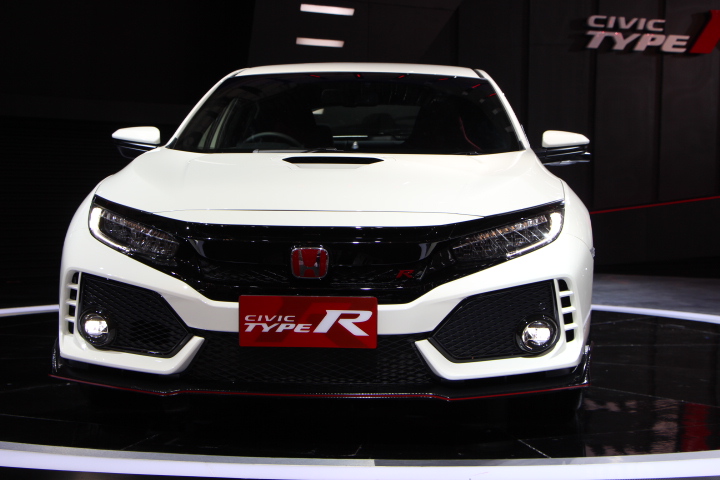 Perhaps the most recent record for the coveted CTR, would be made right here at the 2017 Gaikindo Indonesia International Auto Show (GIIAS), whereby the first 50 units allocated to Indonesia seem to have been all snapped-up even before the start of GIIAS, at a price of Rp995 million (circa RM300,000)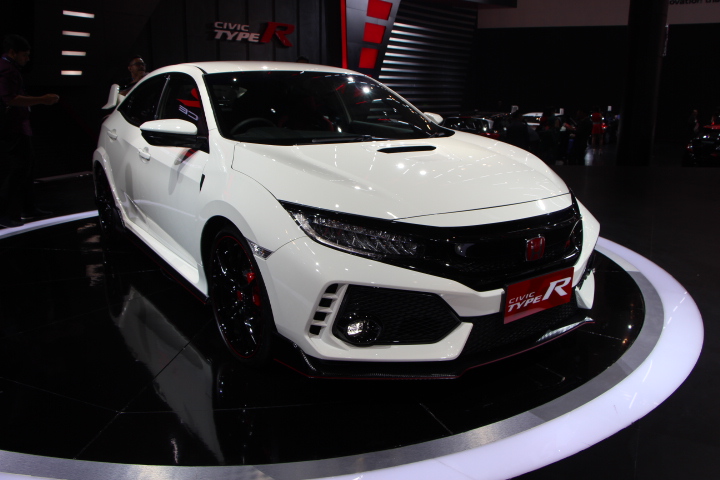 With the theme of "Born To Race" as its starting point, the whole set-up of Honda's pavilion at GIIAS, which is on-going till 20th August 2017, exudes a very sporty feel, with the new CTR taking centre-stage of course.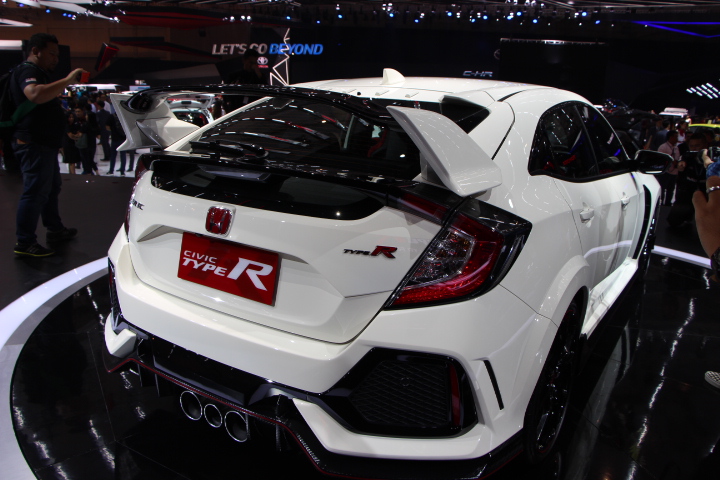 Born in 1992 and celebrating its 25th Anniversary in 2017, the CTR is no stranger to sports-driving car-enthusiasts the world over. Now in its 5th incarnation, the exploits of the new CTR have been well documented, but as a recap, it's powered by a stonking 2.0-litre VTEC Turbocharged engine with a maximum power output of 310Ps @ 6,500rpm and 400Nm of torque at 2,500-4,500rpm. Power goes to the front wheels via a 6-speed short-shift manual transmission.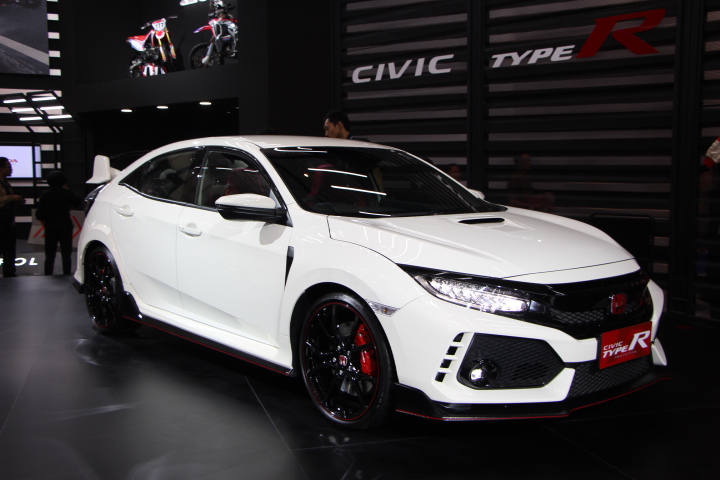 The CTR also has 3 driving-modes, Comfort, Sport and Race, or as Honda calls it, "+R" (below)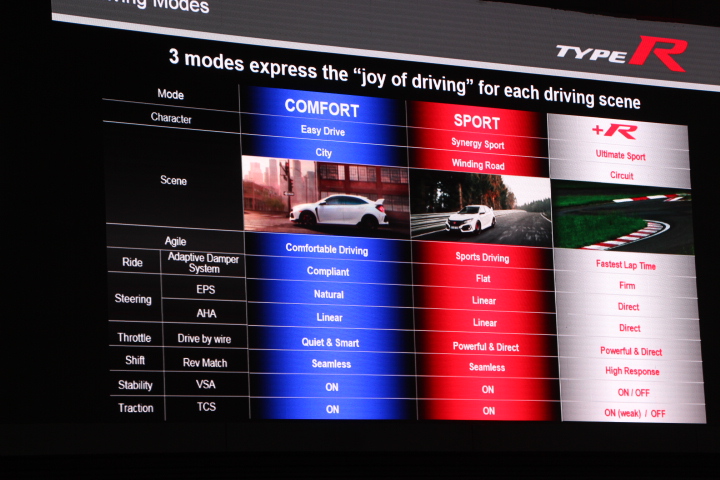 Speaking at the launch, Hideki Kakinuma, Chief Engineer & Assistant Large Project Leader of the Honda Civic Type-R from Honda R&D Co. Ltd. Japan, presented the key aspects of the new CTR, which are better illustrated in order of his presentation in this photo gallery below: (captions for each photo can be read in the Photo Gallery at the bottom)
Interview with Hideki Kakinuma, Chief Engineer & Assistant Large Project Leader of the Honda Civic Type-R from Honda R&D Co. Ltd. Japan, who has been with Honda R&D since 1991 and worked on cars like the NSX, S2000 and of course the all-new Civic Type-R: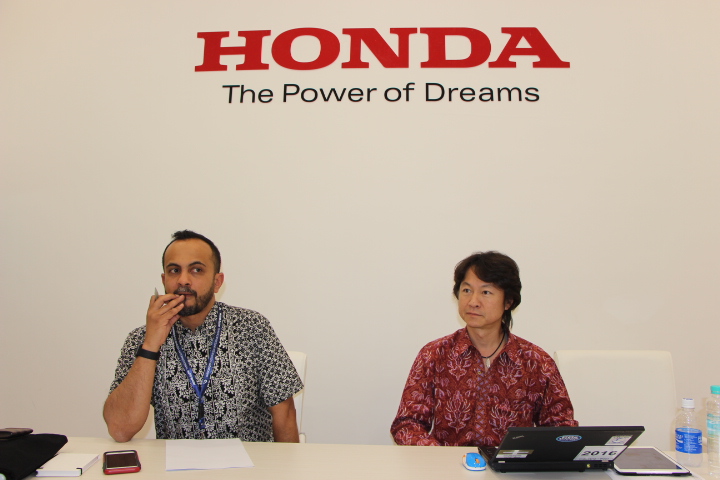 Q: With more and more carmakers turning to all-wheel-drive for their more sporty models, and the new 5th generation CTR pushing out 310Ps to the front wheels alone, will we see an AWD CTR in the 6th gen perhaps?
A: We never say never. Yes. it's a "possibility", of course, we would not discount this, but the policy (mission statement) for the CTR has always been "simple & fun to drive". We feel that even with just FWD, the CTR is still fun to drive. An AWD system will also add weight, and may take away from our credo of 'light, speedy, fun and fast'!
Q: As far as transmissions go, till now it's always been a manual tranny for the CTR, would an auto Dual Clutch Transmission (DCT) be in the pipeline sometime in the future?
A: Again, we never say never. The CTR for now will always be a manual, however, as technology progresses and advancements are made to DCTs, insofar as how fast they change gears and more crucially their weight, yes, it may be a possibility to have this in future, however, it must still be true to out mission statement for the CTR.
Q: In regards to the body-style, this 5th gen is based on a Civic hatchback, whereas the FD2R was a sedan, why the switch, and why still a 4-door and not a coupe?
A: The CTR is still a Civic, and in terms of positioning the Civic is a practical car, and can be used daily, so we feel that in terms of practicality, a 4-door is always better than a 2-door, however, of course a 2-door CTR would also be interesting, and who knows, maybe in future the CTR may be a coupe… never say never!
Q: How long was this 5th generation CTR in its development stages, and what was the philosophy surrounding the creation of the new CTR? What would you say is better about this 5th gen over the 4th gen?
A: For this generation alone, we spent 2 1/2 years developing it, with the philosophy of a daily-driver that can be used as a race-car, and by the way, this is also the first time we are simultaneously launching the new CTR across the globe. In terms of what's better from the 5th over the 4th gen CTR, I would say the power distribution and delivery is much better, as well as the overall driveability of the car and the respose. Also, how this new CTR puts the power down is much better.
Q: Wait, a daily-driving race-car? Sounds a lot like the Porsche 911 kind of philosophy of 'Race on Sunday, drive to work on Monday". Was the 911 an inspiration for the CTR's design and ownership proposition?
A: (Laughs) Well, of course we know about Porsche's (credo for the) 911 which you mentioned, however while we did have this in mind, the design philosophy for our CTR is not based on that, it is our own… CTR is CTR, Porsche is Porsche! (laughs)
Q: Okay, okay, granted. However, I need to ask, what is your own personal favourite "drivers-car" that is NOT a Honda?
A: (Laughs) Oh dear… hmm, (long pause) I quite like the Porsche 997 Carrera (laughs)
Q: And your most favourite "drivers-car" that IS a Honda?
A: (No pause) Second generation NSX Type-R!
Hideki-San knows his cars! Stay tuned for more from GIIAS 2017!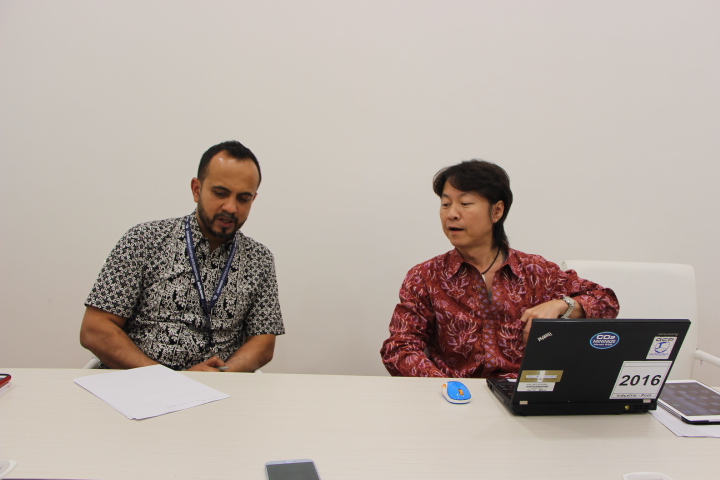 Photo Gallery…