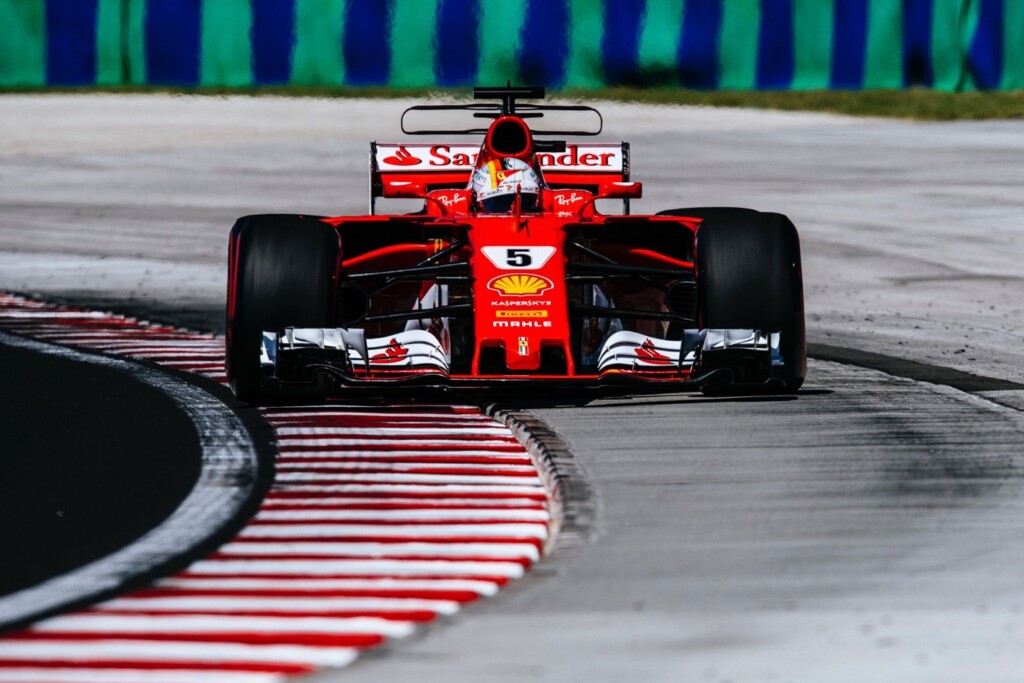 Both the Ferraris took pole and second position for today's Hungarian Grand Prix at Budapest. Directly behind them, breathing down their necks will be the two Mercedes cars and then followed by both the Red Bull Racing cars. Sebastian Vettel is at pole followed by team mate Kimi Raikkonen who was just 0.168s slower. Bottas is in 3rd whilst Lewis Hamilton is in 4th place. Max Verstappen is at fifth and team mate Daniel Ricciardo is at 6th.
Today will be an eventful race day at Budapest as the first 6 cars will be battling it out throughout the race.
The top ten was completed by the improving McLarens of Fernando Alonso and Stoffel Vandoorne and Carlos Sainz's Toro Rosso.
The surprising star of the qualifying was Williams stand-in Paul Di Resta who was called to be a driver at the last moment to replace Felipe Massa who was unwell enough to race. Paul Di Resta hasn't driven an F1 car since 2013 and only had tested the 2017 car on simulators only. Although he was placed at the 19th spot, his perfomance gave the team some hope as he didn't finish dead last.
With penalties applied, the grid will form thus: Vettel, Raikkonen; Bottas, Hamilton; Verstappen, Ricciardo; Alonso, Vandoorne,; Sainz, Palmer; Ocon, Hulkenberg; Kvyat, Perez; Grosjean, Magnussen; Stroll, Wehrlein; Di Resta, Ericsson.
Here are the full results of yesterday's qualifying session.
POS
DRIVER
Q1
Q2
Q3
1
5
 
FERRARI
1:17.244
1:16.802
1:16.276
14
2
7
 
FERRARI
1:17.364
1:17.207
1:16.444
14
3
77
MERCEDES
1:18.058
1:17.362
1:16.530
18
4
44
 
MERCEDES
1:17.492
1:16.693
1:16.707
17
5
33
 
RED BULL RACING TAG HEUER
1:17.266
1:17.028
1:16.797
14
6
3
 
RED BULL RACING TAG HEUER
1:17.702
1:17.698
1:16.818
14
7
27
 
RENAULT
1:18.137
1:17.655
1:17.468
14
8
14
 
MCLAREN HONDA
1:18.395
1:17.919
1:17.549
17
9
2
 
MCLAREN HONDA
1:18.479
1:18.000
1:17.894
17
10
55
 
TORO ROSSO
1:18.948
1:18.311
1:18.912
19
11
30
 
RENAULT
1:18.699
1:18.415
14
12
31
 
FORCE INDIA MERCEDES
1:18.843
1:18.495
16
13
26
 
TORO ROSSO
1:18.702
1:18.538
15
14
11
 
FORCE INDIA MERCEDES
1:19.095
1:18.639
15
15
8
 
HAAS FERRARI
1:19.085
1:18.771
15
16
20
 
HAAS FERRARI
1:19.095
9
17
18
 
WILLIAMS MERCEDES
1:19.102
9
18
94
 
SAUBER FERRARI
1:19.839
9
19
40
 
WILLIAMS MERCEDES
1:19.868
11
20
9
 
SAUBER FERRARI
1:19.972
8