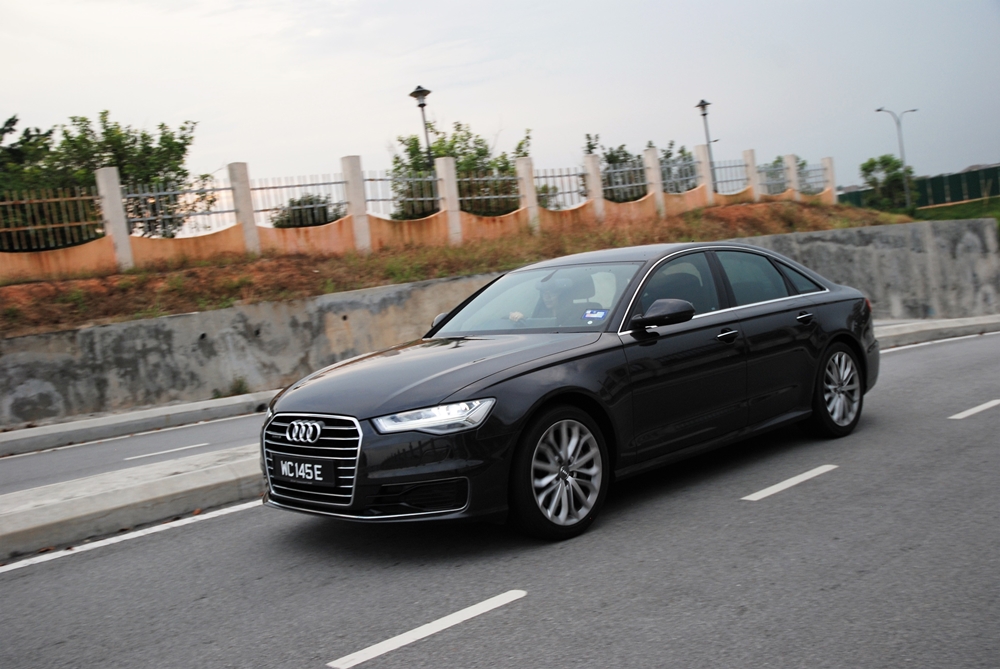 ADVERTISEMENT
Some cars can set your heart racing as soon as you turn the ignition on, while others can perform lots of tasks admirably and sort of blend into the background. Not boring, but just not noticed. Subdued rather than loud, discreet rather than ostentatious… you get the picture.
The Audi A6 3.0 TFSI Quattro is far from boring or unattractive. In fact, it is one of those large luxury sedans that not only pleases the eye but also packs quite a punch. The updated Audi A6 maintains its sharp looks where its signature Singleframe grille now appears even wider, with chrome struts providing a greater level of elegance. Elsewhere on the exterior, changes were also made to the air inlets, bumpers, side sills, rear lights, tailpipes and headlights making for an enhanced aesthetic look that is at once familiar yet worthy of a second glance.
The improved supercharged 3.0 TFSI  V6 engine found under the hood of the updated Audi A6 produces a total output of 333hp and maximum torque of 440Nm between 2,900 and 5,300 rpm. When paired with a 7-speed S tronic transmission and quattro all-wheel drive, the Audi A6 3.0 completes the century sprint in just 5.1 seconds, continuing all the way to an electronically-governed top speed of 250 km/h. However, the A6 feels much faster when accelerating from standstill because Audi puts its updated A6 through a strict diet, with extensive use of aluminium to keep the weight down. As a result, this updated sedan offers a curb weight of just 1,535 kilograms without the driver on board.
Despite its exhilarating performance, the A6 3.0 TFSI quattro is still highly fuel-efficient, with a combined fuel consumption rating of 7.4-litres/100km and a CO₂ emission of just 172g/km.
We've prepared an extensive photo gallery of the Audi A6 3.0 TFSI quattro for your viewing pleasure, so don't forget to check them out below!
Photo Gallery