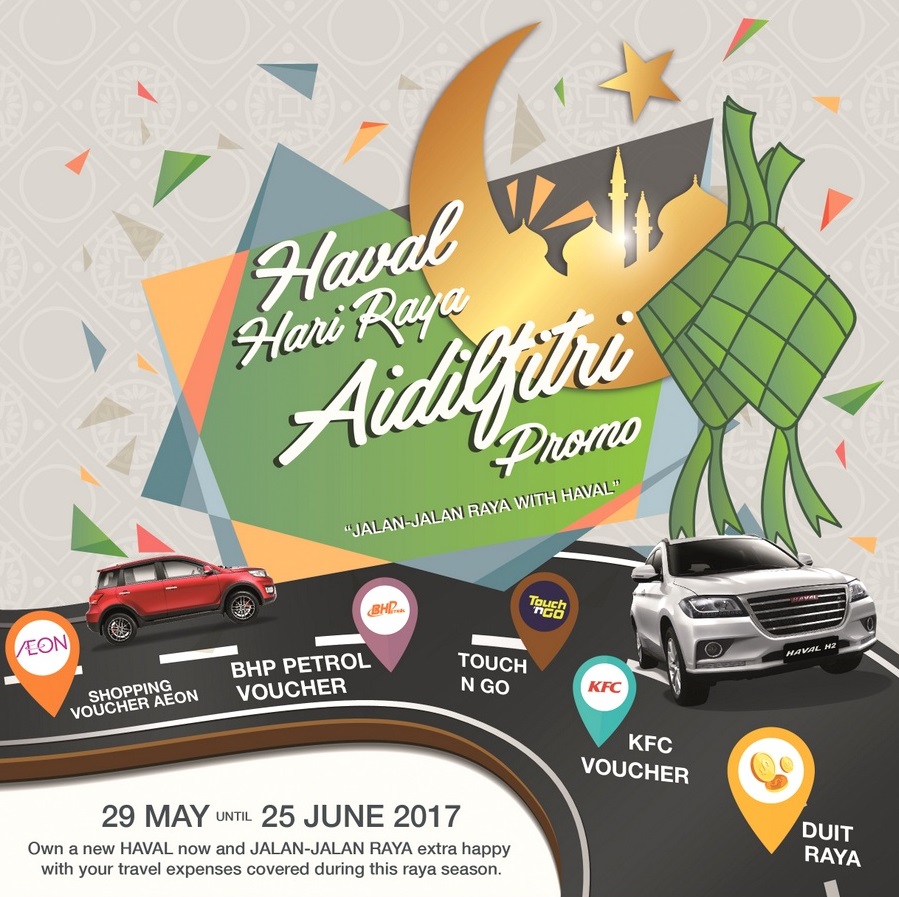 ADVERTISEMENT
Exclusive Haval distributor in Malaysia, Go Auto, has announced a range of Hari Raya deals for its sport utility vehicles (SUV) for this upcoming festive period.
The promotion, called "Jalan-jalan Raya With Haval", runs between May 29 to June 25.
Any purchase or booking made on selected model will entitle its new owners to enjoy RM2,900 worth of vouchers from Aeon, KFC, Touch N Go and BHP Petrol, including "duit raya".
"The ongoing promotion is not only aimed to make new Haval owners happy for driving a new vehicle during Syawal, we would also like to 'add-on' to that happiness by providing more goodies like the vouchers for our clients to enjoy with their families", said Go Auto executive director, Datuk SM Azli Tan Sri SM Nasimuddin Kamil. He urges the public to visit any of its 25 showrooms nationwide to test drive the Haval vehicle of their choice.
"Be sure not to miss the various ongoing deals worth up to RM2,900 from Haval, and the chance to bring back a new vehicle for the family to enjoy this Hari Raya," he added.
At the moment, two SUV models – Haval H1 and Haval H2 – are being offered by Go Auto for the Malaysian market.
Powered with 1.5L E-ICE VVT engine with a six-speed AMT transition, Haval 1 is available in three variants and prices start at RM61,950 for the Comfort variant, RM67,950 for the Premium variant and RM74,950 for the Elite variant.
Haval H1 is the first SUV model in Malaysia to be qualified as an energy efficient vehicle (EEV) with 7 years of warranty.
Meanwhile, the Haval 2 is equipped with a 1.5 litre VVT petrol turbocharged engine which produces 147 hp at 5,600 rpm and 210 Nm of torque from 2,200 rpm to 4,500 rpm, mated to a 6-speed automatic transmission. It is available in three variants – Standard MT (RM89, 250), Comfort AT (RM98,950) and Premium AT (RM101,950).
All Haval H2 variants come with a 5-year, 150,000km warranty.
Go Auto has also introduced a "Buy Back Guarantee" scheme to ensure its vehicle owners to receive 50% of its resale value should the machines were resold to the company within 5 years.