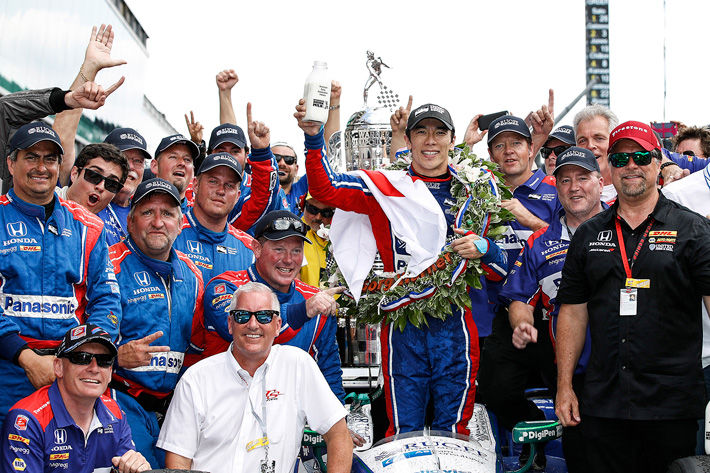 ADVERTISEMENT
Honda opened the second century of competition at the Indianapolis Motor Speedway today the same way it closed out the previous 100 years of racing at the famous Brickyard: with a thrilling victory thanks to former Formula 1 driver, Takuma Sato, whose car and engine has survived all 200 laps at the Indianapolis 500.
Veteran Takuma Sato led the way, beating three-time Indy winner Helio Castroneves in a fierce duel over the final 11 laps to take the checkers as the first Japanese driver to win in the 101st running of the Indianapolis 500.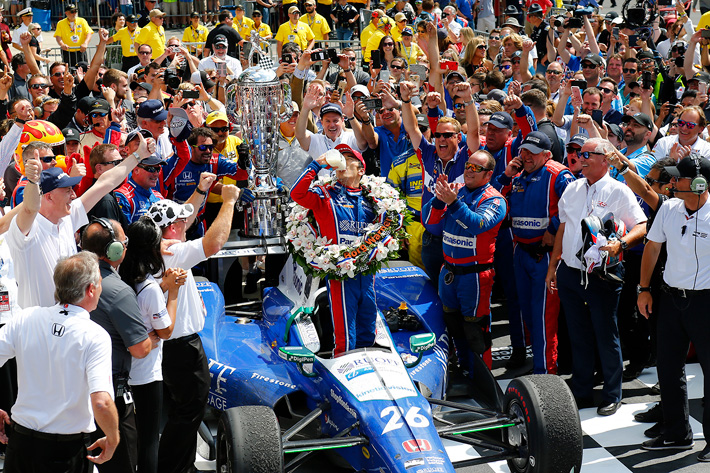 As the last of several late-race cautions bunched the field after a multi-car crash on Lap 179, Sato was running second to fellow Honda driver Max Chilton, with Castroneves third and outstanding rookie Ed Jones, fourth. When the green flag waved for the final time to start Lap 189, Sato quickly worked his way to the front in his Andretti Autosport Honda. The battle for the victory became a two-driver duel with six laps to go, with first Castoneves taking the lead, then Sato making an outside pass for the lead going into Turn 1 with just five laps remaining, holding on for the win by just two-tenths of a second at the checkers.
Takuma Sato (#26 Andretti Autosport Honda) 2017 Indianapolis 500 winner: "I won! I won the best race in the world! Unbelievable feeling. I cannot thank this whole team [enough]. Look at these guys. Fantastic. It was obviously a tough, tough race. But Helio [Castroneves] really drives fair. I can trust him. I can really [trust him] coming from the outside. It was fantastic race. What a race. Hopefully, the crowd enjoyed it. It's beautiful. I dreamed of something like this since I was 12. I can't thank everyone enough for their support. Until three laps to go, you really didn't know [who would win]. Me and Helio went side by side with three laps to go. You've got to go for it, run it flat. And we did it, and we pulled away. Fantastic."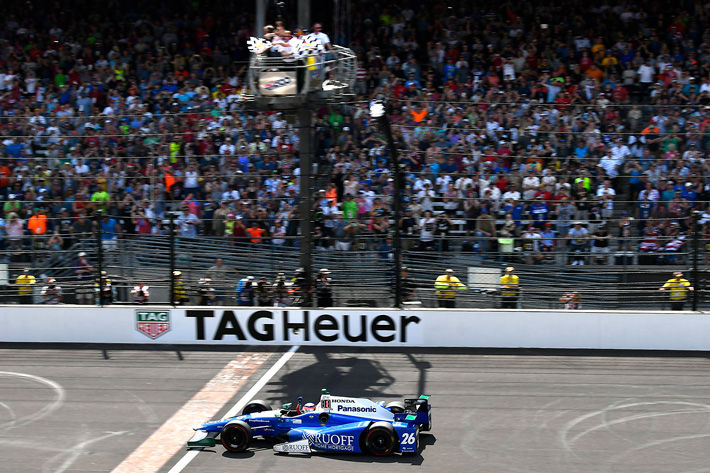 Finishing in third, 2016 Indy Lights champion Jones made the most of his Indianapolis 500 debut. Despite twice sustaining damage to his Dale Coyne Racing Honda due to debris from two of the four crashes in today's race, Jones worked his way into the lead group in the final 20 laps, and closed on Castroneves on the final lap. His third-place finish was best among the four rookies in this year's race.
The third Honda contender for the win today – Chip Ganassi Racing's Max Chilton – led a race-high 50 laps after going a lap down to the leaders with handling issues early in the race. Adjustments made during early pit stops put Chilton back on a pace with the overall leaders, as he demonstrated by leading on four separate occasions in the 200-lap contest.
Mechanical issues eliminated two other Andretti Hondas, with Ryan Hunter-Reay dropping out on Lap 136 after leading 28 laps, second only to Chilton in a race with a record 15 different leaders. Two-time Formula One world champion Fernando Alonso continued his impressive rookie performance at the "Brickyard", leading for 27 laps – third highest today – before dropping out on Lap 180.