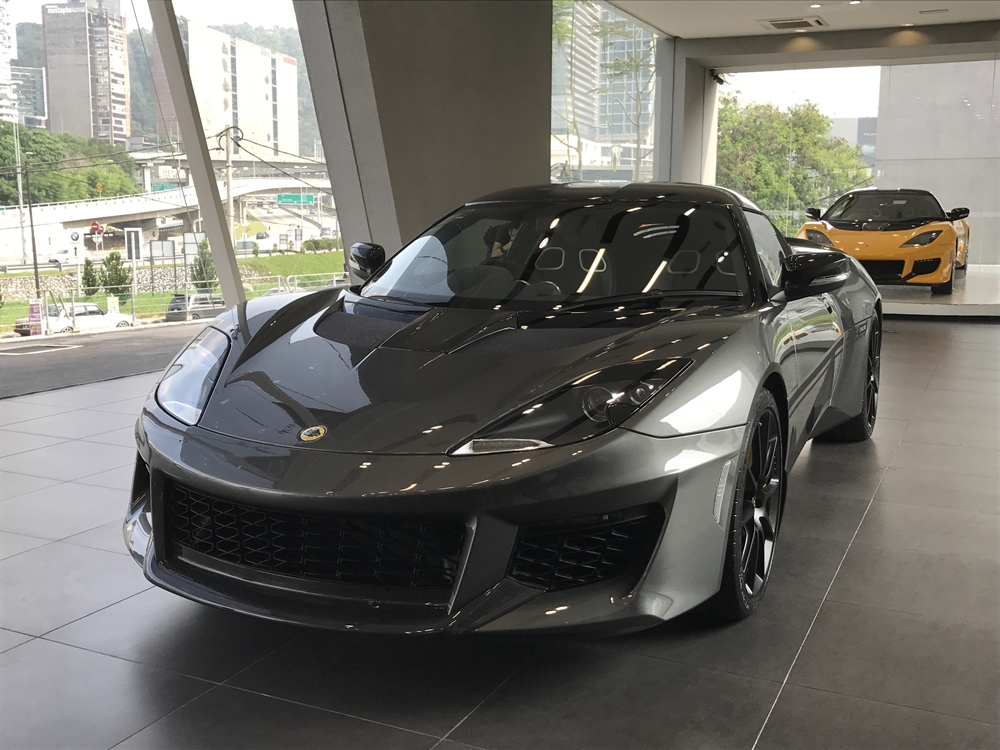 ADVERTISEMENT
Lotus Cars Malaysia has introduced the Evora Sport 410 which is now available in our local market.
The new Evora Sport 410 is lighter than its predecessor, the Evora 400, by more than 70kg, thanks to the adoption of high performance carbon fibre components as standard, and more powerful, sharing the 410hp supercharged engine with the track-bred 3-Eleven. The significant drop in mass, and a power boost, means the Evora Sport 410 is capable of lapping the company's Hethel test track in 1 minute 28 seconds, which is 3 seconds faster than the Evora 400.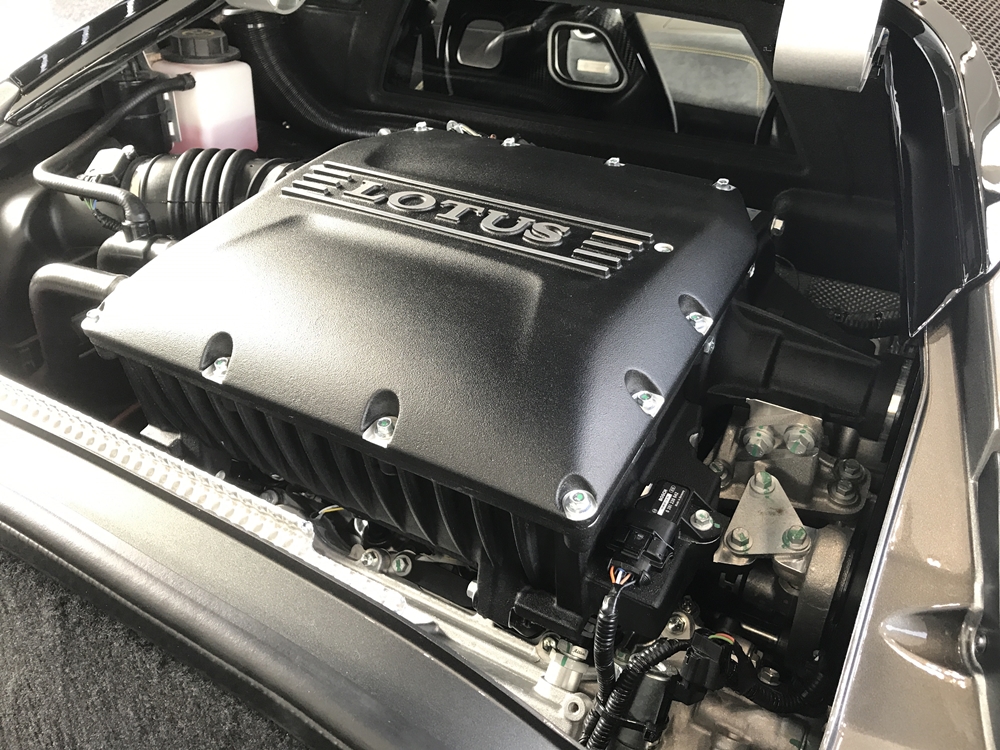 The Evora Sport 410's engine is a higher-output version of the supercharged, 3.5-litre 6-cylinder unit, producing 410 hp at 7000 rpm and 420Nm of torque at 3500 rpm. This allows the Evora Sport 410 to complete the 0-100km/h sprint in just 4.1-seconds with the 6-speed automatic transmission or 4.2-seconds with the 6-speed manual transmission. Maximum speed is limited at 285km/h for the automatic transmission and 305 km/h  for the manual transmission.
The high-performance, carbon fibre components have played the biggest role in the evolution of the Evora Sport 410. These include front splitter, roof panel, tailgate and rear diffuser as well as sport seats and revised front access panel. The one piece carbon tailgate incorporates a louvered section, inspired by some of Lotus' heritage models, and together with carbon rear quarter-light panels help provide the car with a sleeker, fastback style trailing roofline. These changes have also improved the car's aerodynamic downforce by 15% with no increase in drag.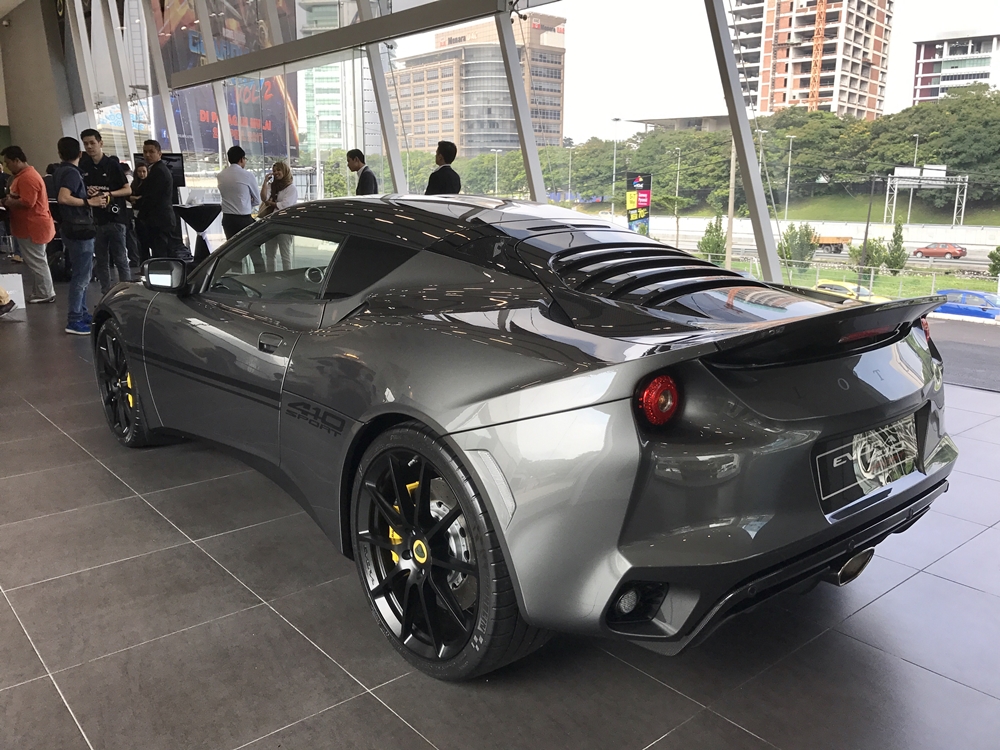 The car's reduced kerb weight has allowed the recalibration of the suspension, with improved geometry and completely revised damping, as well as ride height 5mm lower than the Evora 400. As a result, handling is sharper, along with better body and roll control, yet ride comfort and composure is retained. Ultra light-weight, 10-spoke forged aluminium wheels and optional Michelin Cup 2 tyres, complete the car's overall looks.
Inside the cabin, the Evora Sport 410 feature carbon fibre sports seats trimmed with Alcantara as standard, along with the steering wheel and centre console. An integrated touch-screen entertainment system can also be specified, including iPod connectivity and Bluetooth functionality.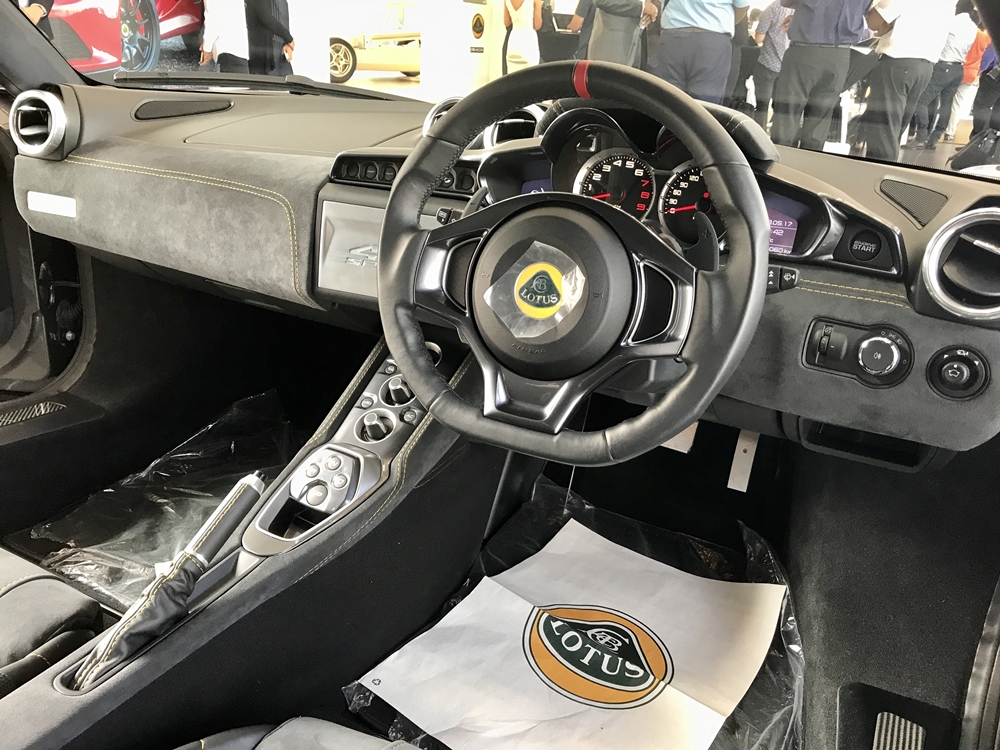 The rest of the Sport 410's cabin has been revised with weight saving measures including one-piece door trim panels finished in Alcantara with contrast stitching, the deletion of door arm rests and stowage pockets, the relocation of tailgate and fuel filler release buttons and the removal of speakers – if an entertainment system is not specified.
The new Evora Sport 410 can also be personalized with an optional Titanium exhaust for RM28,862, cruise control for RM1,575, mud flaps for RM788, sound insulation pack for RM1,315, full Alcantara steering wheel for RM1,575, 4 speaker double DIN ICE unit with full satellite navigation and reverse camera for RM10, 492 and interior colour pack (Red, Yellow, Silver or Orange) for RM2,6221.
Limited to a global production run of 15o vehicles per year, the Lotus Evora Sport 410 is now available to order in Malaysia for RM640,999 (manual) and RM651, 999 (automatic).
*Price for optional extras is exclusive of GST
** Price is not inclusive of registration fees, road tax and insurance