ADVERTISEMENT
The Honda Civic has been the key part of the company's range from 1972. 45 years later and after going through a major overhaul for this 10th generation model, the Civic is still proving to be popular among its legion of fans. In fact, ever since it entered our local market in June last year, the Civic has been wowing Malaysian buyers and terrorizing the C-segment market with its stylish new looks, segment-first features and its new turbocharged engine.
Our editor did an excellent write-up of the sedan prior to its official market debut in May last year while our writer was similarly impressed after getting behind the wheel of the car shortly after its introduction in Malaysia. With big expectations in mind, I was keen to find out for myself why the Civic has been the talk of the town for these past few months, so here are a few things I've discovered during my weekend with the sedan.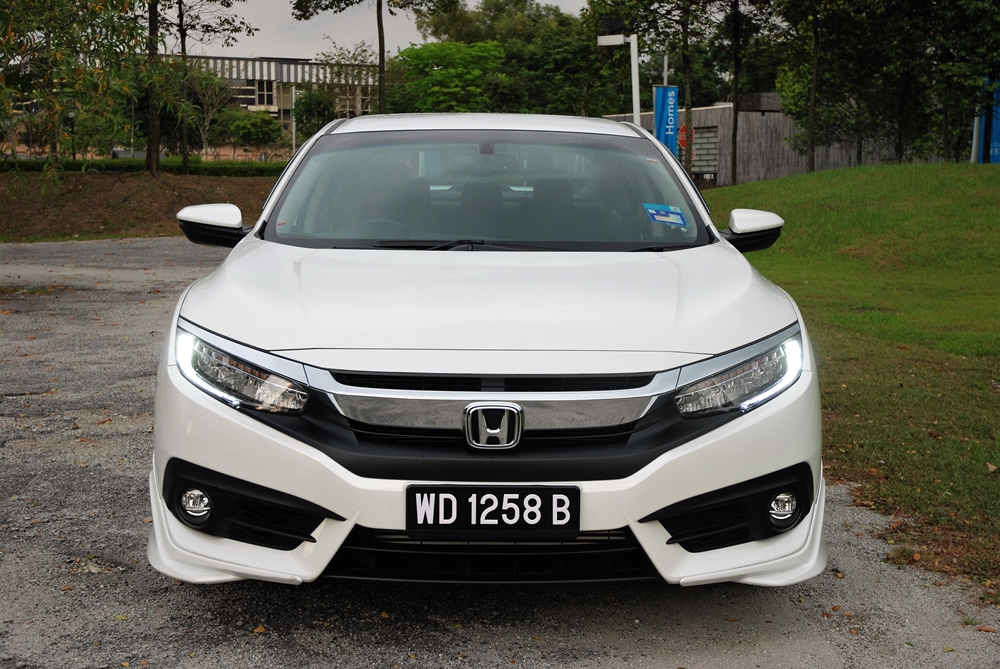 1. The Japanese automaker has absolutely nailed the exterior design for this sedan. Measuring 4,630 mm in length, 1,799 mm in width and a height of only 1,416 mm, the Civic is now lower and wider than the model it replaces and those changes are reflected in the car's appearance, giving a much sportier stance and more pleasing to look at appearance – well, for me at least. I just love the way this new generation Civic looks and it won't come as a surprise if prospect buyers placed a booking for the sedan without even test driving it first.
2. What really impressed me the most is that the Civic's cabin is built to maximize the use of space. Think of it like IKEA furniture where you get to hide your clutter away from prying eyes. For example, the center console has a huge storage space that allows you to store water bottles, car keys or wallet, and below the center stack, there's more storage space plus a USB port that allows you to store and charge your smartphone at the same time. I find this clever storage solution very handy to keep your things tidy and organized!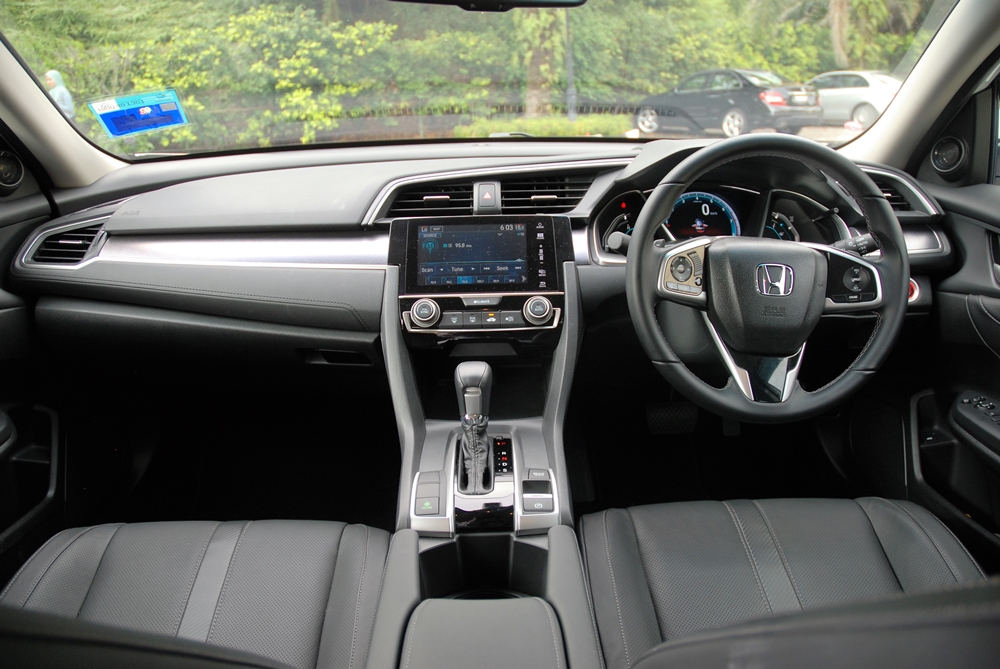 Speaking of storage space, the Civic has a class -leading 519-litres wide and deep storage capacity in the boot as well. It has so much space that you won't have any trouble fitting three large suitcases and a stroller in the cavernous cargo all at the same time.
3. Besides the sleek-looking exterior, the Civic is also blessed with a good looking and spacious interior. Despite the sloping roofline design, there's still plenty of headroom even for six-foot tall passengers sitting at the back, with best in class rear legroom. The driver's seat is equally comfortable and supportive as well and it is very easy to get a good driving position thanks to its electronic adjustability.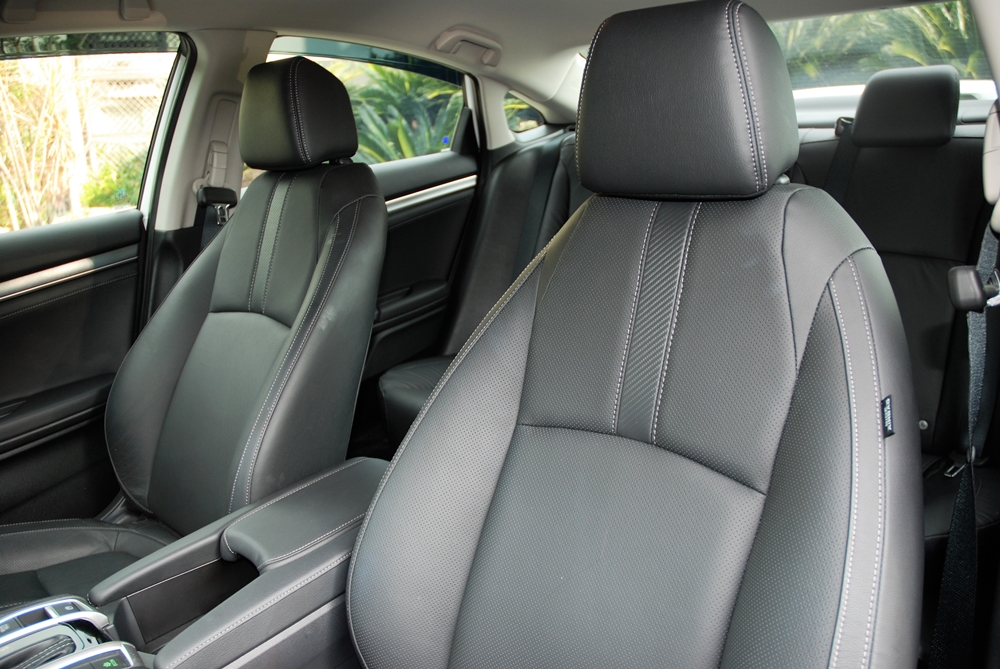 4. The Civic is a well-spec'd car. There's plenty of creature-comfort goodies available as standard features to make the best value for your money. One of the coolest functions I found in the Civic is called the Remote Engine Start. It allows the driver to start their vehicle engine up to 40 meters away by pushing a button on the remote key for 5 seconds. So basically, you can cool down your Civic's cabin by activating the air-conditioning from afar, but don't worry because your doors will stay locked unless they have the key to the car. The best part is, the Civic is the first car in its segment to feature this cool party trick!
5. The Civic's 7-inch touch screen display has been updated with more tech offerings such as navigation, Android Auto or Apple CarPlay connectivity but the response is still a tad lagging and fiddly. Luckily, there's steering wheel-mounted controls that allows you access to different functions, so as long as I'm the driver, I can't complain much about not being able to control the audio volume or change the FM channel without taking my eyes off the road.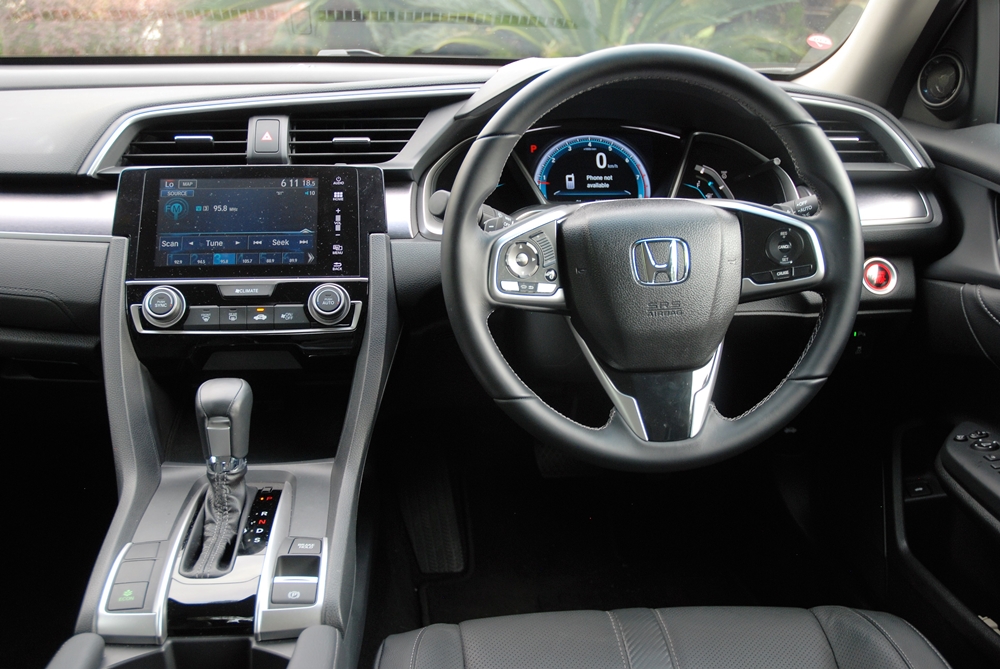 6. The Civic I had for test here is powered by a 4-cylinder 1.5-litre turbocharged engine producing a total output of 173PS and 220Nm of torque, mated to a Continuous Variable Transmission (CVT). Although a CVT might not be the most ideal transmission choice for motoring enthusiasts alike, in reality, this gearbox is very convenient for gridlock warriors that have to brave through major cities every Monday to Friday.
Despite being turbo powered, this Civic sedan isn't the slightest bit as feisty as its hardcore sibling, the Type R, however is still poised and agile in any driving situation. The steering blends directness and control weight, while grip and body control are accomplished.
The Civic is also very brisk and responsive on long straights and the ride quality is excellent. It has linear acceleration and strong throttle response, but not strong enough to the point where the power delivery is too abrupt.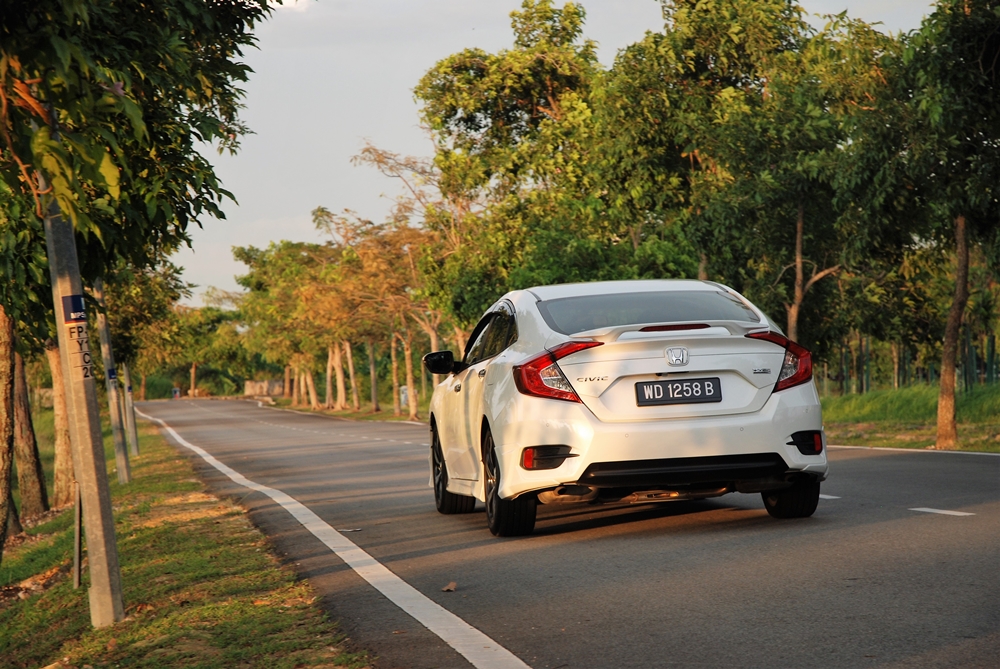 7. Overall, I had a very pleasant driving experience in the Civic and I can definitely imagine myself driving this car on a day to day basis. While the Civic sedan might not scream sporty, it seems very well suited to de-stressing the kinds of long commutes during the weekends and weekly mundane traffic situations. Moreover, Honda engineers have further reduced the level of NVH (Noise, Vibration and Harshness) inside the Civic for a composed ride and driving experience all around. The ride quality reminds me of its bigger sister, the Accord.
After spending a couple of days with the Civic, it would make perfect sense to me why this 10th-iteration is loudly praised by many. It's practical, convenient, user-friendly, great value for money. I love all the updates Honda has done to the Civic, making it a very outstanding proposition for those in the market for a C-segment sedan.
SPECIFICATIONS: Honda Civic 1.5 
Engine: 1,498cc 4-Cylinder, 16 Valve, DOHC VTEC TURBO
• Output: 173PS at 5,500rpm
• Torque: 220Nm at 1,700-5,500rpm
• Combined CO2 emissions (g/km): 162g/km
• Acceleration 0-100 km/h: 8.2 seconds
• Top Speed: 200km/h
• Price (OTR w/o Insurance) inclusive of GST: RM131,883.37