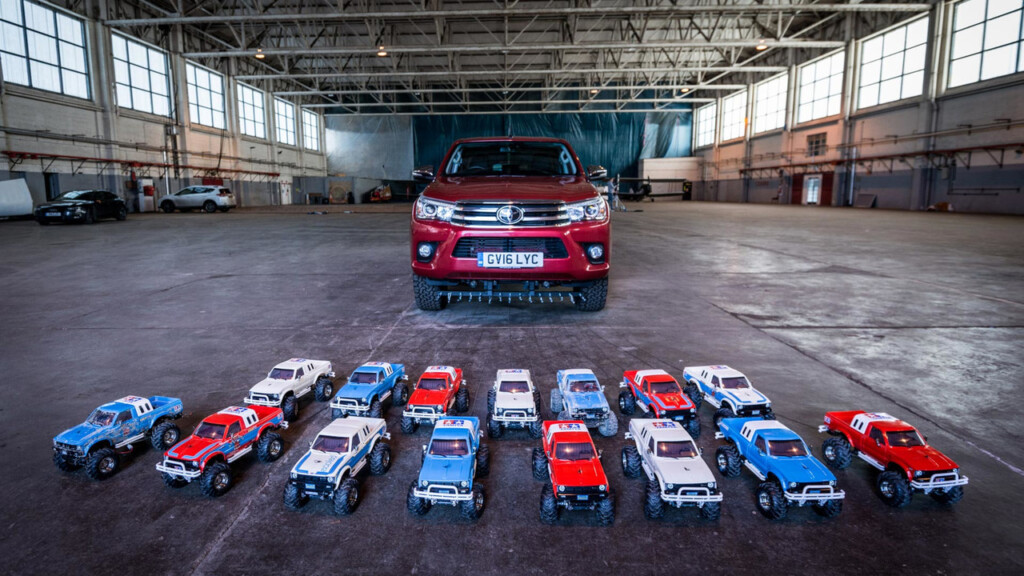 ADVERTISEMENT
The Toyota Hilux has sealed its status as one of the world's toughest vehicles by braving the world's most extreme environments. Smaller in size if not in reputation, the Tamiya Hilux Bruiser 4X4 on the other hand, has a huge global following as the "Hog Heaven" hero of the radio-controlled model world.  Now Toyota UK has brought these two machines together in a series of challenges that put their strengths to the test via a new promotional video.
The video titled Little & Large below puts the full-size Toyota and the Tamiya model through authentic, real world tests, side-by-side. The challenges show the genuine capabilities of both the Hilux and the Bruiser, a 1:10 scale kit that itself is based on earlier Hilux design.
Toyota drew inspiration for its short video from a famous 1980s stunt in which a fleet of radio-controlled Bruisers successfully hauled a Hilux at Tamiya's headquarters in Japan. Fast forward to today and Hilux has become a much bigger and heavier vehicle but the question is, could the miniature machines repeat the feat?
According to Toyota,  precise calculations were made that showed, on paper at least, that the task could be accomplished. A Toyota Hilux Invincible Double Cab model tips the scales at 3.21 tonnes; each radio-controlled Tamiya Bruiser can generate 2kg of pulling force, so between them 15 cars have 30kg of muscle, when exerting maximum power on a flat surface.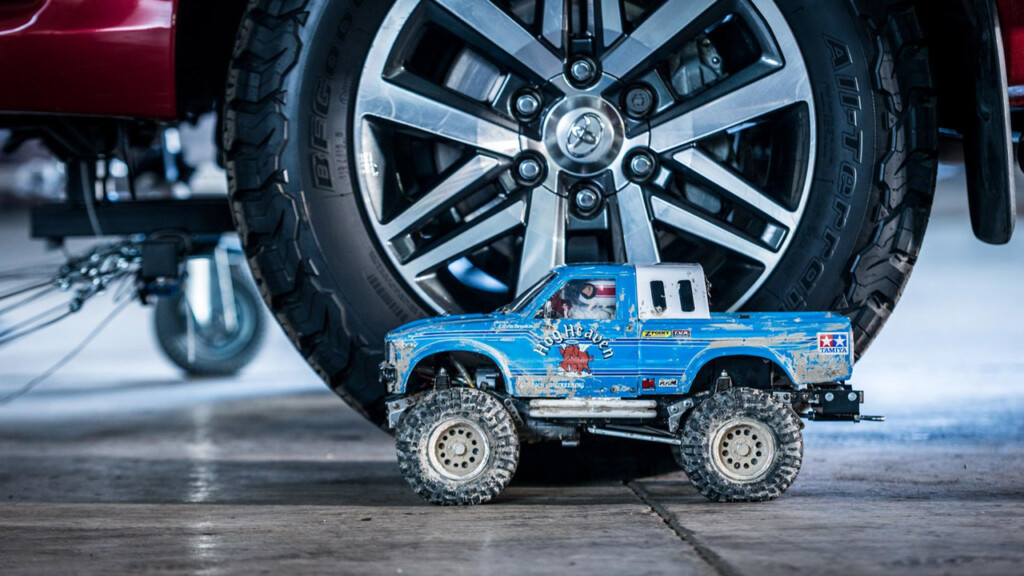 The practical test took place inside a giant hangar at Bicester Heritage in Oxfordshire. To ensure the Bruisers performed to their peak ability, their tyres were inflated to their maximum pressure (60psi) and their four-wheel drive electric powertrains were locked into low ratio transmission. To help them gain traction, two 500g diving weights were placed behind the cab section of each vehicle.
Just as crucial was the method for connecting the models to the Hilux. Toyota uses a dedicated towing arm, made from steel and featuring 15 separate eyelets, one for each towing cable, set level with the Bruisers' towing points. The 10kg unit was then bolted to the Hilux's front tow points.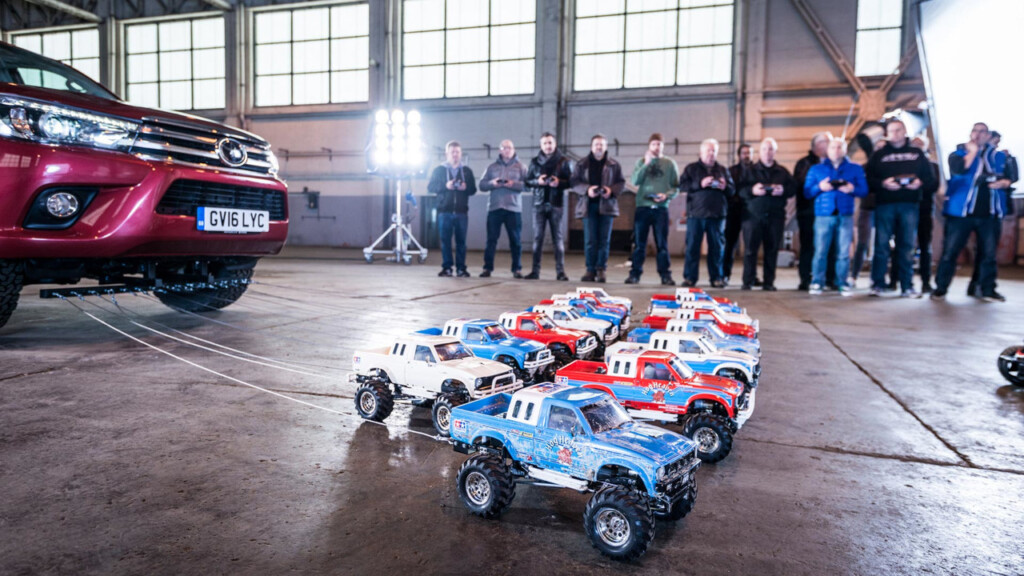 The "driving" duties were performed by a crack team of radio-control model experts with the skills to ensure the models moved off in perfect synchronisation and with the optimum power delivery. A driver also sat at the wheel of the Hilux, with the engine turned off, the brakes released and the transmission in neutral.
Toyota also released three other films; Tow, Wade and Mud, that follow the further exploits of Hilux and its famous sidekick. You can watch them all via the YouTube links below!