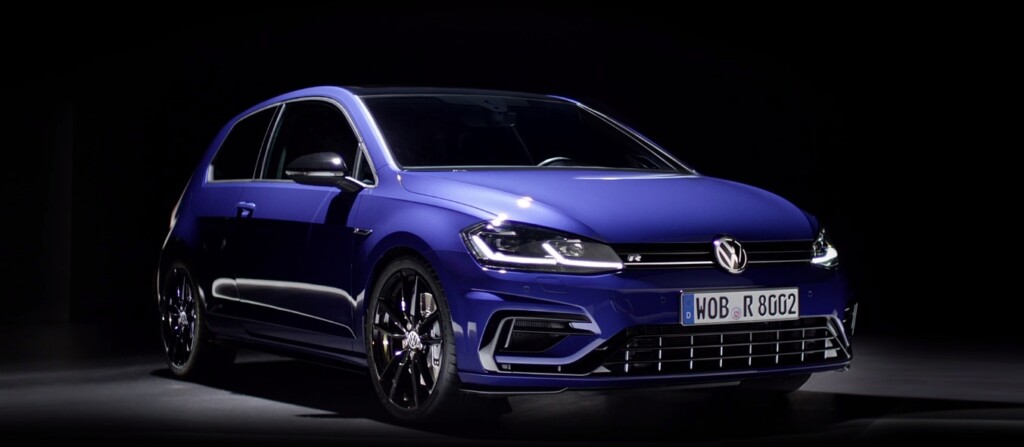 ADVERTISEMENT
At the 2017 Geneva Motor Show, Volkswagen has quietly revealed a hotter version of its Golf R, that receives a few extra 'Performance' upgrades that you might not be able to find on the standard hatchback.
Visually, the Golf R's front bumper receives air curtains for further aerodynamic optimisation. A new rear spoiler is attached to the top of the hatchback roof which Volkswagen says produces up to 20kg extra downforce at speed, and the exits of the new titanium exhaust system are housed inside an aggressive looking rear diffuser. Volkswagen says the optional titanium exhaust system from Akrapovič is 7kg lighter than the standard setup and produces a more raucous exhaust note.
The shock absorbers and steering has been tweaked as well, and the Golf R Performance also gets modified brakes – the 17-inch drilled disks are now clamped down on by an R Performance caliper with new brake pads. New lightweight 19-inch alloy wheels are also available as an option, alongside semi-slick tyres. Inside, the cabin is trimmed with faux carbon and leather.
The turbocharged 2.0-litre four cylinder engine found under the hood of the Golf R develops 308bhp. That marks no change over the standard version of the car, hence 0-100 km/h remains at 4.6 seconds, but the 250km/h electronic top speed limiter is removed, allowing the Golf R Performance to run all the way to 267km/h.