When you think of Mercedes-Benz's performance brand, AMG, what comes to mind are images of throaty V8 engines found in big, powerful car that create raucous exhaust notes and smoke the tyres as you exit corners.
ADVERTISEMENT
While big and powerful engines found in the C63 S Coupé for instance, could possibly cost an arm and a leg – not to mention the thoughts of having to fork out thousands of ringgit every year for road tax alone – Mercedes-Benz is able to prove that owning a smaller engine'd AMG can be exhilarating as well. In fact, the company has one the most potent production 2.0-litre powerplants on the planet, and it's found beneath the hood of the Mercedes-AMG CLA 45 4MATIC as tested here.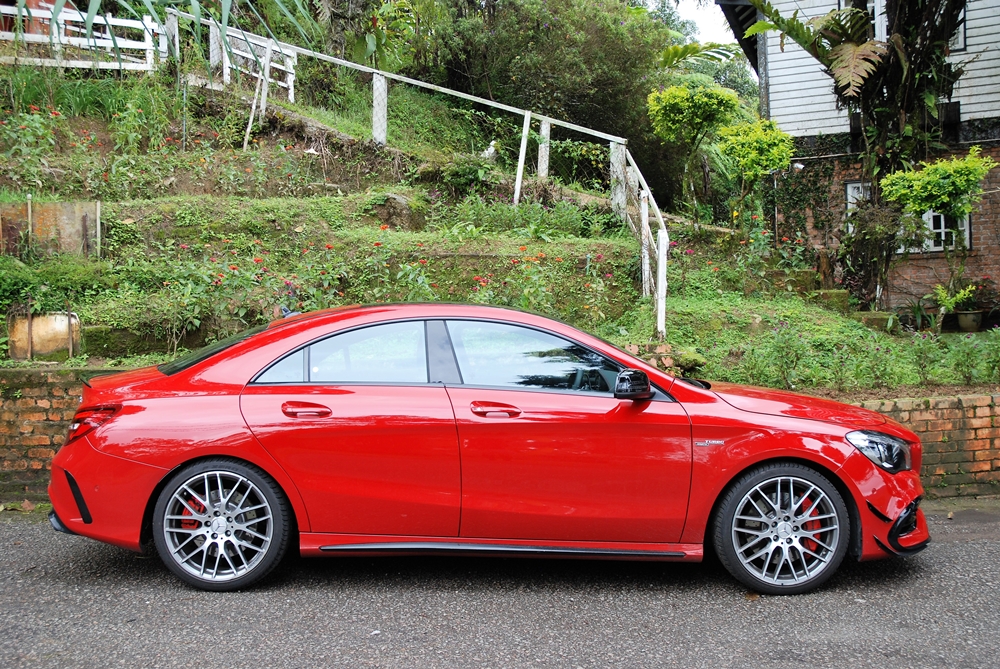 The Mercedes-AMG CLA 45 4MATIC is the top-of-the-line variant in the CLA the range, introduced in Malaysia late last year. It comes complete with all the AMG goodies, making it one of the sportiest CLAs you can possibly buy.
While the thought of owning an AMG with my humble journalist paycheck sounds a little unrealistic, I felt like I was the luckiest person on earth when Mercedes-Benz Malaysia graciously loaned me the Mercedes-AMG CLA 45 4MATIC for a weekend, so at least I had a chance to pretend what it would feel like to own an AMG for a couple of days.
So here's what I've discovered…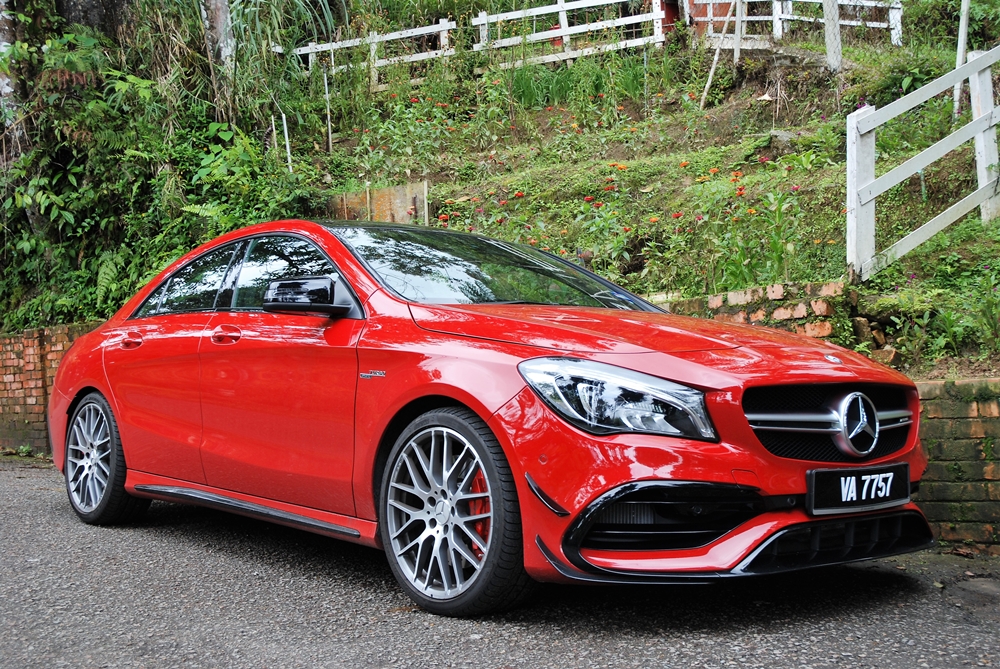 First of all, just take a good look at this four-door coupé and you can clearly tell that getting behind the wheel of this coupé will gather envious stares and plenty of attention from passers-by thanks to its menacing looks. It's the vain side of premium car ownership and I have to admit, it does feel great parading an AMG on the highway!
As part of its standard equipment, the CLA 45 AMG stands out from the crowd with its facelift modification which includes twin-louvres in the radiator grille, now finished in silver chrome; LED High Performance headlamps and an AMG front apron in a new A-wing design with front splitter inserts in matt titanium grey and high-gloss black. Some of these are part of the AMG Aerodynamics package that comprise a black AMG spoiler lip at the rear and spoiler lips over the simulated air outlets on either side at the back. The diffuser has been redesigned as well to feature four vertical fins instead of three at the rear.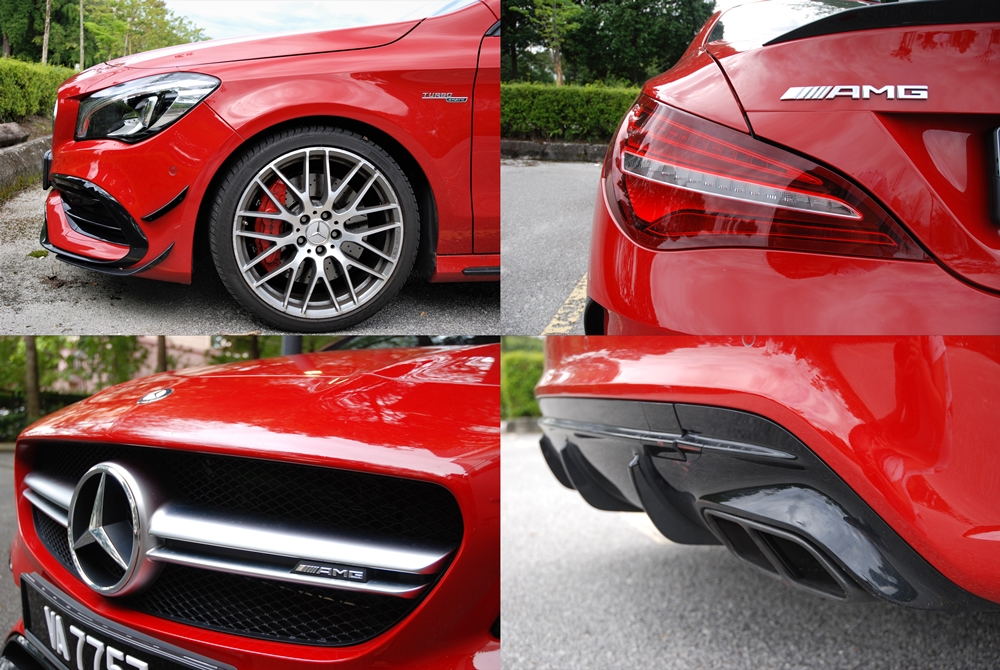 Despite its glamorous looks, the CLA 45 AMG isn't just a pretty face though. What really impressed me the most is how Mercedes-AMG managed to tweak its 2.0 litre turbocharged four-cylinder engine to produce an incredible amount of horsepower, 381hp to be precise, and a maximum torque of 475Nm, an extra 21hp and 25Nm compared to its predecessors.
What's even more exceptional is that each and every AMG engine that rolls out of the plant is hand built and signed by the person who built it. No other automaker makes car ownership as special as Mercedes-AMG does, plus it also elevates itself from other brands in the market.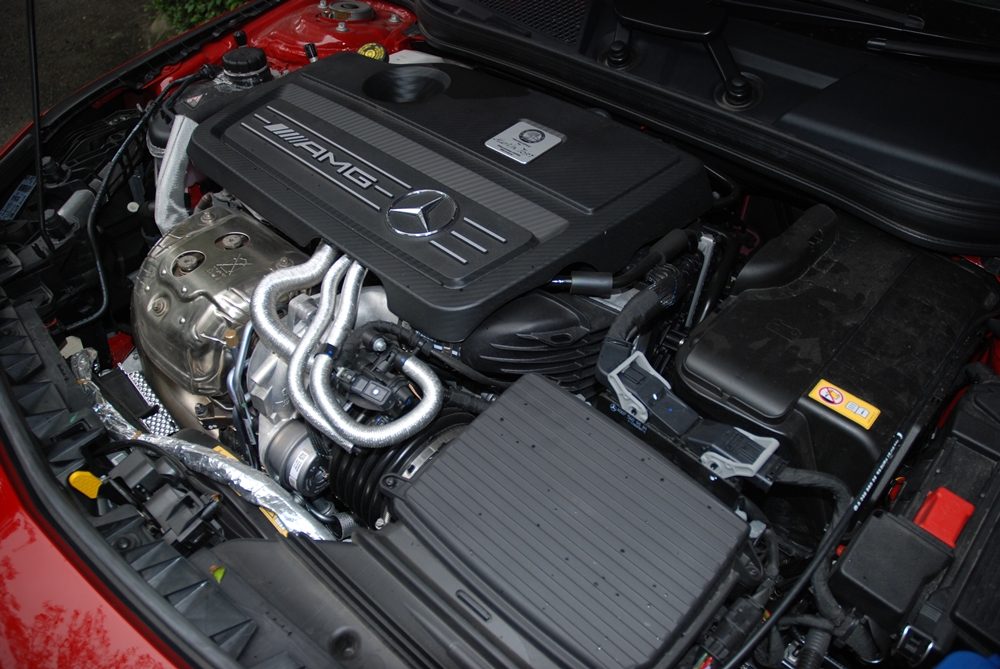 Wisely, AMG has fitted this car with an AMG Speedshift DCT 7-speed sports transmission in a 4MATIC all-wheel drive system that can deliver half of the available torque to the rear wheels, allowing the coupé to behave impressively on the road. And all that power is complemented with a consistent and powerful braking system.
The CLA 45 AMG is essentially an A45 AMG hatchback in a coupé body. It grunts, responds and behaves just as feistily as the talented A45 AMG I've tested in the past but in a much more relaxed cabin. In fact, the suspension in the CLA 45 AMG has been tuned for extra driving comfort so I didn't end up cringing on every single pothole I encountered on the road. The overall driving experience felt more civilized and sedate compared to the A45 AMG, and it almost felt like I was driving a regular CLA especially when I engaged the 'Comfort' driving mode.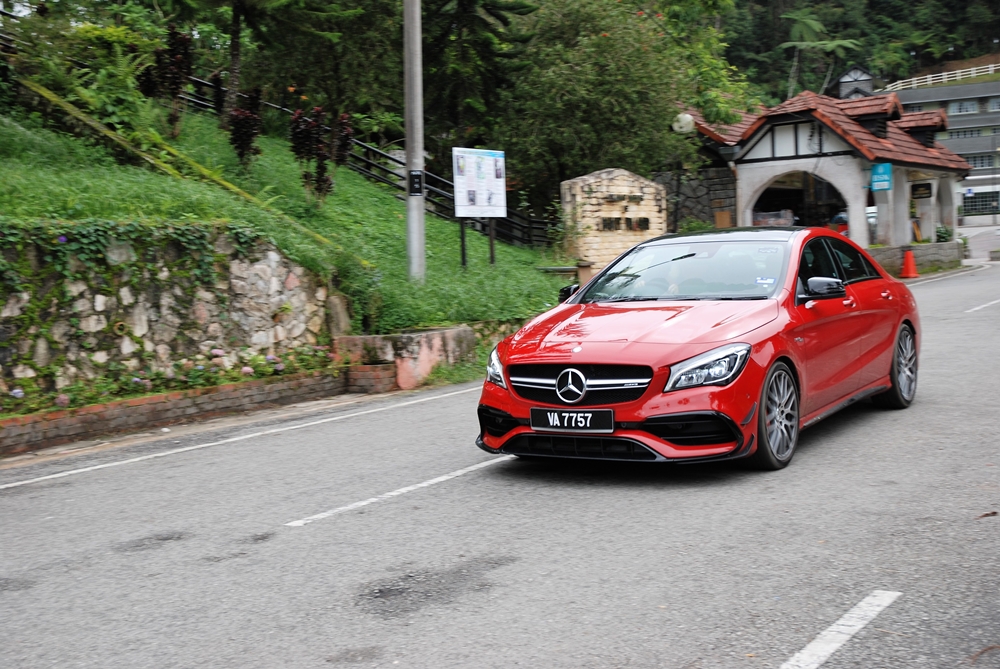 Despite gaining an extra 30kg of weight than the A 45 AMG, The CLA 45 AMG is still brilliantly quick, capable of sprinting from naught to 100 km/h in just 4.2 seconds before reaching a top speed of 250 km/h, making an exhilarating soundtrack in the process thanks to its AMG Performance Exhaust system which is fitted as standard in the coupé.
The raucous exhaust notes can be activated via a press of a button below the dashboard – which might also come in handy whenever your significant other starts nagging about noise. Upon activating the exhaust note button, it produces a nice pop and burble every time you set your right foot on the accelerator. When sprinting down the highway, I couldn't resist the temptation to hit the throttle just a little bit harder, and with the windows down, I could hear it respond with a baritone symphony of sound that gives plenty of aural pleasure…or perhaps, give your neighbours' kids nightmares when driving around the neighbourhood late at night!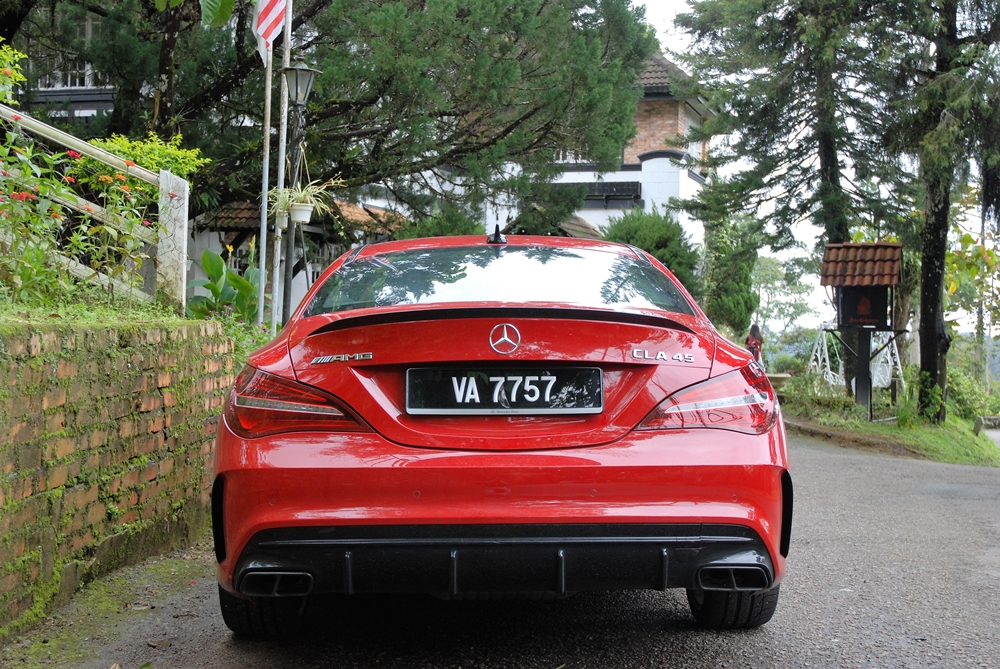 With so much horsepower at my disposal I decided to hit the road up to Frasers Hill one sunny morning with the coupé. I had plenty of fun slaloming through the winding mountain road as the car felt responsive, even under heavy acceleration or in less-than-perfect road conditions.
I drove the heck out of the CLA 45 AMG off the beaten path and I was really impressed by its overall performance. The steering feels sharp, the car handles with finesse, the acceleration and gear shifts are smooth and instantaneous, making the overall driving experience seem so effortless, and well, it basically ruined me for driving anything else after that. Never in my life have I felt driving my own car after returning the CLA 45 AMG back to back such a chore…sigh.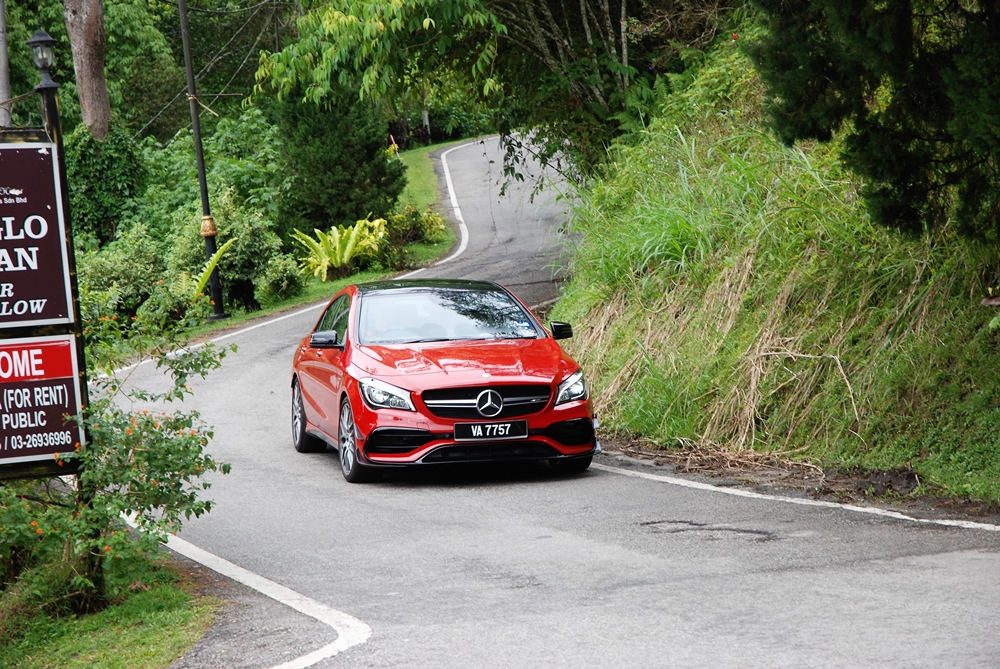 Aside from that, its 4MATIC all-wheel drive system gives a huge amount of traction when exiting corners. It allows you to tackle any bends, be it sharp or less challenging ones without the fear of body roll or loss of traction.
For thrill seekers, once you've engaged the Sport+ button, the CLA 45 AMG's power increases exponentially, and sure enough, it will slam you into your seats, even upon a gentle tap on the accelerator, and your blood pressure will probably rise as well. Surely it's not meant for the faint of heart! It is much more responsive, holding the gear longer and revs a bit higher to give you that extra sporty driving feeling from behind the wheel.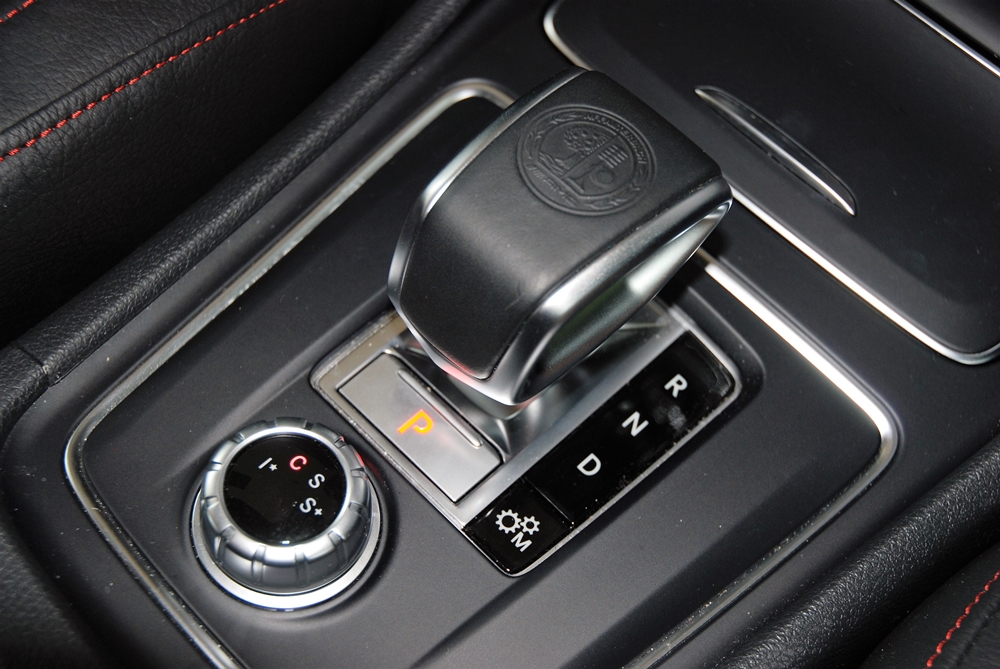 Aside from that, what the CLA 45 AMG has an advantage that the A45 AMG may lack of is a bigger trunk space to spare which makes it more practical for a weekend gateway with the family or a round of golf with friends.
Unlike the regular CLA, this AMG variant gets an extra sporty touch inside the cabin to equally match its sporty exterior. For instance, the instrument panel is upholstered in Artico leather, as are the beltlines with an exclusive finishing touch of red contrasting top-stitching. On top that, there's matt printed finish trim elements found in the cabin, although the essential structure still has a polished surface that bears the AMG logo.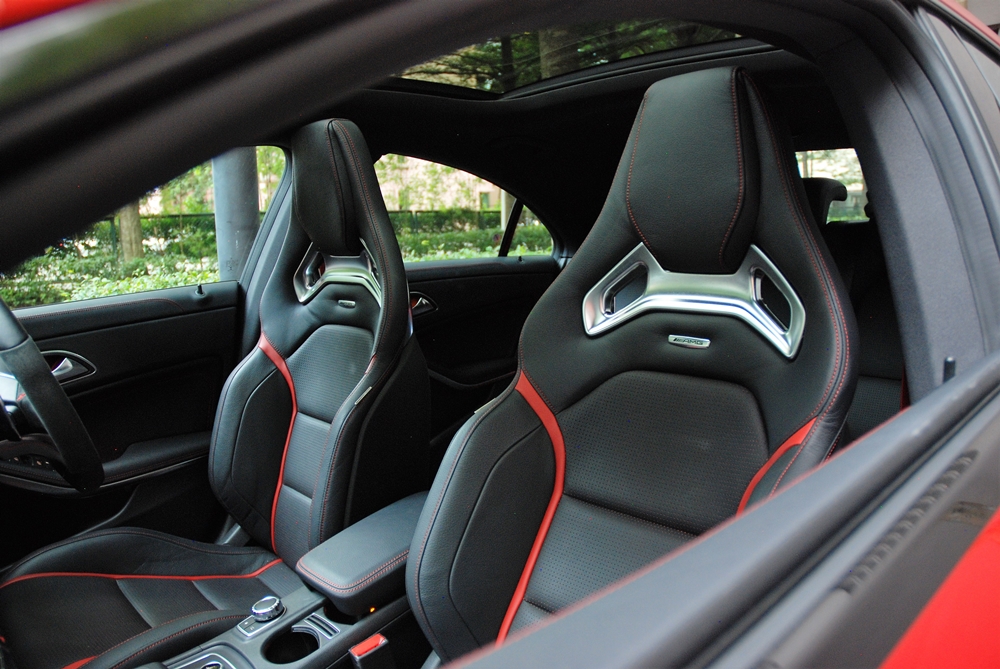 There's an abundance of luxury found inside the CLA 45 AMG cabin as well. Unlike some automakers that prefer to equip their sports cars with just bare necessities just to highlight the fact that the car is all about driving performance and nothing else, Mercedes-Benz makes sure that you'll get all the luxury and comfort you need in its fast package.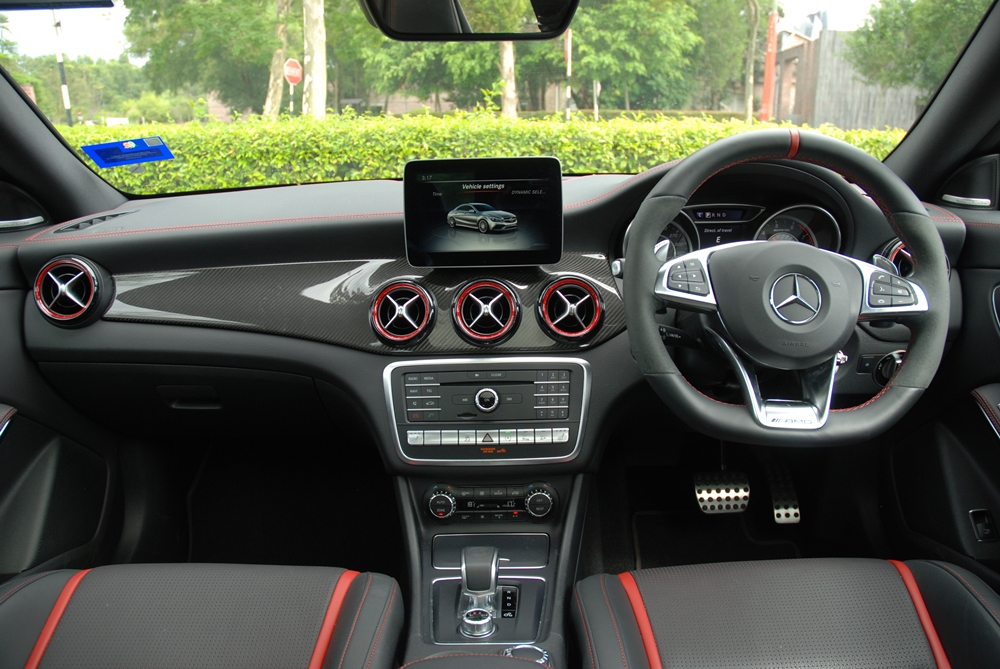 The focal point of the cockpit is the new slimmer-looking free-standing 20.3cm media display with a new-style glass cover. It is linked to the COMAND Online system, which supports Apple CarPlay and Android Auto. There's also plenty of rotary buttons and switches scattered in the centre console for various functions such as a drive mode selector that allows you to configure your driving based on your preference like Comfort, Sport, Sport+, Individual and beyond that, a Harman Kardon sound system is fitted as a standard feature in this AMG model.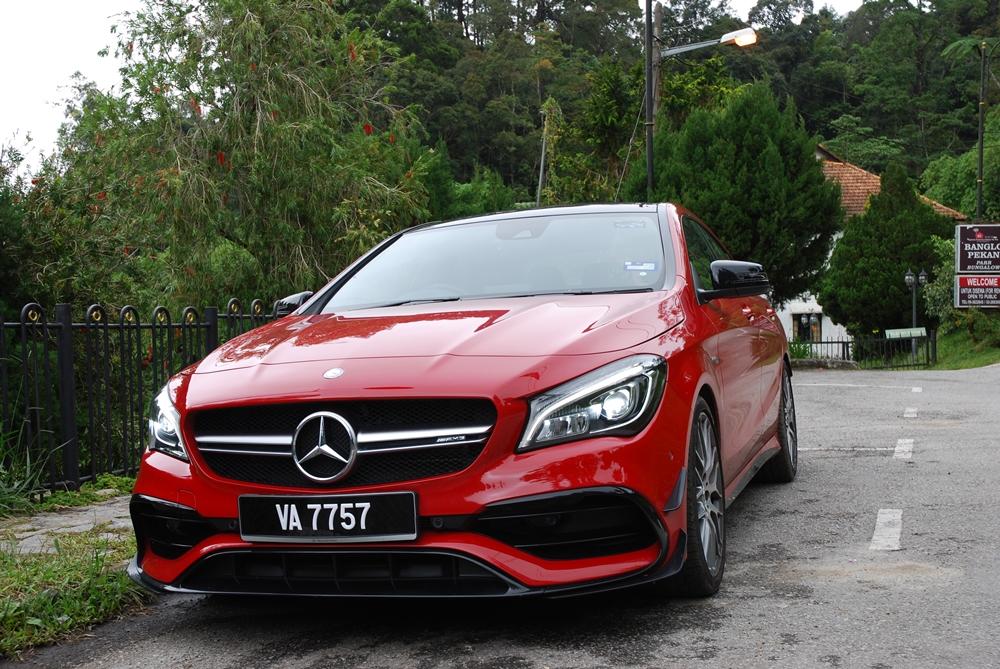 If you're in a market for an AMG but don't know where to start, the Mercedes-AMG CLA 45 4MATIC might be something you might want to go for. It is incredibly fun and entertaining to drive, but it is still a sensible choice of transportation for a daily drive. Plus, it costs half as much as the C63 S so you can still own a hardcore coupé without spending too much money!
SPECIFICATIONS: Mercedes-AMG CLA 45 4MATIC
• Engine: 1991cc In-line 4-cylinder engine
• Output: 381hp at 6000rpm
• Torque: 475Nm at 2250-5000
• Fuel consumption, NEDC (l/100 km) combined: 6.9-litre/100km
• Combined CO2 emissions (g/km): 162g/km
• Acceleration 0-100 km/h: 4.2 seconds
• Top Speed: 250km/h
• Price (OTR w/o Insurance) inclusive of GST: RM408,888