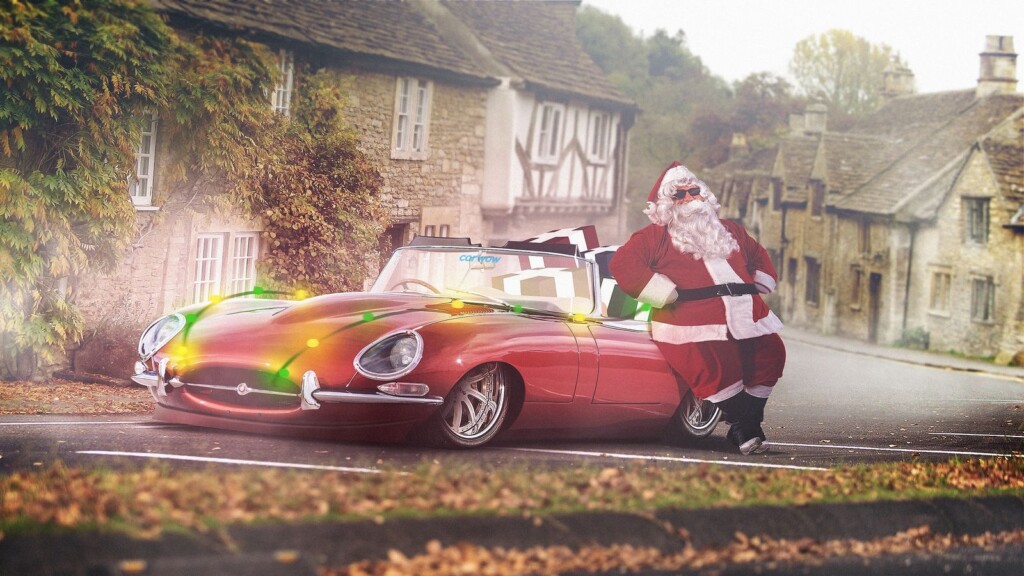 ADVERTISEMENT
Ah, it's that time of the year again and since the festive season is upon us, the folks at Carwow.uk would like to share with you 10 illustrations that showcase what cars Santa could use to deliver all his presents should his reindeer feel a little under the weather.
Each of their madcap Christmas creations has been designed with one specific environment in mind, from remote rainforests to the deserts. They've even thrown in a special interplanetary delivery vehicle for a spot of zero-G gift giving. What inspired them come up with these festive creations? Hmm, we assume probably due to too much Eggnog consumption! Your favorite model might be in the list below so feel free to scroll down this article and read till the end!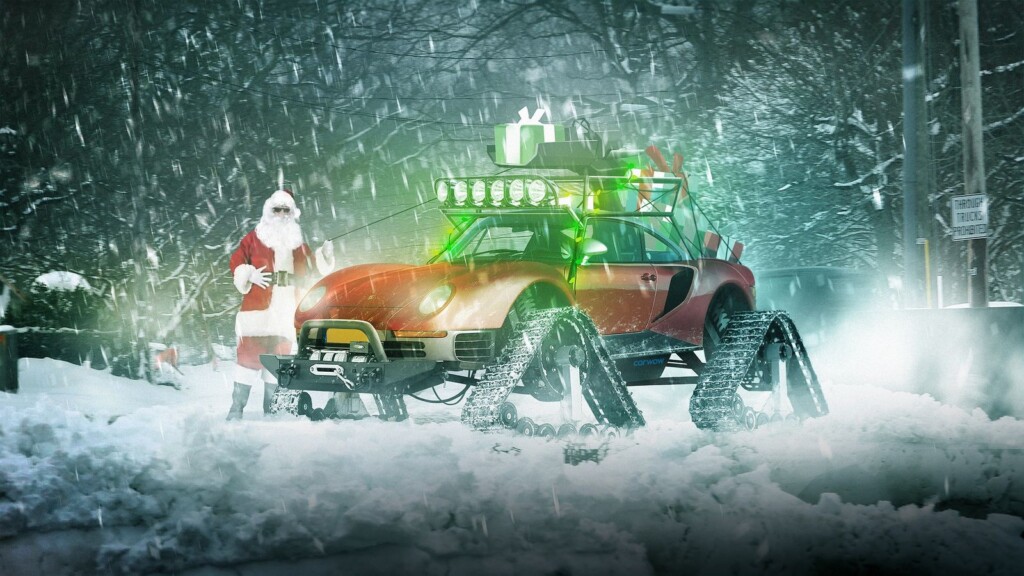 1.Porsche 959 – Mountains
The Porsche 959 might look like a sporty ground-hugging eighties supercar but, with raised suspension and giant knobbly tyres, it won the gruelling Paris-Dakar rally in 1986. Our Santa-specific version takes off-roading accessories to the extreme and pairs tank tracks with a military grade winch to help Santa bring joy to even the most remote mountain village.
A vast light bar makes sure he won't topple into any nearby crevasses and a high-powered air cannon is ideal for executing a perfect present slam-dunk into chimneys too high for Saint Nick to reach.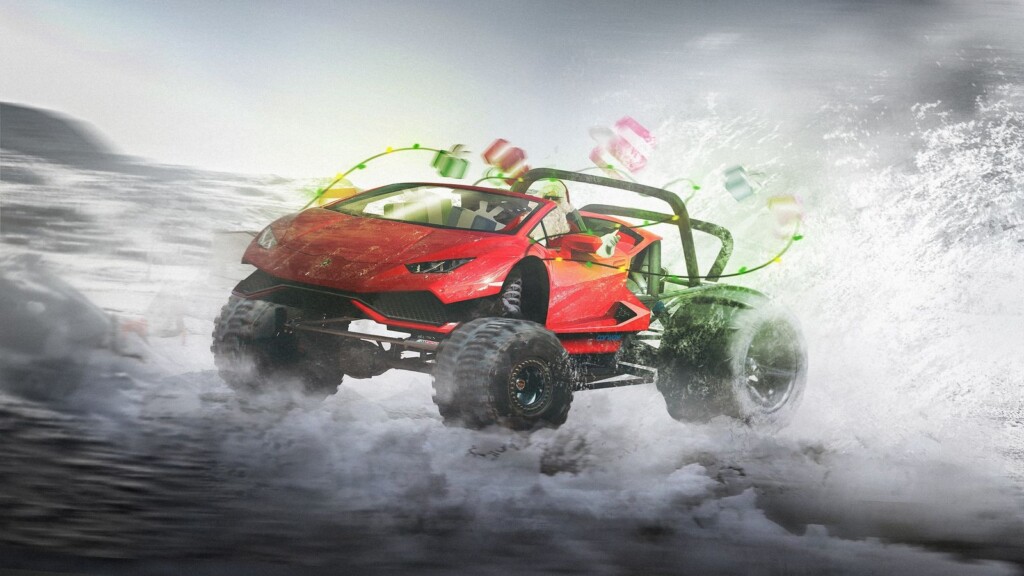 2. Lamborgini Huracan – Deserts
A desert might not seem the ideal place for a low-slung Italian supercar but our high-riding Lamborghini Huracan – with special sand tyres and a rollcage with more steel tubes than a scaffold factory – could be the ideal dune-bashing delivery car for Santa in the Sahara.
The ability to throw gigantic rooster tails in its wake should deter any would-be present snatchers while its special superleggera (read: missing) bodywork just leaves more space for storing the countless mince pies he'll collect.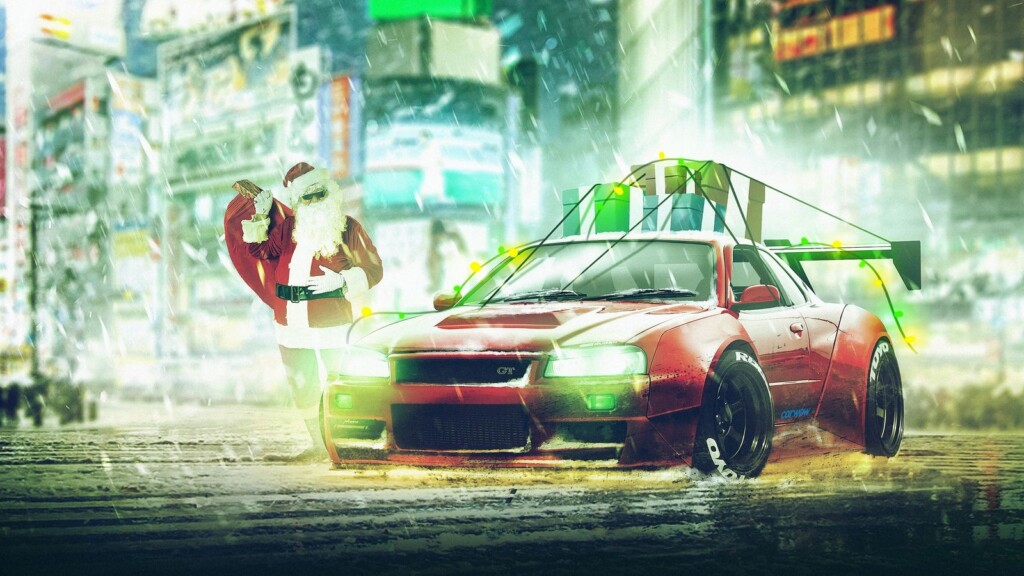 3. Nissan Skyline GT-R R34 – Inner cities
When it comes to speeding from house to house along Tokyo's Shuto Expressway, no magical flying reindeer can match the barnstorming speed of one of Japan's most famous sports cars, the Nissan Skyline.
Santa's highly tuned GT-R R34 features enough power to make delivering presents to the 37 million residents of Earth's largest city a walk in the park. Its luminous paint and excessively bright neon lights should help it blend in perfectly with Tokyo's futuristic night life, too.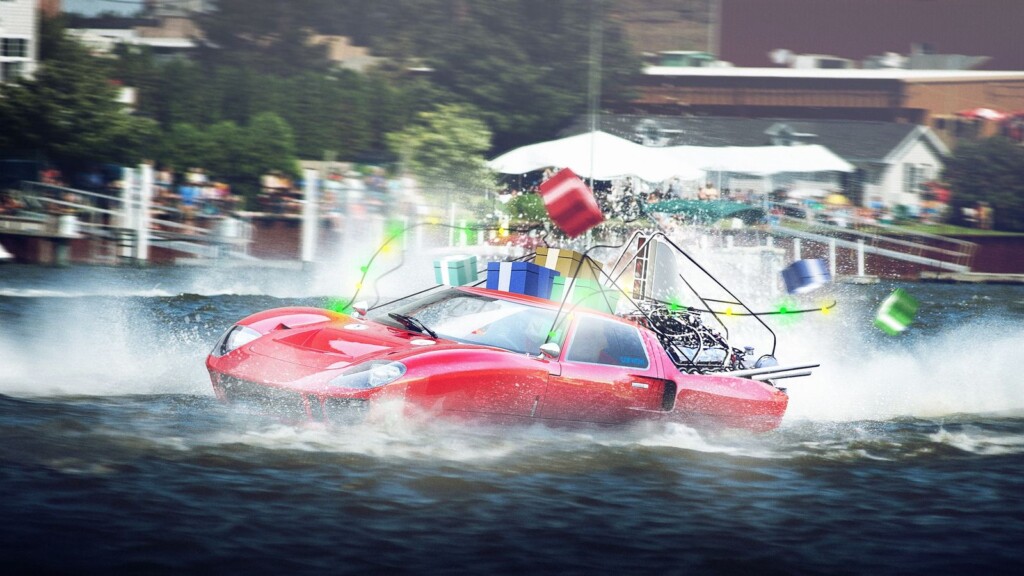 4. Ford GT40 – Oceans
To make sure even the most remote of pacific islanders don't feel left out at Christmas, a specially modified Ford GT40 speedboat will help carry presents across vast ocean expanses at speed. Slipping away unnoticed may prove tricky thanks to its seven-litre V8 and ear-splitting open exhausts.
The GT40's classic blue and orange gulf livery has been given a more festive red makeover, too. We can't guarantee the less water-resistant presents on board will survive a high-speed water crossing completely unscathed, however.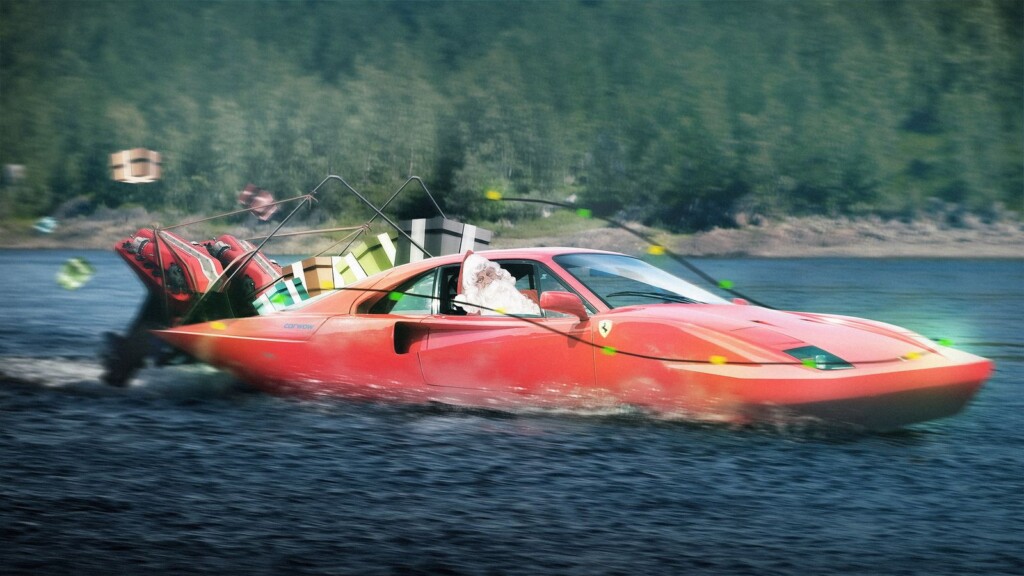 5. Ferrari F40 – Jungle rivers
Ferrari's enigmatic prancing horse badge has been worn by a number of exotic vehicles over the years, from famous racing cars to elegant speedboats and even an Italian airforce jet. Nothing comes closer to sheer insanity, however, than our F40 derived river boat.
Its flat-bottomed hull promises to let in only as much water as the engine leaks oil and a pair of high-powered outboard motors are poised ready to provide backup if its twin-turbocharged V8 gives up the ghost before Santa's deliveries are complete.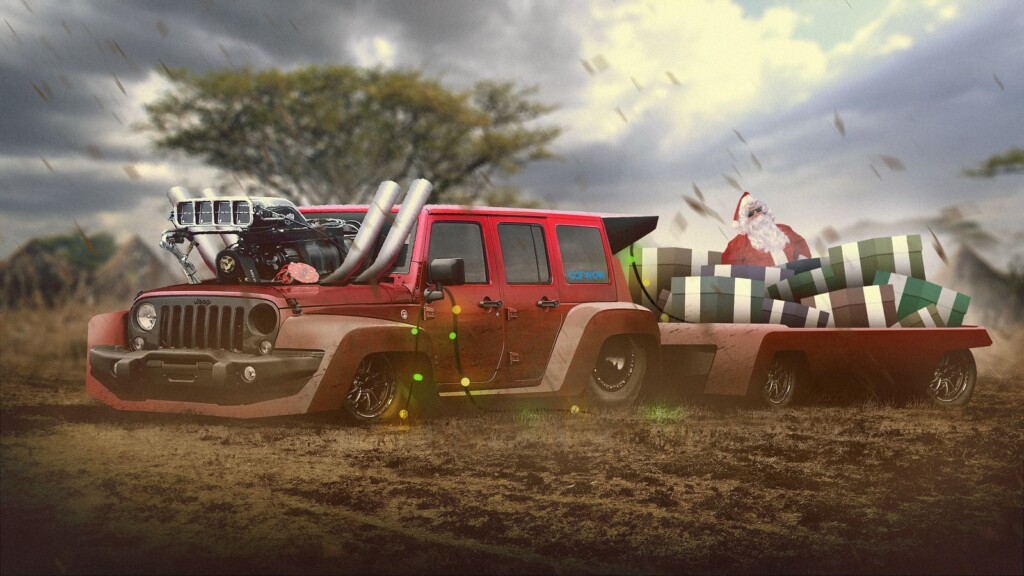 6. Jeep Wrangler V8 – African plains
What better vehicle to spread plentiful Christmas cheer to the most remote African plains than a Jeep Wrangler – preferably one equipped with a dirty great V8 from a top-fuel dragster. Able to launch Santa from 0-250mph in as little as four seconds, this could make the perfect delivery vehicle for houses located at convenient quarter-mile intervals.
A giant trailer not only provides enough space for carrying carefully wrapped presents, but it's the perfect place for storing the few hundred jerry cans brimmed with race fuel Santa will inevitably burn through before he completes his rounds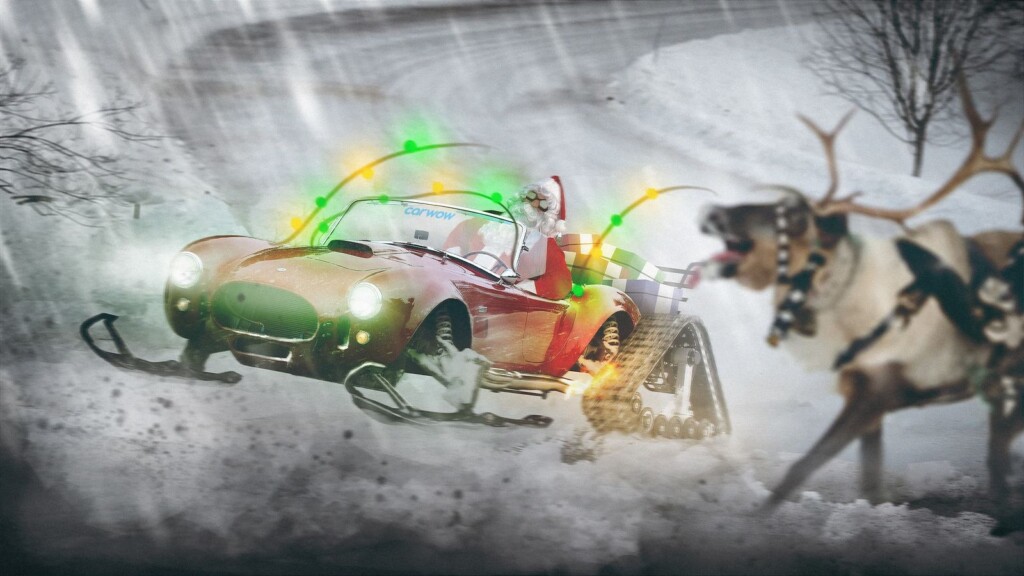 7. Shelby Cobra – Lapland
For gift-giving duties a little closer to his home, we imagine Santa would have access to a highly tuned – and snow-track equipped – Shelby Cobra capable of braving the worst a Finnish blizzard can throw at it.
This fearsome classic convertible not only makes an unstoppable grocery-getter for everyone's favourite Laplander, but it'll happily stand in for Rudolph if he's ever let loose by overzealous Green Peace campaigners.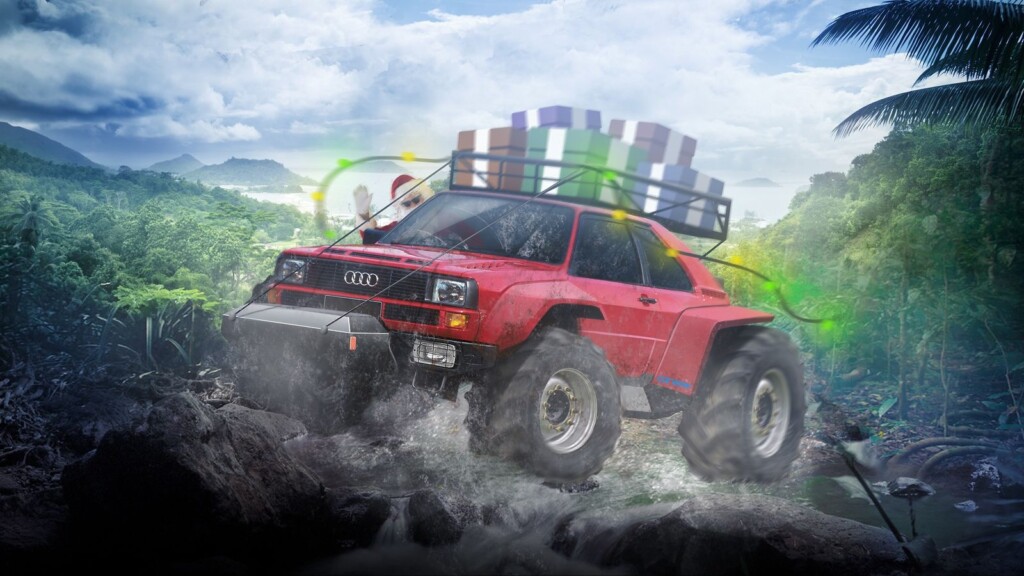 8. Audi Ur Quattro S1 – Rainforests
The original Audi Quattro proved its worth by winning the World Rally Championship twice between 1982 and 1984. This, in our twisted minds, makes it the perfect car for mud-plugging through water-logged rainforests.
Unlike many oddball cars on our list, the Quattro boasts a vast boot that Santa can happily fill with thousands of presents. A giant set of wheels and jacked-up off-road suspension make sure nothing will stand between our bearded hero and his next glass of brandy on Christmas eve.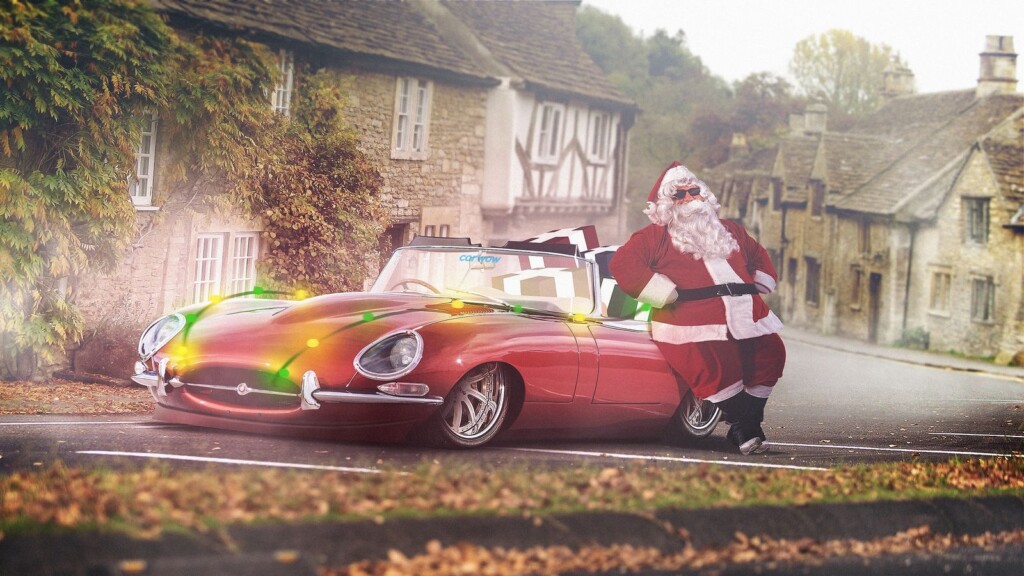 9. Jaguar E-Type – A quaint English town
For slinking between parishes in the wee hours of Christmas morning, we can think of no better car than a classic Jaguar E-Type. Our highly tuned version is less likely to blend in with Cotswold cottages than the standard car but it'll certainly make light work of sprinting from one village green to another with a huge haul of presents in tow.
A quick-release racing harness allows Santa to quickly jump back into his more traditional sleigh if this low-slung sports car finds itself beached on a speed bump, too.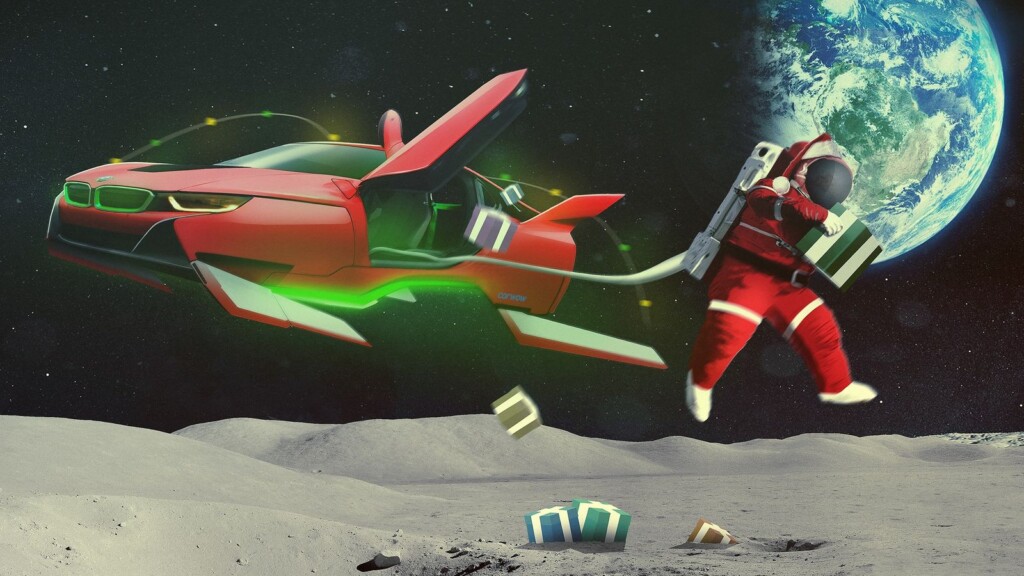 10. BMW i8 – The Moon
Who's to say Father Christmas' charitable efforts don't extend to outer space? His faithful following of flying reindeer can hardly be expected to make the 477,800-mile round trip to the Moon and back on their own so we've equipped him with a state-of-the-art BMW i8 with rocket thrusters and its own oxygen supply, instead.
Not only will this help him bring a little Christmas cheer to any astronauts left behind by absent-minded space agencies, but it'll help our decidedly rotund festive friend go where no-ho-ho-one has gone before…
And on that festive note, from all of us here at AF.com, we would like to everyone a very Merry Christmas and awesome New Year! – Ed.
Click here to read the original post.