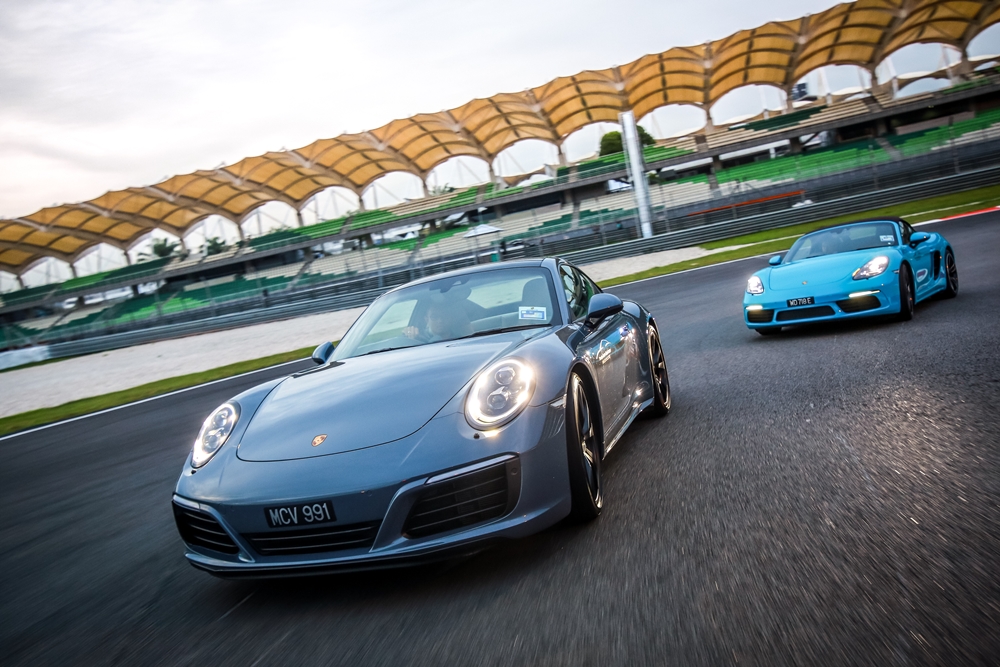 ADVERTISEMENT
It was almost like a dream sequence. Buckled into the 911 Carrera 4S driver's seat, I was fighting against lateral g-forces to hold myself upright as I blasted my way into and out of the challenging curves of the Sepang International Circuit…
The invitation came a part of Sime Darby Auto Performance (SDAP) open track day event for Porsche owners that allows them to fully explore the limits of their sports car. It was more like a casual weekend outing for those owners who either came armed with a 911 GT3 RS to improve their track time, or look forward to a casual Sunday drive in their classic 911.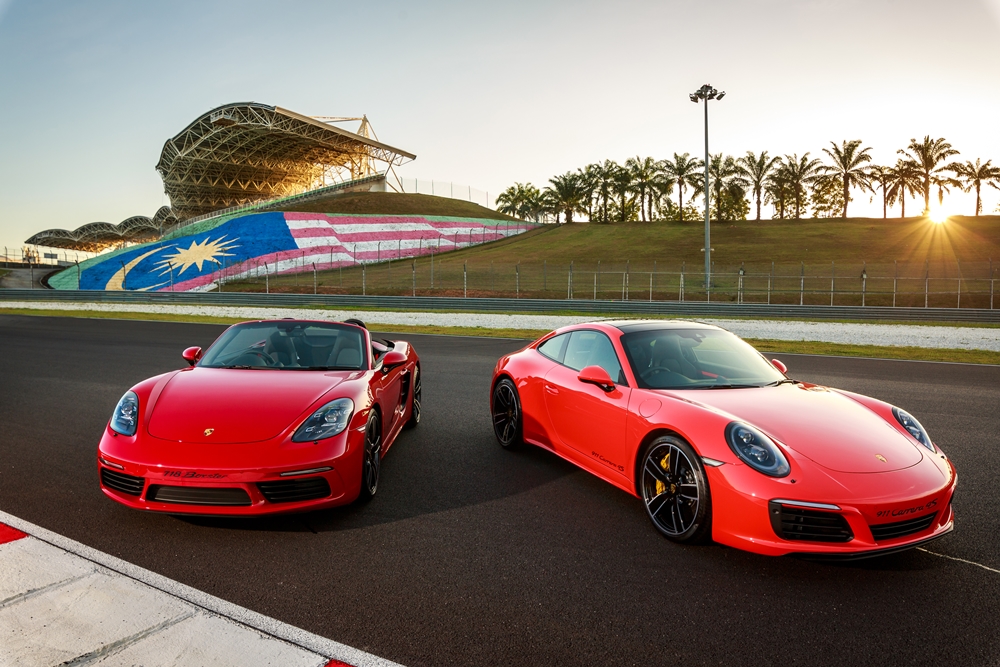 As a treat, SDAP invited us for an opportunity to test a trio of Porsches – the Porsche 718 Boxster S, 911 Carrera 4S and 911 Carrera 2S for 3 exhilarating hot laps around the 5.5km circuit, and boy, what better challenge could one wish for than to take these sport cars out for a spin on a world renown race track like the Sepang International Circuit.
My first ride of the day was the Porsche 911 Carrera 4S in Graphite Blue Metallic. It comes fully equipped with all the bells and whistles you could ask for in a 911 like the Porsche Dynamic Chassis Control (PDCC), Porsche Torque Vectoring Plus (PTV Plus), Porsche Ceramic Brake System (PCCB), Sports Chrono Package and Sports Exhaust System. All of these will add up to a pretty hefty price tag, on top of its million-Ringgit base price, but as soon as you scroll through the option list, it's hard to resist the temptation to splurge!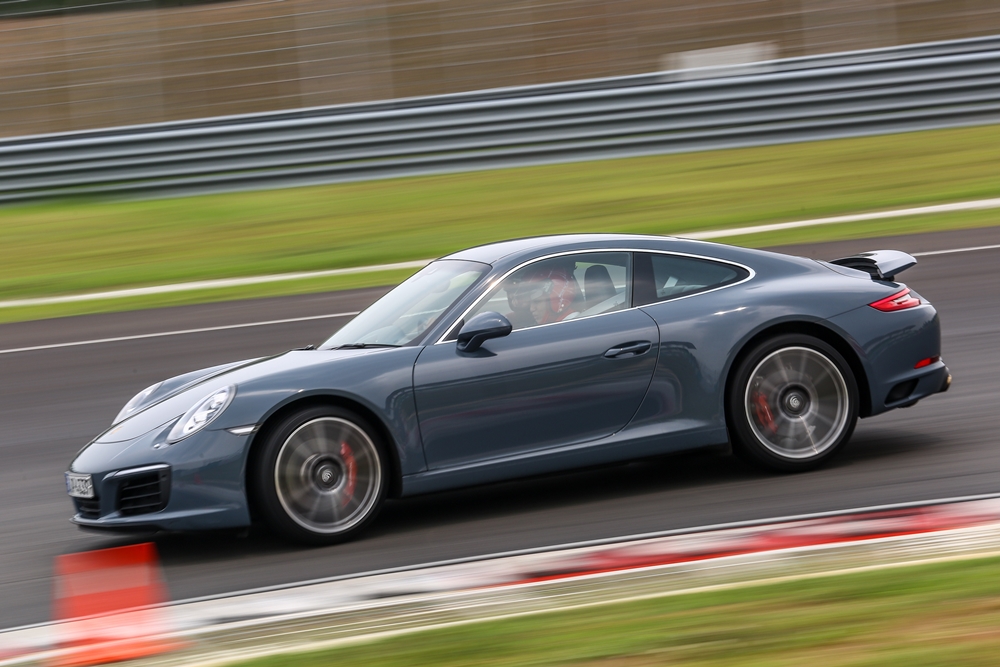 The 911 C4S acceleration is likely the car's most entertaining feature. Its motivation comes from a new 3.0-litre flat six twin-turbocharged engine that outputs 420hp and 500Nm of torque, a 20hp and 60Nm boost respectively, compared to the model it replaces, despite losing 0.8 of displacement from the previous naturally aspirated 3.8-litre flat-six unit.
Eventhough it is now powered by a twin-turbo, the sonorous engine sound we've come to know and love from Porsche is still there and yup, it's lovely. As soon as I turned the key (it does not come with a push start button by the way), it rouses the beast's engine – a masculine, emotional sound that made my adrenaline start pumping.
This engine is paired with Porsche's smooth shifting 7-Speed Doppelkupplung (PDK), which is the best gearbox you could ask for in the market. You'd be amazed by how swiftly and smoothly the 911 C4S shifts gears, it's almost imperceptible.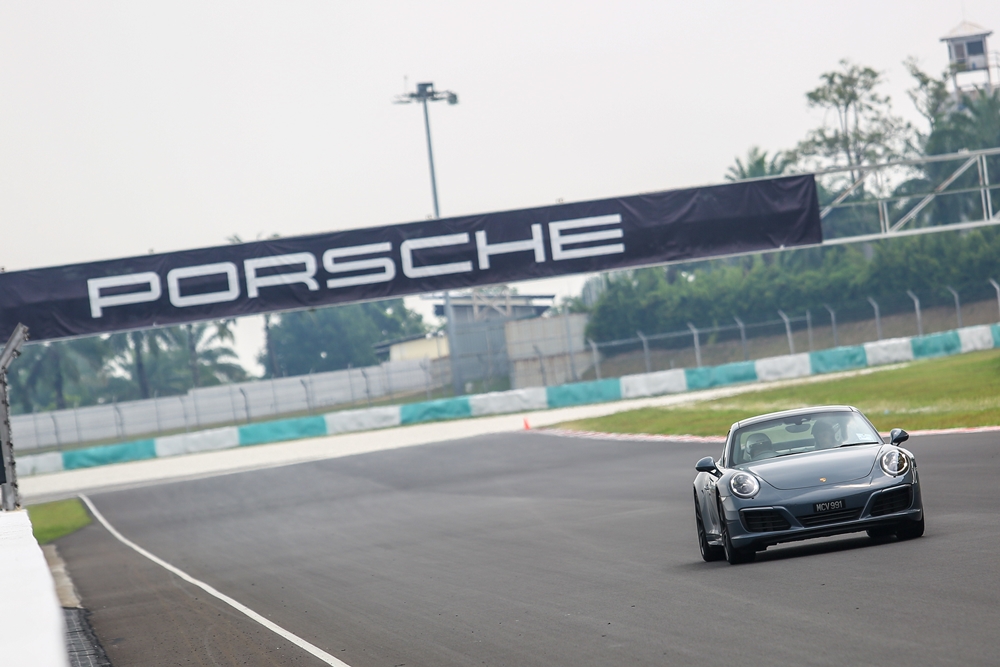 Boasting an all-wheel drive system, the 911 C4S blasts-off like a rocket as it takes less than 4 seconds to reach 100km/h from a standstill and with absolutely no wheel spin. Surprisingly, it also handles like a cruiser and exhibits perfect manners at all times despite being tossed and turned in tight turns vigorously.
The 911 C4S is such a finely balanced car so you don't really struggle trying to follow the lines on each turn in high speed. It clawed hard into the tarmac like a plant hugging the earth and it feels so agile around corners thanks to the PASM (Porsche Active Suspension Management) chassis – which lowers the ride height by 10mm.
The excellent handling is also contributed by the new generation steering wheel. For buyers who opt for the Sports Chrono Package, the newly developed steering wheel derived from the 918 Spyder hyper-hybrid features a rotary ring that can be turned to 4 positions for different driving modes like Normal, Sport, Sport Plus and Individual. This mode allows you to configure the driving characteristic based on your preference. While driving in the Sport Plus, the 911 C4S is a lot easier to steer and could perform much quicker maneuvers on the circuit where you can easily achieve triple digit speeds at several bends of the Sepang track like in turn 5 and turn 6.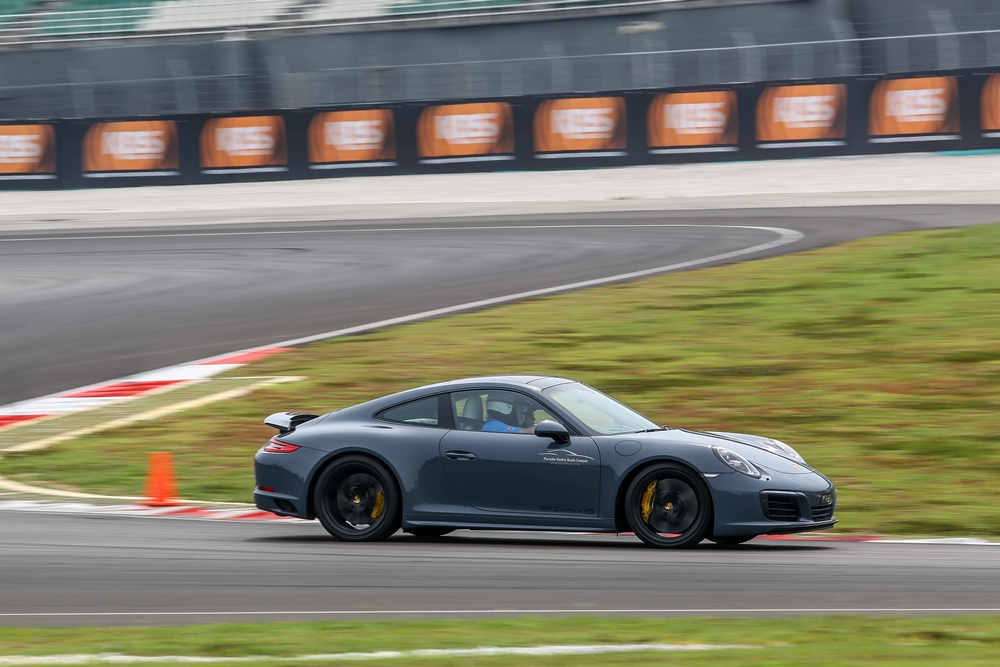 Aside from these driving modes, what really caught my attention was the additional push button located in the middle of the rotary ring called the Sport Response Button. When this button is pressed, the drivetrain is pre-conditioned for maximum acceleration for 20 seconds, so you'll have all the car's prowess to your advantage. Excellent for overtaking slow moving cars blocking your way on the highway!
If you're an adrenaline junkie who can't stand anybody beating your lap times, then purchasing the four-wheel drive 911 Carrera with all the performance bits and pieces makes sense. However, if you're 'slightly' under budget and prefer to settle with a slightly less expensive 911 Carrera but you still want to keep all that sportiness in hand, then the rear-wheel-drive version might be able to fulfill your needs.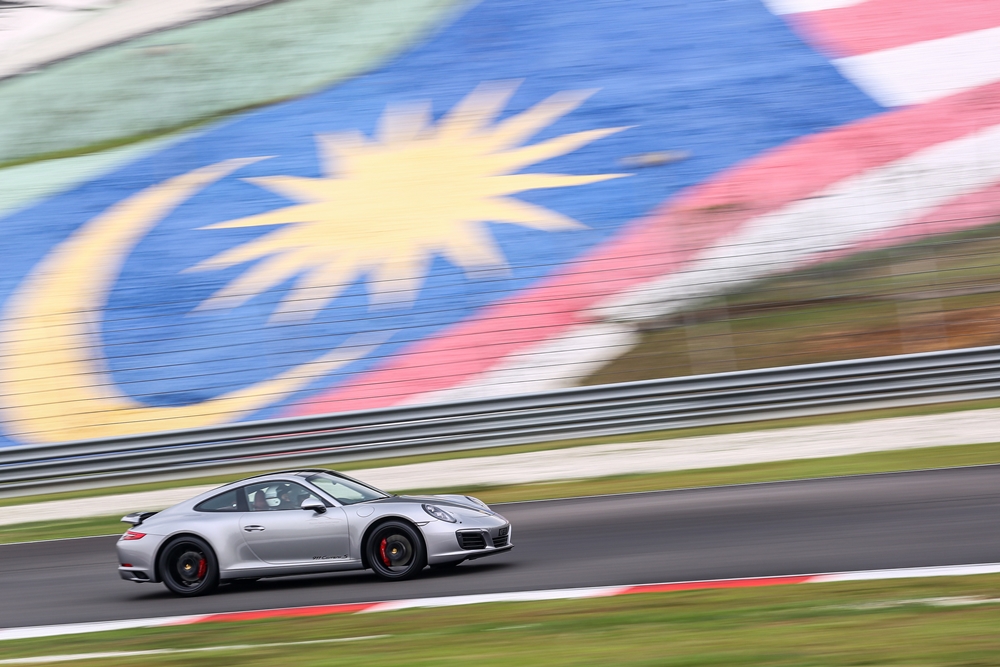 The 911 C2S comes with the same 3.0-litre turbocharged flat-six engine as the 911 C4S and features the same amount of output and torque figures. You can still dive it into the corners, and it still feels confident to handle curves with plenty of traction and grip, although it might not hold as tight compared to the 911 C4S. The rear-wheel-drive 911 Carrera is still a brilliant sports car for a fun occasional track use.
Back in the pit, my heart still fluttering, I was relieved that I managed to bring back the 911 Carrera to the pit lane without any bite marks. I tried to regain my composure before heading back on the track again, this time behind the wheel of the 718 Boxster S.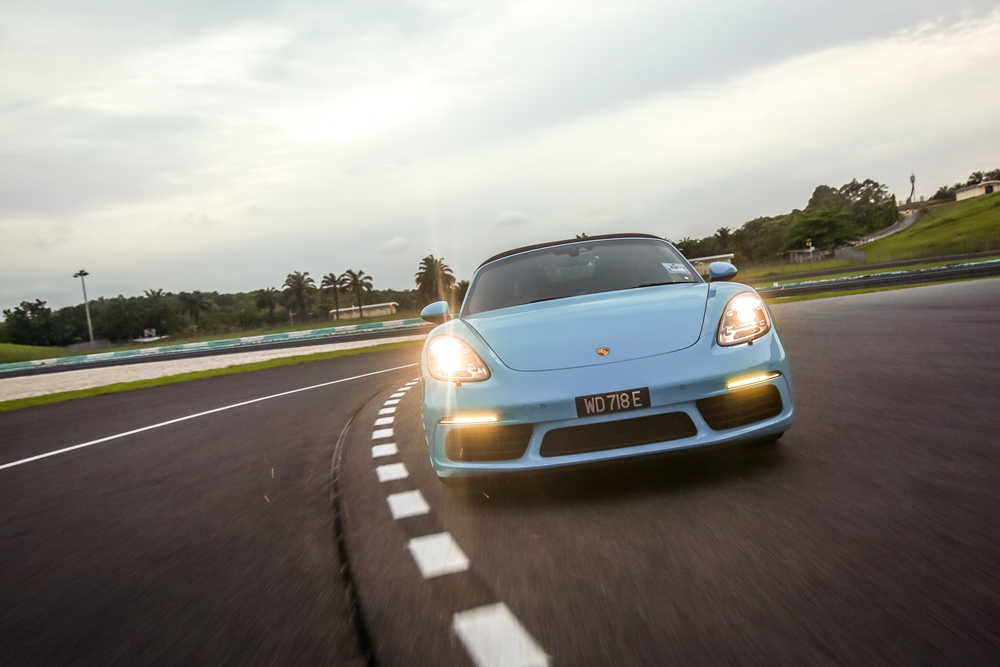 On the track, while the 911 C4S is smooth, swift, and so easy to control, the 718 Boxster S was a crazed maniac of a car, one that demands extra effort to drive fast. The exhaust note in the 718 Boxster S barks even louder – to a point where it gets really offending – it offers a much stiffer ride and in terms of its overall looks, the 718 Boxster S is now more masculine and athletic in appearance. There is nothing feminine about the car, except for this writer who drove it.
Just like the 911 Carrera, the 718 Boxster S also boasts a new twin-turbo engine in place of the naturally aspirated flat-six, we've come to know for the past 20 years. The new 718 Boxster S is now powered by a 2.5-litre 4-cylinder flat engine with variable turbine geometry (VTG) turbocharger, that sits in the middle of the car, which makes it very well balanced especially when thrown into sharp turns.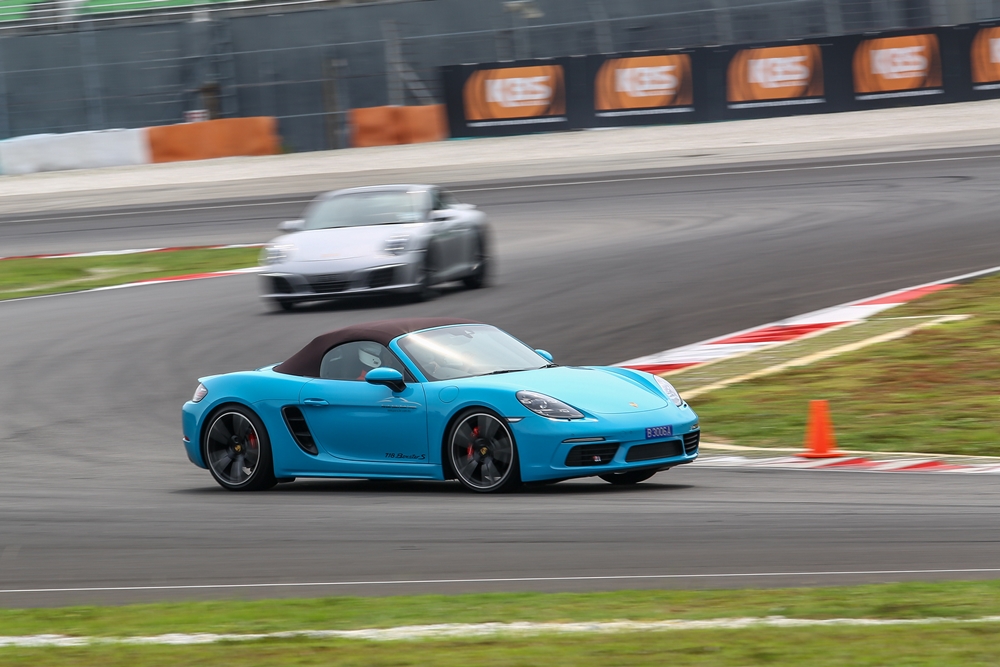 Don't underestimate its smaller capacity engine. With a total output of 350hp, the 718 Boxster S receives a power gain of 35hp compared to the model it replaces. Torque is a bigger story, as it now reaches 420Nm, an additional of 60Nm torque more than its predecessors. Power is sent to the rear wheels via a 7-Speed Doppelkupplung (PDK).
As expected, the 718 Boxster S complete sprints much quicker than its predecessors. It accelerates from 0-100km/h in only 4.2 seconds, a 0.6 second improvement compared to the previous 4.8 seconds while top speed has been increased to 285km/h, up from 275km/h.
Don't get me wrong, the 718 Boxster S is a well-engineered sports car – a performance machine and much sportier than its outgoing model, but perhaps, due to my lack of skills, I find myself struggling to clip the apex and follow the racing lines as cleanly as I would in the 911 Carrera, although I've familiarized myself with each turn of the track on the earlier lap run. You'll need to push the 718 Boxster S a bit harder to fill the distance between these two models.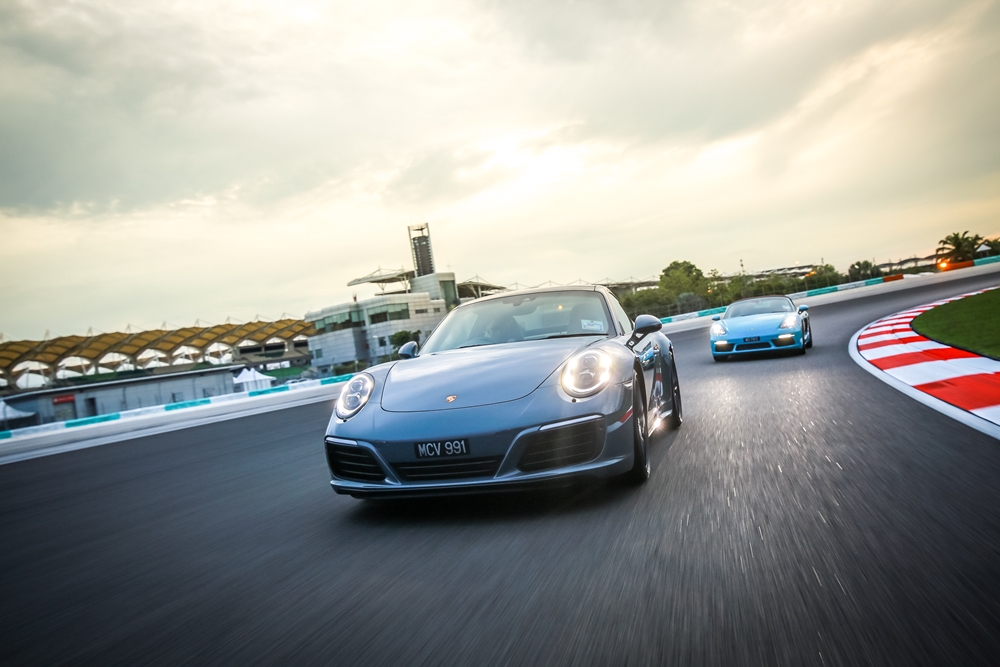 After piloting the 718 Boxster S, I kept wanting to drive the 911 C4S even more. This car was such a delight to be driven on the race track, but at the same time, overwhelms you with comfort and luxury. It makes track driving feel more like a walk in a park, a bit of a cheater car that allows you to drive faster with less effort. But I don't see that as a detriment, after all, you've invested a lot of money for this hot ride so driving it should be a pleasure, not a chore.
Then again, the 718 Boxster is still one of the best sports cars in the market and you can still have an amazingly good time driving this champ on a nice twisty road with the top down, for a much lesser money. Ah, choices, choices!