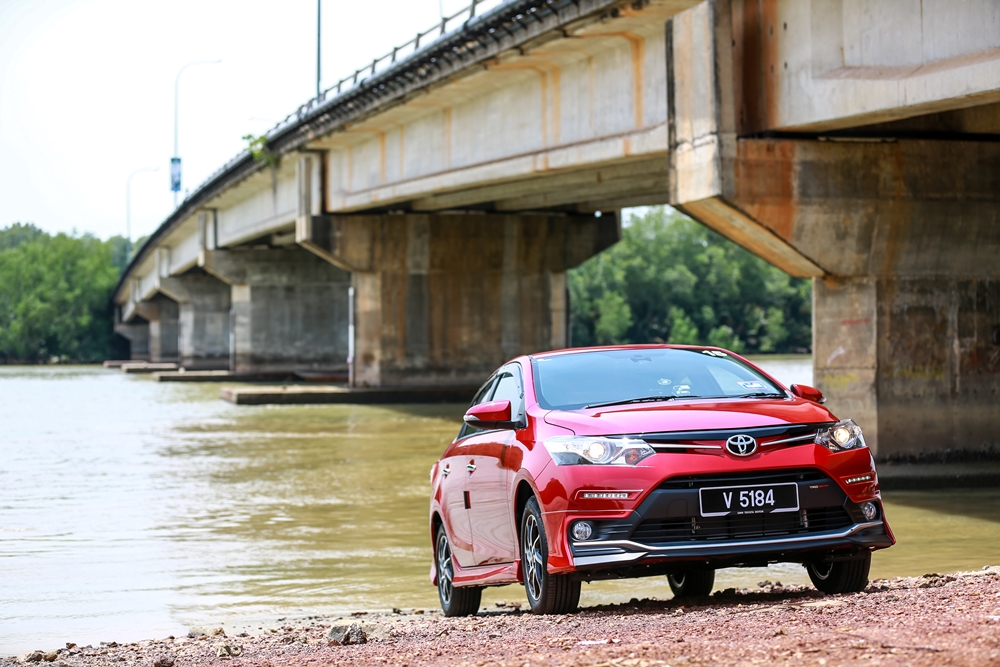 ADVERTISEMENT
Since being introduced in 2003, Toyota has been very successful in the B-segment market with the Vios. It is one of the most preferred models among Malaysians, making it the best-selling non-national model in Malaysia for 11 years.
Following this success, UMW Toyota Motor has introduced the refreshed Vios that comes with a slew of improvements to make the most out of every ringgit you'll ever spend on a brand new car.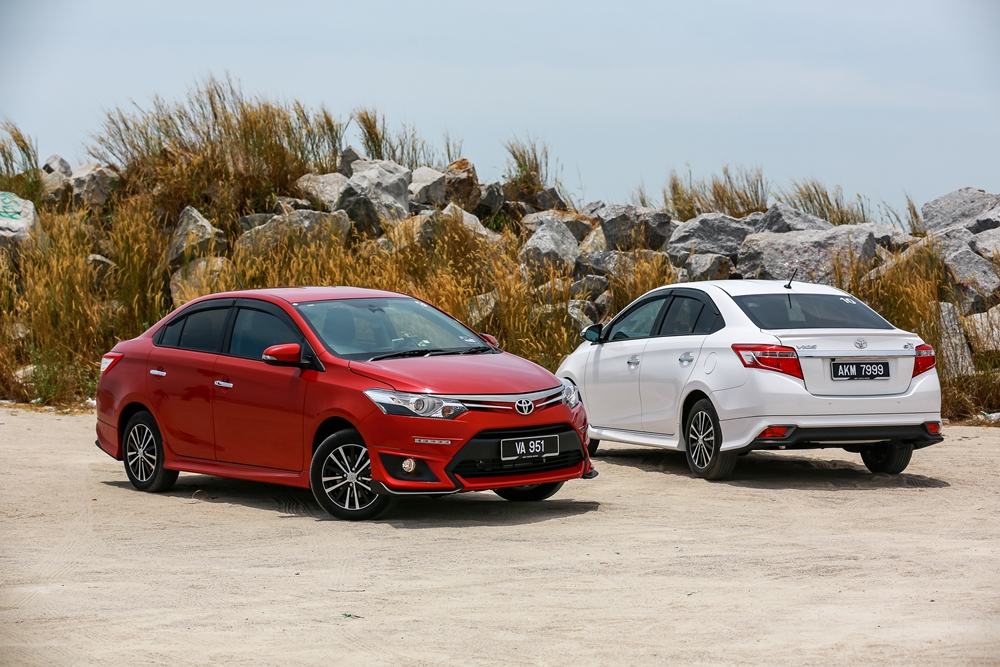 However, before you jump into your purchase, here's a few things you need to know about the newly improved Toyota Vios.
1. EEV (Energy Efficient Vehicle) Status
The new Toyota Vios has been tested and approved by the Road Transport Department and is now classified as an EEV (Energy Efficient Vehicle). With the new EEV status, UMW Toyota Motor managed to lower the price of the Vios between RM1,400 to RM3,600.
Available in 6 trim levels, including the introduction of a new variant called the 1.5GX as tested here, the Vios is now more affordable with prices ranging from RM76, 500 to RM96,5400.
Below are on-the-road price for all variants including GST with insurance:
• 1.5 TRD Sportivo with CVT – RM96,400
• 1.5 GX with CVT – RM92,800
• 1.5 G with CVT – RM89,800
• 1.5 E with CVT – RM83,900
• 1.5 J with CVT – RM79,800
• 1.5 J with 5-speed Manual – RM76,500
Buyers who place their booking before 31 December this year will be able to enjoy five years of free service.
2. Improved looks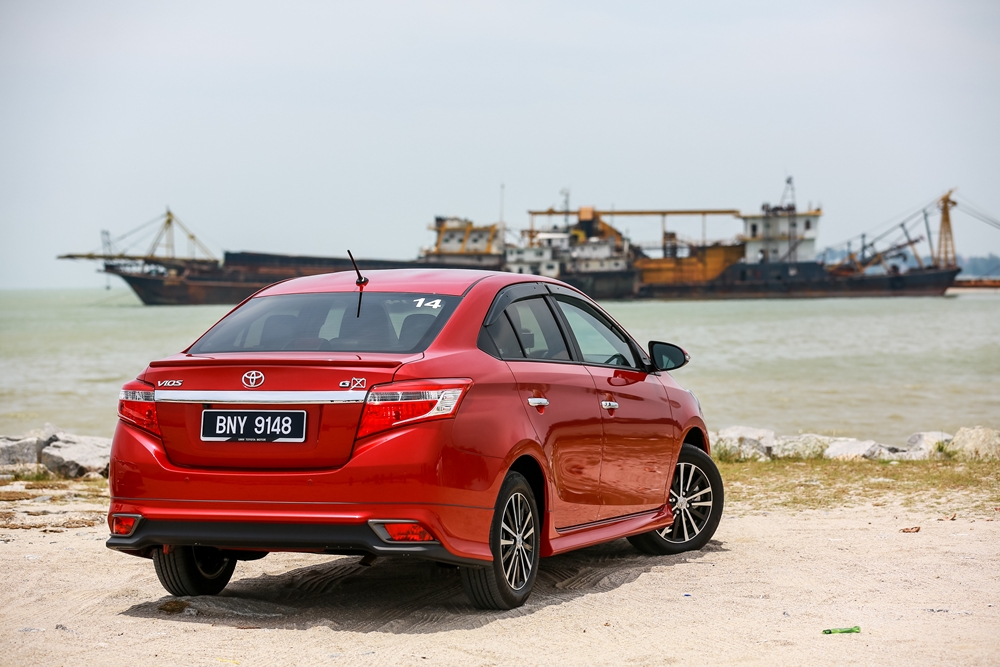 In terms of looks, the newly improved Vios remains largely identical to the model it replaces with subtle changes such as new front headlamps and Daytime Running Lights (DRLs) integrated in the front bumper of all variants. My test unit; 1.5 GX (pictured above) comes specially equipped with a sporty looking aerokit, rear combination lamps, rear fog lamps and new 15-inch alloy wheels that are fitted with 185/60R15 tyres.
3. New powertrain and transmission
One of the biggest highlights of the newly improved Toyota Vios lies underneath the hood of this sedan. The new Vios has been fitted with a brand new powertrain that consists of the new 2NR-FE engine and a CVT (Continuously-Variable Transmission with 7 'virtual' ratios) in place of the conventional 4-speed automatic transmission.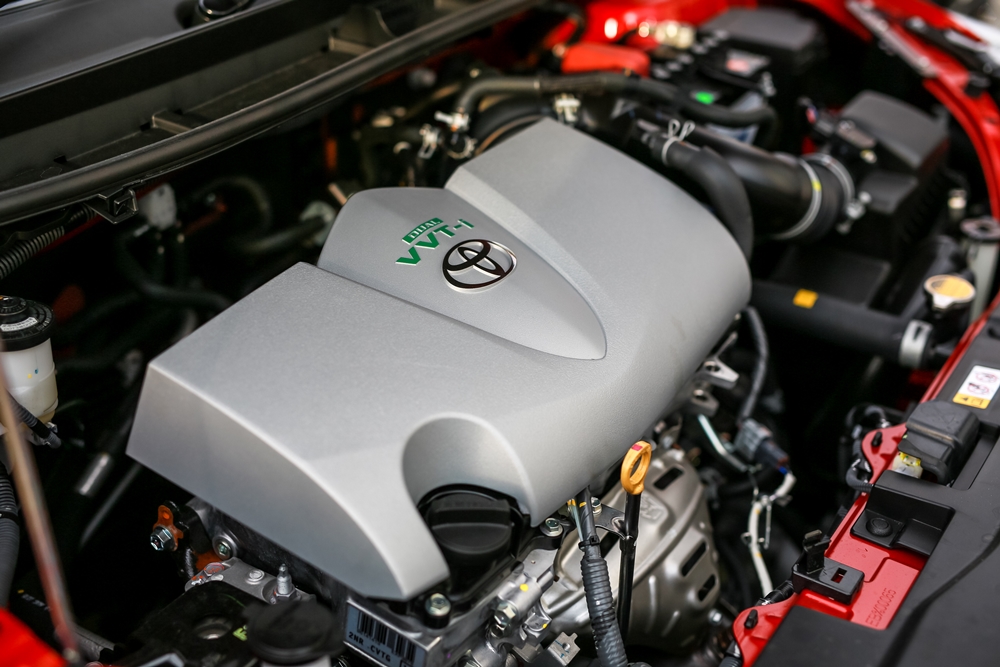 The new 2NR-FE engine features a 1.5-litre displacement with a DOHC 16-valve cylinder head. However, where the previous engine had VVT-i (Variable Valve Timing with intelligence) on just the intake side, this new engine has Dual VVT-i which means that the opening/closing times of the valves on the exhaust side are also continuously variable according to driving conditions.
The new engine produces a total output of 105hp at 6,000rpm and 140Nm of torque at 4200rpm, and it is paired with a CVT automatic gearbox with 7-speed Sport Sequential Shiftmatic Mode, while the 5-speed manual has been retained in the entry level 1.5 J variant. While engine performance is now lower by 2hp and 1Nm, fuel economy and acceleration has been significantly improved in the new Vios.
4. First driving impression
When driven around town, the Vios provides a relaxed and serene driving experience with immediate response to the slightest tap on the accelerator pedal.
The CVT gearbox which incorporates a torque converter provides a silky smooth operation with zero shift shocks as expected. When driving the Vios, you won't be able to feel the transmission at all as it automatically raises and lowers the engine speed based on driving conditions, calling up higher rpms for better acceleration and lower rpms for better fuel economy while cruising.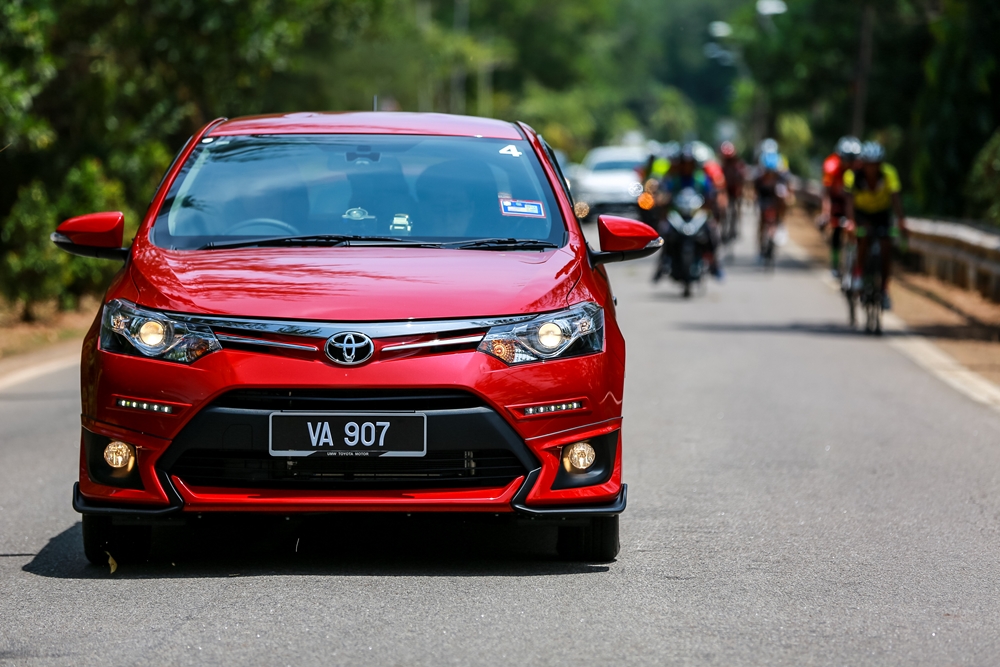 Although a CVT is known for their efficiency and smoother driving experience, it does come with a disadvantage. For instance, once you start pushing the throttle all the way or upon hard acceleration, the noise of the car's engine coupled with the CVT whine are quite loud, in spite of Toyota's assertion that it had redesigned its engine cover to provide reduced noise in the new model. We have to warn you beforehand about the noise though, because it will take some time to get used to.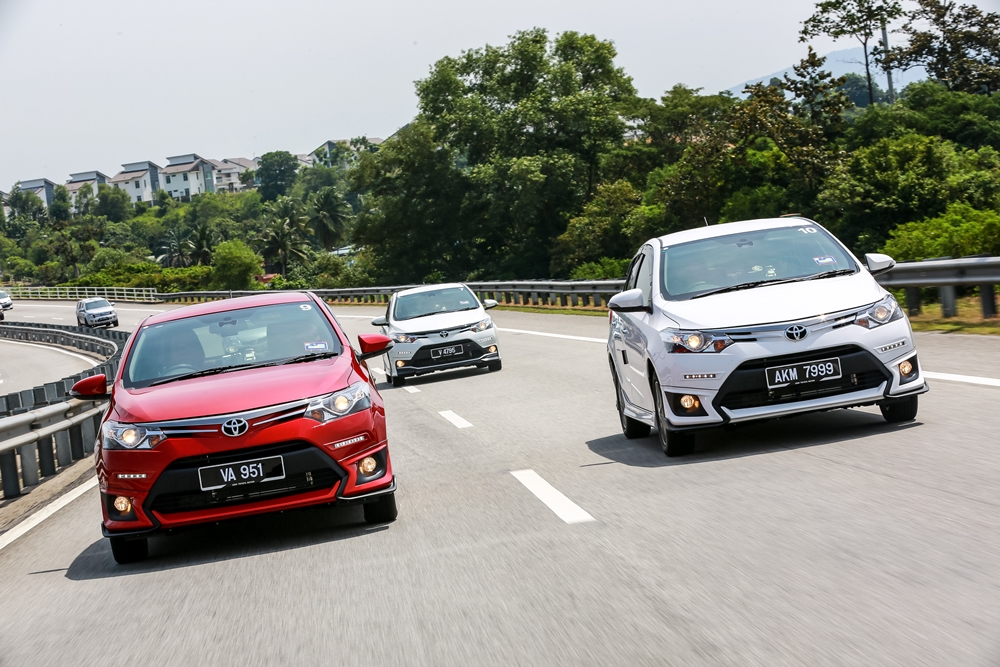 The suspension is more towards the plush side, however, but it does get a little firmer once you build-up speed. During hard cornering, although the Vios tends to lean a little bit more, it hasn't lost its all enthusiasm and still willing to stay in control. Still, the Vios isn't all that sporty and makes more sense as a daily city commuter where the light steering wheel makes it easy to maneuver around town.
5. How many kilometres can you travel with 1-litre of fuel?
Toyota's own factory testing shows that the improved Vios with the new engine and CVT can achieve 18% better fuel economy than the previous engine with a 4-speed automatic transmission. Therefore, if an owner travelled 25,000 km a year, this would mean fuel-savings of around 302 litres and based on a RON95 petrol price of RM1.75 a litre, this would amount to savings of RM529 each year.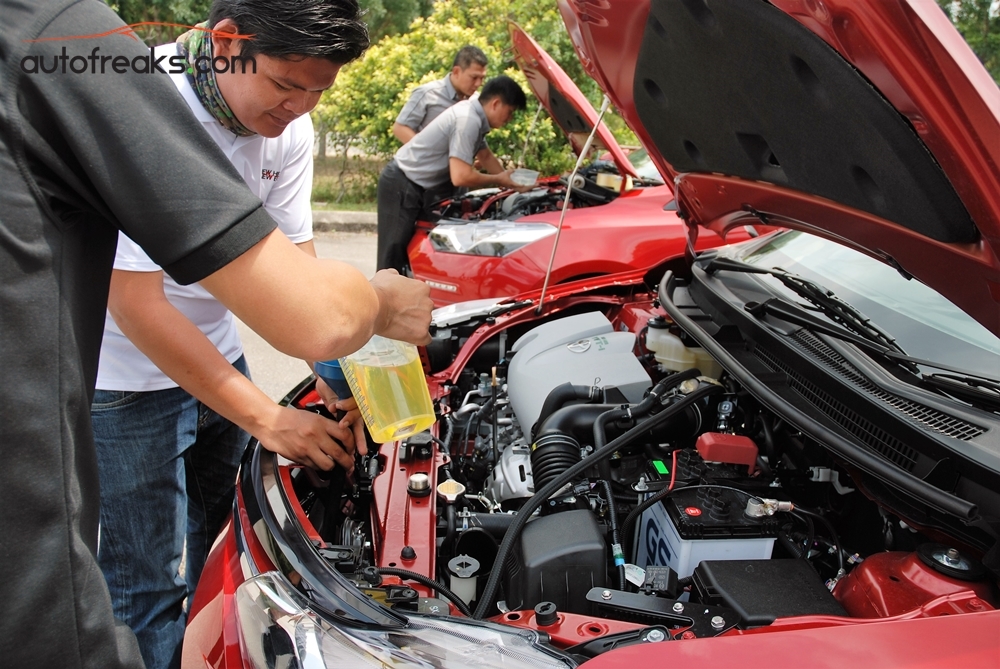 To prove just how far one can travel with only 1-liter of fuel, we had the opportunity to participate in a fuel-efficiency challenge where each participant was provided with one litre of RON95 fuel and had to travel as many kilometers as possible around the Melaka International Motorsports Circuit (MIMC) until the car came to a complete stop.
It was a test of patience and endurance as each participant strived to do their best to hypermile and drive as gently as possible around the racing circuit, making full use of every single drop of fuel available in the tank. (I heard someone even pushed his car to the start line, hello? – Ed.)
The Vios now comes with an Eco Indicator where a small green light will appear on the instrument panel whenever the engine is running optimally and using fuel in the most efficient way so I made sure that the Eco Indicator continued to light up throughout the entire fuel efficiency challenge.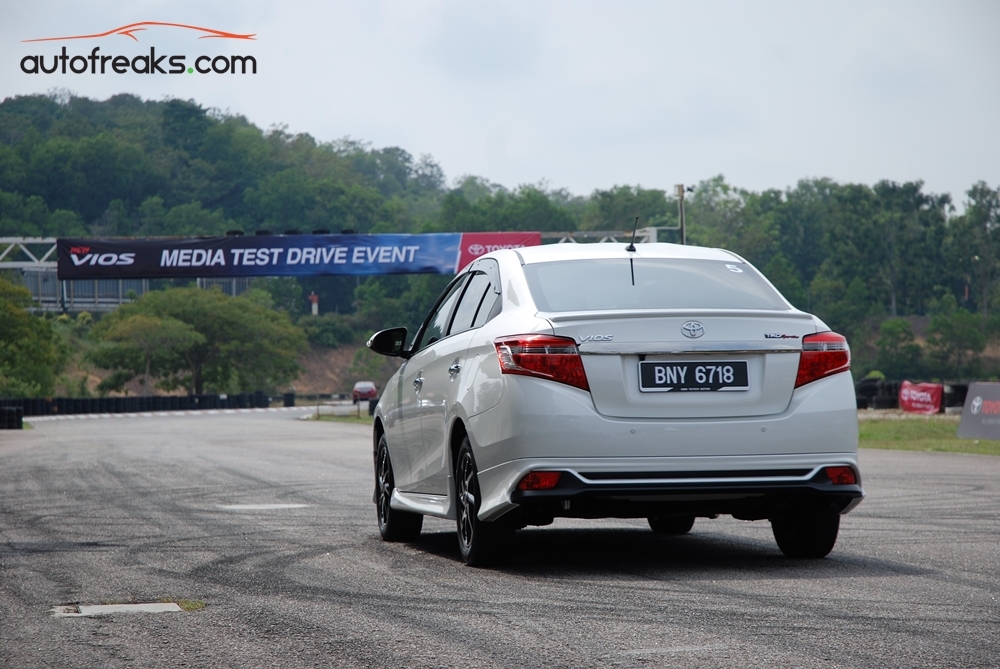 On average, if driven moderately, the Vios should be able complete at least 10 rounds of the 1.6km circuit covering a total of 16km. However, most of us managed to push the Vios to the extreme and covered 17km and above. While I managed my best at 21km on 1-litre, the winner of the challenge recorded 24.6 km with just one litre of fuel!
To be completely honest, it would be rather impossible for an average driver to achieve 24.6 km per litre in real life driving situation, especially since none of us turned on the air condition during the challenge to maximize fuel consumption, but it goes to show that the newly improved Vios with CVT doesn't thirst on fuel either.
6. Vehicle Stability Control (VSC)
Smaller segment cars are getting safer these days and in responding to buyer feedback, Toyota has now fitted Vehicle Stability Control (VSC) as a standard feature on all variants, event the base model.
During the media test drive, we also had the chance to test this active safety feature around the track. Participants were supposed to drive the Vios at full throttle in a straight line at speeds more than 60km/h and make a sudden swerve to the left before slamming hard on the brake. As the Vios started to skid sideways, VSC automatically applies braking force on certain wheels to create a counteracting force. In this way, the skidding will be stopped and I was able to maintain control of the car.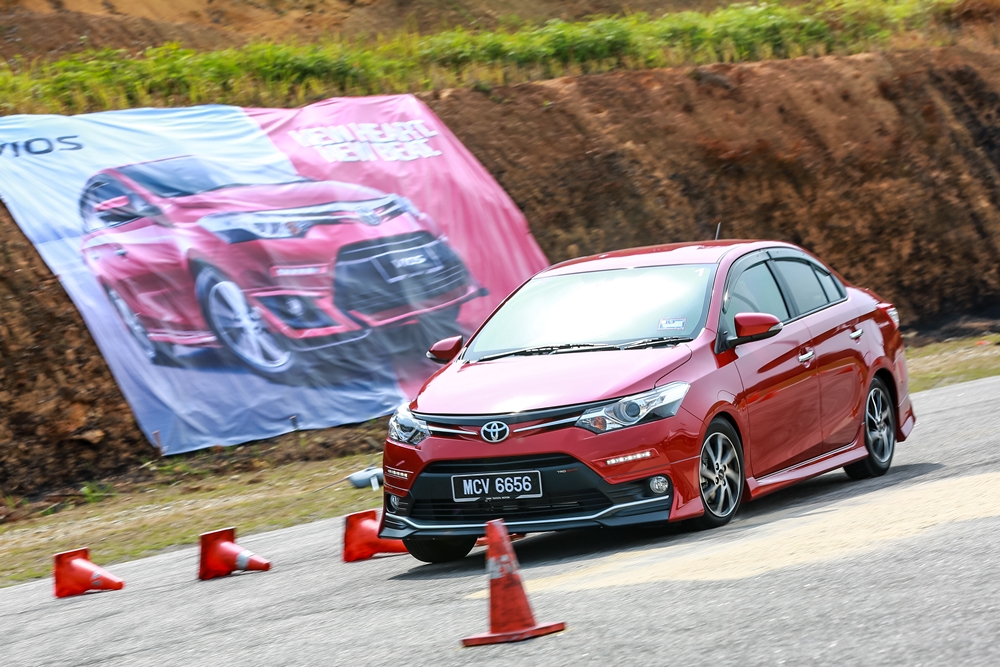 It's good to know that VSC is now standard in the new Vios as it is very essential in preventing road collisions during emergency situations like these. Besides VSC, the Vios also comes with Anti-lock Braking System (ABS) with Electronic Brake Distribution (EBD) and Brake Assist (BA), Dual SRS Airbags, ISOFIX rear child seats anchor and reverse camera as a standard feature in all variants.
7. Buyer's guide
The Toyota Vios isn't an exciting car to begin with but it manages to maintain a surprising level of success in the face of stiff competition like the Honda City, Mazda 2, Nissan Almera and Volkswagen Vento. With a long-standing reputation as a reliable Japanese car, the Vios serves its purpose well as a basic daily transportation.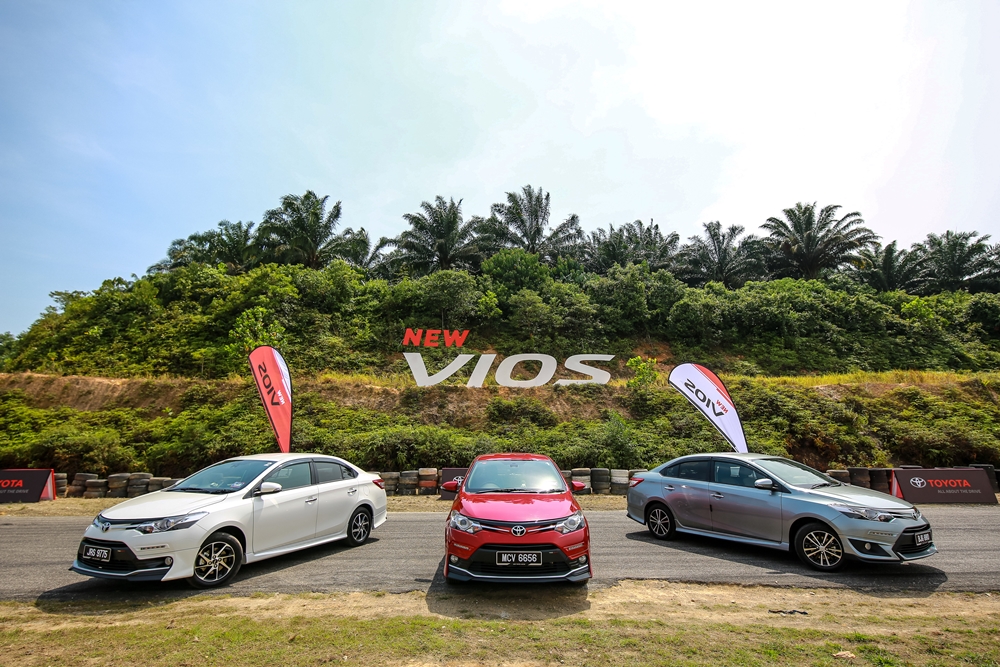 It goes without saying that the Toyota Vios will continue to sell like hot cakes in Malaysia, especially with the introduction of the frugal new engine with the CVT. Besides, as Malaysians are getting more distressed over the rising costs of living, Toyota has given consumers a sense of optimism about improving their daily commute with the new Vios without having to break the bank.