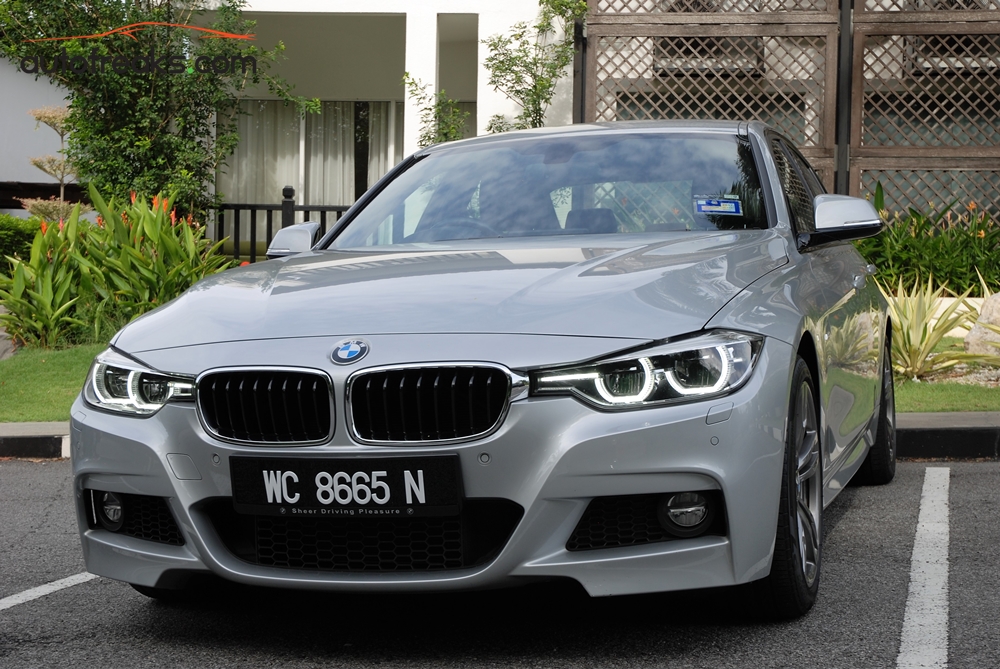 ADVERTISEMENT
There are hundreds of automotive brands that produce and mass market relatively good cars out there, but very few focus on "ultimate sheer driving pleasure" like BMW.
While there are a plethora of BMWs for you to choose from, the bread-and-butter of BMW, the 3 Series is well regarded as one of the more decently priced must-have rides for petrol-heads who enjoy the thrill of driving but also want a practical all rounder at the same time.
Recently I was fortunate enough to test the top-of-the-line BMW 330i M Sport, that received a mid-life update in November last year to help it tackle its direct competitors like the Mercedes-Benz C-Class, Audi A4 and Jaguar XE.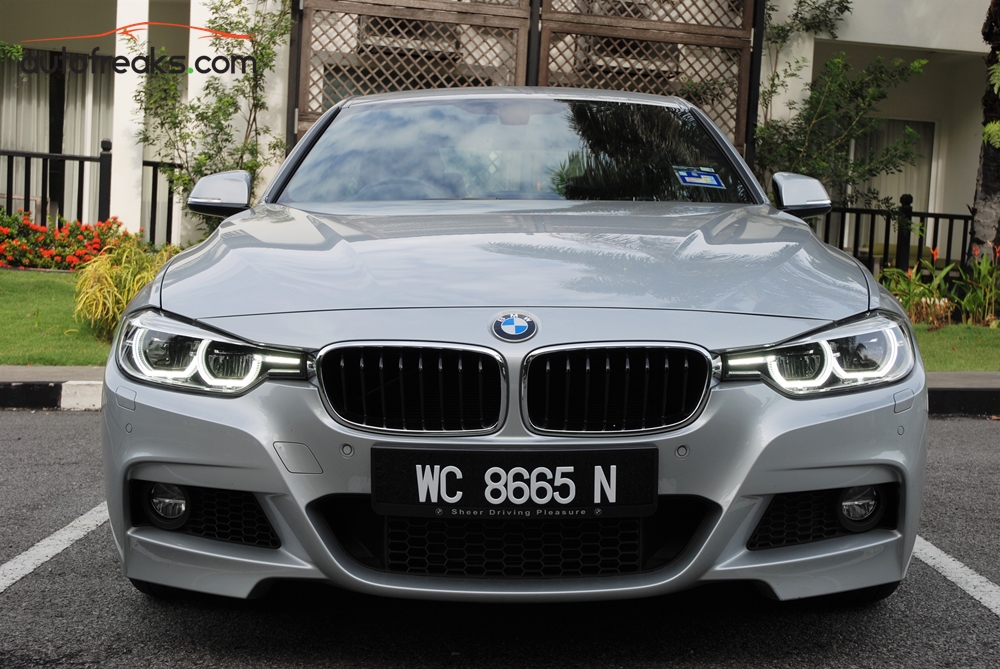 The 3 Series is not new in the automotive industry, having been around for over 4 decades. The Bavarian automaker however, has done a remarkable job in making sure that the 3 Series stays lustfully alluring over the years with its sleek and sporty design that would appeal to a wide range of age groups. Well, the young and young at heart anyway.
My test unit here is fancier than the regular 3 Series, dressed in extremely athletic and eye-catching M sport optional extras like M sport badge, aggressive front, side skirt and rear bumper diffuser as well as 18-inch M light alloy Double-spoke wheels.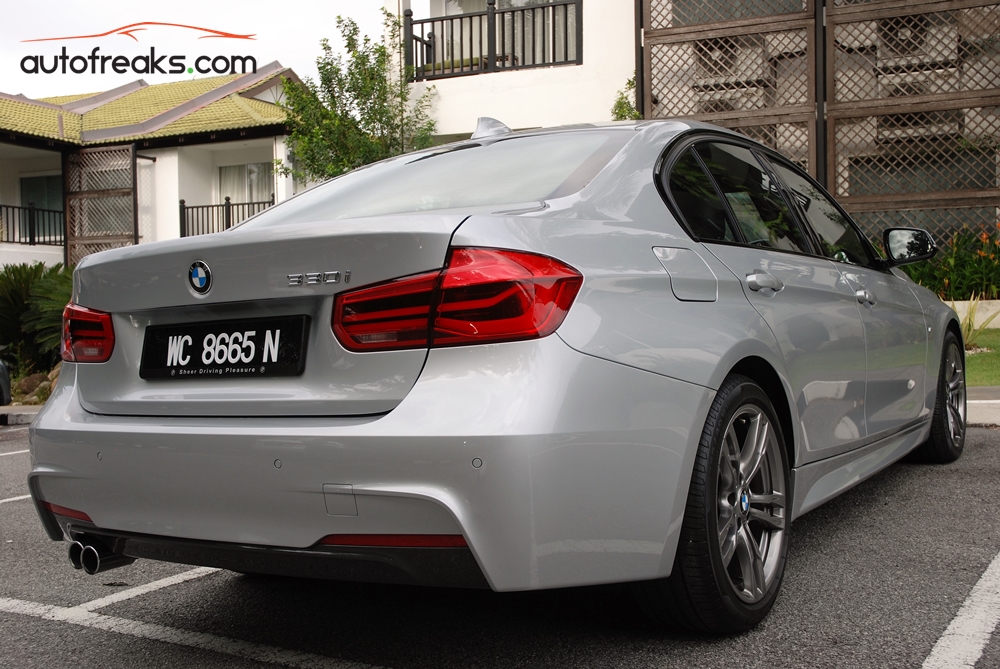 The added details makes the vehicle stand out from miles away, and gathers envious stares from passers-by and fellow motorists alike, but what really caught me by surprise was the fact that there were so many baffled looks that couldn't stop gawking at me when they saw me drive off with the 330i M Sport. Most guys would gave me a death stare, probably because they wish they were in the driver's seat of this car for a change.
To be truly honest, during my whole career of working in this largely male-dominated motoring industry, at no point have I requested for special treatment or demand to be treated differently because of my gender. Luckily, my editor and colleagues I've had the pleasure of working with treat me as their equal with respect. They would engage me in any car related conversations, or even assign me to an off-road test drive where you're required to drive in a 4X4 in a muddy jungle occasionally.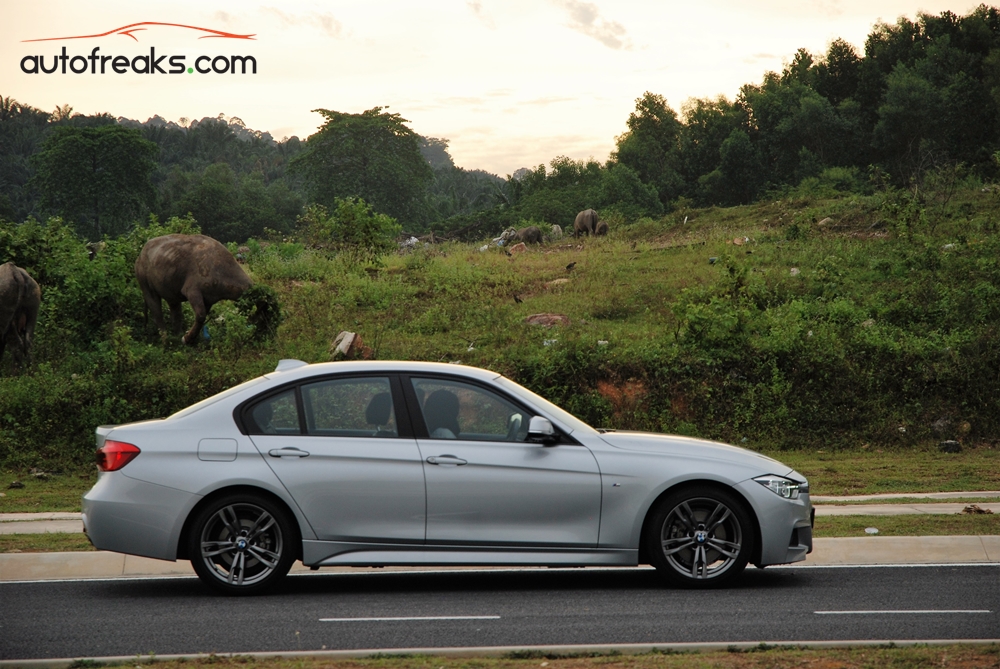 While I haven't encountered sexism within my own working environment, it's very outrageous to find that this discouraging mind-set still exists in this modern day society. Men may think that a sporty 'drivers car' like 330i M Sport is just for them but I beg to differ because I do find it very appealing too, thanks to its entertaining driving experience.
The 330i as tested here is the punchiest and the quickest in the 3 Series range, driven by a 2.0-litre 4-cylinder petrol engine that generates a total output of 252hp and a maximum torque of 350Nm. The power and torque is sent to the rear wheels via a silky smooth ZF 8-speed automatic gearbox.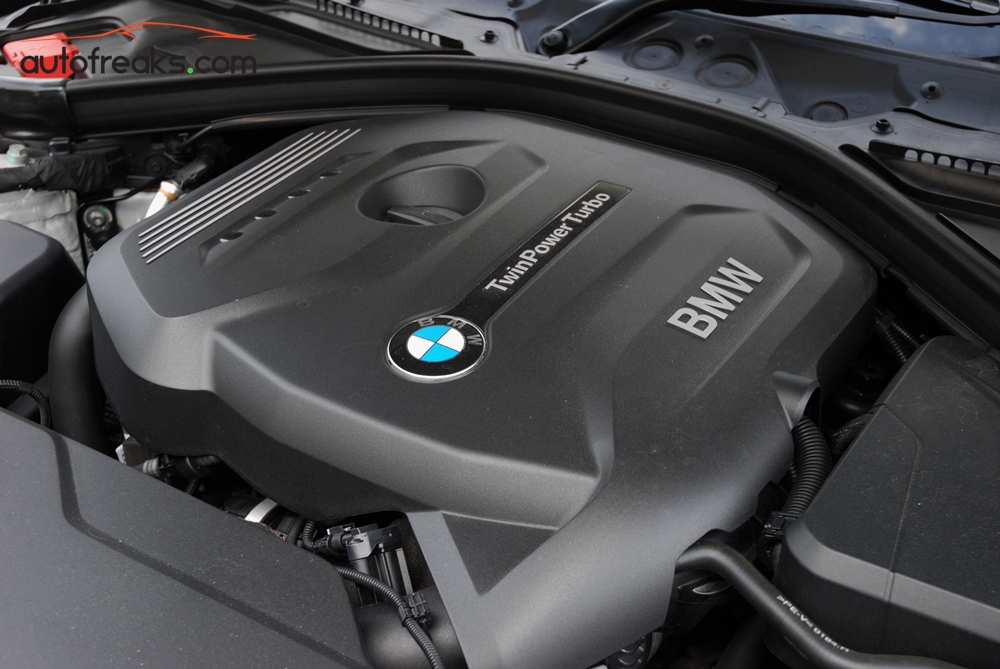 Driving the 330i M Sport on the freeway feels like you're on a high-speed adventure. It accelerates strongly when you flex your right foot on the accelerator – good enough for a century sprint in just 5.8 seconds. That is also roughly about the same time it would take for the world's fastest man, Usain Bolt to complete a 60m dash!
While the 330i M Sport probably has more performance than most average drivers will ever need, it gives a little excitement knowing that there's a little beast lurking underneath the bonnet that will provide you with instantaneous power for an occasional speedy run. Plus it never seemed to struggle much and always maintained its composure no matter how hard I push it to its limits. Err, maybe my limits…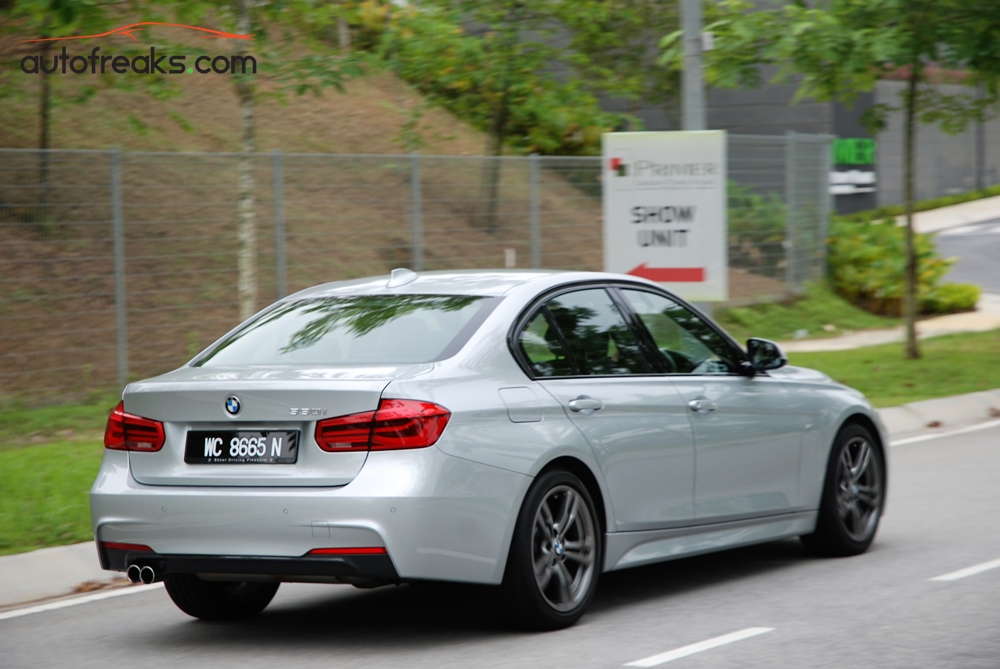 The 330i M Sport handles urban commuting relatively easily as well. The Adaptive M sport suspension not only provides stiff suspension for a sporty driving manner but it can also be switched to a comfortable ride if you choose to cruise in comfort. In comfort mode, the sedan can balance out uneven roads, potholes or harsh bumps on our poorly constructed local roads, while in sport mode, you'll get a firmer ride, giving you more confidence when tackling high-speed cornering.
BMW is well-known as one of the very few German automakers that still uses a rear-wheel drive RWD configuration in their mainstream modern cars like the 3 Series. It makes the sedan more enjoyable to be driven especially when it is being thrown into sharp bends. RWD cars spread the weight of its drivetrain more evenly which results in a perfect 50:50 weight distribution in the 330i M Sport. This results in superbly agile ride and handling that pretty much clairvoyantly follows where your brain tells you to go. I also like how the well-weighted steering wheel allows me to steer in finesse thus providing extra confidence from behind the wheel.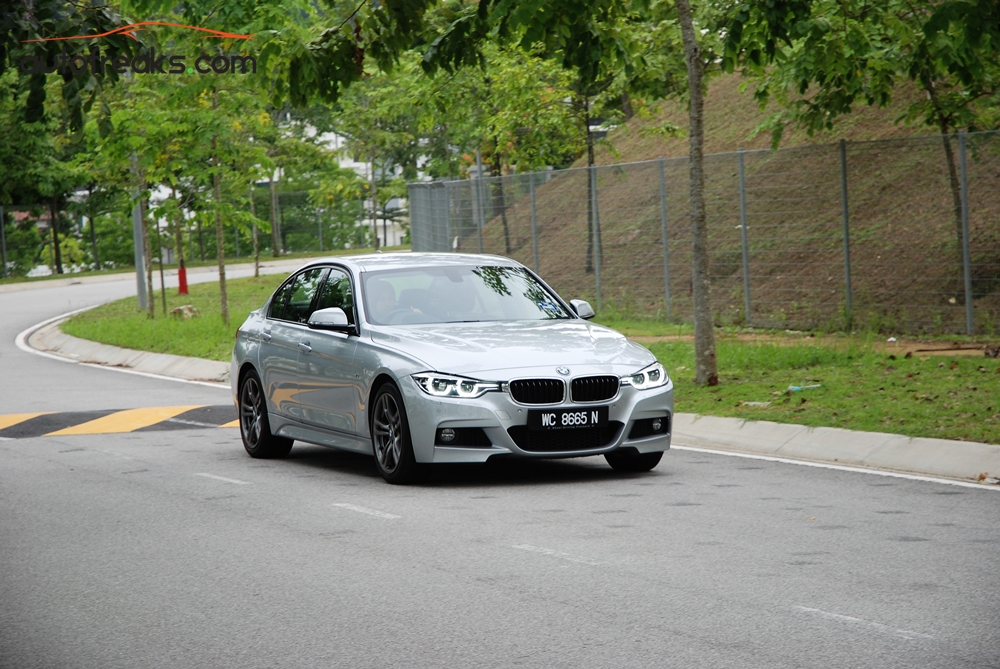 While it might put some buyers off when BMW swapped the traditional 6-cylinder engine for a smaller 4-pot, you'll will be happy to know that the powerful and lightweight all-aluminium engine in the 330i M Sport not only provides excellent performance and driving refinement, but it is also good on fuel. The average fuel consumption reading of the BMW 330i M Sport stands at 6.1-litres/100km according to BMW, alas I averaged only 9.5-litres/100km during my weekend with the car. Well, it's not a Prius after all, plus I had no intentions of pussy-footing around during my time with it, but if you are eager to protect yourself from the sting of the pump, the 330i does come standard with an Automatic Start/Stop function, Brake Energy Regeneration and ECO PRO mode to help you minimize the cost of your monthly petrol budget.
The overall interior of the BMW 3 Series is just as sporty as it is from the outside and to keep it classy, BMW has added high-quality chrome accents and high-gloss surfaces along the top of the centre console.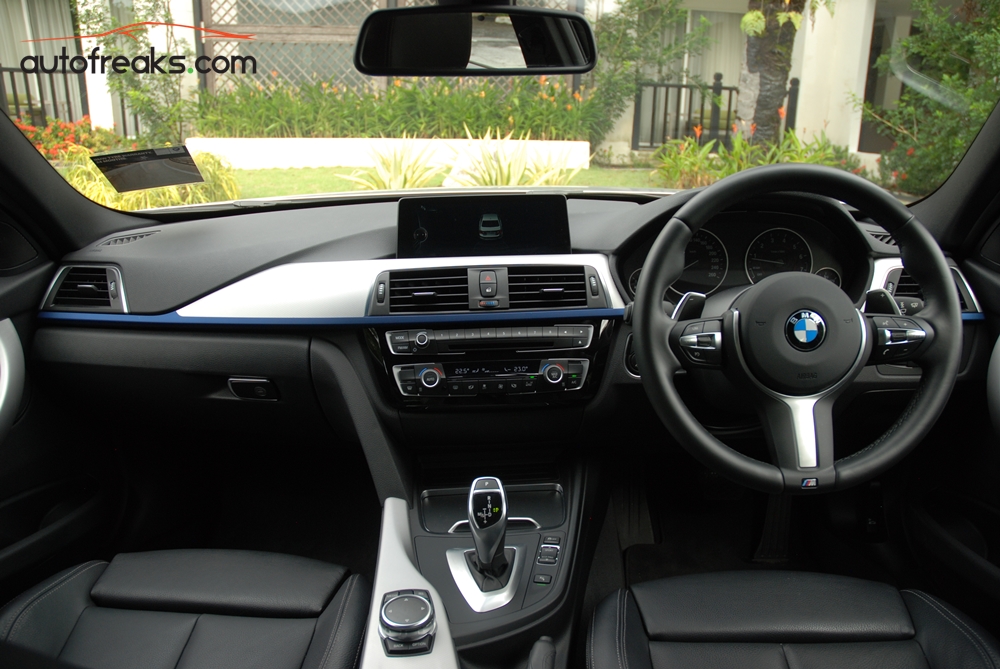 The ergonomics works well in the 3 Series where the dashboard is angled towards the driver, while the driving position where you sit nice and low to the ground elevates the sporty feeling when driving the car.
Unlike other German rivals, BMW kept its 3 Series buttons and switches at bare minimum and they are all within easy reach. The rest of the cabin is spacious with ample storage compartments that allow you to keep your sedan tidy and neat at all times. BMW also offers one of the best boot-space in its class with 480-litres storage capacity for you to store all your belongings.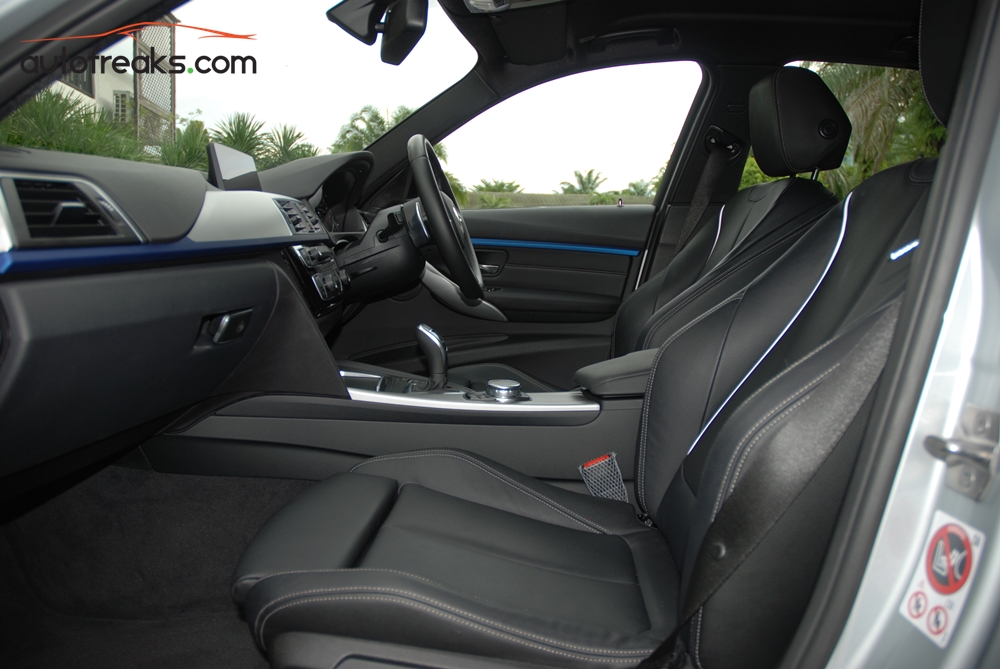 Elsewhere inside the cabin, there's also an abundance of modern electronic aids and creature comforts and practicality such as cruise control, park distance control, electronic seat adjustment with memory function, automatic air conditioning, push start button, electronic roller sun blind for the rear as well as Head-up display, among other things. Most of these bells and whistles are usually something that you would expect available as standard equipment in a luxury sedan like the 3 Series, though BMW also offers a few nifty features not found in other vehicles in its class.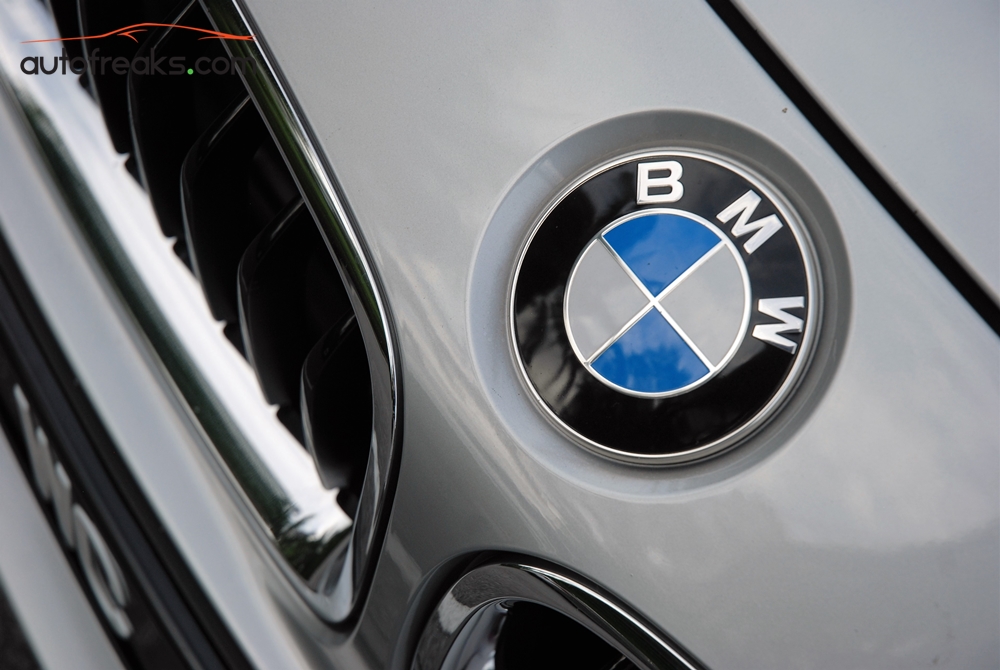 The Intelligent Emergency Call for instance, can automatically place a direct call to the BMW Call Centre if any of the the airbags are triggered in an accident or if there's a potential risk of injury to the occupants. You can also place an emergency call manually if you require rapid help to be summoned for other road users in emergency situations.
On top of that, the BMW ConnectedDrive can connect you to a real-life assistance that will help you to answer all your questions and requests or even keep you entertained during your journey. You can search for restaurants or hotels, make a reservation if desired, get your flight information, in fact, it can even help solve your kid's algebra questions if need be. Not really. But the possibilities are endless here folks.
The BMW 330i M Sport is simply one of the best cars I've tested so far and I've fallen completely head over heels for it. It is one of those very few cars that combines edgy design, sporty driving dynamics and practicality in one package making daily driving feel more like a reward rather than a chore.
The 330i M Sport retails for RM308,800 on the road, without insurance making it the priciest 3 Series in the range, but for those who want the best out of their 3 Series, getting the 330i M Sport will be worth your every ringgit spent. Bang for buck, it's hard to beat, unless of course you're a 'greenie', then the new BMW 330e makes an even more tempting proposition…
SPECIFICATION: BMW 330i M Sport
• Engine: 1998cc 4-cylinder petrol engine
• Power: 252hp @ 5200rpm- 6500rpm
• Torque: 350Nm @ 1450rpm – 4800rpm
• Transmission: ZF 8-speed automatic transmission with Steptronic
• Acceleration 0-100 km/h: 5.8 seconds
• Top Speed: 250 km/h
• Fuel Consumption: 6.1L/100km
• Price: RM308,800 OTR including GST without insurance