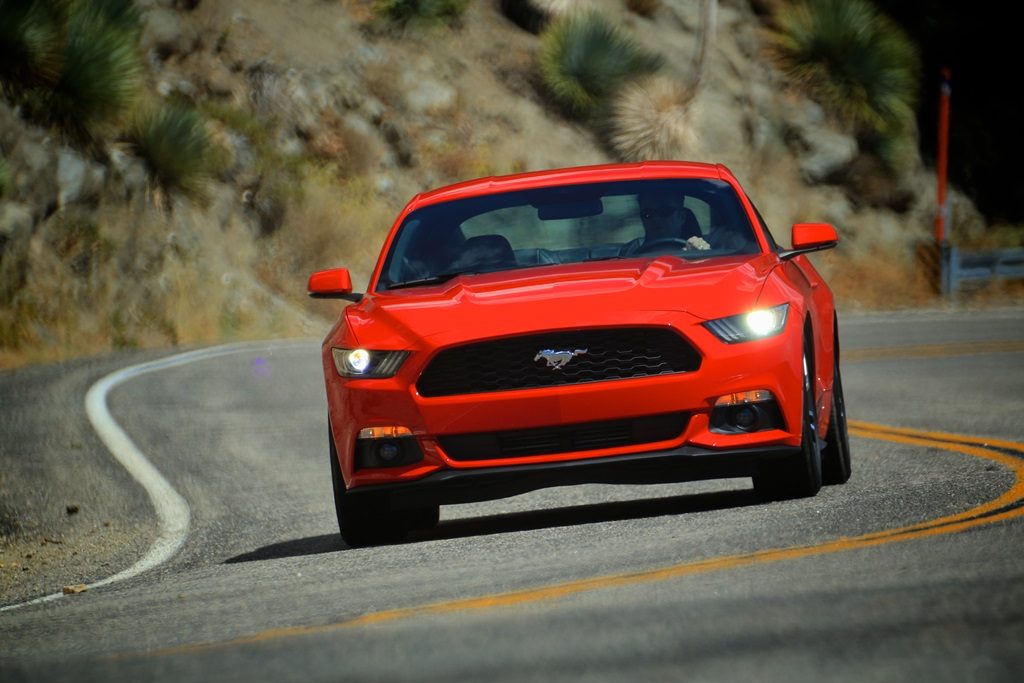 ADVERTISEMENT
When it comes to buying a new car, more than 83% of Malaysian consumers say that fuel efficiency is more important than power…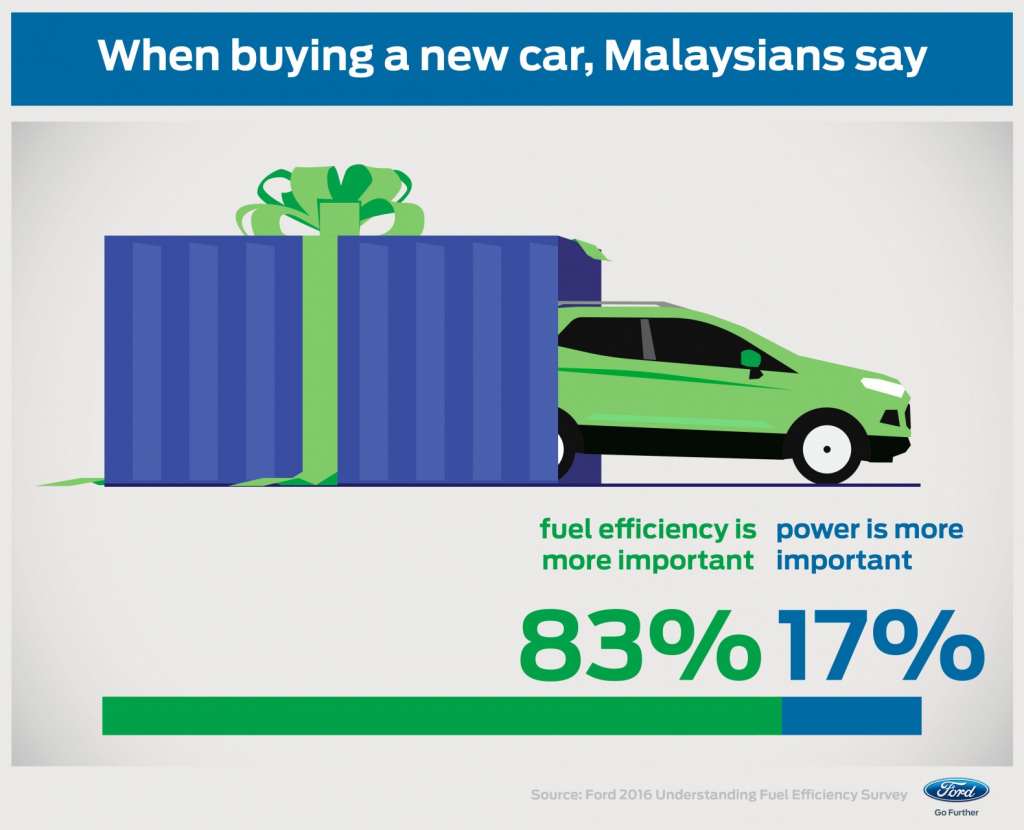 That is just one conclusion of a survey of more than 9,500 drivers in 11 markets across the Asia Pacific region conducted on behalf of Ford Motor Company in June 2016.
When asked the reasons for prioritising fuel efficiency, 87% of respondents from Malaysia cited the need to save money. Other top reasons included an interest in being more environmentally friendly (63%) and concerns about high fuel prices (60%).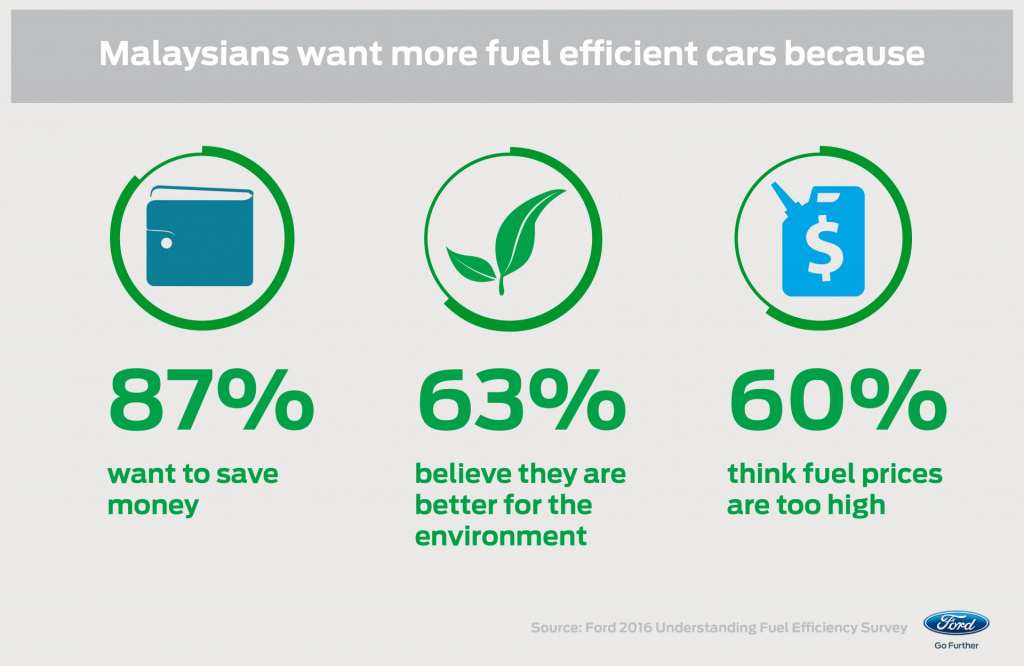 In fact, fuel efficiency is such a major factor that more than one-third (38%) of drivers who currently own a powerful car say that they regret not purchasing a more fuel-efficient vehicle. Whoa!
"We conducted this survey to learn more about what consumers'attitudes are towards fuel efficiency when they are shopping for a new car," said Kevin Tallio, chief engineer, Engine Engineering, Ford Asia Pacific. "Fuel efficiency remains one of the top concerns. Drivers continue to be sensitive to fuel costs, no matter what the price is at the pump."
The survey revealed that the need to save money was also reflected in fuel-purchasing habits.
Many Malaysians said they already apply tactics to save at the pump, such as only visiting fuel stations where they get points for filling up (55%). 31% say that they wait for lower fuel prices before topping up, and 20% always use a discount coupon.
Drivers are starting to change their driving behaviors too. More than 47% say that they will change their driving habits to use less fuel and 36% of consumers are planning on driving less over the next 12 months.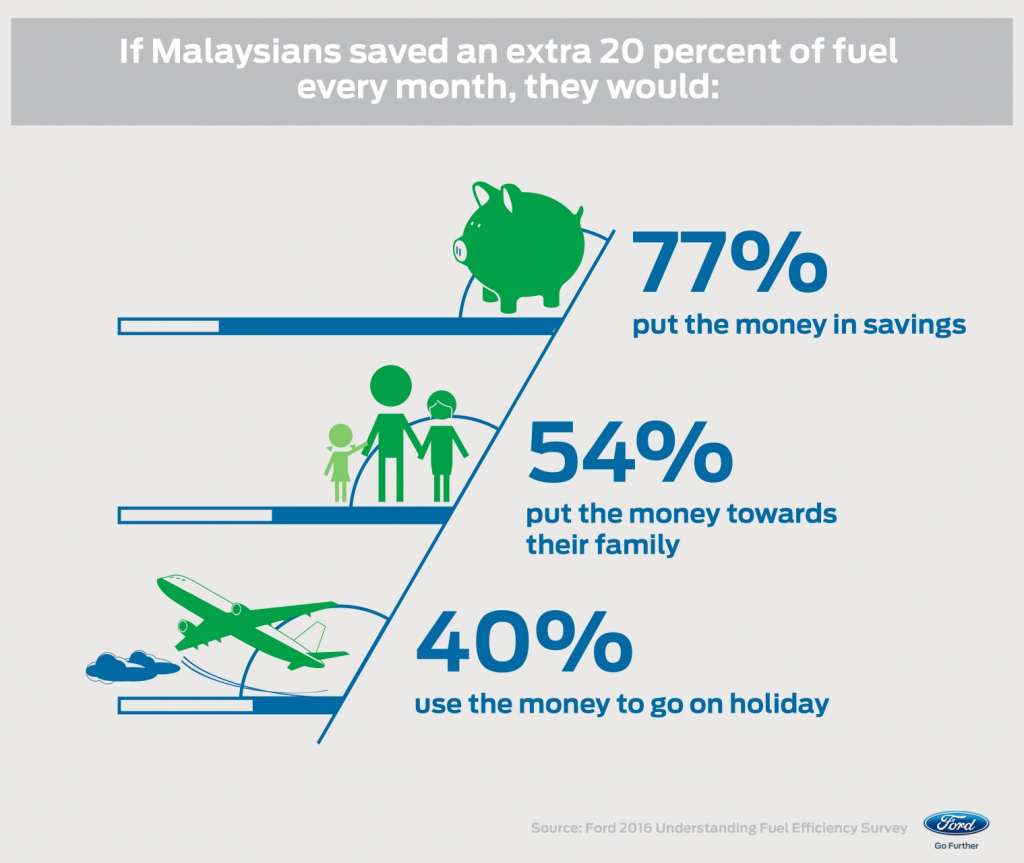 These thrifty behaviors extend to what Malaysians would do if they could save even more on fuel. More than three quarters of respondents (77%) said that if they saved 20% on fuel every month, they would put the extra money towards their savings. Another 54% say that they would put the money towards their family. The rising cost of living due to the unstable economy has had a profound impact on Malaysians' willingness to spend.
This all coincides with a general wariness about Malaysia's fuel prices. 68% of respondents say they don't trust fuel prices to stay stable over the next year.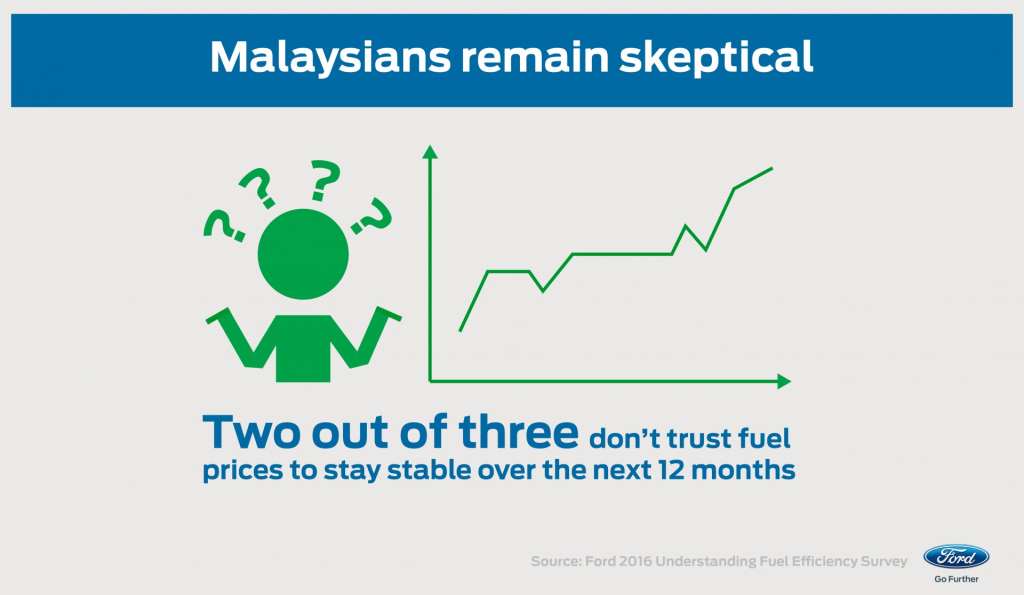 But while Malaysians are eager to protect themselves from the sting of the pump, surprisingly many are unaware of longer-term strategies for saving money:
• 1 in 3 (37%) of those surveyed admit that they do not consider the total cost of ownership – fuel and vehicle maintenance – when shopping for a new car
• Only 37% consumers say that they would invest more money at the time of purchase on a more efficient engine in order to save money on future fuel costs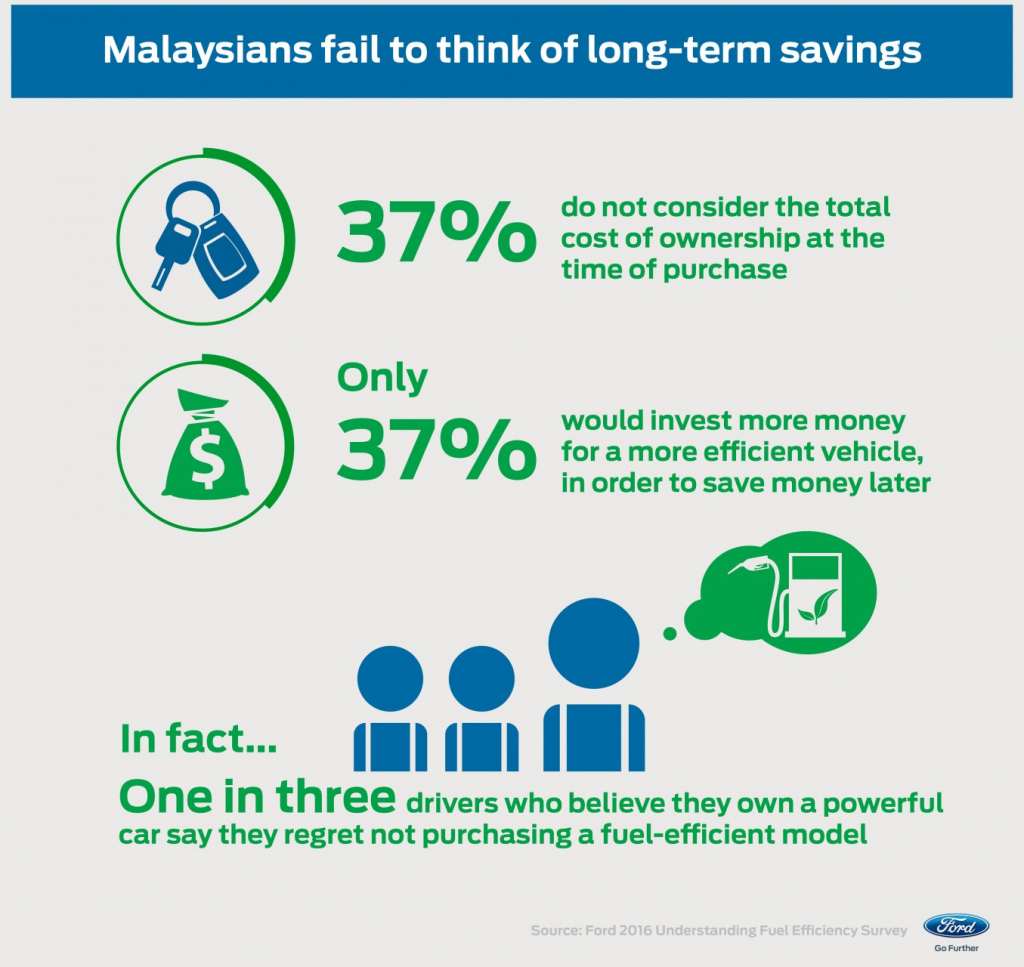 However, there may be signs that behaviors are changing. Many consumers who are planning to buy a new car in the next year are considering more fuel-efficient vehicles:
• 52% consumers plan to buy a vehicle with a more fuel efficient engine
• 39% consumers plan to buy a hybrid or electric vehicle
• 21% consumers plan to downsize to a smaller vehicle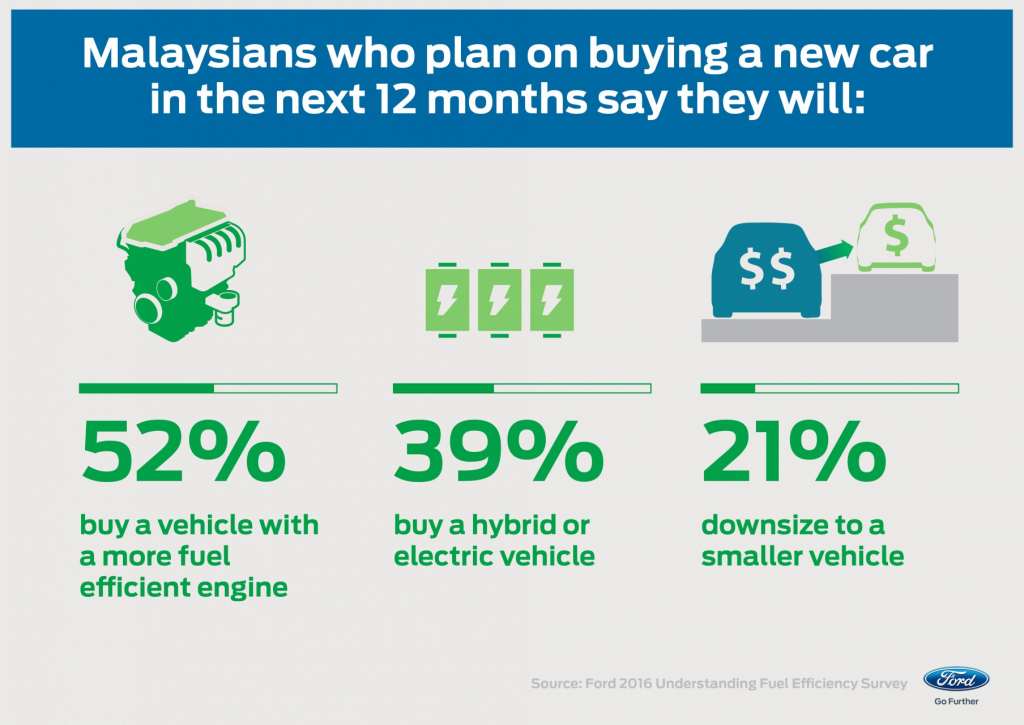 However, their choice is made difficult by the fact that Malaysians also value performance. More than half (68%) of all respondents say they consider performance as a factor when buying a new car. City residents disproportionately said that they were motivated by performance (70% vs. 59% of rural residents).
"Today's consumers are well-informed and educated. They expect their vehicle to return excellent fuel economy without compromising on the engine's performance. Whether it is maneuvering through busy KL traffic or cruising down the highway, it is important to consumers that the power they need is available," said David Westerman, managing director, Malaysia and Asia Pacific Emerging Markets, Ford Motor Company.
It was exactly this need to offer the combination of fuel efficiency and power that drove Ford to develop the EcoBoost family of engines. Since 2009, EcoBoost engines have been showered with awards, in fact the 1.0-liter EcoBoost engine was voted best in class at the 2016 International Engine of the Year Awards for the 5th year in a row.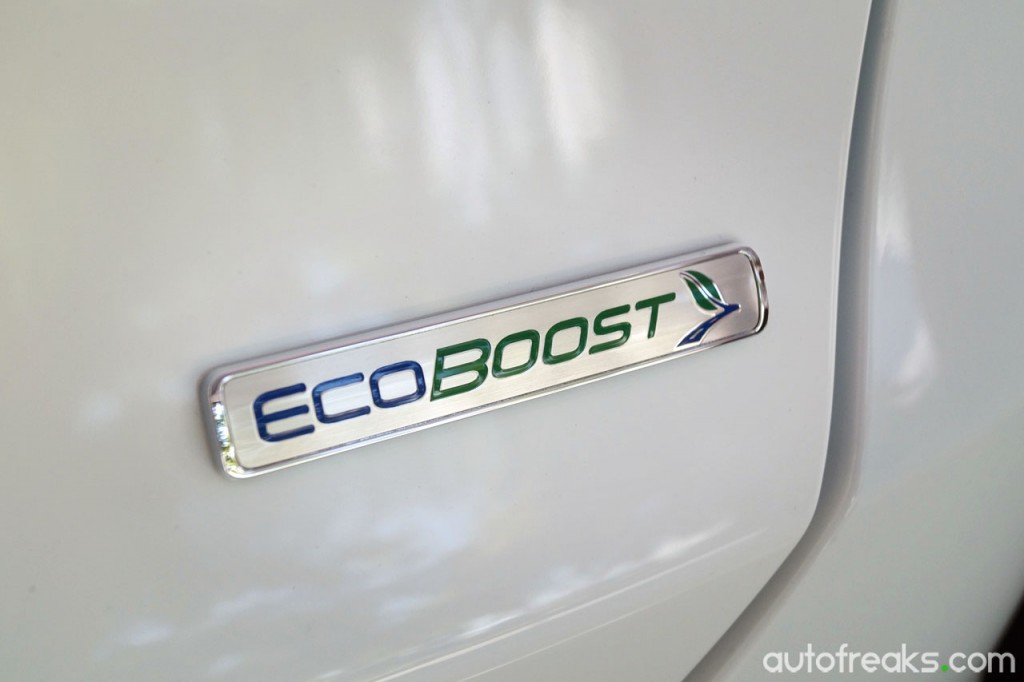 EcoBoost technology can now be found under the hoods of more than 20 Ford nameplates around the world – from the feisty Fiesta to the iconic Mustang. In Malaysia, EcoBoost engines are available in 7 nameplates, including: Fiesta, Fiesta ST, Focus, S-MAX, Mondeo, Kuga and Mustang.
Unlike regular naturally aspirated engines, the EcoBoost technology uses turbocharging, variable-valve timing and direct fuel injection along with reduced displacement to deliver significant vehicle fuel-efficiency gains and CO2 reductions, relative to larger displacement engines, without sacrificing vehicle performance.
"EcoBoost gives drivers mileage when they need it and power when they want it," said Tallio. "When driven efficiently, EcoBoost technology has the capability to help save on fuel,save you money in the long run and reduce CO2 emissions. And when that extra 'oomph' is needed, it provides effortless performance."